Virginia Flag
Virginia Flag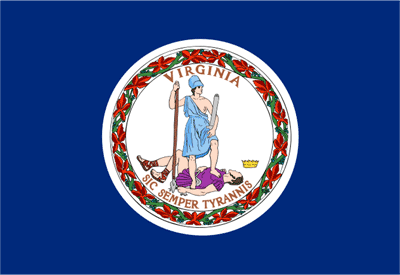 DESCRIPTION:

Virginia's official state flag was adopted in 1861. The state's seal was placed on the flag at the start of America's Civil War in 1861.
The flag has a deep blue background with a white circle in the center. The seal in the center features the words "VIRGINIA," and "SIC SEMPER TYRANNIS" (Latin for "thus always to tyrants").
Depicting the state's motto on the flag is the goddess Virtue (who is holding a sword and a spear). She has defeated a tyrant, who is lying on the ground, and is holding a chain and a scourge (a whip). To the right is the tyrant's fallen crown.
Virtue symbolizes Virginia and the tyrant symbolizes Britain. Red Virginia creepers and green leaves surround the scene.
LARGER FLAG: View this flag at 800 pixels wide here!<
all Country Flags here!
all USA State Flags here!
VIRGINIA map here!
Virginia Photographs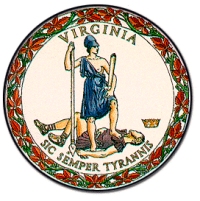 Official Seal of the Commonwealth of Virginia
The great seal of Virginia is circular.In the center is a figure of Virtus, the goddess of virtue, dressed as a warrior.She holds a spear in her right hand, with its point held downward touching the earth. In her left hand is a sheathed sword pointing upward.Her left foot rests on the chest of the figure of tyrany, who is lying on the ground. Above the figure is the word "Virginia," and under the figures is the state motto "Sic Semper Tyrannis" or "Thus Always to Tyrants." The seal, designed by George Wythe, a signer of the Declaration of Independence, was first adopted in 1776 and modified in 1930.
Virginia Cities, Counties & Area Codes
This page was last updated on August 24, 2020.