Michigan Flag
Michigan Flag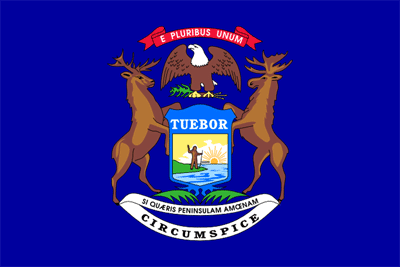 DESCRIPTION:

The current version of Michigan's state flag was officially adopted in 1911. It displays (on a dark blue field), the 1832 state arms representation.

Those arms include an elk and moose supporting the official shield. That shield displays a man indicating friendship. He stands on a peninsula, next to a lake, with the morning sun rising. A bald eagle sits on top of the shield.

Three mottos are included: "E Pluribus Unum" (From Many, One), "Tuebor" (I Will Defend), and "Si Quaeris Peninsulam Amoenam Circumspace" (If you seek a pleasant peninsula, look about you).

LARGER FLAG: View this flag at 800 pixels wide here!

all Country Flags here!

all USA State Flags here!

MICHIGAN map here!
Michigan Photographs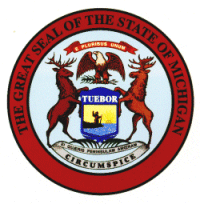 Official Seal of the State of Michigan
The Great Seal of the State of Michigan depicts its coat of arms on a light blue field. On the dark blue shield the sun rises over a lake and peninsula, a man holding a long gun with a raised hand represents peace and the ability to defend his rights. The elk and moose are symbols of Michigan, while the bald eagle represents the United States.
Michigan Cities, Counties & Area Codes
This page was last updated on August 24, 2020.