Georgia Flag
Georgia Flag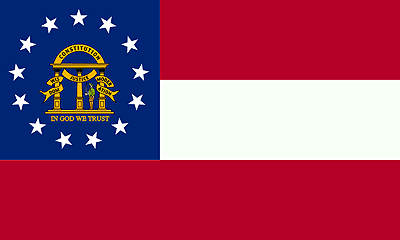 DESCRIPTION:

On May 8th, 2003, the new Georgia flag above was approved. For a complete history of the numerous flags that have flown over Georgia, go here

The new design displays two red stripes, one white stripe and a blue field upper left. The state's official coat of arms (on the blue field) is surrounded by 13 white stars, symbolic of Georgia being one of the original 13 colonies.

On the seal itself, three pillars support an arch, representing the legislative, judicial and executive branches of government. A standing man with sword drawn is defending the U.S. Constitution.

LARGER FLAG: View this flag at 800 pixels wide here!

All Country Flags here!

All USA State Flags here!

GEORGIA map here!
Georgia Photographs
Georgia Cities, Counties & Area Codes
This page was last updated on August 24, 2020.