Arkansas Flag
Arkansas Flag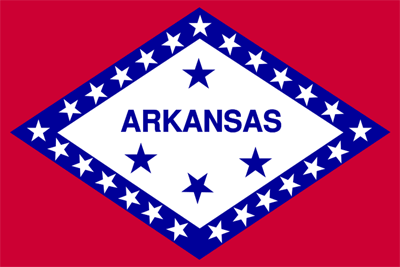 DESCRIPTION:
Designed by Ms. Willie K. Hocker of Wabbaseka, Arkansas and adopted in 1913, the Arkansas flag features 25 stars to show that Arkansas was the 25th state admitted to the United States.
The three blue stars have three meanings:
1. Arkansas belonged to three countries (France, Spain, and the United States) before attaining statehood.
2. 1803 was the year of the Louisiana Purchase when the land that is now Arkansas was acquired by the United States.
3. Arkansas was the third state created from the purchase by the United States, after Louisiana and Missouri.
The large star above ARKANSAS symbolizes the Confederacy which it was a part of from 1861-1865, and the diamond formed by the 25 stars represents it as the first diamond-producing state.
LARGER FLAG: View this flag at 800 pixels wide here!
all Country Flags here!
all USA State Flags here!
ARKANSAS map here!
Arkansas Photographs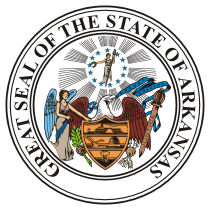 Official Seal of the State of Arkansas
Arkansas Cities, Counties & Area Codes
This page was last updated on August 24, 2020.