Arkansas Weather
Climate:


Arkansas weather is generally pleasant throughout the year and usually void of extremes of heat or cold.

The average summer high temperatures approach 80 degrees across the state, but daily highs in the low 90's are somewhat common central and south. Winters lows reach into the 40's, with some isolated sub-freezing conditions (December and early January) in the mountains of the north and west.
Rainfall varies north to south, but the statewide average is near 50 inches per year. Amounts exceeding 60 inches yearly are common in the Ouachita Mts. Snow does fall in the northwest and west, and occasionally in the southern areas.
For an interesting look at Arkansas precipitation amounts, view this precipitation map!

Current Weather Conditions:
In these selected cities....
Seasonal Temperature Averages:
LITTLE ROCK
High Temperatures ( Fahrenheit/Celsius )
(Jan) 53/11 (Feb) 58/14 (Mar) 63/17 (Apr) 74/23
(May) 82/27 (Jun) 91/32 (Jul) 92/33 (Aug) 96/35
(Sep) 89/31 (Oct) 76/24 (Nov) 66/18 (Dec) 55/11

Low Temperatures ( Fahrenheit/Celsius )
(Jan) 38/3 (Feb) 40/4 (Mar) 43/5 (Apr) 51/10
(May) 58/14 (Jun) 69/20 (Jul) 72/22 (Aug) 73/22
(Sep) 67/19 (Oct) 53/11 (Nov) 45/7 (Dec) 33/10

Arkansas Photographs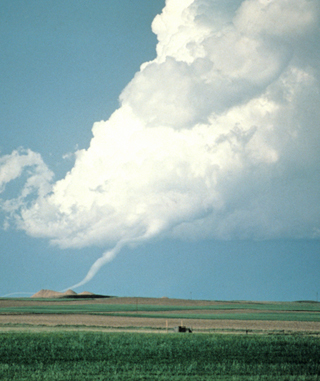 A Tornado Forming
Arkansas Cities, Counties & Area Codes
This page was last updated on April 7, 2017.