Kansas Flag
Kansas Flag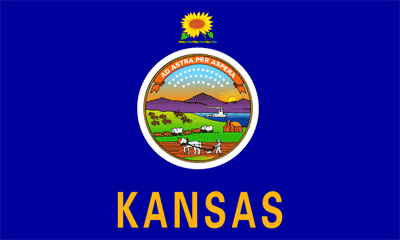 DESCRIPTION:

The Kansas flag, adopted in 1925, consists of a dark blue field with the state seal in the center.
A sunflower on a bar of twisted gold lies above the seal, and below the seal is the word Kansas.
The seal contains a landscape that includes a rising sun, representing the east; and a river and steamboat, representing commerce. In the foreground, a settler's cabin and a man plowing a field represent agriculture. A wagon train heads west and buffalo are seen fleeing from two Indians. Around the top of the seal is a cluster of 34 stars.
The state motto "To the Stars through Difficulties," appears above the stars.
LARGER FLAG: View this flag at 800 pixels wide here!
all Country Flags here!
all USA State Flags here!
KANSAS map here!

Kansas Photographs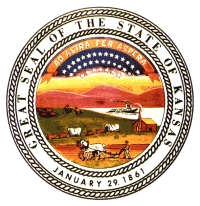 Official Seal of the State of Kansas
Kansas Cities, Counties & Area Codes
This page was last updated on August 24, 2020.