New York Flag
New York Flag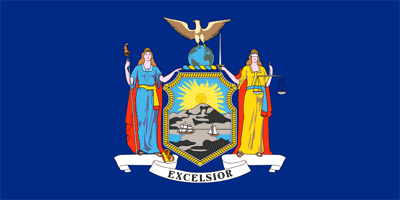 DESCRIPTION:

The New York flag dates back to Revolutionary War times, while the current flag (with the state's shield centered) was officially adopted in 1901.
That centered shield sits on a dark blue field, and features Liberty (on the left), and Justice (on the right). The shield includes the sun, hills, mountains and two boats sailing on the Hudson River. Over that shield, a Bald Eagle sits atop a globe.
Under all of this, on a white, flowing ribbon, the word EXCELSIOR is displayed, meaning "Ever Upwards."
LARGER FLAG: View this flag at 800 pixels wide here!
all Country Flags here!
all USA State Flags here!
NEW YORK map here!
New York Photographs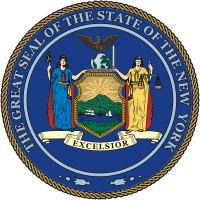 Official Seal of the State of New York
New York Cities, Counties & Area Codes
This page was last updated on August 24, 2020.