California Flag
California Flag

DESCRIPTION:
On June 14, 1846, a small band of settlers marched on the Mexican garrison at Sonoma and took the commandant, Mariano Vallejo, prisoner, They issued a proclamation which declared California to be a Republic, independent of Mexico.
This uprising became known as the Bear Flag Revolt after the hastily designed flag depicting a grizzly bear and a five pointed star over a red bar and the words "California Republic." The grizzly bear was a symbol of great strength while the lone star made reference to the lone Star of Texas.
The flag only flew until July 9, 1846 when it was learned that Mexico and the United States were already at war. Soon after, the Bear Flag was replaced with the American flag. It was adopted as the State Flag by the State Legislature in 1911.
LARGER FLAG: View this flag at 800 pixels wide here!
all Country Flags here!
all USA State Flags here!
CALIFORNIA map here!
California Photographs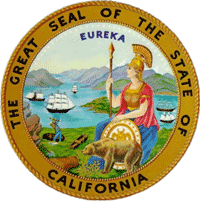 Official Seal of the State of California
California Cities, Counties & Area Codes
This page was last updated on August 24, 2020.