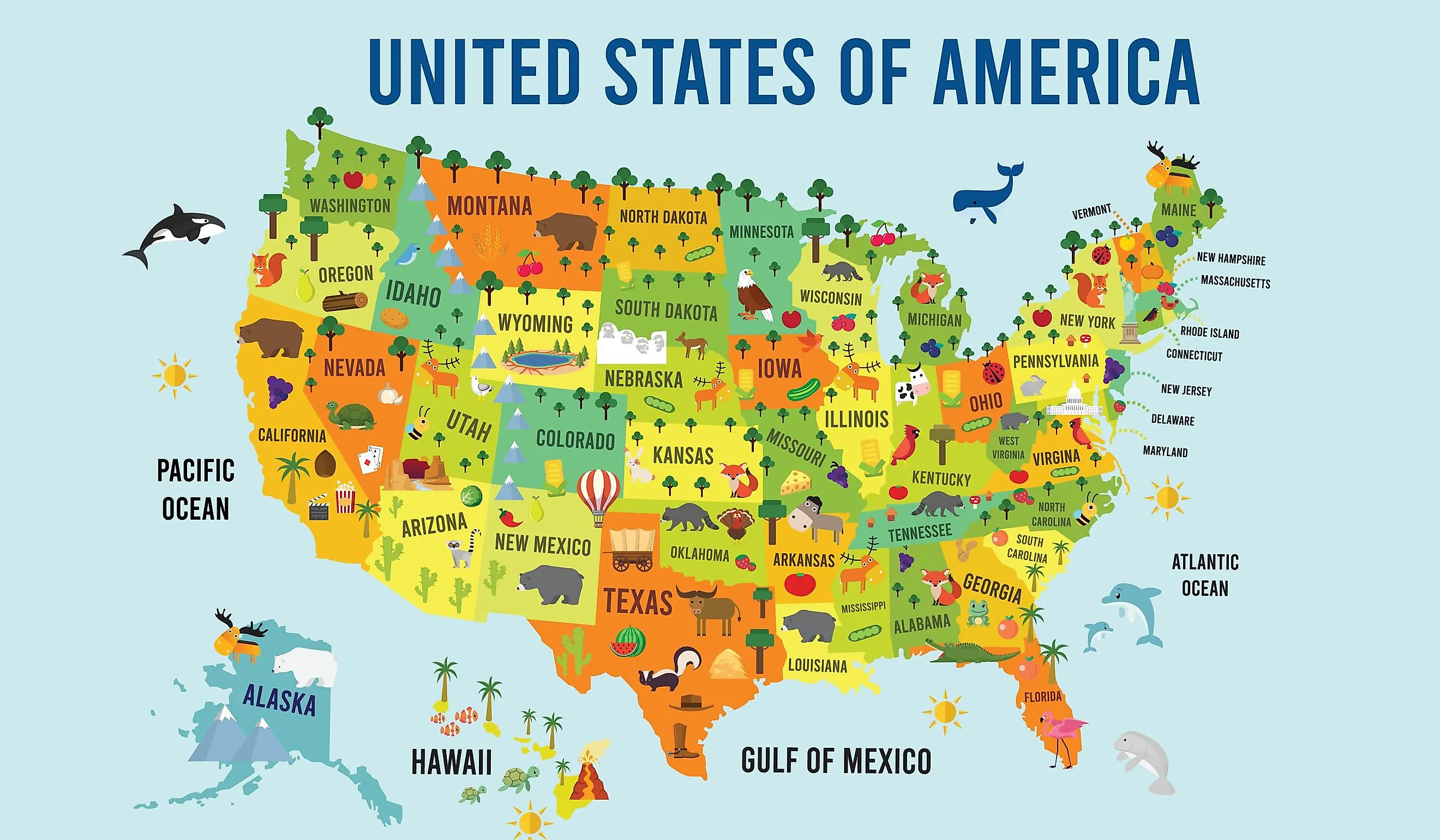 A Misconception About Each Of The 50 States
From Delaware, the first state to join the Union on December 7, 1787 —  to Hawaii, the last state to join the Union on August 21, 1959 — there are 50 states in the United States, which leaves a lot of room for misconceptions to blossom. For instance, many consider Kansas the flattest state in America. On close scrutiny, however, Kansas is not even among the five flattest states in America. Misconceptions are hard to understand — often, people believe something because they have heard it repeated several times. So, let's clear up 50 of those mix-ups here and now.
Alabama - Everyone here is devoted to college football.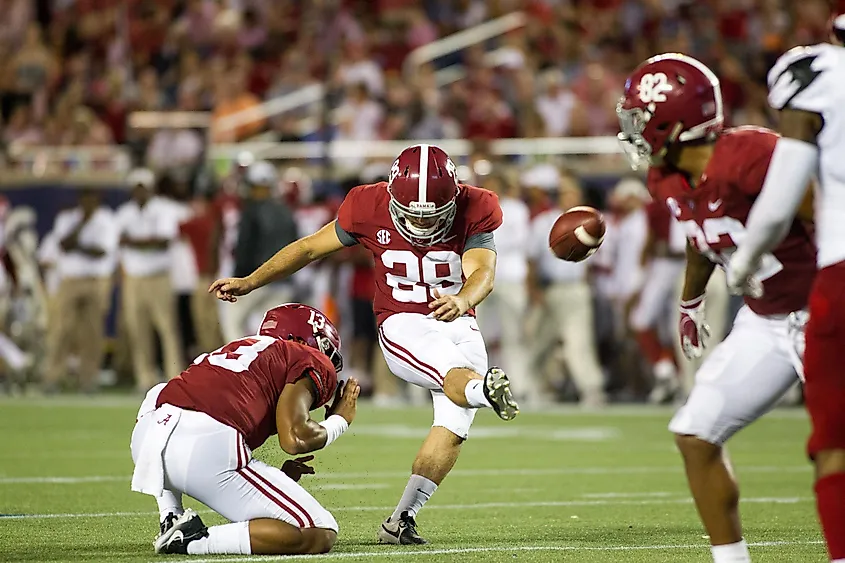 Roll Tide! Or is it War Eagle? If you hear either of these phrases, you might assume you have stepped into an Alabama gathering where college football is the equivalent of air—necessary for life itself. While it is undeniable that college football holds a significant spot in the hearts of Alabamians, suggesting that everyone in the state is utterly devoted to the sport is quite a stretch. The state has its share of artists, academics, and nature lovers who might not know the first thing about a touchdown. Regions like the Black Belt offer a deep history in civil rights, and cities like Huntsville are sanctuaries for aerospace engineering. Simply put, you can easily have a conversation in Alabama that does not revolve around Nick Saban or a Hail Mary pass.
Alaska is perpetually dark or light.
When people envision Alaska, they often imagine a world of extremes: six months of unending night followed by six months of relentless daylight. Contrary to this polarized view, Alaska experiences variations in its day-night cycles just like any other U.S. state—although to different degrees depending on your latitude. In Anchorage, for instance, winter days can be short but are not an endless night, while summer days are long but not a constant blaze of sunlight. Even in places like Barrow (now known as Utqiaġvik), the northernmost city in the United States, twilight provides a sort of half-light during winter, and summer nights are more dusk than full-blown daytime.
Arizona - The entire state is as hot as Phoenix.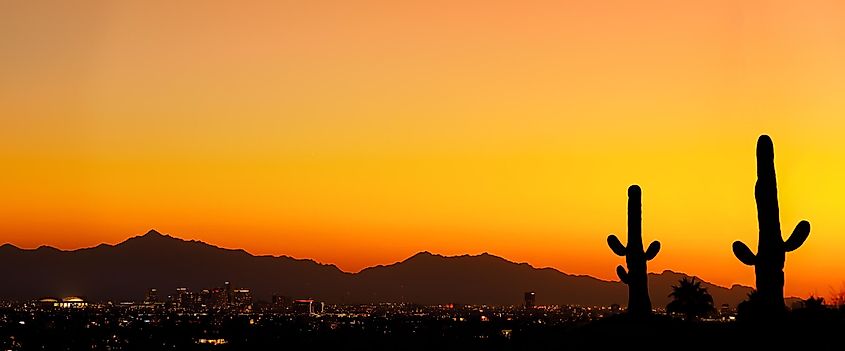 One glance at a sun-soaked cactus or a mirage wavering over a desolate highway, and you might think Arizona is forever doomed to be a furnace. While Phoenix and other parts of the Sonoran Desert can reach sweltering temperatures, Arizona is more climatically nuanced than you would expect. Elevations in places like Flagstaff or the White Mountains offer respite with alpine conditions, even featuring skiing opportunities in winter. The Grand Canyon State has its share of snowfall, forests, and even bodies of water like Lake Havasu and the Colorado River. To say Arizona is universally hot is to ignore the multitude of terrains and climates that coexist within its borders.
Arkansas - It is spelled and pronounced "Ar-Kansas."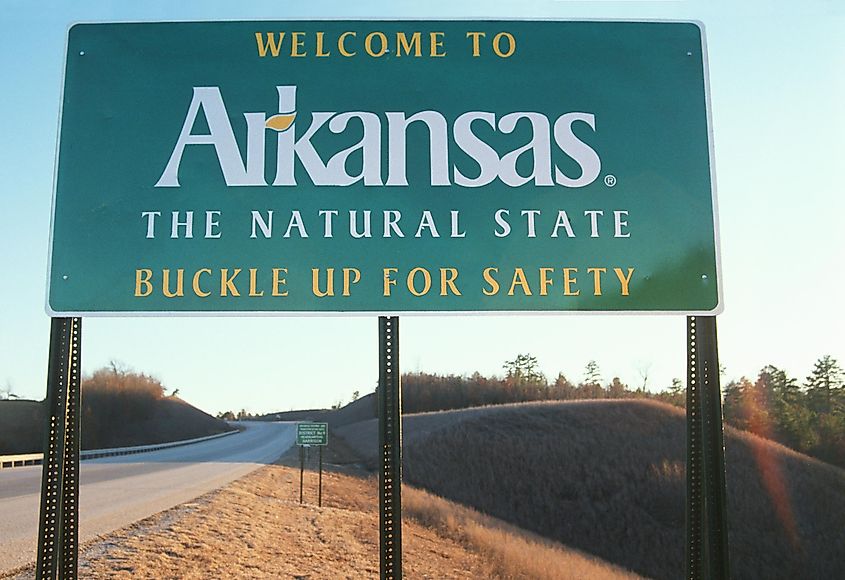 Oh, the tangled webs we weave with the English language—especially when it comes to Arkansas. Just for clarification, the state's name is not a clever linguistic nod to our Kansas cousins. It is pronounced "Ar-kan-saw," even though it appears to be a phonetic twin of Kansas. This pronunciation was cemented into law in 1881, but people still get it wrong. The name itself is derived from the Quapaw people, a Native American tribe formerly located in the region. The Kansas moniker is also Indigenous in origin but comes from a different tribe—the Kansa. Both names may seem similar, but they come from different linguistic roots and different histories. Clearing up this mispronunciation is not just about sounding savvy; it is also about paying respect to the state's historical identity and Indigenous heritage.
California - Northern and Southern California have the same culture.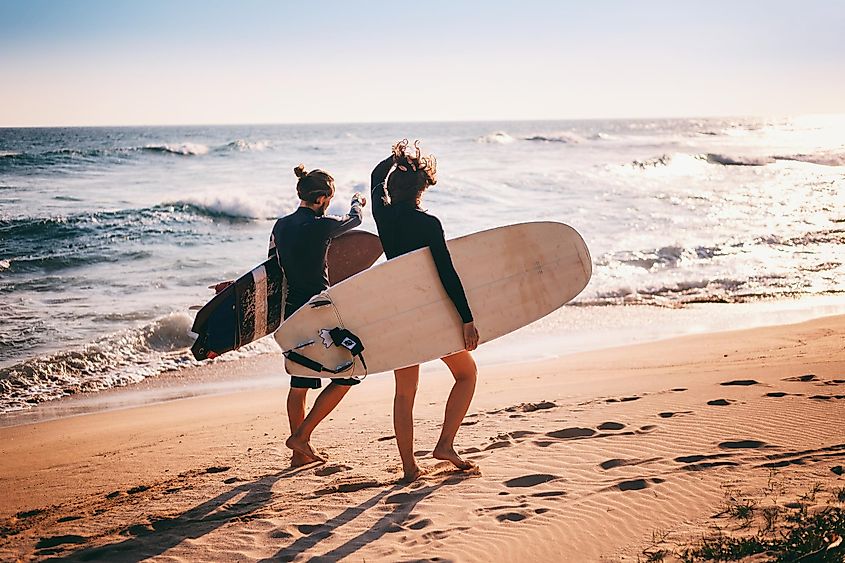 "Hang ten, brah!" might be your knee-jerk greeting if you think everyone in California surfs to work. While there is certainly a pervasive laid-back vibe and some shared love for the ocean, the truth is that California is almost like two states in one. Northern California has tech centers, redwood forests, and more temperate climes, which carries a markedly different atmosphere compared to Southern California — the land of Hollywood, beautiful beaches, and a generally warmer environment. These geographic dichotomies also drive cultural differences, from political leanings to food choices. The North leans toward artisanal coffee and tech innovation, while the South is an oasis for the entertainment industry and has a stronger influence on Latin American cuisine. One could spend years in one part of California and still feel like a tourist in the other.
Colorado is all mountains.

If you think Colorado is just a sea of peaks and ski slopes, then you are missing about half the picture. While it is true that the Rocky Mountains are a defining feature, taking up a considerable portion of the state, Colorado is not exclusively an alpine territory. The Eastern Plains stretch out with a decidedly more flat and arid landscape that is better suited for agriculture than snowboarding. These plains make up roughly 40% of the state's land and serve as a significant economic area for farming and livestock. Add to this the so-called "Front Range Urban Corridor," where the majority of Colorado's population resides. This area marries mountainous beauty with urban sophistication, bringing together the best of both worlds. So, while Colorado may be famous for its mountains, it is far from a one-dimensional state.
Connecticut - It's all small towns with white picket fences.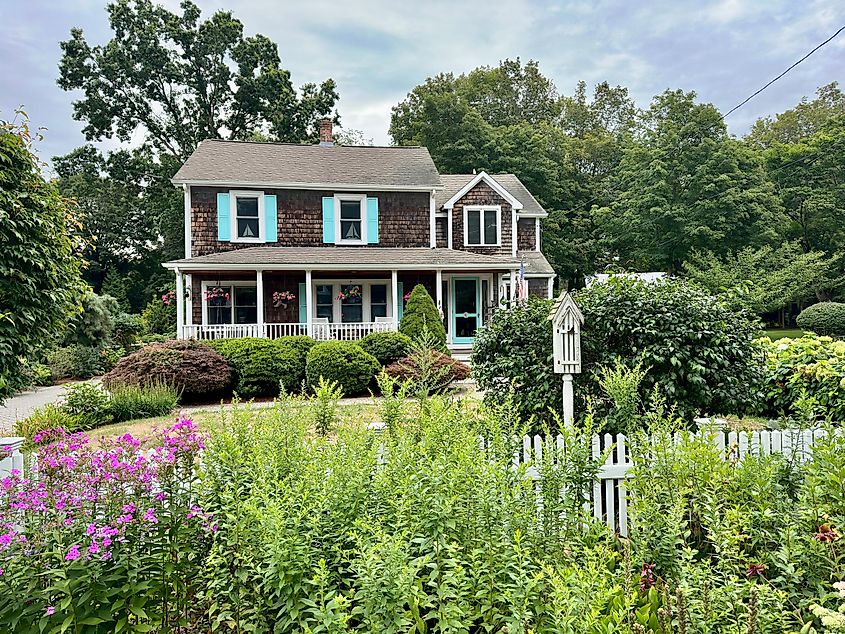 Connecticut - where many imagine storybook streets and a simple people who have never seen a city skyline. The thought that Connecticut is composed entirely of quaint small towns with white picket fences is a Hollywood-ready stereotype that does not quite do justice to the Constitution State's deeper personality. For starters, cities like Hartford, New Haven, and Stamford are bustling grounds of activity; they possess everything from corporations to esteemed educational institutions like Yale University. Hartford, the capital, has a long history as an insurance hub, and Stamford serves as a critical node in the finance sector. Furthermore, there are fantastical art scenes, plenty of sports activities, and even shorelines that differ starkly from the small-town aesthetic. The state is not just a suburban daydream; it is a multi-textured place that attracts a wide range of people and professions.
Delaware has no significant landmarks.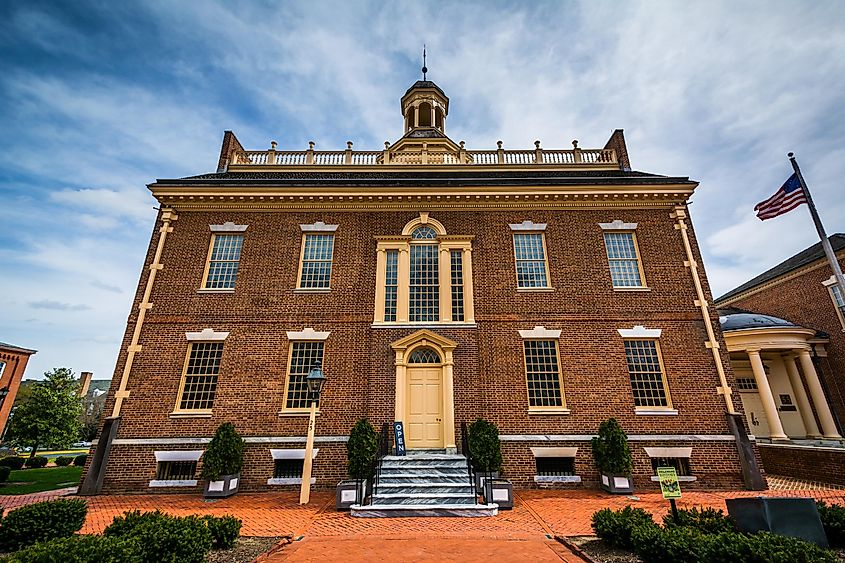 Poor Delaware often finds itself relegated to the "flyover state" category or dismissed as a mere blip on the way to somewhere else. People might think of it as a landmark-deprived zone, but that would be ignoring an interesting historical narrative. Let us not forget that Delaware was the first state to ratify the Constitution. Its capital, Dover, houses historic sites like the Old State House and the John Dickinson Plantation. Then there is Rehoboth Beach, a popular getaway that rivals any coastal retreat. Wilmington, the largest city, offers attractions like the Delaware Art Museum and the Nemours Estate. While it might not have the ostentatious monuments of New York or Paris, Delaware provides its own version of timeless significance.
Florida is all beaches and amusement parks.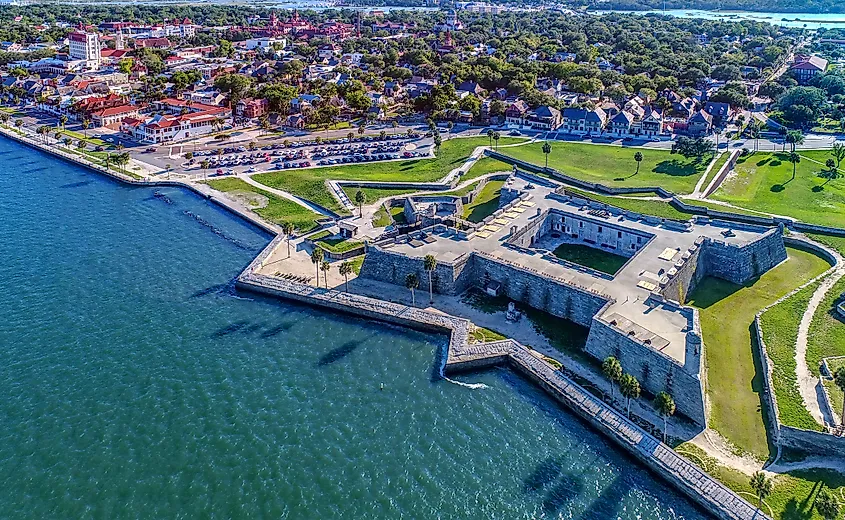 Florida - Welcome to Florida, the land where, if you believe the hype, you will find nothing but sandy shores and queues for roller coasters. While Florida does indeed have a fabulous coastline and is home to amusement park giants like Disney World and Universal Studios, there's more below the surface. The state is a hotbed for tech start-ups, has a robust farming sector (oranges, anyone?), and let's not forget the Everglades, a unique natural environment that's vital to the state's ecology. Miami adds a dash of cosmopolitan flair with its booming finance and arts societies, while cities like St. Petersburg and Tampa showcase fascinating histories and a growing focus on sustainable living. Florida, you see, is not just a playground but a functional place where people live, work, and, yes, play.
Georgia - Everyone in Georgia has a thick accent.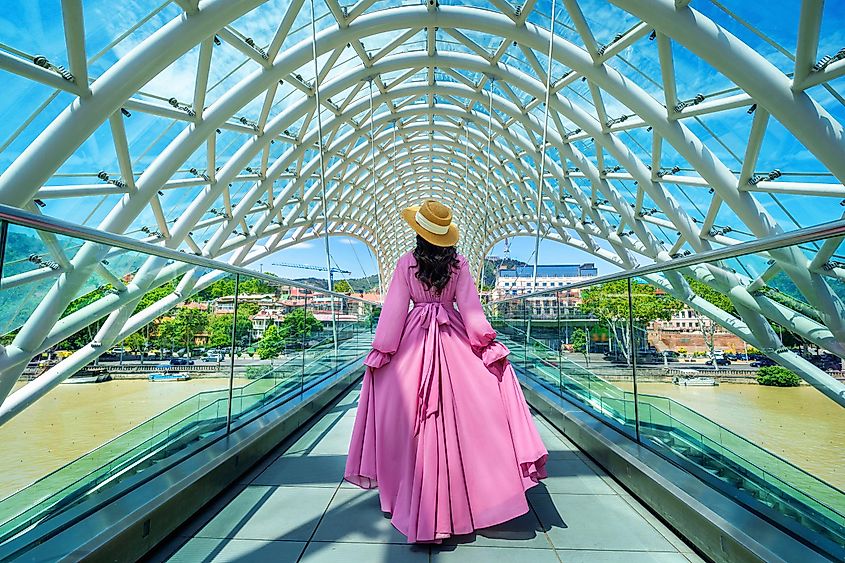 Hold onto your peaches because the notion that everyone in Georgia speaks with a syrupy Southern drawl is about as accurate as calling a pecan pie calorie-free. While you will certainly encounter accents in various parts of the state, the truth is Georgia is a melting pot of dialects and voices. Atlanta, the state's capital, serves as a foundation for businesses, technology, and the arts, attracting people from all corners of the globe. Many residents have international or Northern U.S. roots, not to mention the thousands of college students hailing from out of state. Factor in the regional variance even among native Georgians—accents from the Appalachian North differ significantly from those in the coastal lowlands—and it becomes clear that Georgia's linguistic landscape is far from uniform.
Hawaii - Hawaiians live a perpetual vacation.

Ah, Hawaii—where everyone sips piña coladas on the beach all day, right? Not quite. Although the Aloha State is a dream vacation spot for many, locals are not on an endless holiday. Many Hawaiians face the same everyday stressors that mainlanders do, from work commitments to traffic jams. On top of that, Hawaii has some of the highest living costs in the United States, including exorbitant housing and grocery prices. To make ends meet, some residents even work multiple jobs. Moreover, the islands are home to a host of dangers like wildfires, hurricanes, and volcanic eruptions. The fantasy of a perennial Hawaiian vacation tends to overlook these realities, simplifying the diverse lifestyles and struggles that make up the state's true essence.
Idaho only produces potatoes.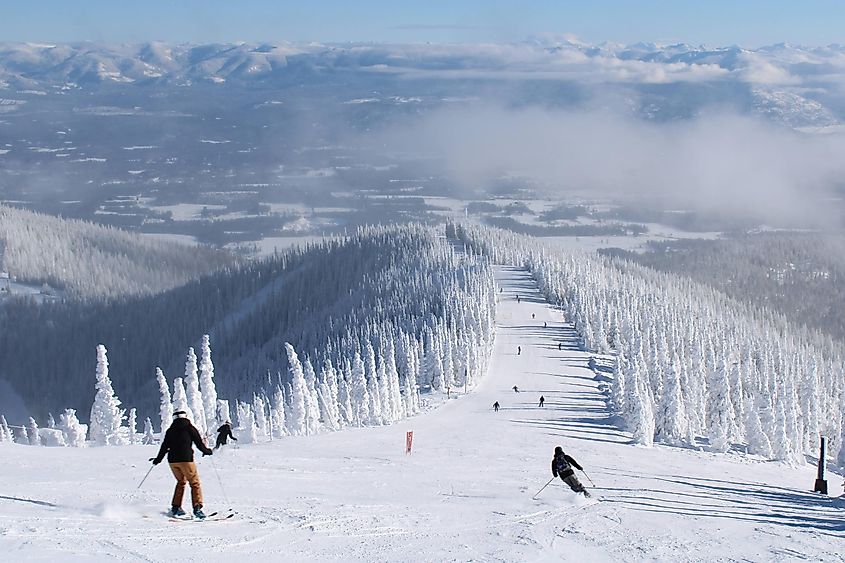 If you think Idaho is just one big potato farm, you are missing a bushel of other noteworthy contributions. While the state does take justified pride in its high-quality potatoes, it also excels in other ventures, such as wheat and dairy farming. Idaho's rivers and lakes are teeming with fish, especially rainbow trout, and the state manages a robust recreational industry beyond the spuds. Tourism is a considerable industry here, thanks to natural attractions like Coeur d'Alene and Sun Valley. It is a popular destination for skiing, hiking, and water activities. Moreover, Idaho has a burgeoning science and manufacturing sector, including food production and lumber. So, next time you dig into some delicious Idaho mashed potatoes, remember the state is far more than a one-crop wonder.
Illinois - Chicago is the only place worth visiting.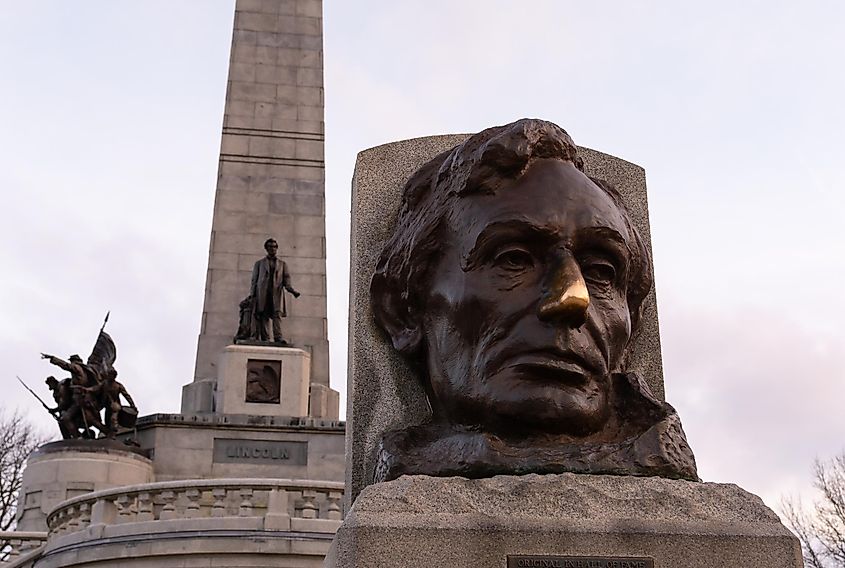 Next up, Illinois, the state where Lincoln hangs his hat—well, in spirit anyway. While the Windy City of Chicago often steals the limelight with its deep-dish pizza, star-studded architecture, and artsy corners, it is not the only act in town. Beyond Chicago's shadow lie intriguing locales with histories and attractions of their own. Take Springfield, for example, the state capital and the repository of all things Abraham Lincoln, from his home to his presidential library. Or Alton, which skirts the Mississippi River, a town that's seen both a Lincoln-Douglas debate and is considered one of the most haunted small towns in America. Even smaller places like Galena, a 19th-century throwback, host their own intriguing adventures and sights. So, while Chicago is a must-see, the rest of Illinois is far from a mere backdrop.
Indiana - Everyone in Indiana loves basketball.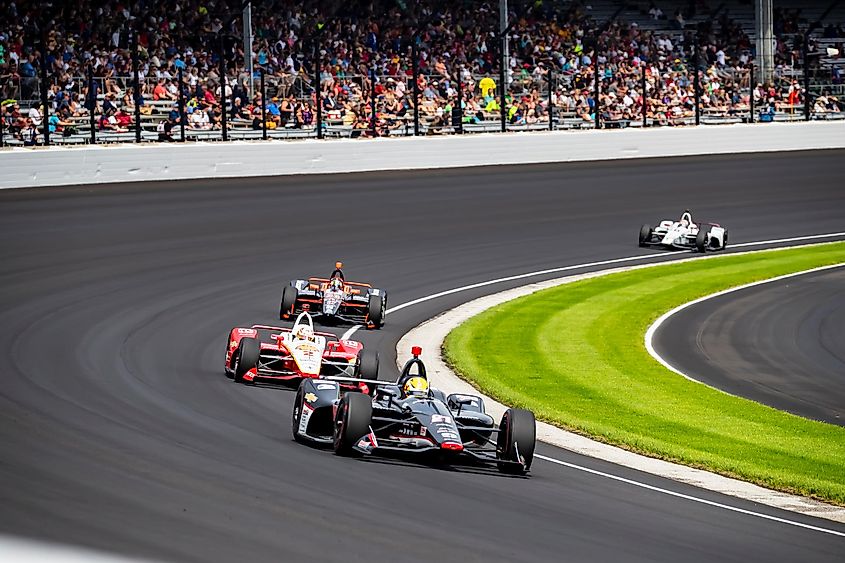 Swish! That's the sound of a basketball going through a hoop, right? Well, not always in Indiana. Hoosier Hysteria is a real thing, but it does not mean that every single person in Indiana eats, sleeps, and breathes basketball. Sure, Indiana has a celebrated basketball history, and yes, movies like "Hoosiers" paint an affectionate portrait of the state's love for the sport. However, it is a mistake to reduce the state to a single athletic passion. Indiana also has a notable history in motorsports—Indianapolis 500, anyone? Agriculture is another major part of life, with the state being one of the leading corn producers. And do not forget the tech scene in places like Indianapolis. Suffice it to say, basketball is just one part of Indiana's multi-layered identity.
Iowa is flat and has no tourist attractions.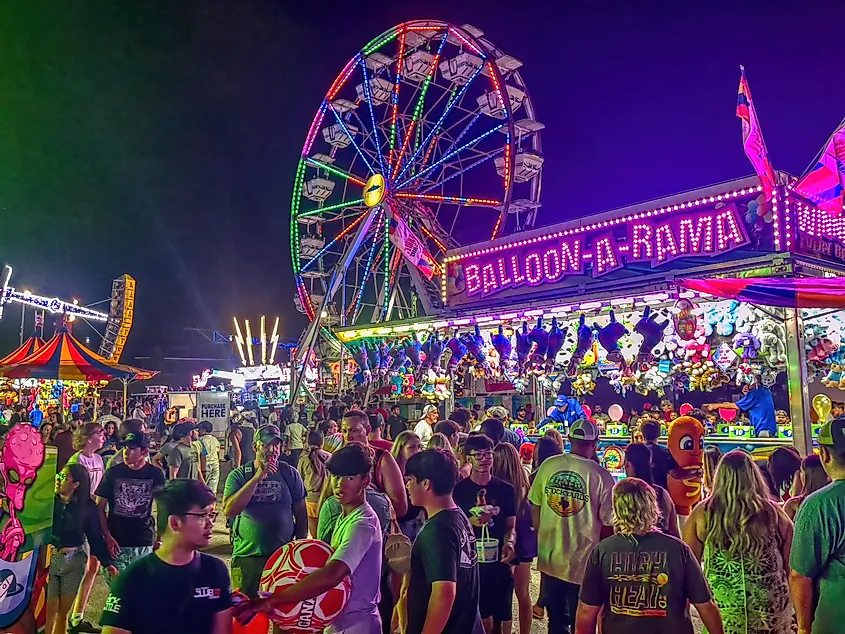 The Fields of Opportunity—that is one of Iowa's mottos, but many think it is just a sea of cornfields. Far from being a flat, boring stretch of farmland with nothing to see, Iowa actually has some compelling sites for wanderers. The Loess Hills, for instance, provide topographical intrigue with formations unique to the Midwest. For literary aficionados, the state is a literary pilgrimage spot thanks to the Writers' Workshop at the University of Iowa in Iowa City. There's also the American Gothic House in Eldon, which inspired Grant Wood's famous painting. In terms of entertainment, the Iowa State Fair is one of the largest state fairs in the United States and an event that garners national attention. Iowa may be farm-focused, but it is not devoid of things to see and do.
Kansas - Tornadoes occur daily.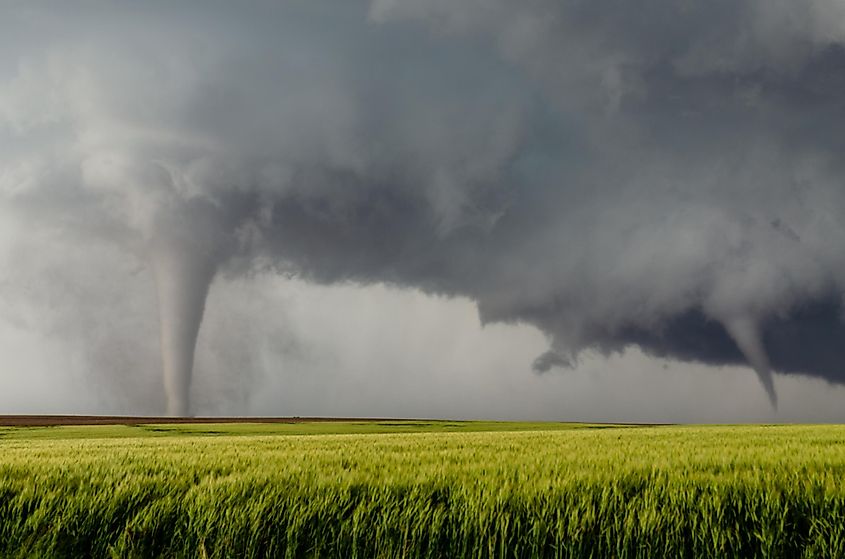 Kansas has a rap for being the personal playground of Dorothy and Toto, with tornadoes swirling about on a daily basis. The truth, however, is far from this whirlwind of a stereotype. While it is  not inaccurate to say that Kansas experiences tornadoes, describing it as a near-daily event is a bit overblown (no pun intended). Based on studies from the National Oceanic and Atmospheric Administration (NOAA), the Sunflower State averages around 91 tornadoes per year, but that's over a state with a land mass of more than 82,000 square miles. Plus, many of these tornadoes occur in less populated areas and are relatively weak in strength. So, while tornado safety is certainly something Kansans take seriously, they are not running to their storm cellars every afternoon.
Kentucky is focused on horse racing and bourbon.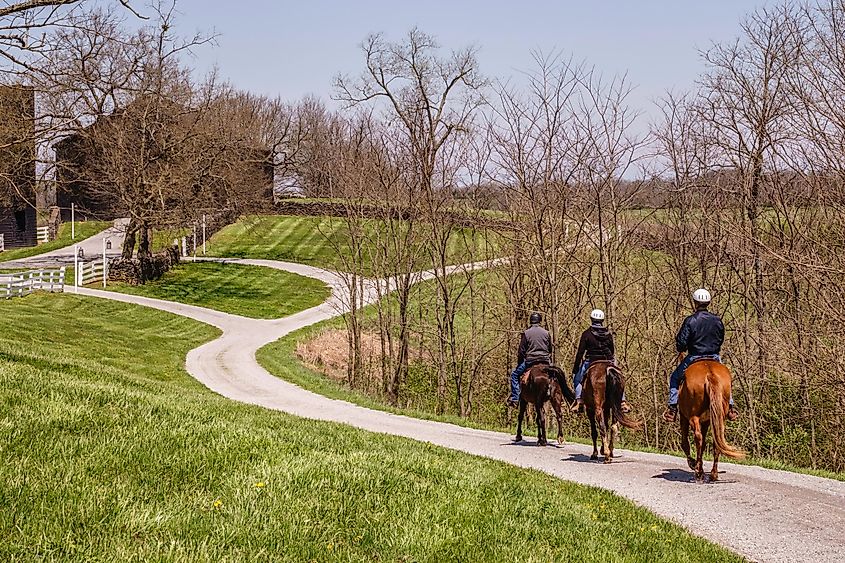 Slap on a Derby hat and pour some bourbon, because we are talking about Kentucky, right? The Bluegrass State does indeed have a profound connection to horse racing and bourbon, but reducing it to just those elements is like saying a guitar and some boots make a country singer. Kentucky is home to a variety of industries, including automobile manufacturing and healthcare. In Louisville, for example, UPS Worldport serves as a global shipping nexus, processing around 2 million packages a day. There are also sprawling forests like Daniel Boone National Forest and important historical sites like the Shaker Village of Pleasant Hill. Even in the culinary world, Kentucky has much more than just bourbon to enjoy; do not forget about the state's contributions to barbecue and fried chicken.
Louisiana - Mardi Gras happens year-round.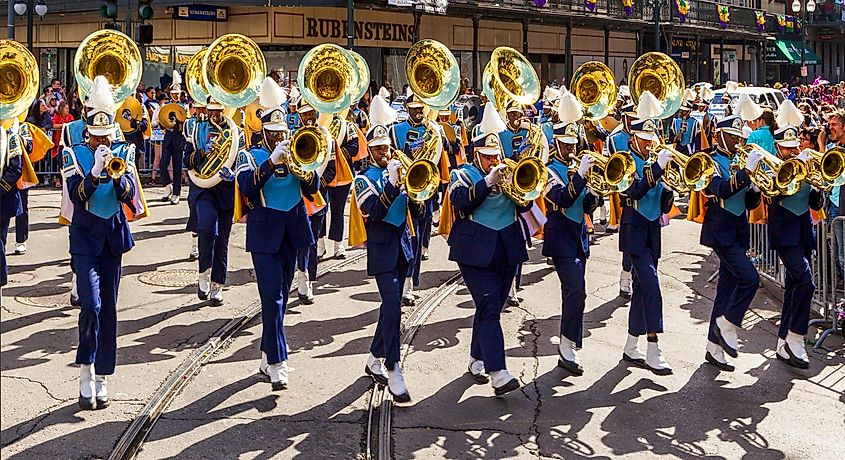 Jazz tunes and beads flying through the air, Louisiana must be a non-stop Mardi Gras party, right? While Mardi Gras is undoubtedly a significant and lively event in Louisiana's social calendar, it is hardly a year-round affair. The event itself is closely tied to the Christian liturgical calendar and usually takes place in late winter or early spring. Outside of Mardi Gras, Louisiana is deeply rooted in a history of musical innovation, culinary experimentation, and a blend of French and African influences. New Orleans is known for its live music venues that cover jazz, blues, and everything in between, while cities like Baton Rouge serve as significant centers for politics and education. Plus, Louisiana is iconic for the fishing industry, particularly when it comes to shrimp and crawfish. The state is so much more than one ongoing party; it is a remarkable place of color and culture.
Maine - Everyone in Maine is a fisherman.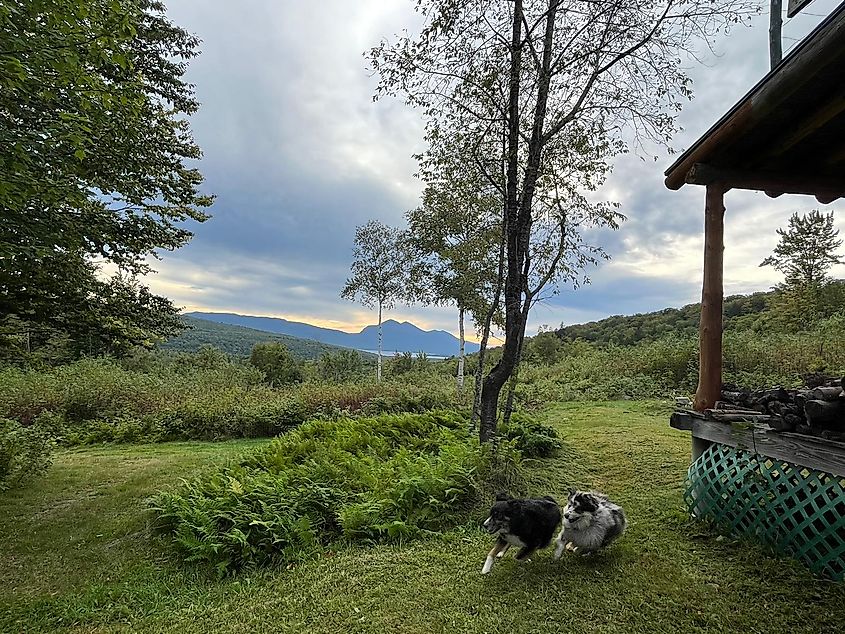 Maine, where lobsters are more abundant than people, right? A fair amount of folks jump to the conclusion that everyone in Maine must be a fisherman—or, at the very least, connected to the fishing industry. But casting this wide net of assumptions misses the mark. While the state's maritime industries, including fishing, do contribute significantly to the economy, there's much more to Maine's occupational landscape. Sectors like healthcare, tourism beyond the fishing boat trips, and tech jobs are rapidly gaining ground. Lumber and forestry have been essential to Maine for ages, and the state has a growing amount of small businesses and artisans. So no, not everyone is a fisherman; they are also nurses, coders, artists, and much more.
Maryland is a suburb of Washington, D.C.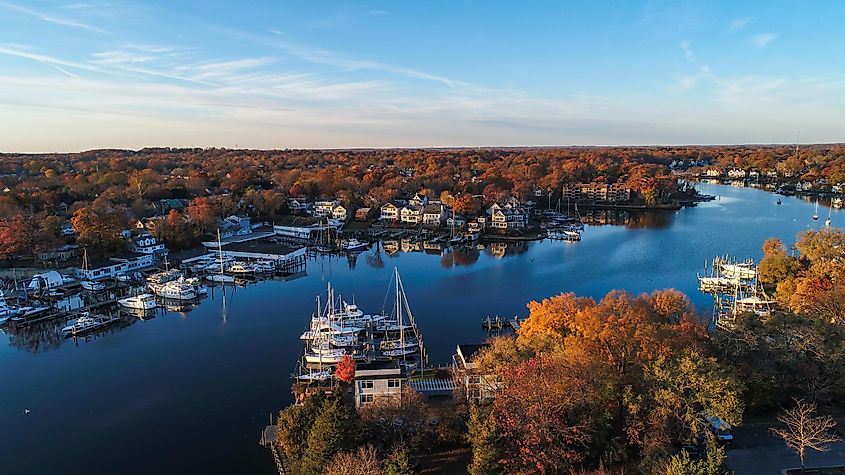 Ahoy, Maryland—the land of crabs and... commuters? Many seem to categorize Maryland merely as an extension of Washington, D.C., where everyone must surely work in politics or government and commute to the Capitol. However, this glosses over the fact that Maryland is an economic powerhouse in its own right. The state is home to various industries, such as biotechnology, cybersecurity, and aerospace engineering. Let's not forget its significant contributions to sustenance, especially in the areas of poultry and grain. Cities like Baltimore also have a historical and current industrial significance that is distinct from D.C. So, while proximity to the nation's capital does influence Maryland, it is far from a mere suburb.
Massachusetts is strictly a hub for elite universities.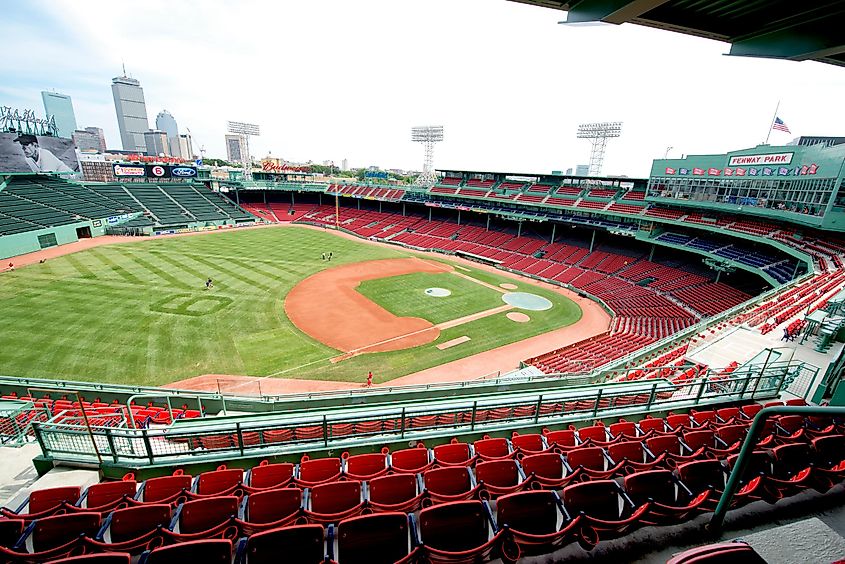 Turn left at Boston, and you will bump into a Harvard grad—or so the stereotype about Massachusetts goes. Although it is true that Massachusetts is home to some prestigious educational institutions, thinking that's all there is to the state does a disservice to its residents. For starters, Massachusetts has a long history of industrial achievement, including innovations in machinery and textiles. The state also has a knack for sports, with a passionate fan base for its various professional teams. Moreover, the culinary opportunities extend beyond the university dining halls to offer some of the finest seafood and international cuisines. In short, Massachusetts is not just a series of lecture halls and libraries; it is also a state of invention, sports, and, yes, good food.
Michigan is a land of automobile factories.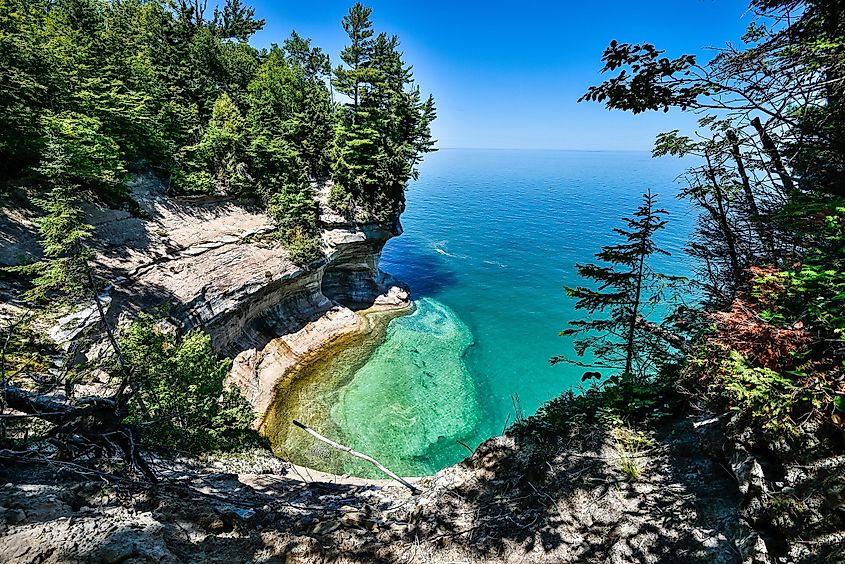 When people think of Michigan, Detroit's assembly lines and Henry Ford's automotive legacy often hog the limelight. But did you know that Michigan has more to it than just the Motor City and cars? Even if it is true that the automotive industry plays a significant role in the state's economy, Michigan is also a leader in various other sectors, like aerospace and information technology. Farming, too, is a considerable part of the Michigan economy, with the state being a leading producer of cherries, blueberries, and dairy products. Additionally, Michigan enjoys over 11,000 inland lakes and has more freshwater coastline than any other state in the U.S., making it an incredible destination for water-based recreational activities. So, while it is okay to appreciate Detroit's car-making fame, let's not box Michigan into just that.
Minnesota - Everyone in Minnesota talks with a strong "Fargo" accent.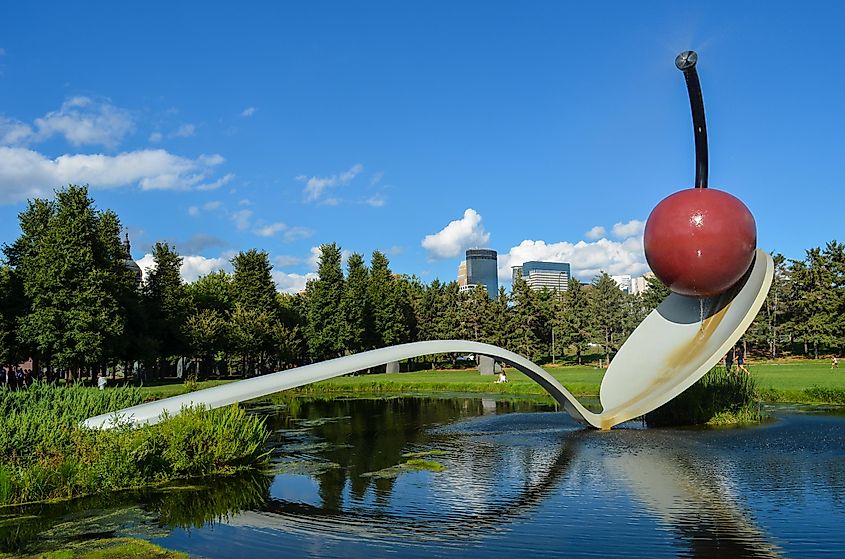 Say "Minnesota," and many people hear the strains of that 'you betcha' accent made famous by the movie Fargo. But the truth is, not everyone in Minnesota sounds like a character from a Coen brothers' film. The accent in question is actually more common to a specific region and generation rather than the entire state. Besides, Minnesota is a place of educational excellence; it frequently ranks high in terms of literacy and high school graduation rates. The state is also a significant contributor to medical technology and has a history of progressive politics. So, while the accent might be memorable, It is only a small snippet of what makes Minnesota, well, Minnesota.
Mississippi - Everyone in Mississippi listens to the blues.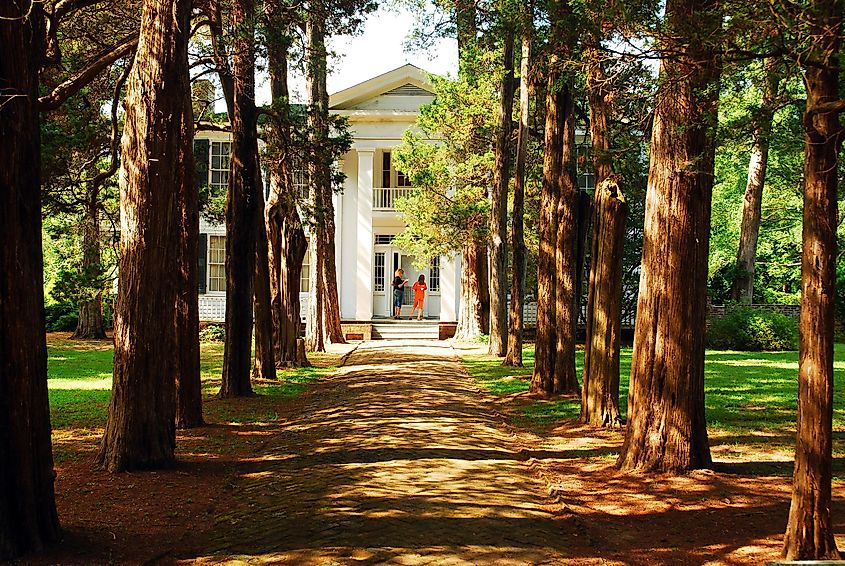 If you are expecting every radio in Mississippi to be tuned into the blues, you might be in for a surprise. While Mississippi does have a rich musical history, and the blues genre did originate there, the musical tastes of its residents are far from monolithic. Country, rap, and gospel music also have strong followings, and let's not forget the state's contributions to Southern literature and civil rights history. Mississippi is the birthplace of celebrated authors like William Faulkner and Eudora Welty, and it played an undeniable role in the Civil Rights Movement. It is a state with a complex history and an evolving present, making it far more diverse than its bluesy stereotype might suggest.
Missouri - BBQ is Missouri's primary cuisine.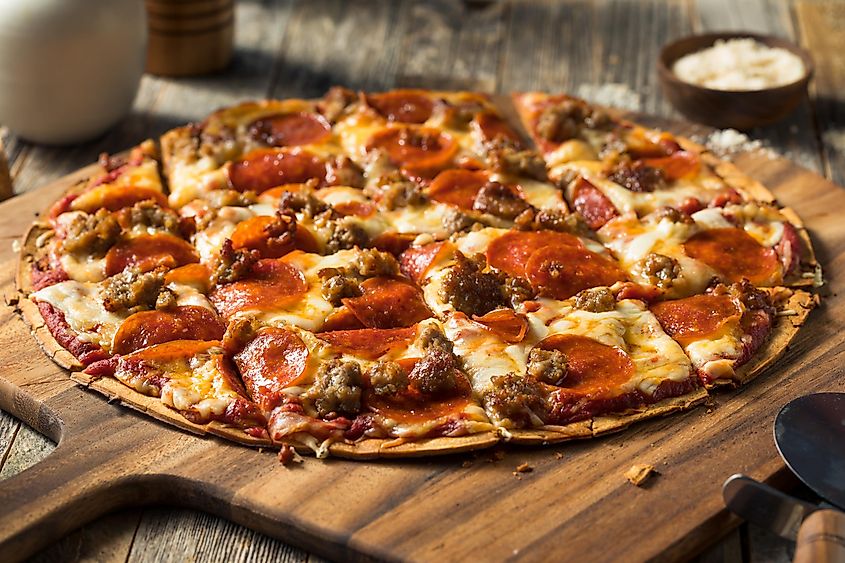 When you think of Missouri, you might immediately start drooling over smoky barbecue visions. However, while Missouri does take pride in some mouth-watering BBQ joints, painting its culinary scene with that one brush misses the mark. This Midwestern state is also a hotbed of other culinary delights, including St. Louis-style pizza, toasted ravioli, and gooey butter cake. Cities like St. Louis have become foodie destinations where international cuisine—from sushi to Ethiopian fare—can be readily found. Many restaurants also focus on farm-to-table, showcasing local produce in their menu offerings. So, if you are planning a food tour in Missouri, get ready to expand your palate way beyond barbecue.
Montana is purely a state of ranches, wilderness, cowboys, and cowgirls.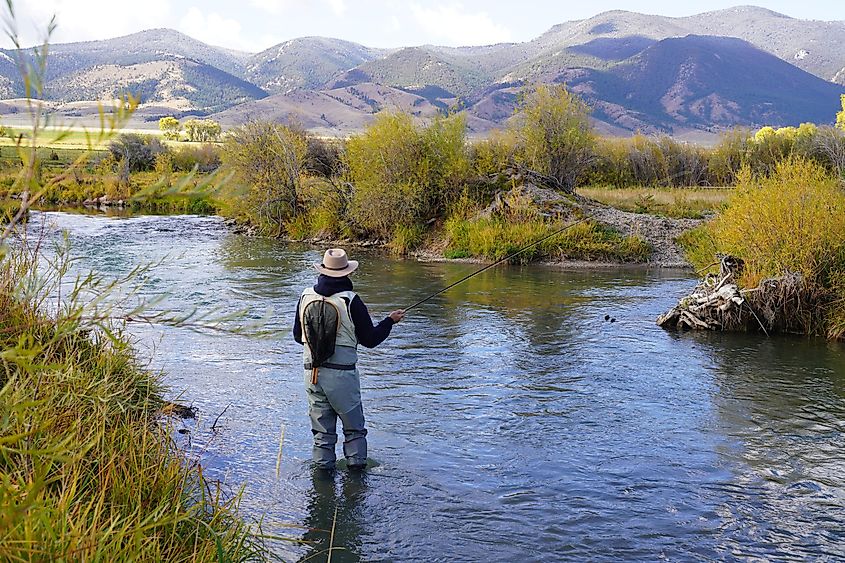 Montana often conjures up images of cowboys riding against the backdrop of sprawling wilderness or vast ranches. While it is true that Montana has a strong cowboy heritage and plenty of open space, it is not an all-encompassing cowboy drama playing on a loop. Cities like Bozeman and Missoula are bustling with festivals, high-quality education centers, and decent nightlife. The state is also a hub of scientific research, home to Montana State University's cutting-edge research facilities. Outdoor activities are not confined to horse riding; you will find passionate communities for fly fishing, hiking, skiing, and even mountain biking. Montana's contemporary lifestyle combines rural and urban sensibilities, reflecting its multifaceted population.
Nebraska is covered in endless, flat cornfields.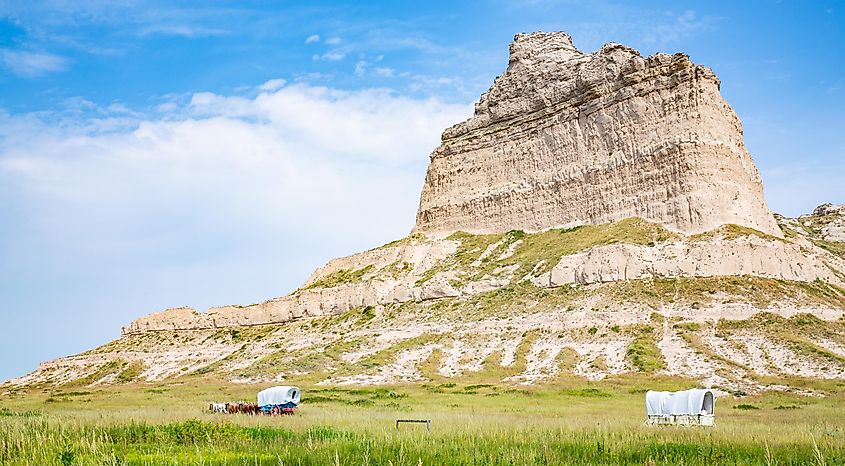 If you hear Nebraska, and your mind immediately rolls out an image of an endless, monotonous landscape of cornfields, you might need to update your mental map. Contrary to popular belief, the state is not just a never-ending stretch of flat cornfields. It has its fair share of hills, rivers, and even sand dunes. In fact, the Sandhills region covers nearly one-fourth of the state and is one of the largest sand dune formations in the Western Hemisphere. Additionally, Omaha, the state's largest city, is a significant center for business, notably the home of Warren Buffett and the headquarters of seven Fortune 500 and 1000 companies. Far from a single-note state, Nebraska surprises its visitors with its varied topography and economic breadth.
Nevada - Casinos and Las Vegas define the state.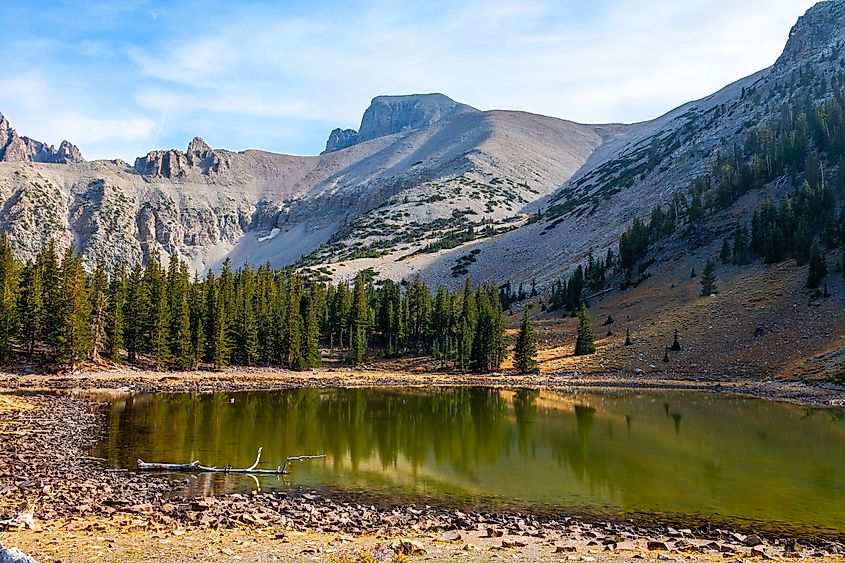 Grab your dice because we are rolling into Nevada! People often reduce the state to its glittering strip of casinos in Las Vegas. Sure, Sin City is a spectacle of neon lights, slot machines, and Elvis impersonators, but Nevada is more than just one big casino floor. Areas like Reno and Carson City have their own blend of entertainment, history, and outdoor activities that include biking and hiking. Moreover, if you are into natural wonders, the state is home to places like the Great Basin National Park and Lake Tahoe. Far from just being a gambler's paradise, Nevada is made up of a variety of landscapes and recreational opportunities that cater to a myriad of interests.
New Hampshire - People only visit New Hampshire for the Winter Sports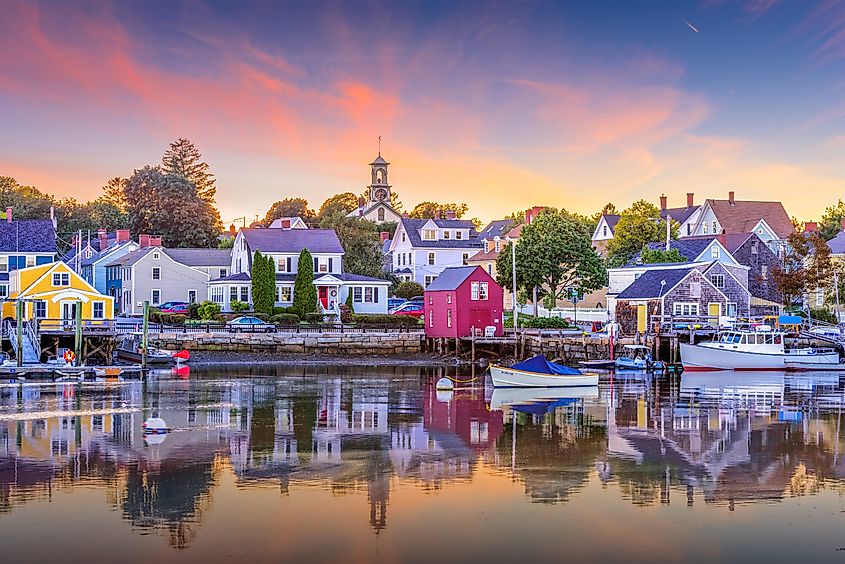 Ah, the call of winter! Is that what you hear when someone mentions New Hampshire? The Granite State is often pigeonholed as a winter sports destination, and while it is true that the ski slopes here are fantastic, that's hardly the whole picture. The state is an outdoorsy person's dream all year round. The White Mountains, for example, offer hiking, rock climbing, and camping in the warmer months. Let's not forget about the lakes that provide boating and fishing opportunities. Additionally, New Hampshire holds a wealth of historical significance, being one of the original 13 colonies. Far from being a one-season wonder, New Hampshire has outdoor activities and historical sites that make it a year-round destination.
New Jersey - The Jersey Shore TV show accurately represents the state.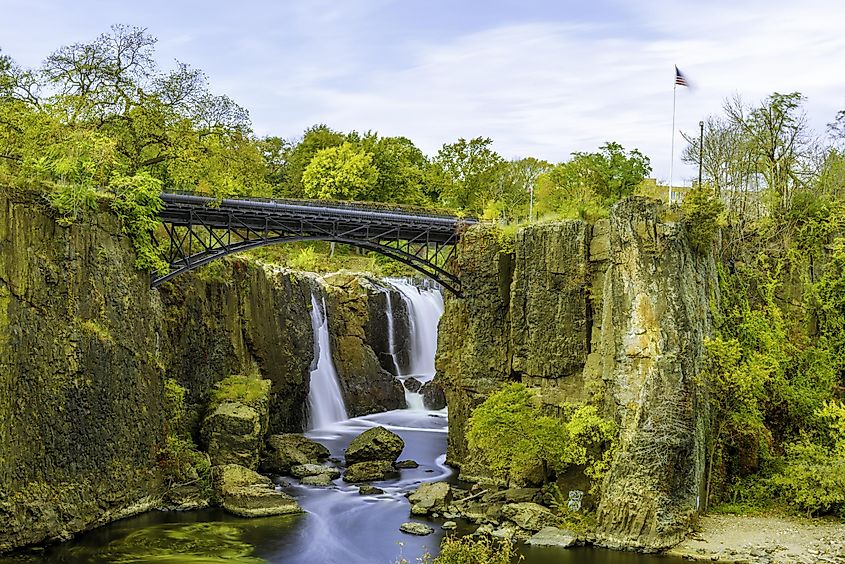 Blow out your hair and turn up the music; it is New Jersey time! Now, hold on, Snooki and "The Situation" might have made for entertaining television on the Jersey Shore, but they are far from ambassadors of the state's true essence. Contrary to popular belief, New Jersey is not just a stretch of beach filled with gyms, tanning salons, and laundromats. The state is often called the "Garden State" for good reason; it has lush farmlands, producing everything from tomatoes to blueberries. Cities like Princeton and Hoboken display a blend of intellectual depth and urban sophistication, thanks to their historical landmarks and educational institutions. New Jersey has so much more to reveal than what's been captured through the lens of reality TV.
New Mexico is inseparable, in culture and aesthetics, from Mexico.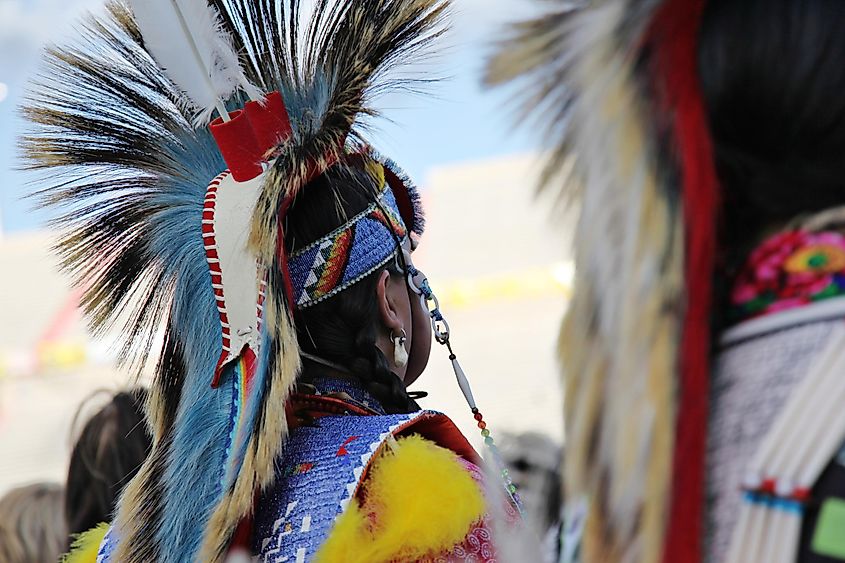 For New Mexico, some folks get lost in the imagery of spicy chili peppers, adobe houses, and sombreros, thinking it is basically Mexico 2.0. Although it is true that New Mexico shares some cultural elements and history with its southern neighbor, this characterization glosses over an identity that is distinctly its own. Indigenous influence, for example, is highly significant. Navajo, Pueblo, and Apache peoples have left an indelible mark on the state's arts, traditions, and even governance. Moreover, the Land of Enchantment has its own culinary traditions that, while spicy, diverge from Mexican cuisine. From the state's origins to its modern-day life, New Mexico is a confluence of Native American, Hispanic, Anglo, and even African-American histories and customs. This potpourri of influences creates an environment quite different from Mexico, making it an oversimplification to treat the two as culturally indistinct.
New York - Everyone in New York is always in a hurry.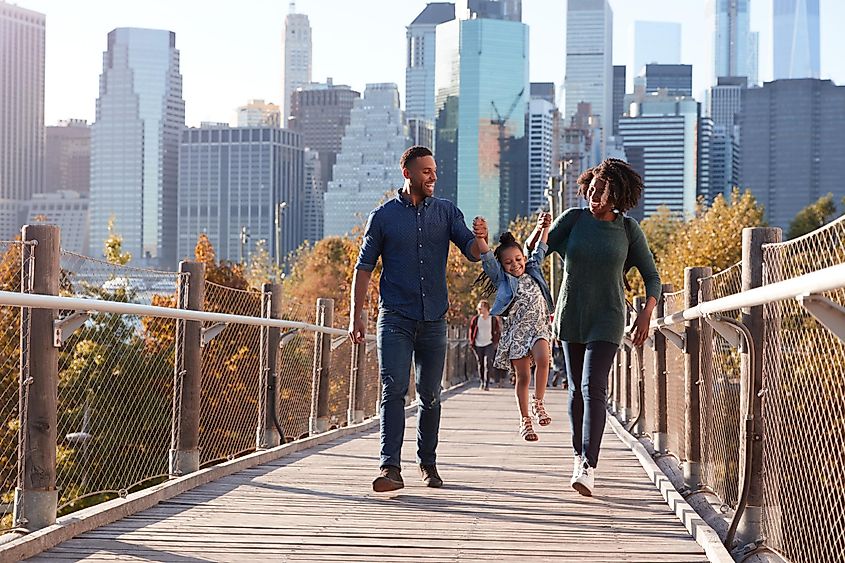 When people think of New York, they often conjure visions of hurried businessmen and frazzled commuters, each person a cog in the restless machinery of the city that never sleeps. Sure, Manhattan's frenetic pace has earned its stereotypes, but New York State is far more than just the Five Boroughs. Upstate regions like the Adirondacks and Catskills are more laid-back, offering nature and tranquility to those who visit or reside there. Residents of cities like Buffalo, Syracuse, and Rochester often embrace a slower pace, too, emphasizing community ties and local activities. While it is true that New York City may operate at a breakneck speed, the state as a whole showcases a handful of lifestyles, far removed from the incessant rush attributed to its most famous city.
North Carolina - Everyone in North Carolina loves NASCAR.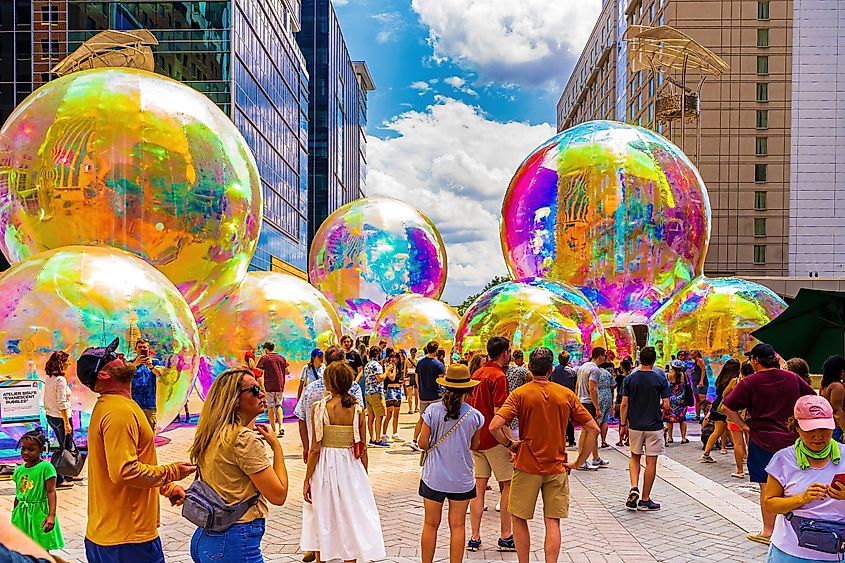 As for North Carolina, the roar of engines and the cheer of crowds make it easy to label it as the undisputed heartland of NASCAR. However, this does not mean that every North Carolinian is a die-hard racing fan. The state is also home to a powerful sciences industry, prestigious academic institutions like Duke University and the University of North Carolina at Chapel Hill, and a lively arts community. In places like Asheville and the Research Triangle, you are just as likely to encounter folks engrossed in the latest scientific research, local politics, or the newest craft beer release. Yes, auto racing is a significant aspect of the state's identity, but North Carolina is far more than just a sea of NASCAR enthusiasts—it is a state of abundant interests and pursuits.
North Dakota - Farming is the only available profession.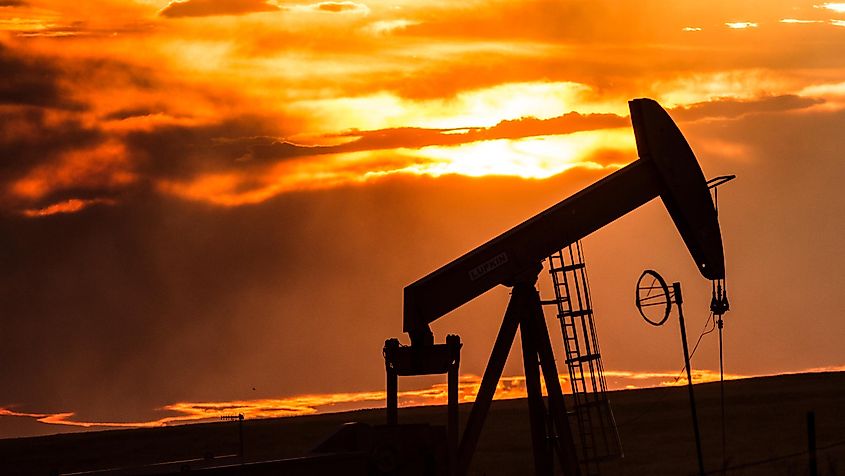 Crisscrossed by fields of sunflowers and wheat, North Dakota might seem like the breadbasket you would have wished was in your college dorm—reliable but slightly monotonous. But contrary to the idea that the only viable career path here is in manual labor and farm logistics, North Dakota has more layers than a Midwestern casserole. Energy production is a major player in the state's economy; North Dakota is a leader in crude oil production from the Bakken shale formation. Technology sectors are also on the rise, with a growing focus on cybersecurity, drones, and remote work. The healthcare and education sectors are also buoyant, providing a range of opportunities. So, while you might still know a farmer or two, do not be surprised if your next-door neighbor is a software developer or a healthcare professional.
Ohio - People in Ohio do not have an accent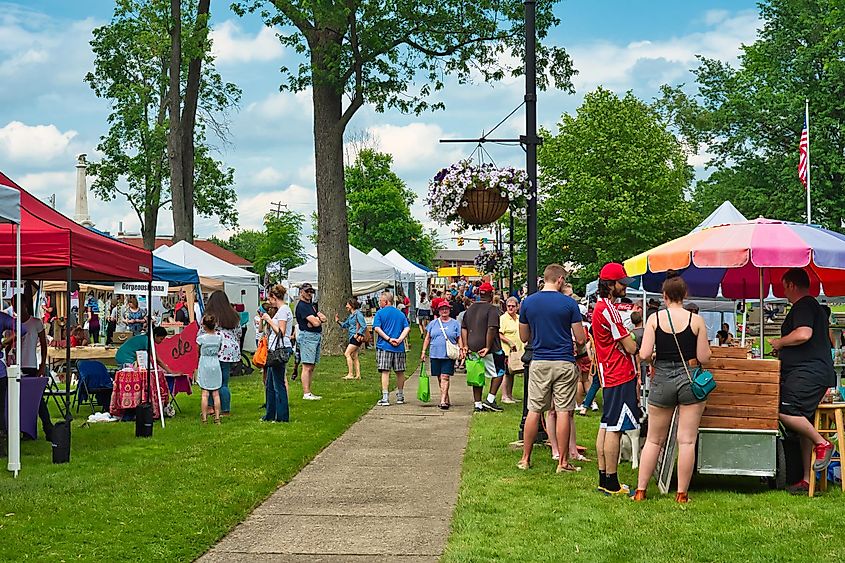 "Hey, y'all, we are from Ohio, and we talk just like everyone else!" Or do they? Contrary to popular belief, Ohioans do, in fact, have a distinctive way of speaking; it is just not as pronounced as a Southern drawl or a Boston accent. Linguists note that the Northern Cities Vowel Shift, a phenomenon altering vowel pronunciation, affects parts of Ohio. In southern and central Ohio, one might even detect a twinge of a Midland accent. Furthermore, Ohio has a slew of regional colloquialisms; for instance, some Ohioans call a distant place "way out in Egypt" or refer to a rubber band as a "gum band." Language can be a quiet signifier of our roots, and Ohio is no exception to this rule.
Oklahoma is just plains and oil rigs.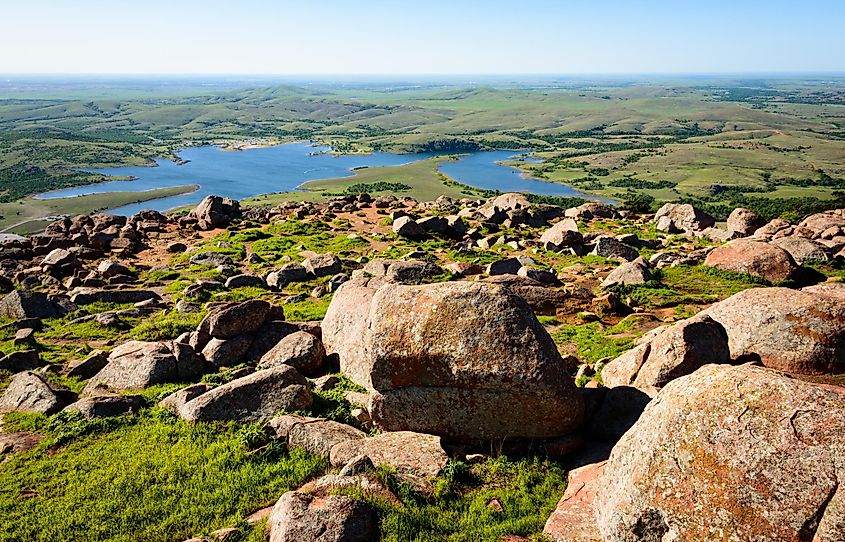 Tumbleweeds, oil rigs, and long stretches of the open road might be the first things to pop into your mind when you think of Oklahoma. It is as if the state were a backdrop for an old Western movie, barren except for cowboys and crude oil. However, Oklahoma's landscape offers more than just flat plains. It is home to numerous state parks featuring a myriad of terrains, from the lush Ouachita National Forest to the rocky Wichita Mountains. And let's not overlook the state's substantial Native American history, which is evident in its numerous museums, cultural centers, and even in its name—Oklahoma derives from two Choctaw words meaning "red people." Between the arts, the outdoors, and its history, Oklahoma defies its stereotype as a one-note, flatland state.
Oregon's cities all prioritize progressive politics.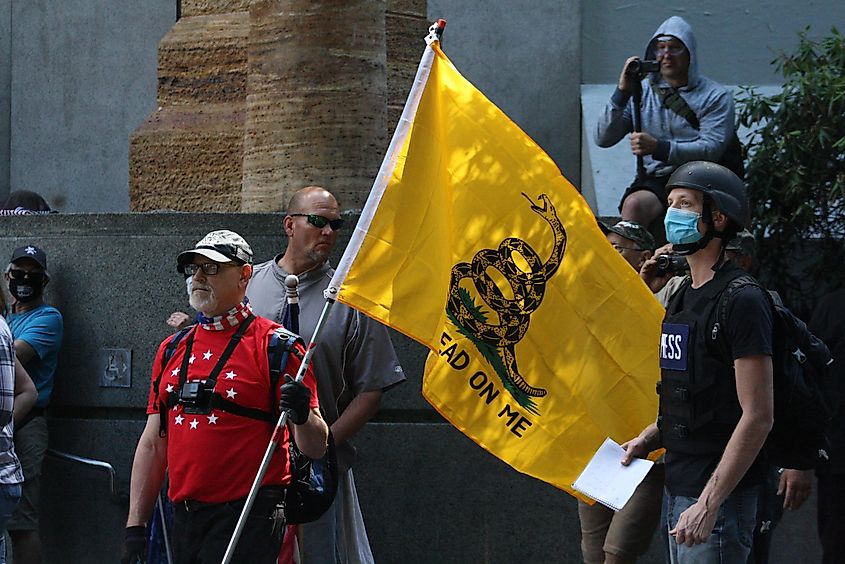 So, you think Oregon's entire map might as well be one big, blue political sign? Many people associate Oregon, particularly cities like Portland, with progressive politics and social activism. While it is true that urban areas like Portland and Eugene lean left, let's not paint the whole state with the same brush. Eastern Oregon, for example, is far more conservative, sharing many political and social views with neighboring Idaho. There are numerous rural communities where agriculture, forestry, and conservative viewpoints hold sway. In fact, political initiatives often see vastly different levels of support across the state's geography, proving that Oregon is far from a one-note political entity.
Pennsylvania is just the city of Philadelphia surrounded by Amish country.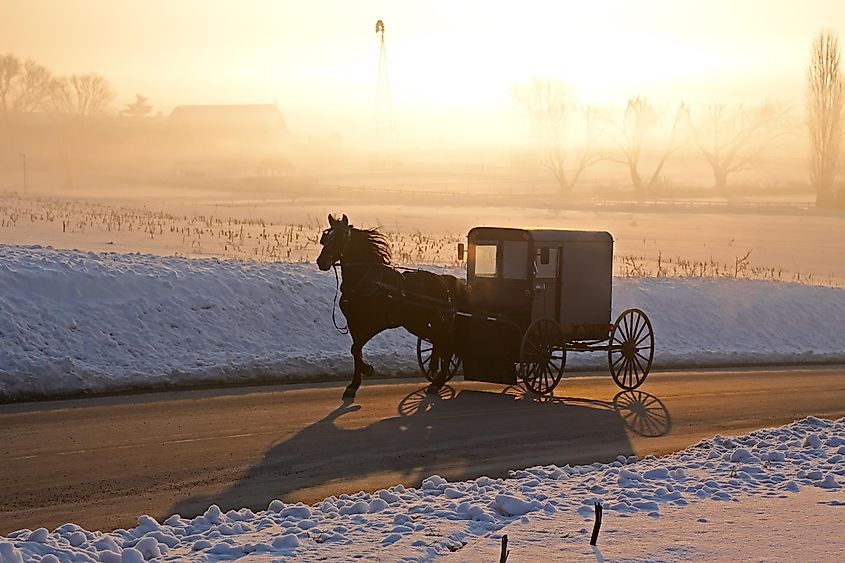 Flip a coin in Pennsylvania; heads, you will land in Philadelphia; tails, you are in Amish Country—think again! The Keystone State is far more than just its largest city and its horse-and-buggy neighborhoods. There is Pittsburgh, a city with a strong industrial heritage and a newfound tech interest. Coal towns, former manufacturing strongholds, and large swaths of forested mountains also add to Pennsylvania's makeup. Historically, Pennsylvania has a complex sociopolitical landscape marked by the sometimes clashing, sometimes harmonious coexistence of differing cultural groups, from the Scots-Irish in Appalachia to the German-descended Pennsylvanians in the state's center. To distill Pennsylvania into just Philly cheesesteaks and Amish quilts is to overlook its nuanced character.
Rhode Island is entirely an island.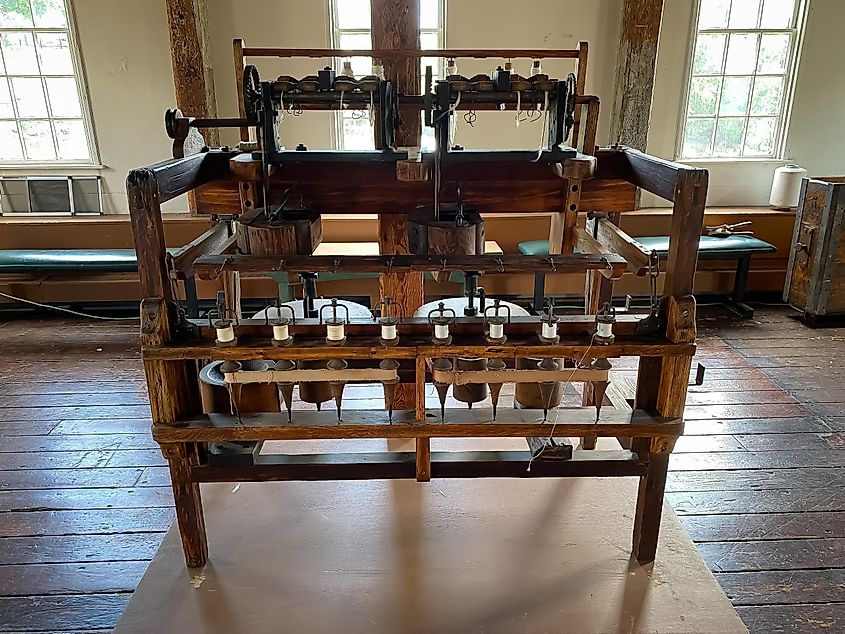 As for Rhode Island, the name is a bit of a geographic tease; it is not entirely an island. While the state does have several islands—including Aquidneck Island, home to Newport and several other towns—the majority of its landmass is part of the mainland United States. The capital, Providence, is not on an island, and much of the state's culture and industry are rooted in its mainland communities. For instance, Pawtucket was a cornerstone of the American Industrial Revolution, nowhere near the salty sea breezes you might associate with island life. Though small, Rhode Island is made up of a range of landscapes, from coastal cliffs to wooded areas, challenging the perception that it is just a state you can sail around in an afternoon.
South Carolina - Shrimp and Grits are on every Menu in the state.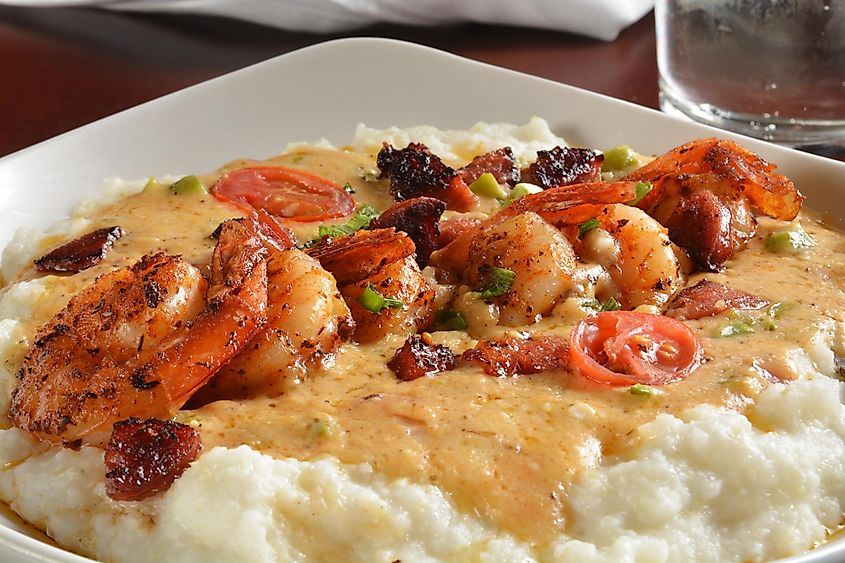 So you thought South Carolina was one big shrimp and grits festival, right? While the delicious dish is a Southern classic that's popular in the Palmetto State, the culinary focus here is far more elaborate. Think globally inspired cuisine, farm-to-table eateries, and food festivals that celebrate much more than just shrimp and grits. Take Charleston, for example, which has an innovative dining edge that competes with cities much larger in size. Then there are also barbecue joints, seafood restaurants serving freshly caught fish, and even vegan and vegetarian spots that push the boundaries of plant-based cooking. Thus, the cuisine of South Carolina is an anthology, not a one-hit wonder.
South Dakota comprises ranches and Mount Rushmore, but nothing more.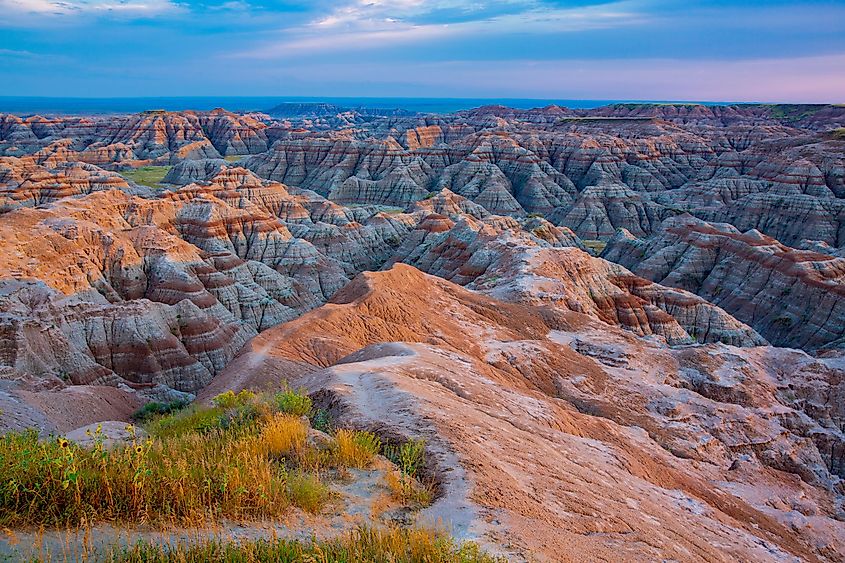 Ah, South Dakota, land of ranches and Mount Rushmore, and nothing else—so the story goes. Contrary to this narrow viewpoint, the state has a collection of experiences that go well beyond cowboys and presidential faces carved in stone. For instance, the Badlands offer miles of unusual geological formations that are an outdoor enthusiast's playground. And let's not forget the underrated Black Hills, home to hiking trails, underground caves, and abundant wildlife. Deadwood, a city steeped in Wild West history, has its own tale to tell, separate from ranches and Mount Rushmore. As for urban culture, Sioux Falls and Rapid City have art galleries, museums, and an emerging remote-work angle, making South Dakota more surprising than many give it credit for.
Tennessee - Everyone in Tennessee plays a musical instrument.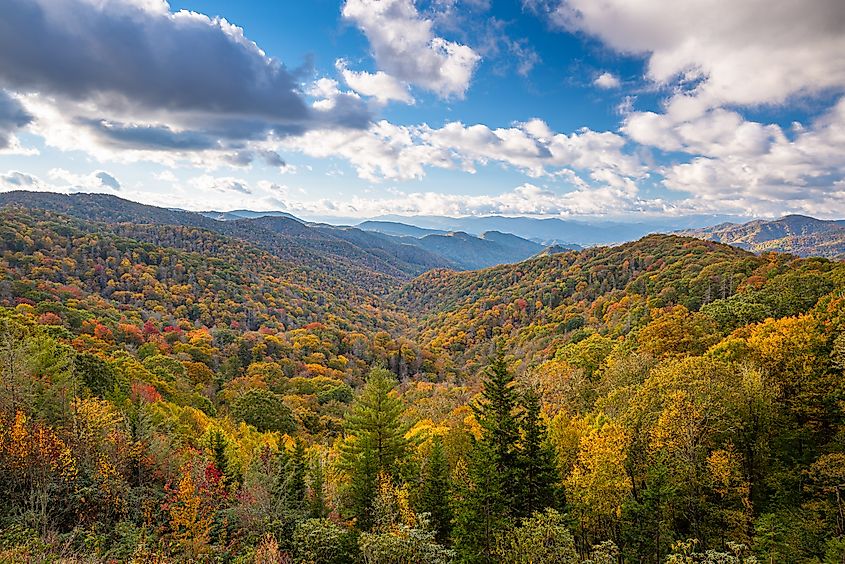 Strumming a banjo in every backyard—that's the Tennessee stereotype, right? While the Volunteer State does have a storied musical legacy, with Nashville as its epicenter, it is not a requirement for every resident to play an instrument. The state also prides itself on other forms of art, history, and industries. Memphis, for instance, has a strong connection to the Civil Rights Movement, embodied by the National Civil Rights Museum. Chattanooga is reinventing itself as a tech-savvy city fueled by one of the fastest internet speeds in the United States. Then there's the Great Smoky Mountains, offering outdoor activities that have nothing to do with music but everything to do with the beauty of nature. So, even if you cannot play a single note, Tennessee still has a place for you.
Texas is a desert where everyone rides horses to work.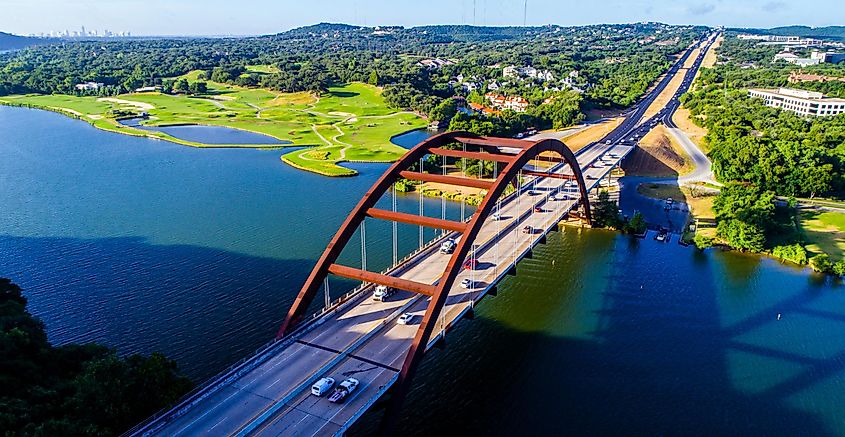 In Texas, the fantasy often plays out like a sun-baked spaghetti western where locals don cowboy hats and ride horses to their 9-to-5 oil rig jobs. This image does a disservice to the true geography and lifestyle of the Lone Star State. The state's terrain is incredibly varied, from the Hill Country's rolling landscapes to the dense forests of East Texas. Contrary to popular belief, less than 10% of Texas' land is desert. As for transport, you are more likely to be stuck in traffic on I-35 than riding a horse to your 9-to-5 job. So, put aside that cowboy narrative; Texas is far more nuanced.
Utah is a state without nightlife or entertainment.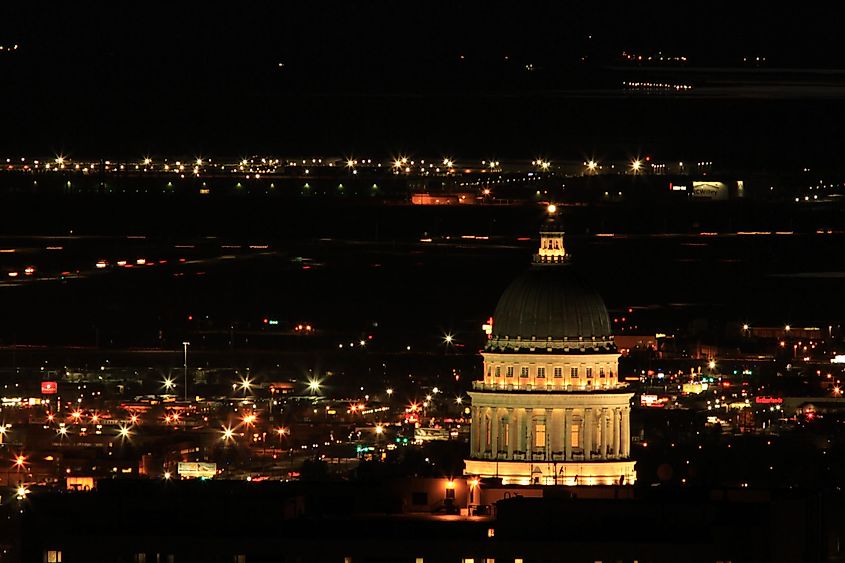 If you think Utah is the place where nightlife and entertainment go to retire, you've been misinformed. Salt Lake City and its surrounding areas are anything but sleepy; they are actually quite alive with a range of activities that stretch well beyond the state's renowned outdoor adventures. Whether it is live music, craft breweries, or film festivals like Sundance, Utah defies the stereotype that it is a dull locale only suitable for nature enthusiasts. Furthermore, the state has an increasingly dynamic food scene. Sushi, tapas, or Ethiopian cuisine, you can find it in Utah. While the state does have strong religious roots, which contribute to its community-centric atmosphere, it is not a monochrome backdrop lacking in fun and flavor.
Vermont - Everyone in Vermont is an environmentalist.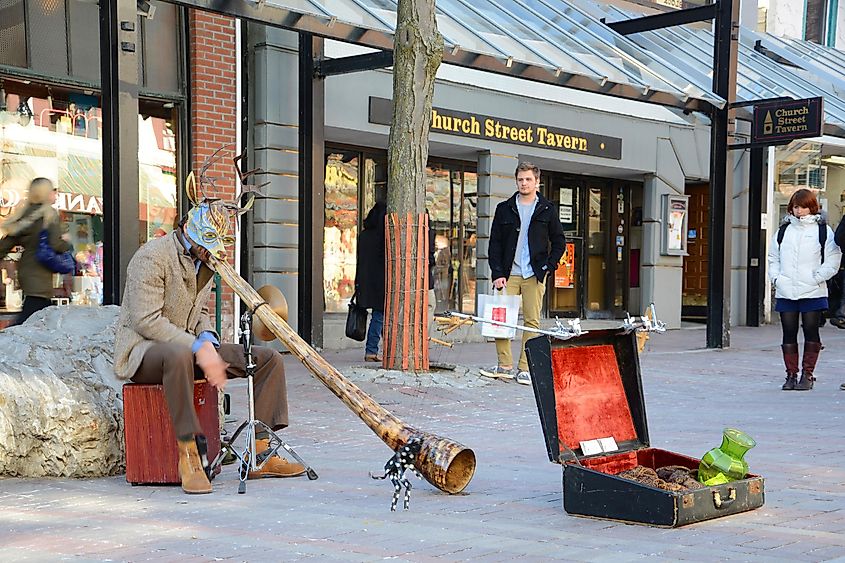 Mention Vermont, and images of tree-hugging, granola-crunching environmentalists might flood your mind. While the state does live up to a strong commitment to sustainable living, not every Vermontter is an outspoken environmental activist. Vermont's population is engaged in a broad array of professions, from education and healthcare to manufacturing and technology. The state's cultivating history does mean that many are connected to the land and may have a vegetable garden or even a couple of cows, but that does not make them all green crusaders. Moreover, political beliefs in Vermont, like anywhere else, are not a monolith. There are conservative pockets and liberal strongholds, creating a more nuanced political landscape than the "everyone is an environmentalist" cliché would have you believe.
Virginia is mostly comprised of historical sites and battlefields.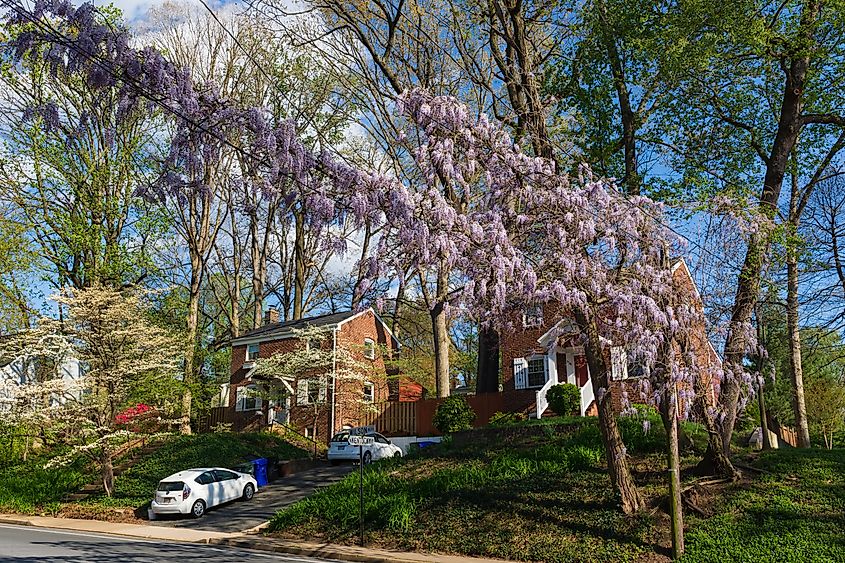 Rumor has it Virginia is but a grand living museum, obsessed with its own historical narratives. Sure, you've got Revolutionary War sites and important documents penned by Founding Fathers, but Virginia is also a hotbed of modern industries, including aerospace, shipbuilding, and even wine production. Cities like Arlington and Alexandria are home to cybersecurity companies and government agencies that play a vital role in shaping the modern world. Virginia Tech and the University of Virginia are just a couple of the higher education institutions that nurture young minds in fields ranging from computer science to healthcare. The state is a blend of both history and the future, making it not just a relic of America's past but also a guidepost to its future.
Washington - It always rains in Washington.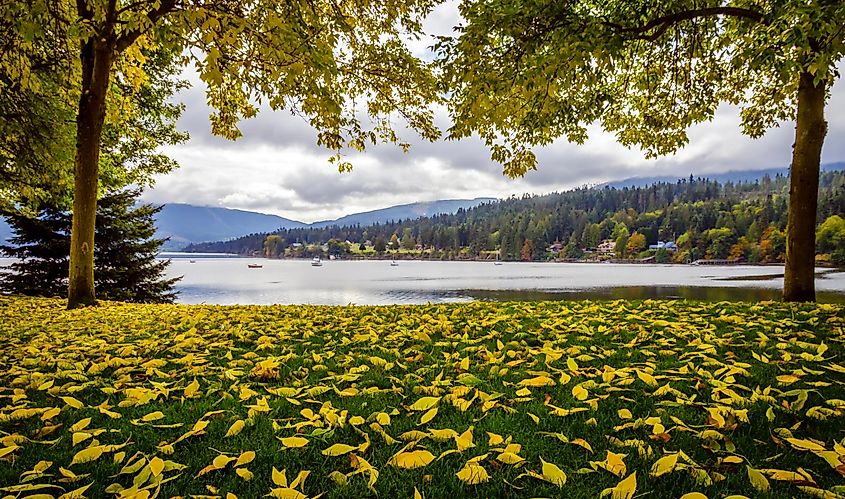 If you pack an umbrella for a trip to Washington State, you are not alone; its soggy reputation precedes it. However, limiting the state to perpetual rainfall is like saying the Space Needle is just a place to get a good view. Yes, Seattle sees its fair share of drizzles, but the eastern half of the state enjoys a more arid climate, typical of a continental environment. Cities like Spokane and Wenatchee experience more sunny days per year than they do rainy ones. Even within the more humid western region, the Olympic Rain Shadow provides a drier zone for places like Sequim, which gets about as much rain annually as Los Angeles. So, while an umbrella might be advisable, do not forget the sunscreen either.
West Virginia is all mountains and coal mines.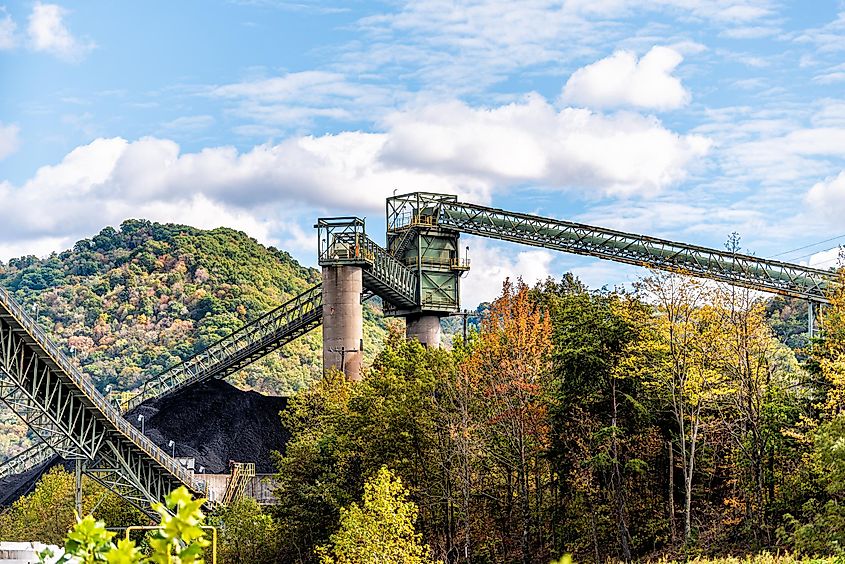 Cue the banjo music; it is West Virginia! This state often gets cinematically typecast as a haven for mountains and coal mines, but there's a lot more going on. Sure, the Appalachian range gives the state a topographical high-five, but areas like the Kanawha Valley bring industrial and chemical manufacturing to the table. Also, tourism is a growing industry, with activities ranging from white-water rafting to historical sightseeing that has little to do with mining. Moreover, the state hosts various cultural events like the Vandalia Gathering, which celebrates traditional Appalachian music and crafts. In essence, West Virginia is not just about hills and coal; it is a state that balances its industrial past with a push toward broader opportunities.
Wisconsin is purely obsessed with cheese and beer.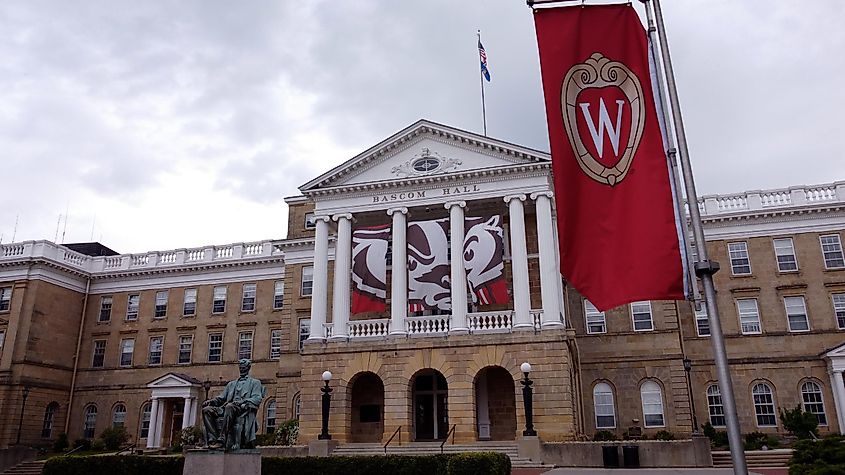 When you think of Wisconsin, you may just conjure up visions of cheeseheads at a Packers game and endless rows of breweries. While it is no secret that Wisconsin has a deep-rooted love for dairy and a cold brew, it is not the sum of the state's identity. In fact, Wisconsin has a strong educational framework, housing some notable institutions such as the University of Wisconsin-Madison. The state has also been a crucible for social and political progress, leading the way in worker's rights by being the first to establish unemployment benefits in 1932. Do not let the cheese and beer overshadow its historical importance and modern contributions in various fields.
Wyoming - Everyone in Wyoming is a cowboy or cowgirl.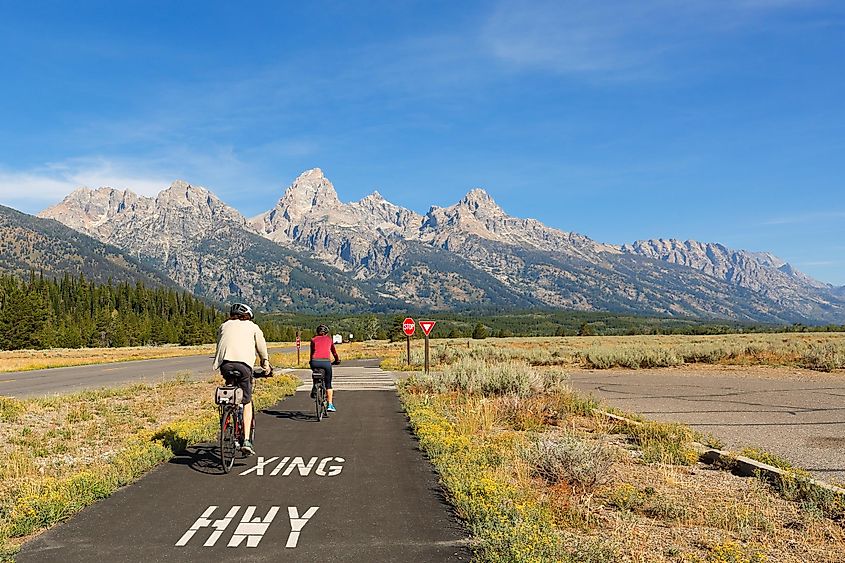 In Wyoming, the hats are wide-brimmed, and the rodeos are a plenty—or so the stereotypes would have you believe. It is true that the rodeo has a storied history in Wyoming, and the state does have a deep-rooted cowboy heritage. But this does not mean that everyone's a rancher or sauntering around in cowboy boots. Wyoming is also a leader in mineral and natural gas extraction. The energy industry is a major employer, and many residents work in sectors like education, healthcare, and retail. Outdoor activities abound, but you will find more than just horseback riding. From skiing to mountain biking, the state supports a wide range of interests that do not require a cowboy hat.
The Takeaway
The United States is huge. Because of its size, you will find that people in one corner know little — or nothing — about people in another corner. Studies show that only 2% of Americans have seen all 50 states. Because of this, coupled with the inclination of people to make unwarranted generalizations, several misconceptions are bound to sprout. From the idea that California is all beaches and palm trees — to the belief that bears run towns in Montana — misconceptions about the 50 states can be weird and wild.