World Facts
The 10 Biggest Cities In Washington
Seattle is the biggest city in the US state of Washington in terms of both population and land area.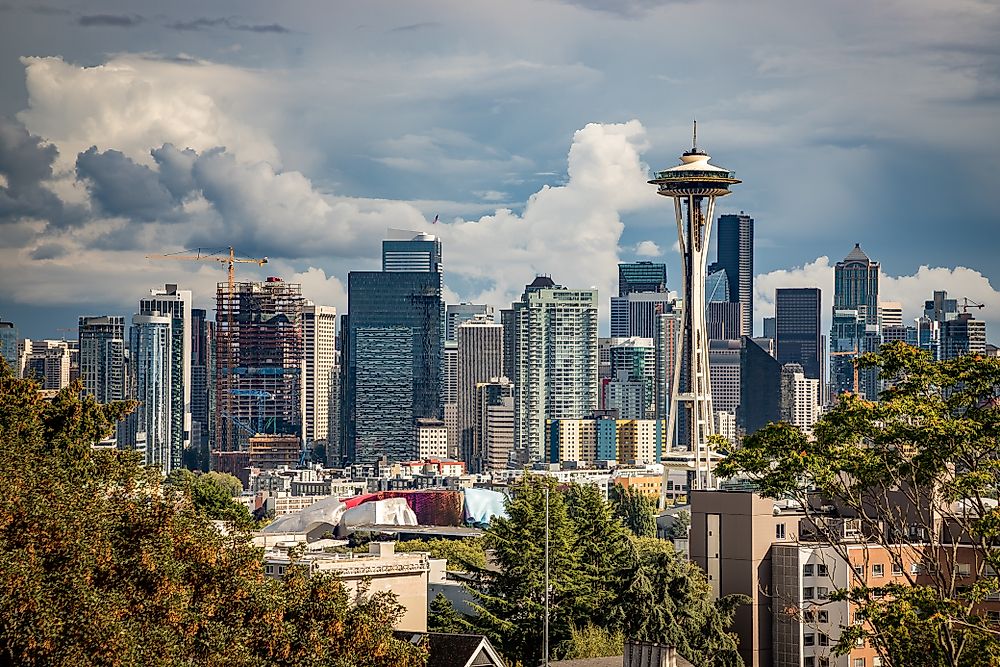 The State of Washington
The US state of Washington is located in the country's Pacific Northwest region. With an area of 184,827 square km, it is 18th most extensive state in the US. The state has a population 7,405,743, which ranks as the 13th most populous in the nation. Washington is subdivided into 39 counties and contains 281 incorporated municipalities, which include both cities and towns.
The Five Biggest Cities in Washington
1. Seattle
Seattle is the largest city in the state of Washington. It is a seaport city with a population of 608,660, which also makes it the most populous city in North America's Pacific Northwest region and one of the fastest growing cities in the US. Seattle is situated on an isthmus between Lake Washington and Puget Sound. Logging was the first major industry in the city, and Seattle is now the fourth largest container port in North America. Since the 1980s, the city has become a hub of information technology and biotechnology industries. The founder of Microsoft, Bill Gates, is from Seattle, and e-commerce company Amazon was founded in the city. Seattle also has a rich culture, and is known for its musical history. It has a thriving jazz and rock music industry. Rock and Roll Hall of Fame guitarist Jimi Hendrix was born in Seattle.
2. Spokane
With a population of 208,916, Spokane is Washington's second most populous city. It is the county seat of Spokane County and is located along the Spokane River. It is nicknamed the "Lilac City" and is the birthplace of Father's Day. Spokane's economy was initially dependent on natural resources, as mining, agriculture, and logging helped the city grow. Today, Spokane has a diversified economy, and is becoming increasingly service-oriented. The city's location near dozens of lakes and rivers allows inhabitants to enjoy numerous outdoor sports and recreational activities. The city is also served by Spokane International Airport.
3. Tacoma
Tacoma has a population of 198,397, making it Washington's third largest city. It is an urban port city that serves as the county seat of Pierce County. It is located on the Puget Sound, about 51 km southwest of Seattle. Tacoma is a hub of business in the South Sound region.
4. Vancouver
Not to be confused with the Canadian city of the same name, Vancouver, Washington is located on the north bank of the Columbia River. It had a population of 161,791 in 2010, ranking as the fourth biggest city in the state, and serves as the county seat of Clark County. It was founded in 1825 as a fur-trading outpost, and later incorporated in 1857. Located near the Washington-Portland state border, Vancouver is considered a suburb of Portland, Oregon. Given that the two states have different levels of income, property and sales taxes, Vancouver's proximity to the state border means its economy benefits from the principle of border economics.
5. Bellevue
Bellevue is Washington's fifth most populous city, with a population of 122,363. The city is located in King County, within its Eastside region. The downtown area of Bellevue is a thriving business center that features approximately 1,300 businesses and 45,000 employees. In recent years, Bellevue has been ranked as one of the best places to live and work in the US by various surveys, including CNN Business and USA Today.
The Capital of Washington
Interestingly, the state capital of Washington is not included on the list of the state's 10 most populous cities. Olympia, the state capital, is the 22nd most populous city in the state, with a population of only 46,478. Olympia serves as the county seat of Thurston County.
The 10 Biggest Cities in Washington by Population
| Rank | Name | County | Population (2010 Census) | Land Area |
| --- | --- | --- | --- | --- |
| 1 | Seattle | King | 608,660 | 217.1 km2 |
| 2 | Spokane | Spokane | 208,916 | 178.0 km2 |
| 3 | Tacoma | Pierce | 198,397 | 128.8 km2 |
| 4 | Vancouver | Clark | 161,791 | 121.2 km2 |
| 5 | Bellevue | King | 122,363 | 86.7 km2 |
| 6 | Everett | Snohomish | 103,019 | 85.8 km2 |
| 7 | Kent | King | 92,411 | 87.4 km2 |
| 8 | Yakima | Yakima | 91,067 | 71.6 km2 |
| 9 | Renton | King | 90,927 | 60.5 km2 |
| 10 | Spokane Valley | Spokane | 89,755 | 97.7 km2 |
About the Author
Oishimaya is an Indian native, currently residing in Kolkata. She has earned her Ph.D. degree and is presently engaged in full-time freelance writing and editing. She is an avid reader and travel enthusiast and is sensitively aware of her surroundings, both locally and globally. She loves mingling with people of eclectic cultures and also participates in activities concerning wildlife conservation.
This page was last updated on January 29, 2019.
Citations
Your MLA Citation
Your APA Citation
Your Chicago Citation
Your Harvard Citation
Remember to italicize the title of this article in your Harvard citation.