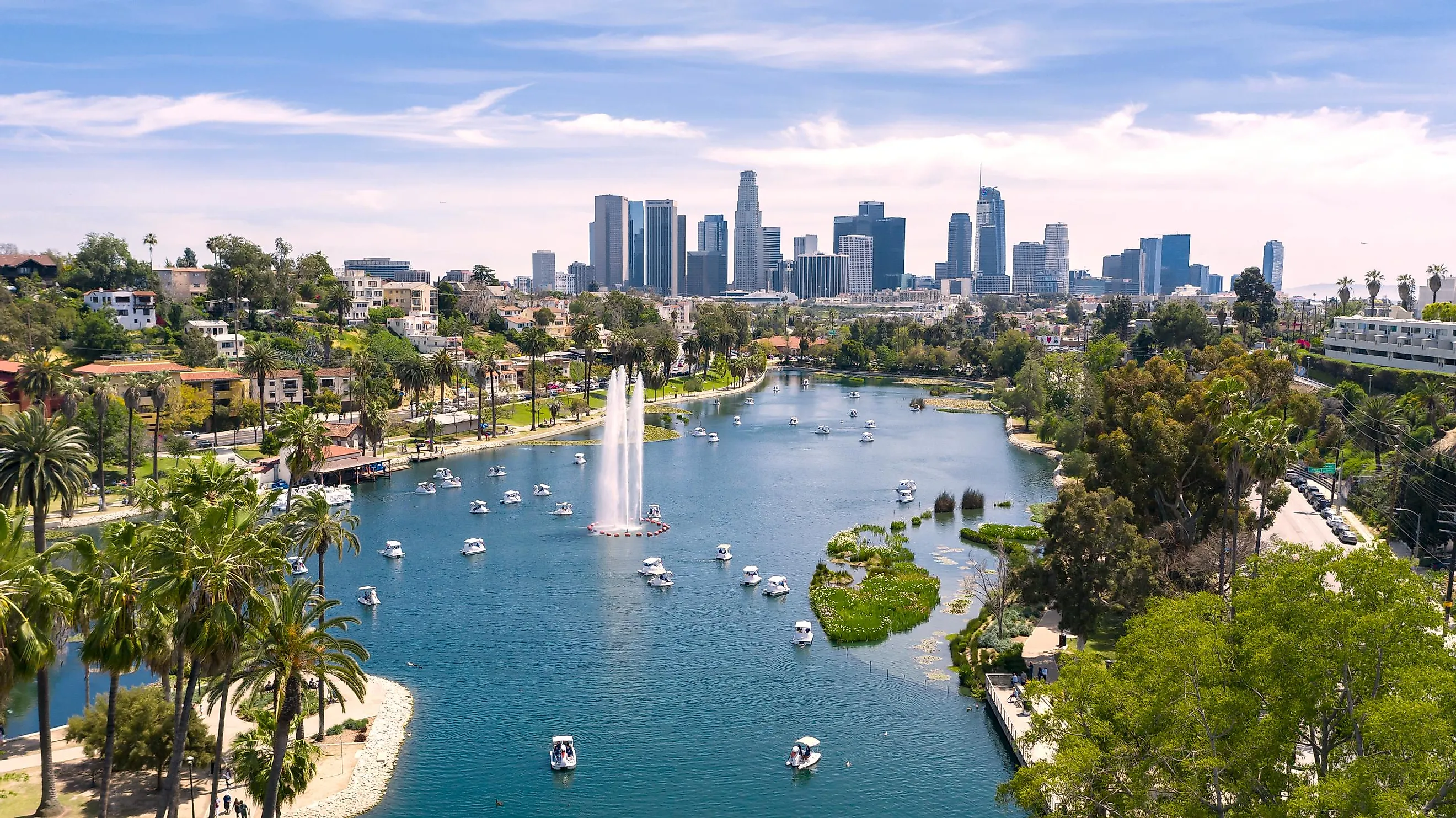 The center of Hollywood, Los Angeles, is a city full of celebrities, bright lights, and fascinating history. One of America's most famous cities (and the nation's second-largest), the "City of Angels" is a bustling place of excitement and opportunity. From the film industry to its diverse cultural makeup and stunning natural beauty, Los Angeles is truly one of the great places in the United States. 
Geography Of Los Angeles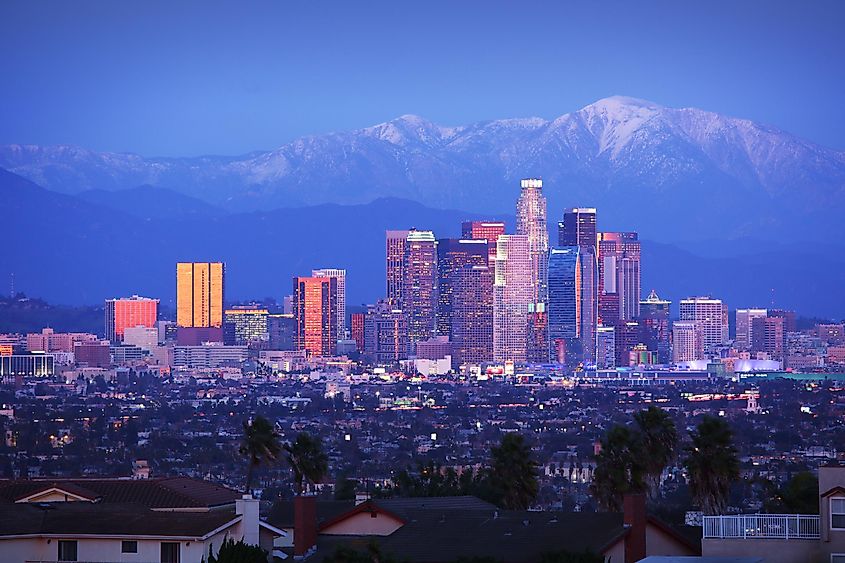 Situated in Southern California, Los Angeles is well known for its warm weather and beautiful natural surroundings. Bordered by the Pacific Ocean in the West and South, the San Gabriel Mountains in the East, and the Santa Monica Hills in the North, the Los Angeles region is full of valleys and canyons. Indeed several mountain chains run through the Los Angeles area, and the region is known for experiencing rock and mudslides, earthquakes, and forest fires. 
Among the peaks of note in the greater Los Angeles area are San Bernardino, Santa Monica, San Jose, and Repetto Formation, while the San Fernando and San Gabriel Valleys are known for their great panoramic beauty. In addition, the city's splendid beaches and Pacific Ocean coastline make it a true tourist hot spot for much of the year. Meanwhile, visitors can also enjoy three major rivers running through the region: the Los Angeles River, the Santa Clara River, and the San Gabriel River. 
Climate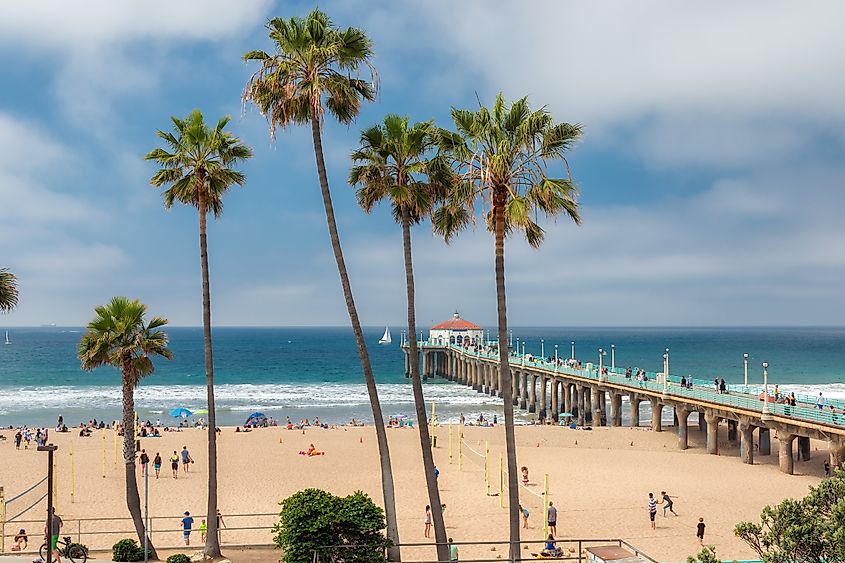 Los Angeles experiences a subtropical climate, with warm Pacific Ocean breezes. Known for its dry and hot summers, Los Angeles averages at least 300 days of sunshine each year. The city experiences mild temperatures and rainy days in the winter, with much of its overall precipitation occurring between December and April. On average, Los Angeles sees up to 14 inches of yearly rainfall. Los Angeles is also known to experience a series of dry and strong winds, known as the Santa Ana winds, for several days at a time. Particularly active in the autumn, these winds can reach speeds of up to 80 kilometers per hour and, in the winter, can raise the temperature to 30 degrees Celsius. 
Demographics Of Los Angeles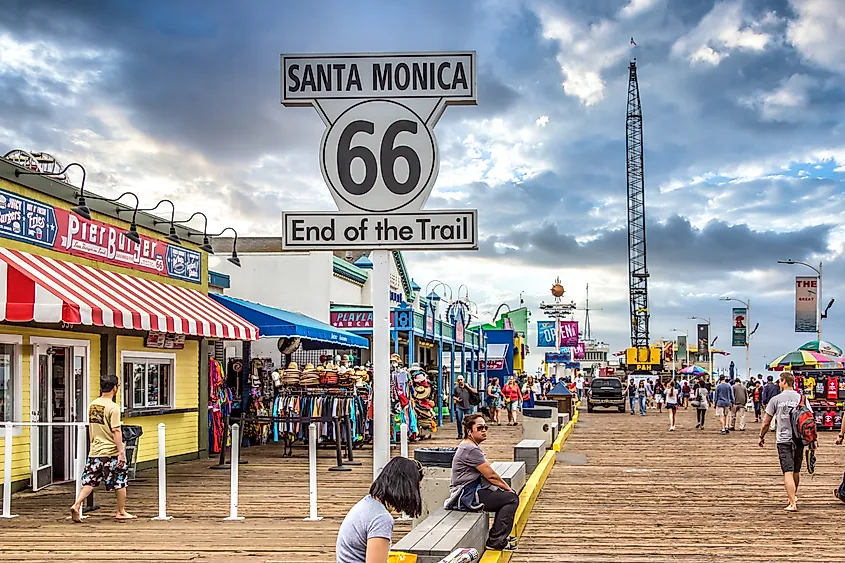 With a population of nearly 3.9 million people, Los Angeles is the second most populous city in America after New York. Today its demographic makeup makes it one of the most diverse places not just in California but the entire United States. Due to its historic governance by both Spain and Mexico, California and, by extension, Los Angeles continues to have a prominent Hispanic and Latin population, whose influence continues to be seen in many place names, including Los Angeles itself. In addition, the Spanish language, although not officially recognized, is spoken by at least 10 million people in California. Indeed people of Hispanic descent make up 45% of Los Angeles' population, with White Caucasian accounting for 29%. Other ethnic groups of note in the city include the Asian, Black, and Native American communities, rounding out the remaining percentage of residents. With a nearly 50/50 split between males and females, the median age in Los Angeles is 37, with the largest age group between 25 to 34, according to census data. 
Brief History Of Los Angeles 
Though long the home of several indigenous groups (including the Tongva and Chumash peoples), the modern history of Los Angeles and California can be traced to the mid-16th century. Settled by Spanish colonists in 1542, it would not be until well over two hundred years later that Los Angeles was formally established as a town in 1781. From a Spanish phrase meaning "The Angels," the name derives from a longer moniker in honor of "Mary Queen of the Angels."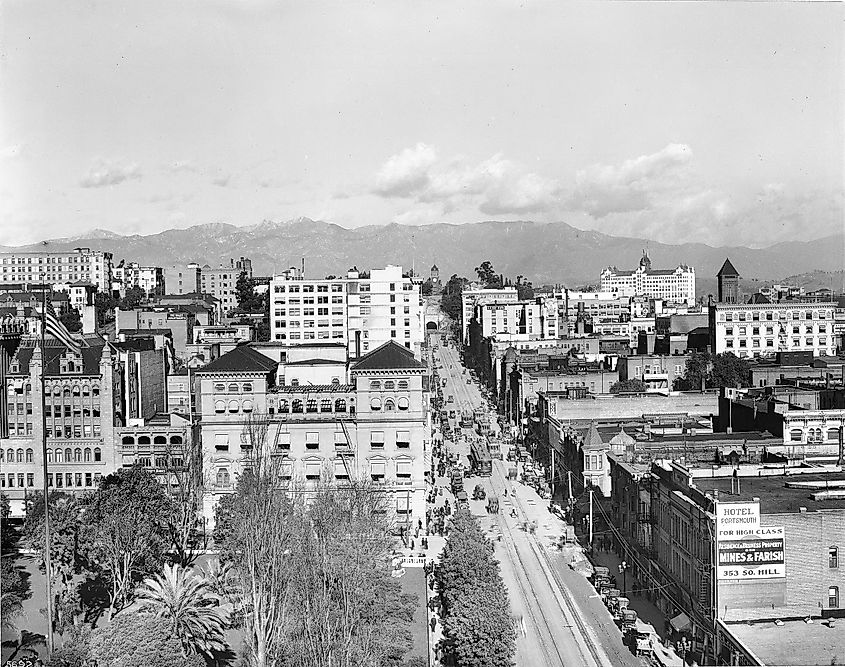 In 1821, Los Angeles fell under Mexican control following the Mexican War of Independence. Finally, as a result of the Mexican-American War (1846-1848) and the Treaty of Guadalupe Hidalgo, all Mexican possessions outside of Mexico were now transferred to the United States. In April 1850, Los Angeles was officially incorporated as an American city, and California was admitted to the Union just five months later. Through the rest of the 19th century, the city would continue to grow steadily, and it was an important supply center for the Union Army during the Civil War (1861-1865). As the 20th century progressed, so would the city's growth. Soon the birth of the American film industry would take root in Los Angeles as the city continued both its financial growth and its population boom. From just over 102,000 residents in 1900 to nearly 3.7 million one hundred years later, LA's growth was of truly exponential proportions. 
Economy Of Los Angeles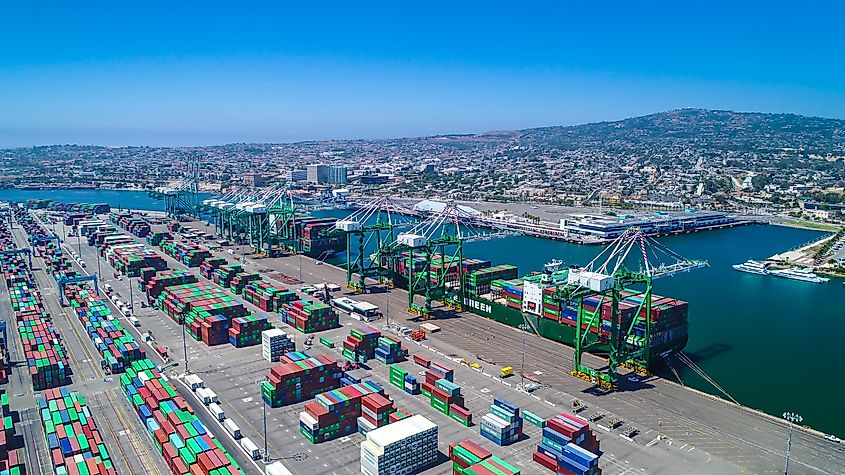 Los Angeles boasts a diverse economy ranging from the agricultural sector to manufacturing. A hub for international trade, the film and entertainment industry, tourism, fashion, finance, and telecommunications, the city boasted a GDP of $880 billion in the 2020 fiscal year. Home to the Port of Los Angeles and nearby Long Beach, the city has one of the biggest economic zones in the world and has been classified as a true "Global City." In addition to its film, entertainment, trade, and manufacturing jobs, Los Angeles is also known as a well-paying center for professions like lawyers, doctors, architects, engineers, and professors. According to 2020 data, the median income for single households in the city was just over $71,000. Some 14% of residents are considered to live below the poverty line. 
Attractions In Los Angeles 
It is impossible to visit Los Angeles and not meet face-to-face with its many attractions and cultural hotspots. The site of numerous museums, theatres, concert halls, landmarks, movie studios, and of course, natural beauty, there is indeed something to explore at every turn in the City of Angeles. There are nearly 900 museums in Los Angeles County (from art galleries to natural history to automotive exhibits and more), along with a wide-ranging array of restaurants and busy shopping outlets.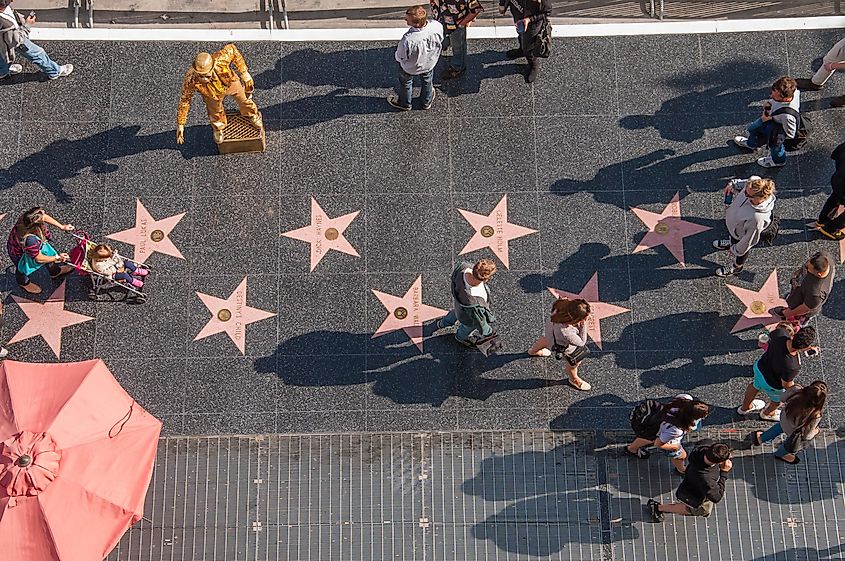 Other popular attractions are the Universal Studios Hollywood Theme Park and the Hollywood Walk of Fame. Driving on Hollywood Boulevard, viewing the handprints at Grauman's Chinese Theatre, and watching a concert at the Hollywood Bowl are all on offer in this gorgeous city. Those looking for a laid-back time can simply enjoy a stroll in Beverly Hills along palm-lined streets to soak in the sun.
Los Angeles is one of the most exciting urban metropolises in the nation. Its history, rich cultural mosaic, plethora of attractions, and stunning geographic beauty, make it a true one-stop wonder. For those traveling in groups, with family, or solo, the "City of Angels" is undoubtedly one of the best places to visit in the United States, perfect for anyone's social, cultural, culinary, and sun-seeking needs.