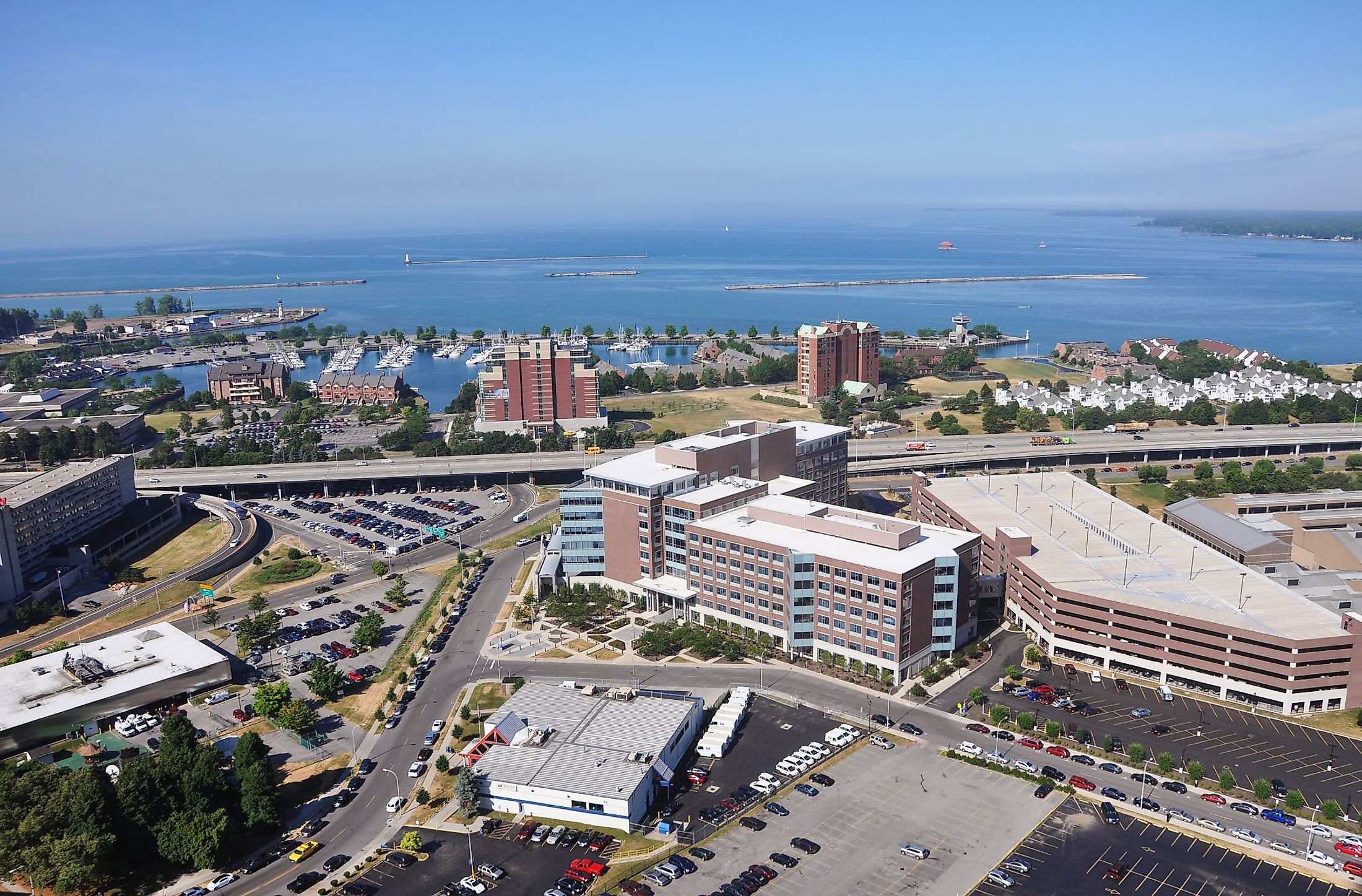 Aptly nicknamed "the City of Good Neighbors" for its welcoming environment, Buffalo is a beautiful city with a mix of urban life and peaceful tranquility. Located in Western New York and the county seat of Erie County, Buffalo is home to an endless array of unique attractions which attract tourists year-round. Whether this is the massive flour milling industries, cultural museums, or even the world-famous Niagara Falls, there is something for everyone to enjoy in Buffalo. Moreover, the city also holds immense historical value, having been at the forefront of many events and innovations. For example, it was the first city with electricity-lit streets and one of the few with a radial street pattern! So, with loads to do and explore, as well as a booming nightlife scene that goes on till 4 AM, Buffalo is an excellent place for anyone to visit.
Geography Of Buffalo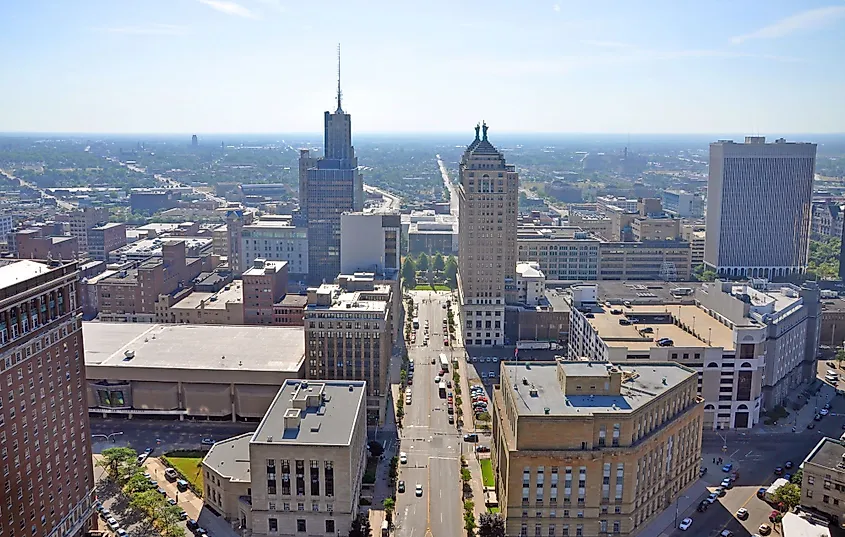 Located just south of the United States-Canada border, Buffalo is beautifully nestled at the eastern end of Lake Erie and at the head of the Niagara River, which flows into Lake Ontario. Thanks to this, the city has a long coastline stretching across the entire eastern boundary. Moving in from the coast, most of Buffalo is situated on the Erie/Ontario Lake Plain, which means it is primarily flat with the exception of some southern areas, such as Southtowns, which are slightly hilly. Due to this, the city sits relatively low, with an average elevation of 200 m. Apart from having an expansive coastline, Buffalo is also the second-largest city in New York, with a total area of 135.92 sq. km. Out of this, 104.58 sq. km is land, while the remaining 31.34 sq. km is covered by water. 
Climate Of Buffalo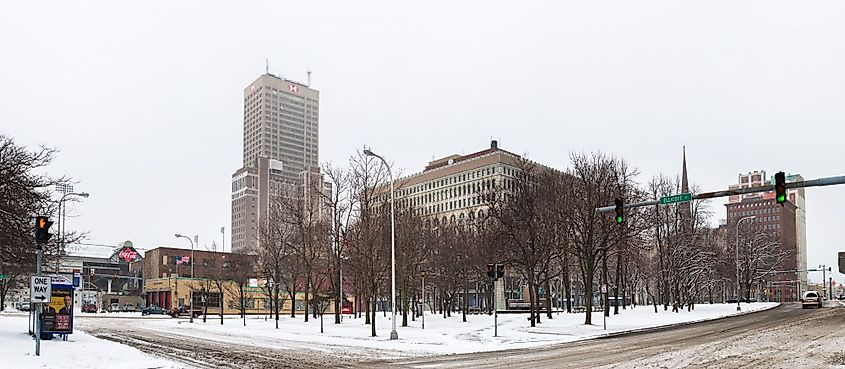 According to the Koppen Climate Classification, Buffalo has a humid continental climate, with warm summers and cold winters. Buffalo is known for being one of the coldest cities in the country, where winter temperatures average at approximately 19.0°F while it can go as low as 1°F in the coldest month of January. On the other hand, summers are quite mild with average temperature ranging from 69°F to 79°F between June and September. Due to the cold winters, precipitation in Buffalo primarily consists of snowfall with the city getting more than 95.4 inches of snow each year! Buffalo receives moderate rainfall, with August having the most rainy days in the year.
Brief History Of Buffalo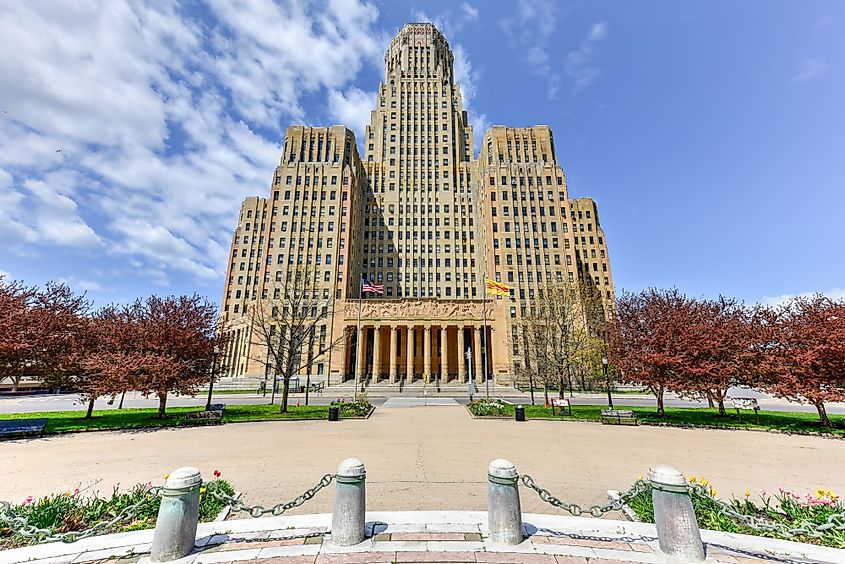 While it is known to be welcoming and peaceful today, Buffalo's history is surprisingly full of significant events, battles, and inspiring stories that made the city what it is now. The earliest known settlements in the region date back to 8000 BC when nomadic Paleo-Indians inhabited it. Native Americans inhabited the area until the arrival of Europeans in the early 1600s. Specifically, in 1620, a French exploration noted that the area was occupied by the Erie people and used as agricultural land to grow tobacco and hemp. Over the next 100 years, European influence grew, and while a small French settlement was built in 1758, it was short-lived due to tensions with British colonies. Things came to a head with the French and Indian War, after which the area of Buffalo came under British rule.
Shortly after this, the American Revolution led to the establishment of New York, although Buffalo (then known as New Amsterdam) was yet to be included in the state. This was primarily due to the land being inhabited by the local Iroquois tribe. It wasn't until 1797 that the Treaty of Big Tree and other agreements led to the city being claimed by the United States as part of New York. That being said, this wasn't the end of battles in the region, and in 1813, British forces attacked the town and burned down most of it.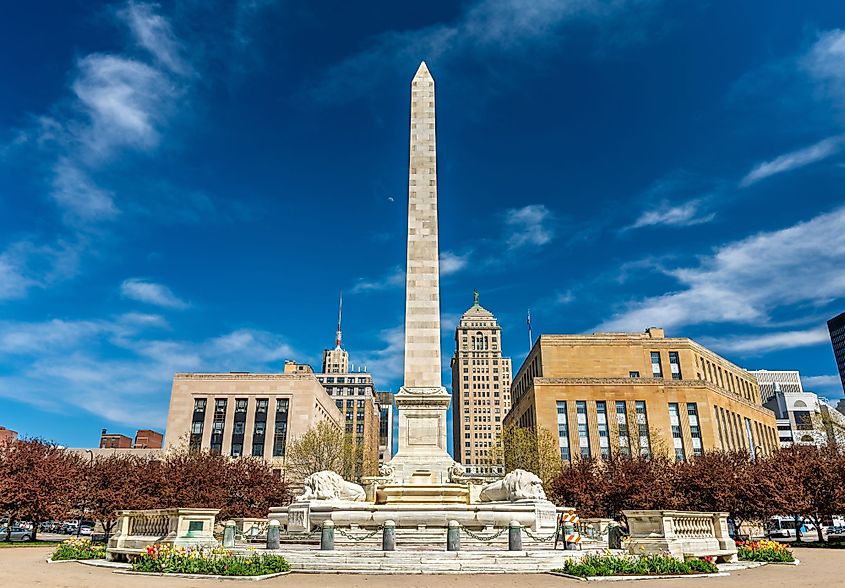 Thankfully, as hostilities died down throughout the late 1800s and early 1900s, the population and economy began to grow, with Buffalo becoming an important transshipment hub of the Great Lakes, as well as one of the largest grain ports. Parallel to this, Buffalo was also a major terminus in the Underground Railway during the 1840s, which was a network of routes and safe houses used by enslaved African Americans to attain freedom. The 20th century further cemented Buffalo's industrialization as it became a manufacturing hub for steel during World War II and also one of the largest flour milling centers in America. Moreover, with its location along the Erie Canal, Buffalo was a prominent entry point for immigrants. However, with the end of the war, steel demand dropped, and Buffalo underwent significant deindustrialization shifting from manufacturing to service-based industries.
The Population And Economy Of Buffalo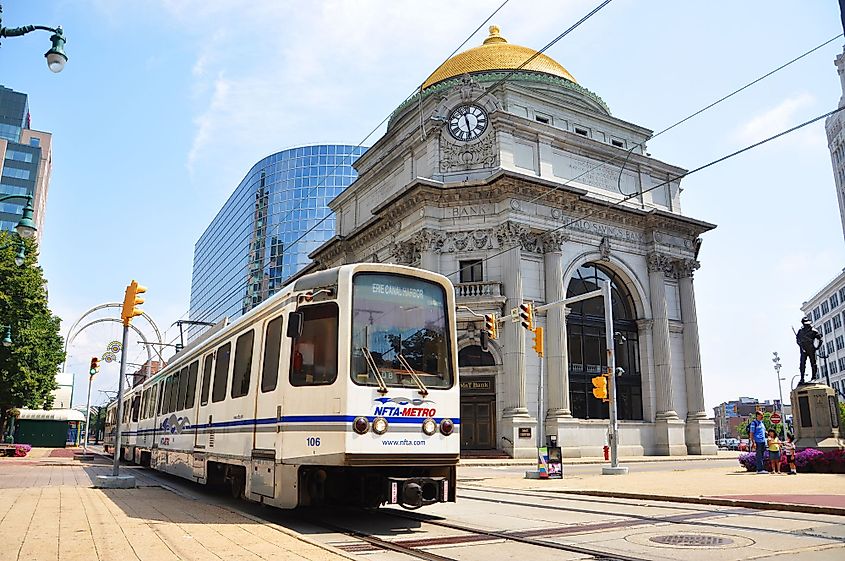 Based on the latest US Census, Buffalo has a population of 278,349, making it the sixth most populated city in the state. That being said, according to recent estimates, Buffalo's population has declined by 0.5% between 2020 and 2021. In terms of population density, as it is an urban area, Buffalo houses 2,661 inhabitants per sq. km, which is similar to many other major cities in New York. Regarding the population's racial composition, Whites make up 47.8% and are the largest racial group. They are followed by African Americans at 33.3%, Hispanic/Latinos at 12.2%, and Asians who make up just under 7% of the population.
While having a large population, Buffalo lags behind other major cities in terms of its economy with a per capita income of $27,157. In comparison, the state average for new york is $43,208, which is 63% higher than Buffalo's. While housing rates are reasonable with the median household value being $112,900, Buffalo still faces an alarming poverty issue with 27.6% living below the poverty line!
Attractions In And Around Buffalo
Canalside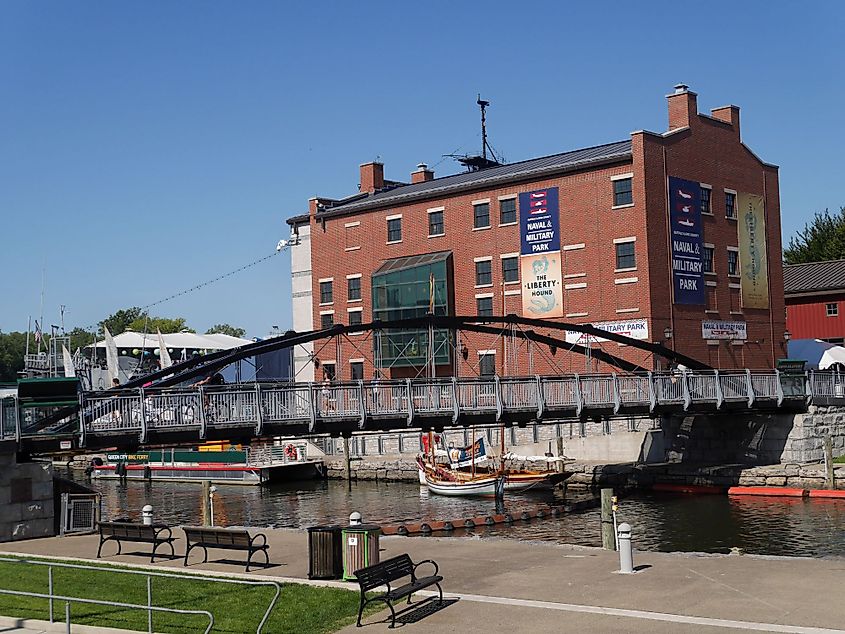 A testament to the historic value of the city, Canalside is a recreation of the Erie Canal Harbor, which was a key terminus for goods and passengers during the 19th century. This site was pivotal for the local economy and played a key role in developing Buffalo into the urban hub it is today. While its economic significance reduced in recent decades, the site has been renovated and developed with an outdoor deck, multiple museums, and even sporting attractions. For example, one can visit "The Ice at Canalside" to enjoy ice skating on the frozen canals, among many other sights and activities.
Buffalo And Erie County Naval And Military Park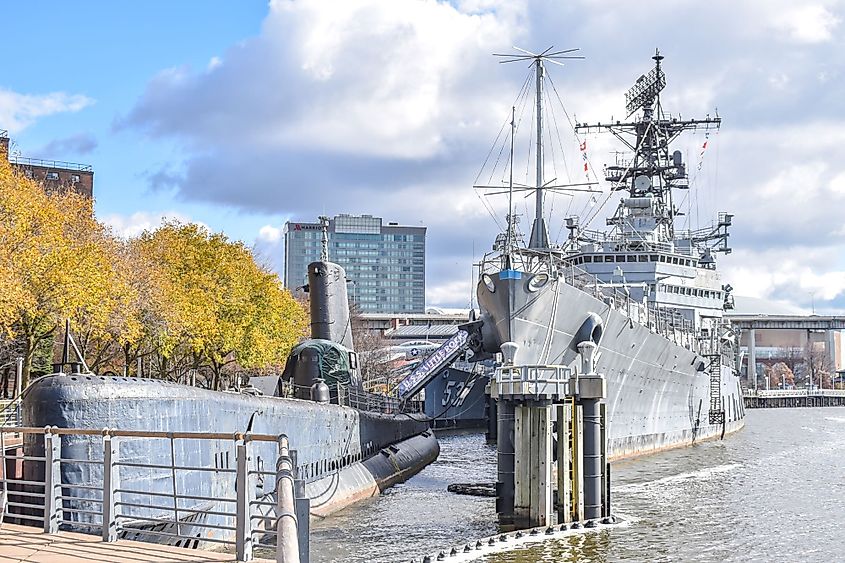 Located within Canalside, Buffalo and Erie County Naval & Military Park is a museum home to many important naval artifacts from American history. Some of the most famous attractions include the decommissioned US Naval vessels, Cleveland-class cruiser, USS Little Rock, and the submarine, USS Croaker. Vsitors can spend their day touring these vessels and even have lunch at the Liberty Hound restaurant. As the park is closed during winter, be sure to plan your visit accordingly.
Buffalo And Erie County Botanical Gardens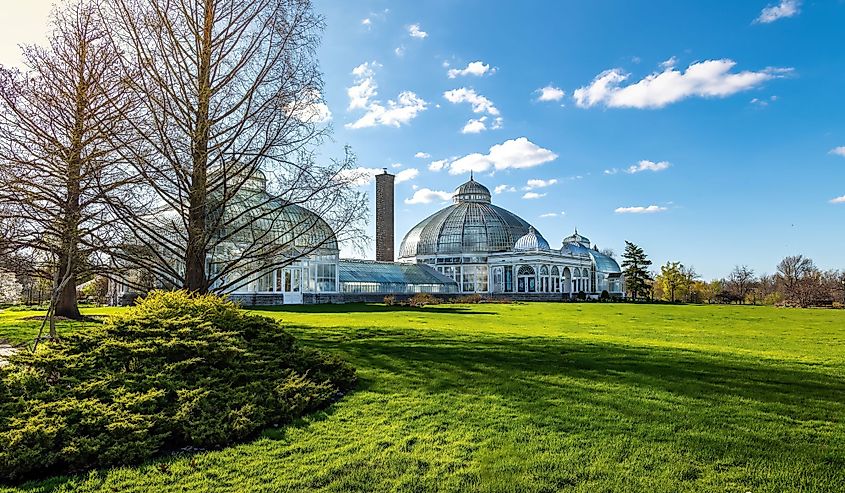 For any nature lover, Buffalo and Erie County Botanical Gardens is a great place to witness beautiful species of plants, firsthand. Home to a plethora of exhibits that simulate unique environments such as the "Arctic Adventure," "Deserts After Dark," "Rainforest Retreat," etc. Spread over 11.57 acres, the botanical gardens have become a premier tourist attraction in the city of Buffalo.
So, whether you want to enjoy beautiful lakeside winters or an urban retreat, Buffalo is an amazing mix of history, urban development, and peaceful sights that everyone is sure to appreciate.