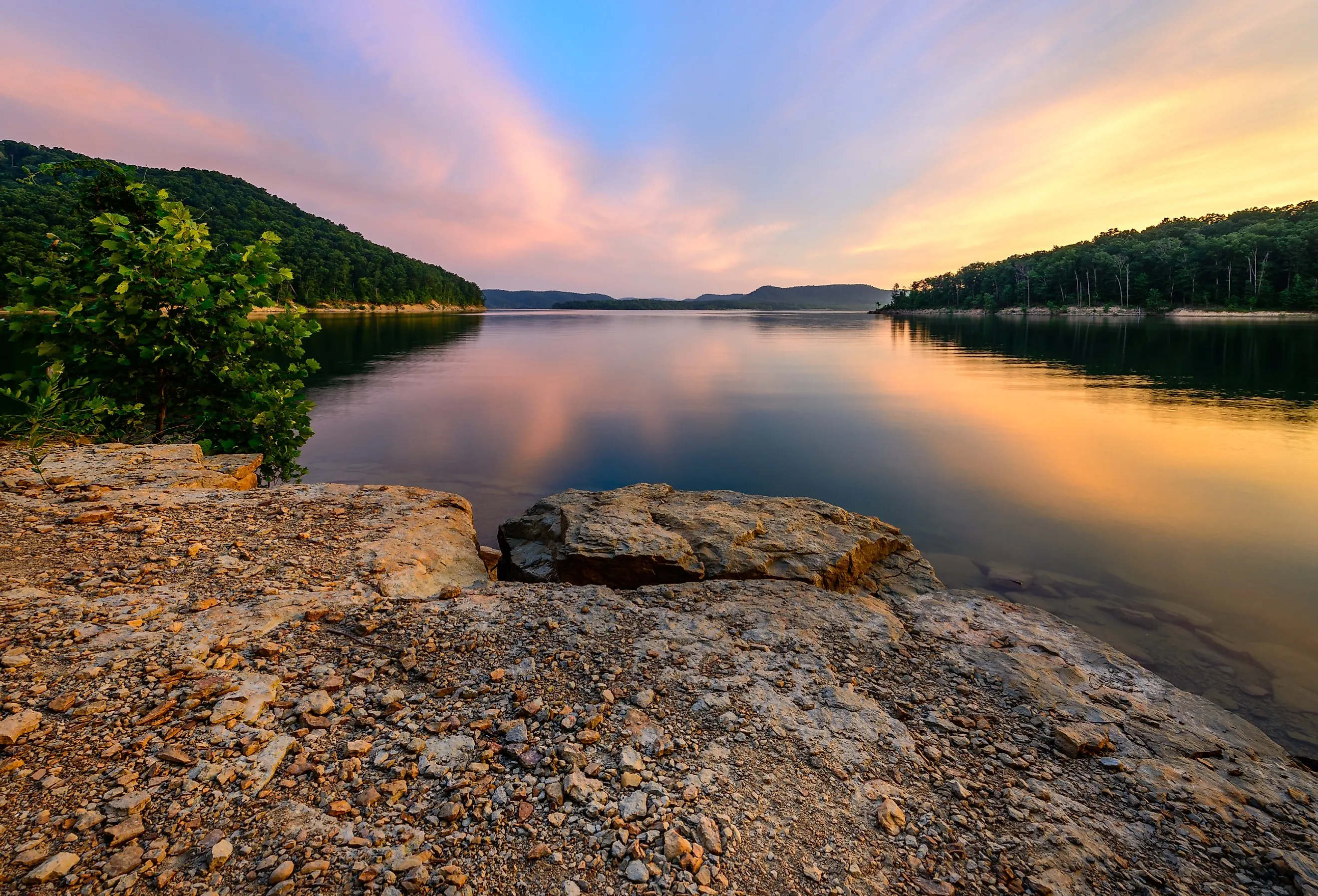 7 Ideal Destinations For A 3-Day Weekend In Kentucky
Located in the southeastern United States and home to 4.5 million people, Kentucky has many beautiful sights and activities. Ranging from National Parks to unique geographical formations like caves and cliffs, there is something that can stun anyone in Kentucky. Moreover, known for its amazing culture combining horse racing and basketball with moonshine and bourbon, the state has a plethora of amazing things to do. With so much to offer, there are an endless array of amazing options when it comes to spending a fun 3-day weekend in Kentucky.
Daniel Boone National Forest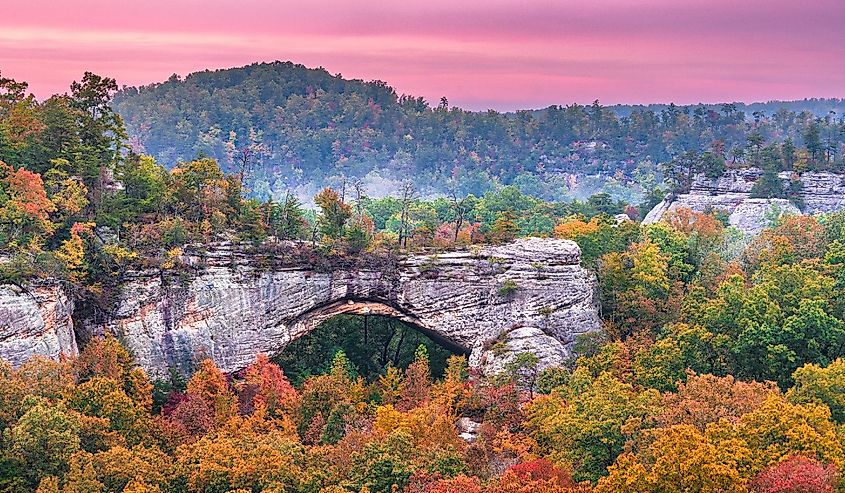 The Daniel Boone National Forest covers a whopping 2.1 million acres of land in Kentucky, which spans 21 counties. The forest is home to large areas of mountainous terrain where you can enjoy hiking, mountain biking, and rock climbing. On the other hand, the forest also encompasses many major water bodies, such as Cave Run Lake, Cumberland River, and Buckhorn Lake, which are perfect for recreational activities like boating and swimming.
After spending your day out in the sun, you are bound to get tired and hungry by the evening. Thankfully, Daniel Boone National Forest has you covered! It is home to multiple campgrounds which offer a range of basic amenities. For example, you can set up camp at the Cumberland District ground, which offers washrooms, showers, picnic areas, and more. The campground also has water and electrical hookups for RVs, so you can bring in your whole family for a 3-day motorhome vacation. On the other hand, if you want a more luxurious 3-day stay, book a cabin at Zilpo Campground and enjoy the nearby scenery, such as Cave Run Lake!
Lexington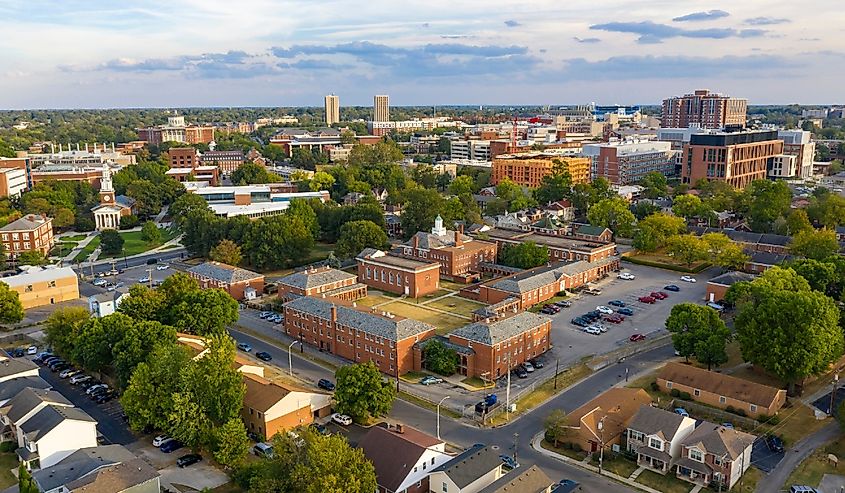 The second largest city in Kentucky with a population of more than 320,000 residents, Lexington is a bustling metropolis full of opportunities. The city is in Fayette County and houses some of the most amazing attractions, events, and resorts for a long weekend! Most importantly, Lexington is often referred to as the "Horse Capital" as it has been a major horse racing destination for more than a century. So, you can visit the Keeneland race course, which provides tours through the racecourse, facility, and entire complex. If you are lucky, you can watch a race and enjoy some of the fastest horses in the world. For a more historic approach to Lexington's horse racing, check out the Kentucky Horse Park, which houses a horse farm and museum to learn all about the sport!
For nature enthusiasts, visit the nearby Raven Run Nature Sanctuary. This sanctuary spans 700+ acres of land with amazing hiking trails perfect for a weekend workout. On the other hand, you can also spend your day in downtown Lexington with sites such as the Kentucky Theatre and LexArts. The Kentucky Theatre is an amazing evening destination where you can watch the latest movies with your friends and family. With so much to offer, all you have to do is book a room at one of the many hotels and resorts for an amazing weekend in Lexington, Kentucky.
Bardstown
Revered as the "Bourbon Capital of the World," Bardstown is the place to be if you want a relaxing 3-day weekend. Located in central Kentucky, this town boasts a host of enjoyable activities! Regarding drinks, the options are endless, with sites such as Heaven Hill Distilleries, Willett Distillery, and McIntyre's Winery. Heaven Hill Distillery is famous as the world's second-largest bourbon whiskey holder. To this end, the family-owned business includes all sorts of unique and delicious bourbon. While not as large, Willett Distillery is another amazing site that has been active since 1936. This distillery offers day trips and tours so you can learn about the process of making bourbon! Lastly, McIntyre's Winery offers a different take on alcohol with unique and fruity wines. So, with three evening spots for your 3-day weekend, you can always end the day relaxed.
Bardstown also offers a range of daytime attractions ideal for a weekend outing. If you are a history buff, the town's 250-year history is sure to be enthralling. To learn more about it, visit one of the many historic sites, such as the Civil War Museum. This museum showcases dozens of artifacts, such as swords and canons from the Civil War. For a more unique take on local history, try out the Bardstown Ghost Trek. This spooky trek covers some of the town's scary locations, such as Pioneer Cemetary, while providing a detailed explanation of each point.
Versailles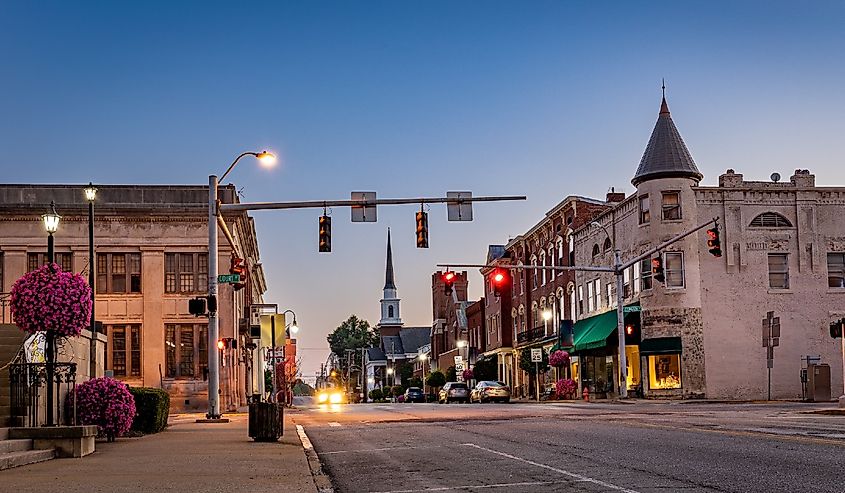 To get away from the urban hustle and bustle on your weekend, Versailles is the place to be. This small town lies in Woodford County, just west of Lexington, and is home to a quaint population of 9,300. Thanks to this, the entire town has a peaceful vibe and calming attractions. For example, Stonewall Farm is a beautiful farm that is perfect for a family outing. Spend the day here petting animals, milking cows, or even learning about how farms work. If you want something more interactive, check out Eckert's Orchard, which allows visitors to pick fruits and vegetables year-round. So, plan a trip out and grab delicious veggies to take home!
After spending the day out in the sun, you are bound to be tired! So, check out the amazing eateries and pubs spread throughout the town. Start by having a delectable burger at Wallace Station Deli. This place bakes fresh bread for some of the best burgers in Kentucky. After grabbing a bite, stop by the Woodford Reserve Distillery to wash it down. This place offers award-winning whiskey, aged in barrels for years.
Lake Cumberland State Resort Park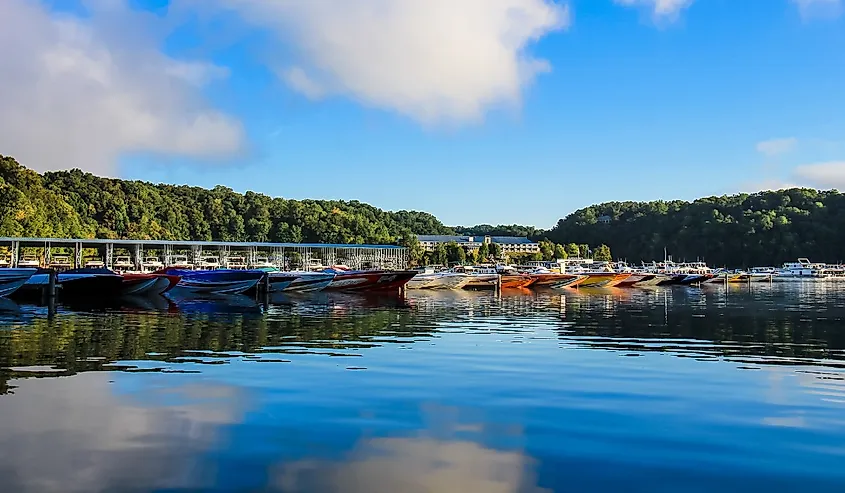 Lake Cumberland State Resort Park is an amazing natural retreat covering an area of more than 3,000 acres in Russell County, Kentucky. The park is perfect for a 3-day weekend with a plethora of natural sights, attractions, and camping opportunities. One of the premier attractions in this park is Lake Cumberland, a 50,000-acre lake surrounded by scenic forests. Moreover, with a boat launching ramp set up, you can also spend the day boating or kayaking in the lake. Move back onto land, and the park features open areas where visitors can play basketball, tennis, volleyball, and other sports. Or, you can explore a bit further via one of the many hiking trails.
While your days are sure to be filled with outdoor activities, Lake Cumberland State Resort Park is also a perfect place to stay the night. This is because the park houses a fully functional campground with cottages and lodging. For example, the Lure Lodge is perfect for a 3-day stay with showers, washrooms, electricity, and more. On the other hand, you can opt for a more primitive experience and camp out in the open! All in all, if you are a nature lover, this is a place in Kentucky you need to visit.
Louisville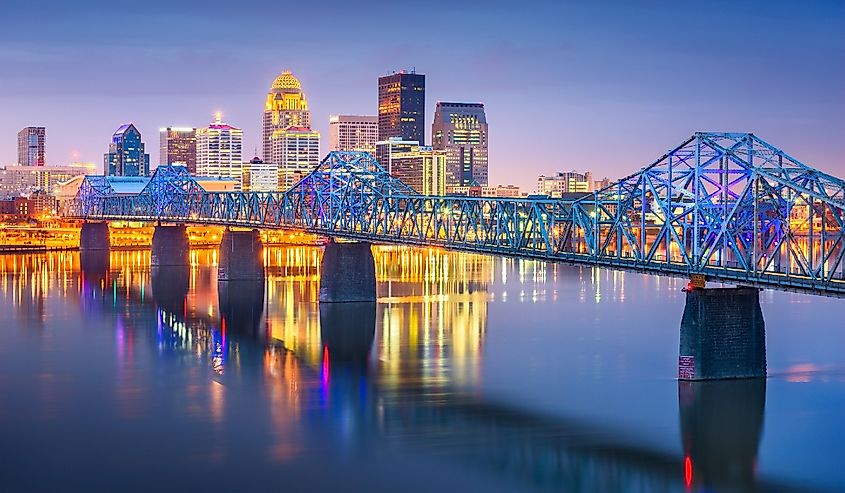 A bustling metropolis and the largest city in Kentucky, Louisville is an amazing destination in the state. This city is home to 625,000 people spread across an immense area of 341 square miles. Thanks to this, there is a limitless array of people to meet and things to do on a long weekend in Louisville. Start off your trip by taking in the region's amazing history through sites like the Kentucky Derby Museum and Louisville Slugger Museum. The Kentucky Derby Museum showcases the state's incredible horse racing past with many artifacts from the 1900s. Similarly, the Slugger Museum focuses on Kentucky's basketball, with amazing bats, artifacts, and items on display. As the museum itself is a factory, you can learn how bats are made and witness the interesting process.
With a 3-day weekend on your hands, you can also enjoy the lovely culture and stores in Louisville. Just walk over to the beautiful Frankfort Avenue, which is one of the most bustling areas in the state. This avenue boasts eateries, souvenir stores, galleries, and pubs. With so many options, you can spend an entire weekend shopping on Frankfort Avenue. If you end up getting tired or hungry, stop by some of the local restaurants, such as Fork & Barrel or Bourbons Bistro!
Mammoth Cave National Park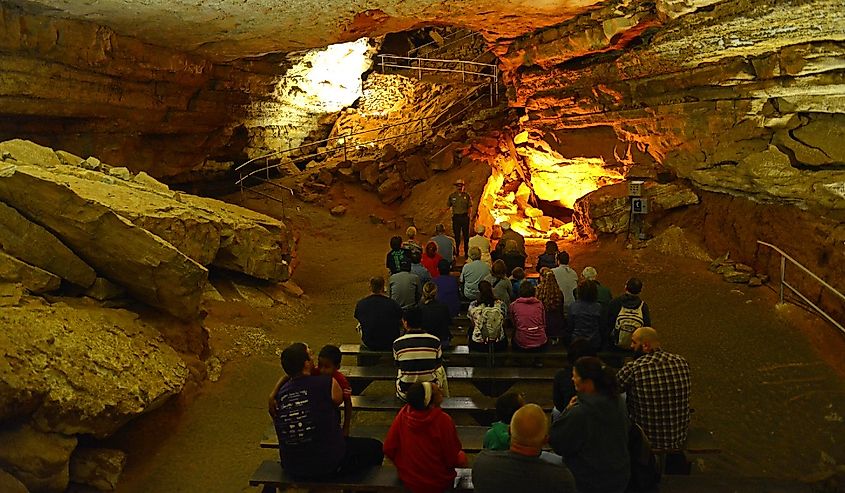 Ending off the list with a bang, Mammoth Cave National Park is a unique sight famous throughout the world. This amazing national park is in south-central Kentucky and houses most of the Mammoth Cave system. This cave system is the longest known in the world, with a length of more than 426 miles (686 km) as of 2022. Throughout this cave, there are dozens of passageways, each opening up to a new area. Moreover, the passageways are filled with formations such as stalagmites and stalactites which give it a spooky appeal. Thankfully, you can check out this cave with confidence as the National Park Service offers guided tours through large portions of the cave.
After spending a day or two of your weekend within the immense cave system, it is time to visit the ground-level attractions. With an area of 53,000 acres, this park has beautiful forests, hills, and water bodies. So, you can enjoy activities such as fishing, kayaking, stargazing, and more! Apart from this, the park also boasts more than 80 miles of trails which are perfect for hiking and bicycling through nature's beauty. Making things even better, the park also has more than a dozen campsites with basic amenities on offer. So, what are you waiting for? Book your weekend at Mammoth Cave now!
Whether it is the natural beauty of Daniel Boone National Forest or the urban environment of Louisville, there is something for everyone to appreciate in Kentucky. This makes it the perfect place to visit on a 3-day weekend, no matter what you enjoy. Just find the right spot for you, and there is sure to be a lot of food, drinks, and enjoyment throughout your amazing vacation!