World Facts
Which City is Hollywood In?
Hollywood is a neighborhood of Los Angeles within the US state of California.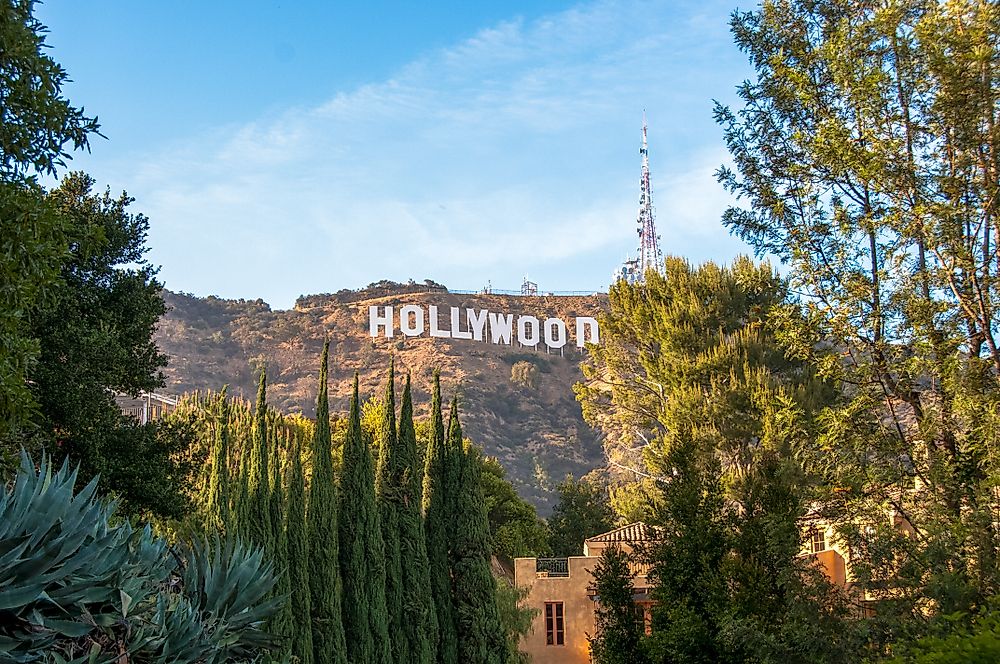 Hollywood is a neighborhood located in Los Angeles City within California state in the United States of America. The mere mention of the word Hollywood conjures the image of high-quality films produced in the globally renowned entertainment industry center. Historic studios and palatial homes of current and former actors beautify the landscape of Hollywood making the place a major tourist attraction site. It borders Riverside Drive and Hyperion Avenue to the east and Beverly Hills to the west. On the southern side is Beverly Boulevard while the Santa Monica Mountains are to the north.
History and Early Development
Hollywood was a rural community in the 1870s before it was incorporated in 1903 as a municipality. In 1910, it was consolidated with Los Angeles. It is believed that the once flourishing agricultural lands were named Hollywood in 1886 by H.J. Whitley when enjoying his honeymoon. Whitney, a wealthy man, bought about 480 acres of land in the region and named it Hollywood with "holly" and "wood representing England and Scottish heritage respectively. He subdivided the land for sale and promoted it by building a hotel, installing electricity, roads, banks, and a post office.
The Initial Motion Picture Industry
The first motion picture studios were established in the early 1900s after filmmakers moved to Hollywood to evade being sued by patent owners in New Jersey. Hollywood was a perfect place for film making due to the ideal weather, access to basic amenities, and the mountainous and lowland scenery. The first 17-minutes motion picture was made by D.W. Griffith in 1910 while the first film was shot in October 1911. The maiden studio known as Nestor company was built in October 1911. By 1912, prominent film companies had commenced production in Hollywood. In the 1920s and 1930s, studios became more advanced resulting in Hollywood producing over 600 high-quality films per year. After the Second World War, there was a rapid growth of the television industry in America making Hollywood a major television network hub.
The Hollywood Sign
A large sign was constructed in 1923 on the Hollywood hills to advertise some housing projects. The signage has become a landmark in Los Angeles and a cultural icon appearing in popular films produced in Hollywood. The signage was reconstructed in 1949 to drop the word land and only read "HOLLYWOOD". Currently, it is a white 45 feet tall sign written in capital letters and stretches to a width of 350 feet.
Current Status of Hollywood
Hollywood is the center for the films and television industry. There are major studios that employ the latest technology in shooting and editing of films. Hollywood is home to outstanding record labels and hosts annual awards such as Grammy Award, Academy Awards, and the coveted Primetime Emmy Awards. The oldest school for training on filmmaking is located in Los Angeles as well as the Walt Disney Concert Hall. Hollywood is home to internationally renowned organizations such as the Los Angeles Master Chorale and the Center Theatre Group. Talent in the film sector is tapped at premier institutions in Hollywood such as USC Thornton School of music and the Colburn School. The region attracts more than 1.3 million people annually either as students, tourists or potential actors/actresses. Many Hollywood stars present and past have constructed palatial homes in the prestigious neighborhood of Bel Air and Beverly Hills. Hollywood is a cultural center with sites such as the Hollywood Forever Cemetery containing crypts of famous actors and actresses.
This page was last updated on December 4, 2018.
Citations
Your MLA Citation
Your APA Citation
Your Chicago Citation
Your Harvard Citation
Remember to italicize the title of this article in your Harvard citation.