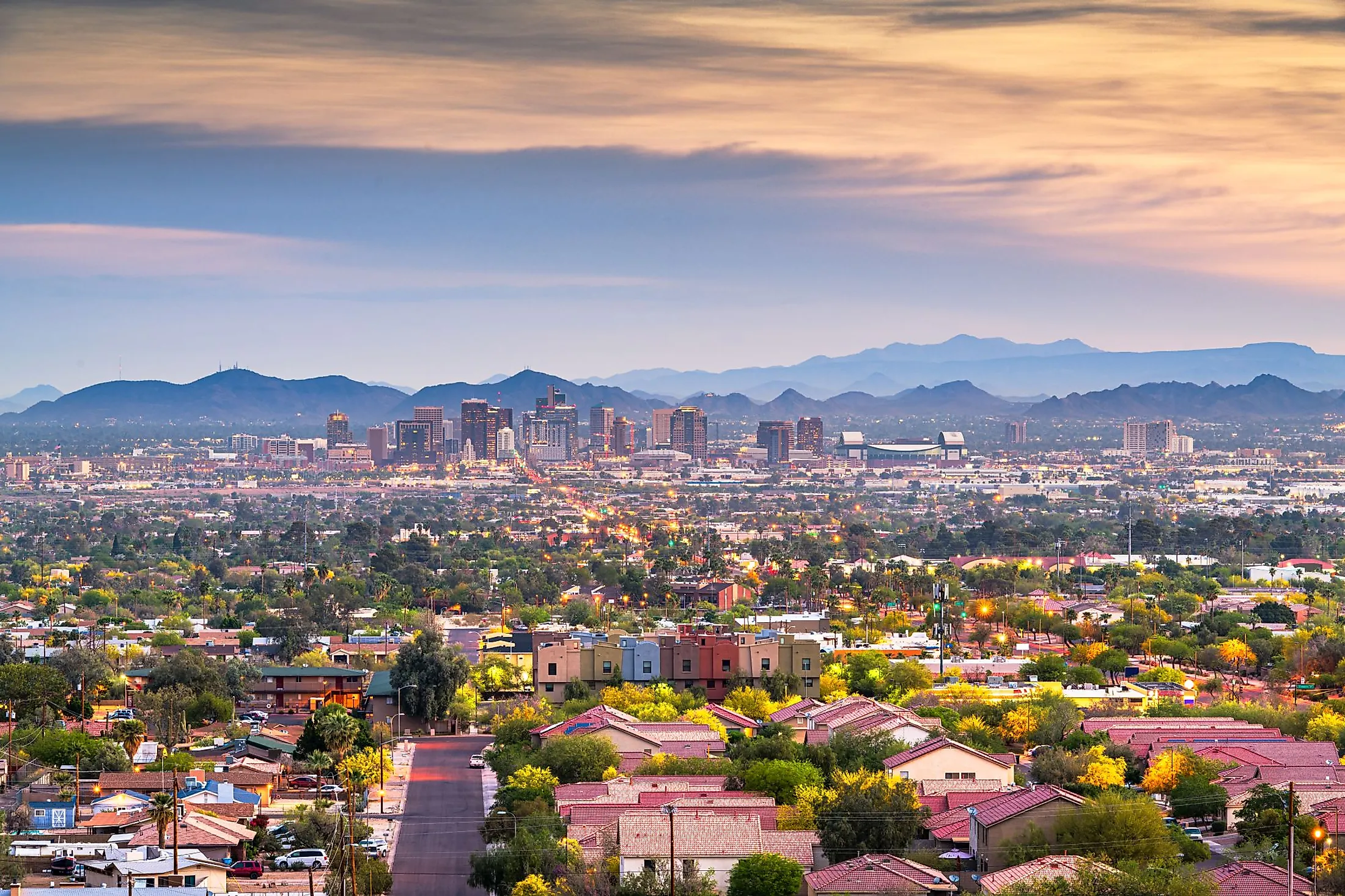 Phoenix, Capital Of Arizona
Phoenix is a big city situated in Maricopa County in the south-central portion of the US State of Arizona. Phoenix serves as Arizona's capital and its most populous city. This bustling metropolis comprising the Valley of the Sun is the largest city in Arizona and the country's fifth most populous city. Some of Phoenix's appeals include high-end resorts, an epic desert landscape, fine dining, luxurious spas, and championship golf courses. The climate is just as spectacular as the surrounding White Tank Mountains, Superstition Mountains, and Estrella Mountains that etch out the valley skyline. Whether you intend to visit for a relaxing weekend or to take up high adventure, there is plenty to do for all tastes in Phoenix.
Geography And Climate Of Phoenix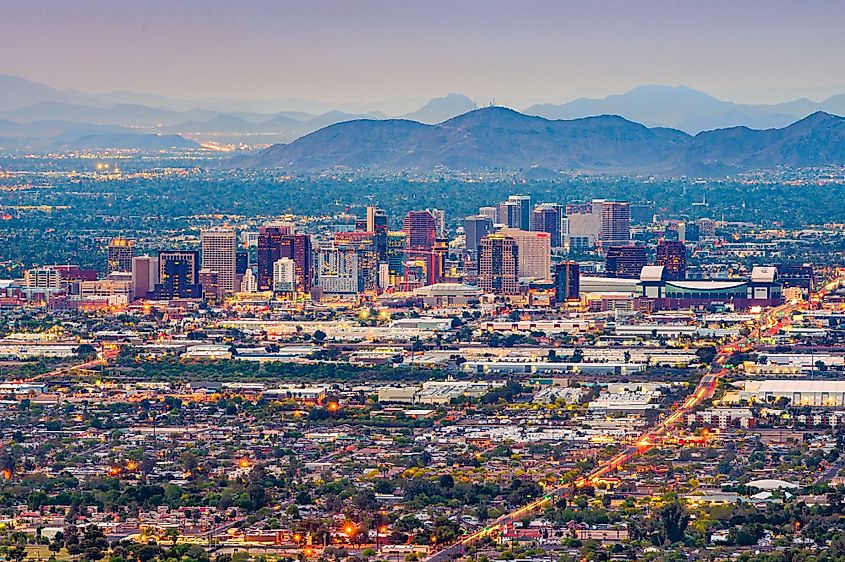 Phoenix is situated in Arizona's Maricopa County, with the 200-mile-long Salt River dissecting its lower third into north and south. Just outside the northwest county limits are Lake Pleasant Regional Park and local hot spots for mountain biking, hiking, camping, and above all, fishing with a wide variety of species. Phoenix is a part of the Valley of the Sun, a large metropolitan area with more than 20 communities. Among these are Glendale which is 10 miles northwest; Scottsdale which is 12 miles northeast; Mesa which is 20 miles east; and Chandler, which is 23 miles southeast. As for day trips, Lake Roosevelt and the Roosevelt Dam are about 105 miles east northeast, Montezuma Castle National Monument is about 90 miles north, Tombstone Historic District is about 190 miles southeast, and Joshua Tree National Park is about 220 miles west.
According to the Köppen Climate Classification, Phoenix experiences a hot desert climate, which is typical of the Sonoran Desert. Throughout the year, the median recorded temperature is 75.1 °F. July is the warmest month that sees a high of 104.5 °F, and January is the coolest month that sees a low of 43.2 °F. Of the 33.1 days that produce precipitation, there is an annual rainfall of 7.2 inches. On average, 299 days of sunshine comprise a UV index of 6.4. 
History Of Phoenix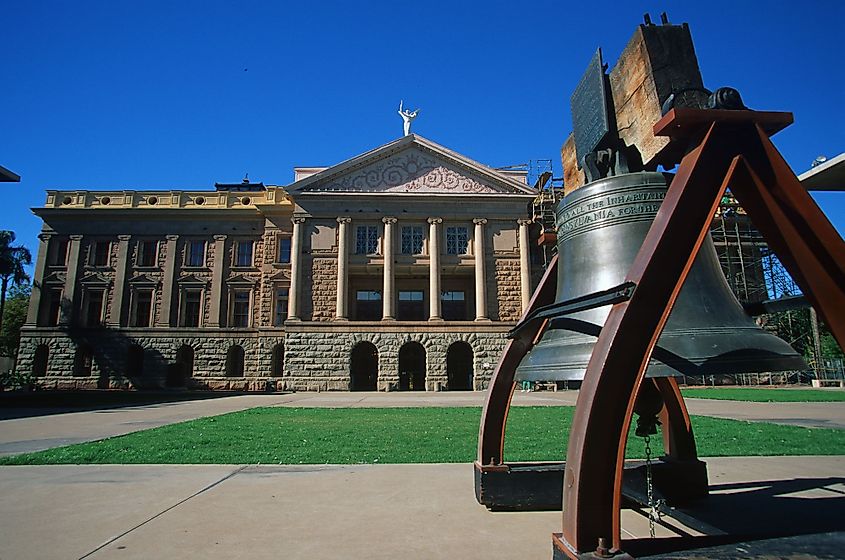 The first inhabitants around Phoenix were the Hohokam people, who created a series of extensive canals, making the land livable. However, it is speculated that floods and drought forced the residents from the area between 1300 and 1450. This led to other Native American tribes setting up camp, with the Akimel O'odham being the most prominent. With irrigation systems stemming from the Gila River, corn, beans, squash, cotton, and tobacco flourished. After the Mexican-American War ended, the former north border of Mexico dissolved, and would-be Phoenix became a part of the New Mexico Territory. 
In 1863, the mining town of Wickenburg popped up in the new Arizona Territory; this prompted former confederate veteran Jack Swilling to form the Swilling Irrigation and Canal Company. Within no time, Swilling was able to grow produce and attracted many to the valley, hoping to do the same. The name "Phoenix" came from one of the first visitors, Lord Darrell Duppa, who noted the town had been erected on an old civilization. Phoenix was named a town on May 4, 1868, and the population started expanding. With a population of 2,500, Phoenix was incorporated as a city on February 25, 1881.
The Population And Economy Of Phoenix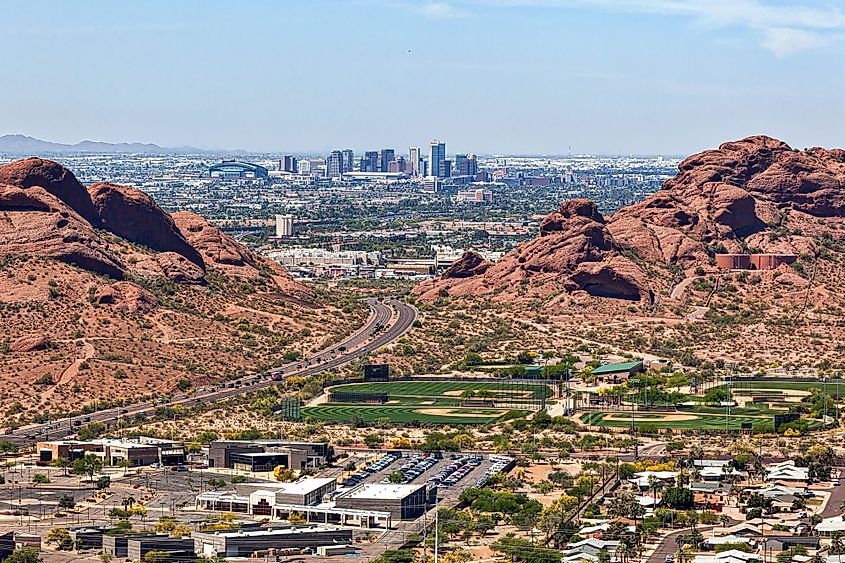 According to the latest US Census, Phoenix had a population of 1,640,641. Expanding over 1,344.94 sq. km, there is a population density of 1,198.04 per sq. km. Phoenix has a median household income of $80,631, with 16.17% living below the poverty line. As for the cultural or racial background: 68.23% were identified as white, 10.31% were of another race, 8.27% were of two races or more, 7.10% were African American, 3.86% were Asian, 2.03% were Native American, and 0.13% were Native Hawaiian or Pacific Islander. 
The unemployment rate for Phoenix was 3.4% as of July 2022. Of the 823,000 employed, 100,018 worked in healthcare and social assistance, 95,163 worked in retail trade, and 69,888 worked in accommodations and food services. The top-earning jobs come from the following sectors: utilities made $66,840, professional, scientific and technical services made $60,213, and mining, quarrying, oil, and gas extraction made $54,500.
Attractions In And Around Phoenix
Desert Botanical Garden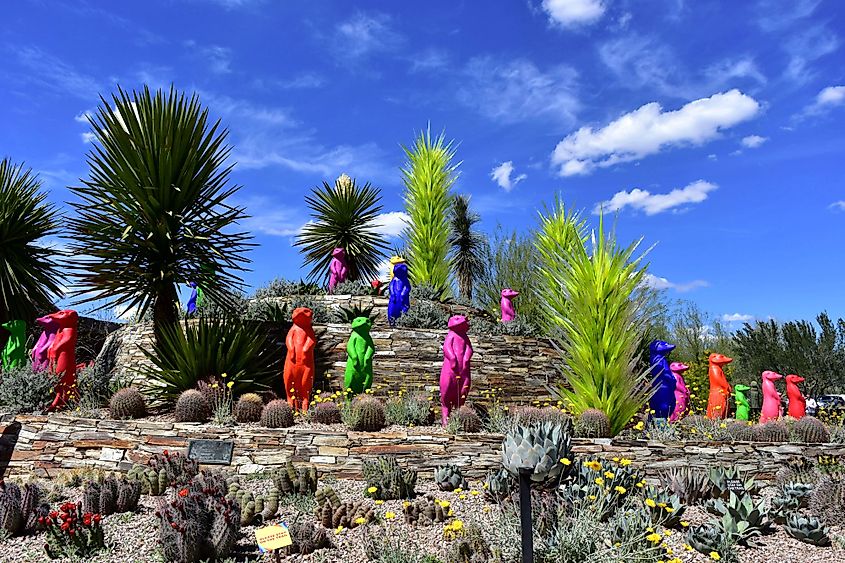 Located at Papago Park, the Desert Botanical Garden is a scenic attraction and a jewel of Phoenix. The 140 acres of this picturesque desert landscape contain 50,000 plants, including rare and endangered species, in addition to cacti, agave, and other plants. Some highlighted areas are the Australian collection, Baja collection, South American collection, and California collection, which contain various intriguing desert varieties. Designated as the Phoenix Point of Pride, the Desert Botanical Garden is simply a must-see attraction in Phoenix!
Phoenix Zoo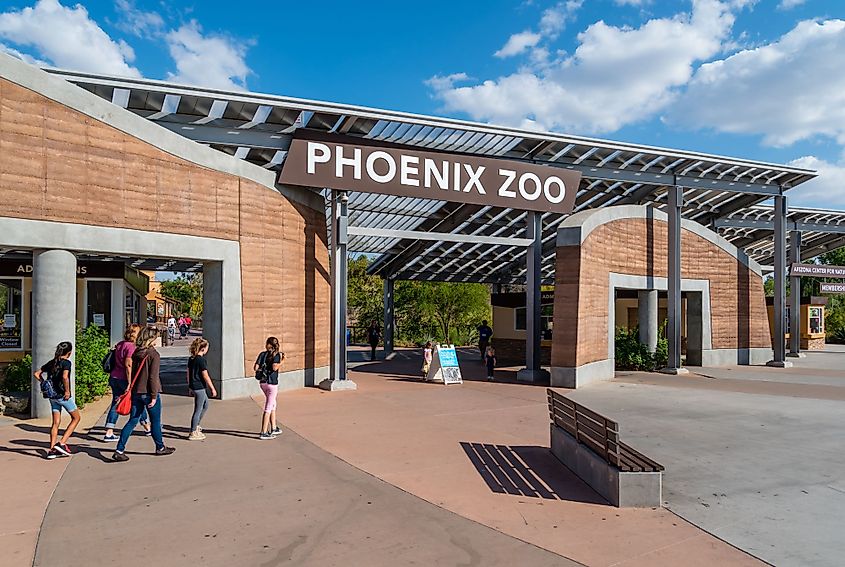 One must take one's family to the Phoenix Zoo and ogle at 3,000 animals over 125 acres. Found at Papago Park, the Phoenix Zoo contains several exhibits, and it is best navigated by the areas divided into trails. Some of these trails are the Arizona Trial, the Africa Trail, Tropical Trail, and the Children's Trail. Some notable animals are three-toed box turtles, Asian elephants, flamingos, cheetah, wrinkled hornbill, and tarantulas, to name just a few. No matter which animal is a favorite, chances are the Phoenix Zoo has it. 
Phoenix is a major metropolitan area of the "Great Canyon State" and comprises one of the many cities in the Valley of the Sun. Revered as a top-notch tourist destination, there is everything from luxury accommodations, shopping, delectable eats, and nightlife to family-oriented attractions or mountainous peaks and lakes for the outdoor adventurer. All preferences and ages are well catered to in Arizona's largest city. Plan a trip and enjoy everything that this vast city has to offer!