Mardi Gras, or Fat Tuesday, refers to the day of feasting and celebrating before the start of Lent, the Christian season of abstinence and sacrifice leading up to Easter. 
While modern-day Mardi Gras celebrations often evoke images of parades and festivities in New Orleans, Louisiana, the holiday actually has roots in medieval Europe. Early revelries featured the fatted calf (boeuf gras) festivities that first came through Rome and Venice in the 17th and 18th centuries and then on to the House of Bourbon in France.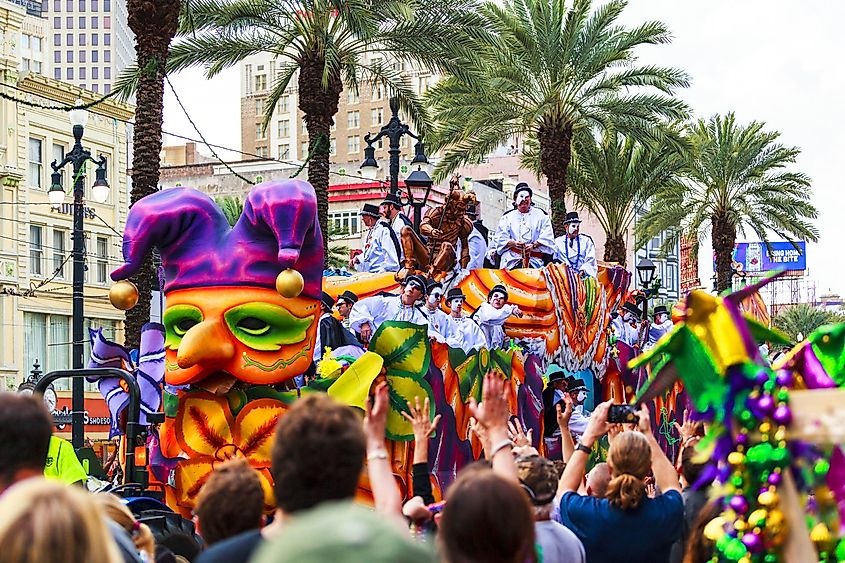 In 1699, a French-Canadian explorer by the name of Jean Baptiste Le Moyne Sieur de Bienville and his men landed about 60 miles south of New Orleans. As it was approaching Fat Tuesday, they named it Points de Mardi Gras. By the time Bienville established New Orleans and 1718, Fat Tuesday celebrations were an annual tradition.
Mardi Gras Celebrations in the 1700s and 1800s
Mardi Gras was already an annual fete in New Orleans by the 1730s. It wasn't until the 1830s, however, that Mardi Gras saw anything like a street parade. During the later part of the decade, processions of masked people rode on horseback and then carriages down New Orleans streets, and a tradition was born. These processions of people, who carried torches to light the way, were known as krewes.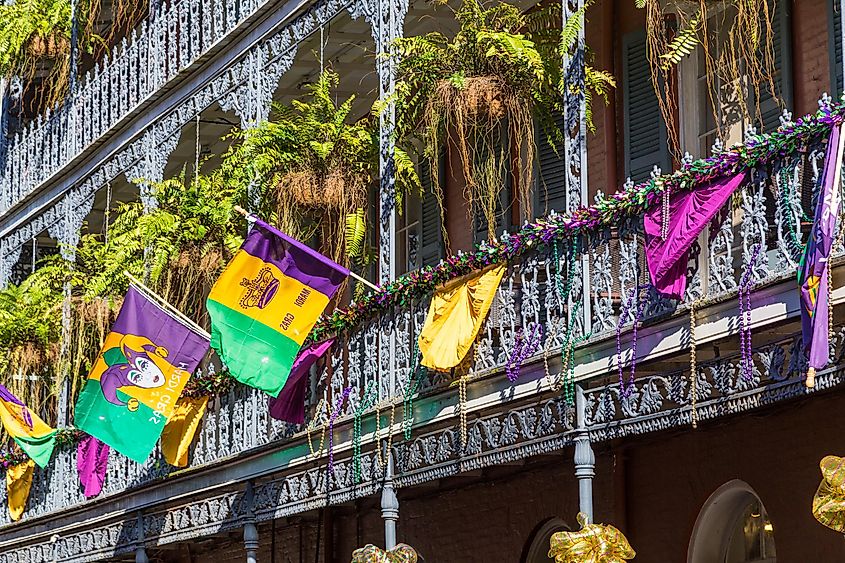 One of the most famous early masked krewes, The Mistick Krewe of Comus, named for John Milton's literary hero, were responsible for bringing floats to the parade, then known as tableaux cars. The first Mardi Gras floats were originally built in Paris by an artist named George Soulie who use papier-mache not only to create the floats but to design some of the lavish costumes worn in the parades.
By 1875, Mardi Gras was declared a legal holiday in Louisiana, and it still is today.
Mardi Gras traditions
Throws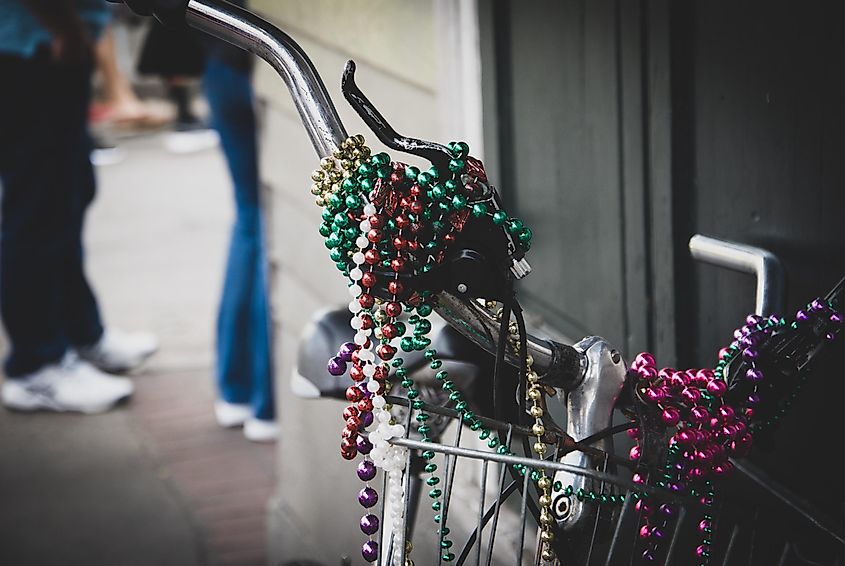 Throws refer to the items that are tossed from floats to parade spectators. Colorful beads are among the more famous throws that are still used today, but early parades saw cups, doubloons, toys, medallions, and other trinkets thrown from floats to the gathered crowds.
Masks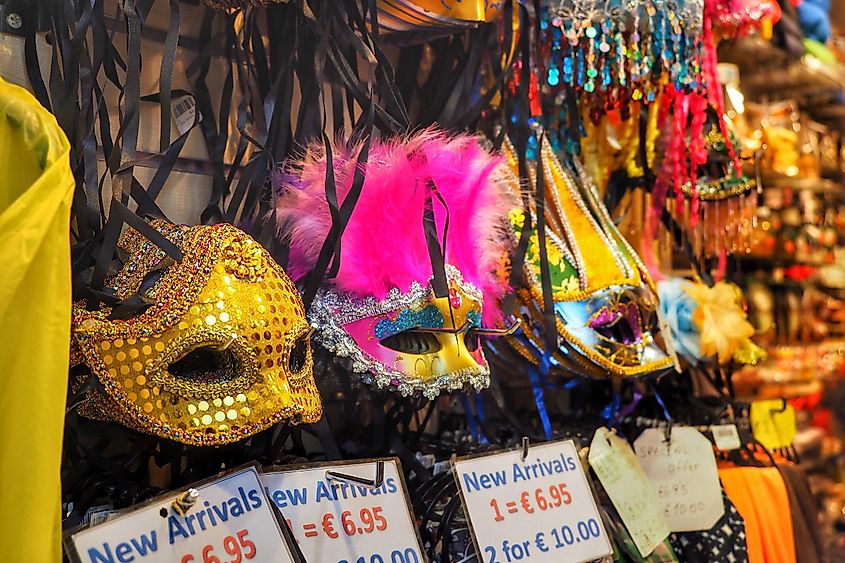 There has always been an aura of festive mystery surrounding Mardi Gras. In the early days of Mardi Gras, masks allowed revelers to break out of their class and society restrictions. Today, masks are used more for fun than anything else. Mardi Gras is known as the largest masquerade in North America.
Colors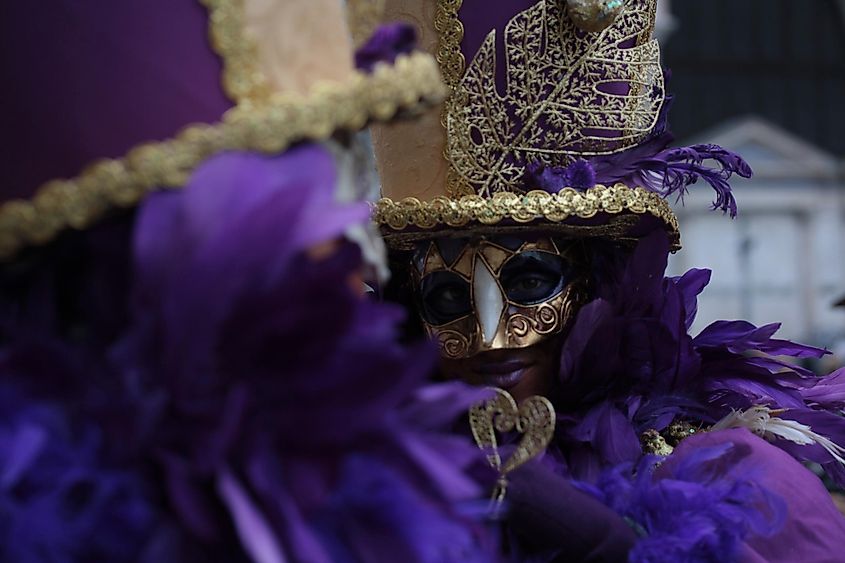 The traditional colors of Mardi Gras are purple, green, and gold. There is a confusing and somewhat complicated story behind the choice of colors. One version states that purple stands for justice, green for faith, and gold for power. Another says that gold is for royalty, while purple and green come from the colors commonly used in coats of arms. Regardless of the actual story, purple, gold, and green have always been associated with Mardi Gras.
King Cake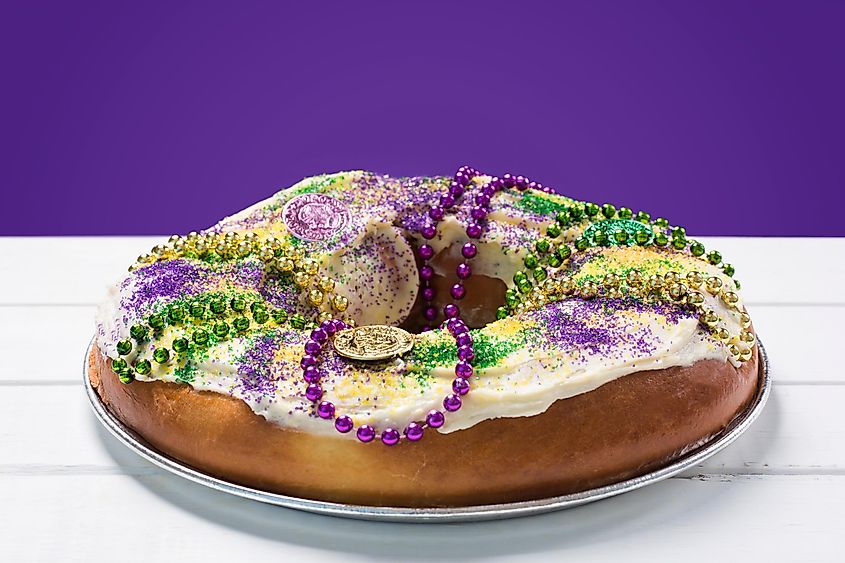 The dessert of choice for any Mardi Gras celebration is king cake. "King" refers to the three wise men who arrived on the Epiphany (Twelfth Night) to visit the baby Jesus. King cakes are made with a tiny plastic baby inside. To find the baby in your slice means good luck — and it also means you have to buy the next king cake to share
Carnival Season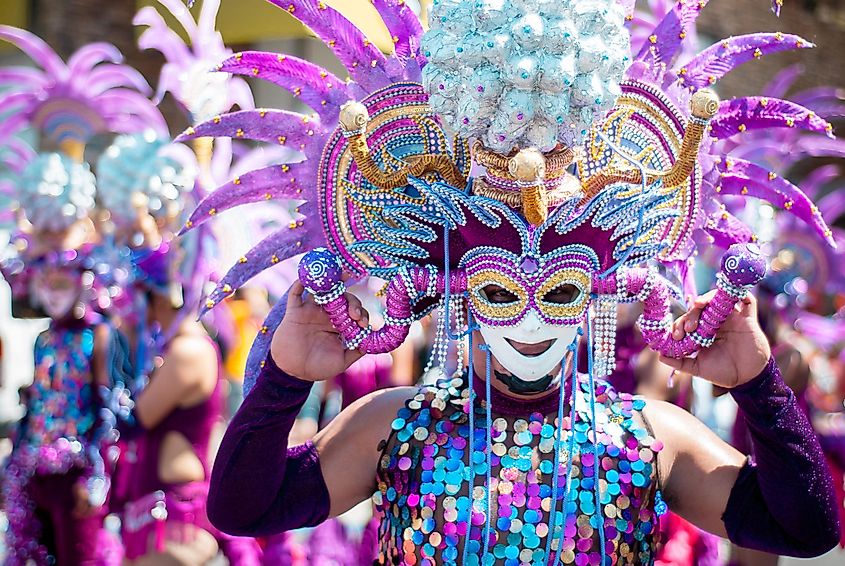 Mardi Gras is the single day before Lent, the Christian season of abstinence and sacrifice. Carnival, on the other hand, refers to the entire festive season of eating, drinking, and merrymaking that starts on Twelfth Night (January 6, the Epiphany) and ends with Mardi Gras.