Seattle is the largest city in the US state of Washington and the Pacific northwestern region of the United States. Protected from weather extremes by its position between Olympic and Cascade mountain ranges, Seattle is known for cool summers and mild, cloudy winters. Humans have inhabited the area for around 12,000 years, with the first permanent non-indigenous settlement dating back to 1851. Since then, Seattle has found fame as a logging town, gold rush supply depot, railroad, port, air gateway, and the birthplace of aviation, high tech, and online commerce giants, including Boeing, Microsoft, and Amazon.com. Today, Seattle remains a commercial, industrial, and cultural hub while also enjoying a reputation as one of the United States' most active and progressive cities. 
Geography Of Seattle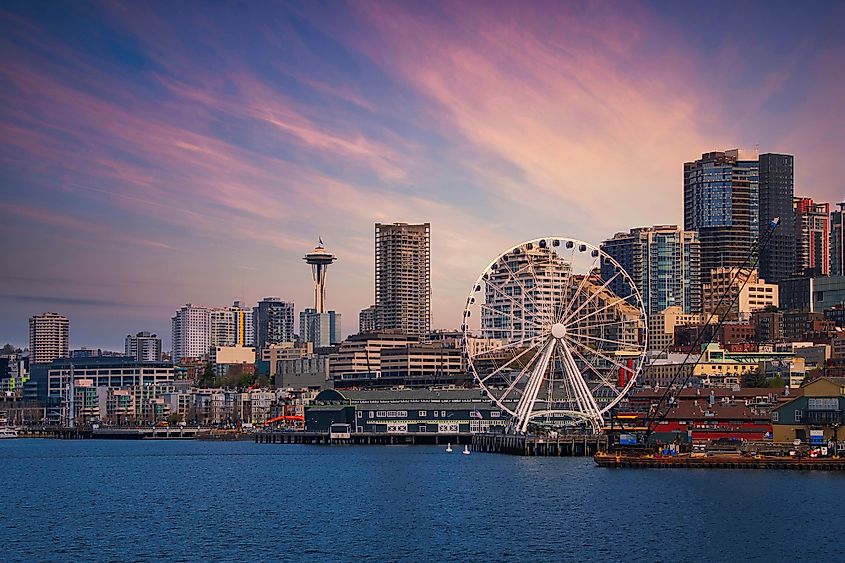 Seattle is located in western Washington state, on the southeastern shore of Puget Sound, a one-hundred-mile-long inlet of the Pacific Ocean. The city is in King County, sixty miles northeast of Washington state capital, Olympia. Portland, Oregon, is 174 miles to the south, and Vancouver, British Columbia, is 143 miles to the north. The city has grown and expanded to become a conurbation that has grown around the downtown core and now stretches from Tacoma to the south to Everett to the north to Bellevue to the east. Puget Sound hems the city on the west. Lake Washington, the second-largest freshwater lake in Washington, sits east of downtown Seattle. It is connected to Puget Sound by Lake Union and Lake Washington Ship Canal. Seattle sits in a volcanically and tectonically active region. The Seattle Fault runs through downtown and west to the Cascade Range.
Climate Of Seattle
The Köppen Climate Classification assesses Seattle as having a warm-summer Mediterranean climate with rainier winters and dryer summers. Seattle's average annual temperature is 51.5°F. The Olympic Mountains to the west often protect against winter rain, while the Cascade Range to the east helps ease midcontinental extremes of temperature. Summers see maximum high temperatures of around 78°F in August, while lows of around 35°F are reached in December, January, and February. Snowfall is rare in Seattle, with February being the snowiest month, with 1.9 days of snowfall recorded in an average February. Rainfall of 54.6 inches falls per year, with November the wettest month with an average of 8.1 inches of rain and July the driest, with around 1.1 inches of precipitation. The average annual humidity is 73%. There are fewer than sixty days of complete sunshine each year.
Seattle's climate is changing, however. After a summer in which there were 51 days without measurable rainfall, 2021 saw 19 inches of rainfall between September and November; the most rainfall measured in such a period since records began in 1945. Furthermore, rising water levels threaten this coastal city, with estimates projecting sea levels will rise ten inches by 2050, 28 inches by 2100, and 47 inches by 2150. 
Brief History Of Seattle
When Europeans first hunted for the Northwest Passage, the area was home to Nuuchah-nulth, Suquamish, Duwamish, Coast Salish, Makah, Quinault, and Chinook Indigenous peoples. The Spanish explored Puget Sound, followed by the Russians. George Vancouver arrived to map the area for the British in 1792, but British control was soon ceded to American interests. In 1851 settlers from Illinois established the first settlement. Duwamish, later renamed Seattle after local Chief Sealth, was laid out in 1853. Seattle became the site of the University of Washington in 1861. The city was incorporated in 1869. The 1880s saw setbacks in the form of anti-Chinese riots and 1889's Great Fire. The 1890s witnessed a population explosion with the arrival of the Great Northern Railway and Seattle's status as a gold rush supply depot. Wharves sprouted along the waterfront. During the early 20th century, women won the right to vote, and industry flourished, but strikes and unrest occurred. In 1942, around 6,000 of the city's Japanese American community were deported. The second half of the century saw urban renewal and development, driven in part by 1962's World's Fair. The 1980s saw significant growth, spurred by Seattle's high-tech sector. Anti-globalization protests took place during 1999's World Trade Organization conference. Today, Seattle remains a politically active, progressive city, a leader in green and renewable energy, and a vibrant cultural destination.
Demographics And Economy Of Seattle
The United States Census Bureau (USCB) estimated Seattle's population to be 737,015 as of April 1, 2020, up from the 2010 figure of 608,660. Of these, 49% were female and 51% male, with 4.6% under five years of age, 14.5% under eighteen, and 12.5% over 65. The USCB reported that 65.8% of Seattleites identify as White (not Hispanic or Latino), 16.3% Asian, 7.1% Black or African American, and 7.1% Hispanic or Latino. Furthermore, 19.4% of the city's population were born outside the US, and 26,211 identified as veterans. According to the USCB, the median household income was $97,185, while the previous twelve months' per capita income was $63,610, placing Seattle far above the national US average. The poverty rate was 10.2%. Between 2016 and 2020, 73.9% of those over 16 were in the civilian labor force.
Attractions In And Around Seattle
The Space Needle
The iconic 605-foot-tall Space Needle has presided over the skyline since 1962's World's Fair. Revolving glass floors and an open-air viewing deck offer incredible 360° views of Puget Sound, Mount Rainier, and Cascade and Olympic mountains.
Pike Place Market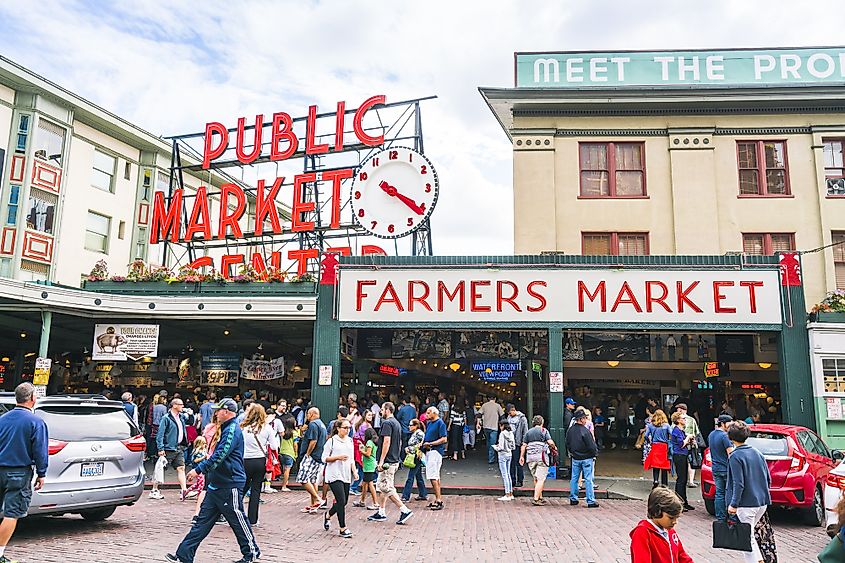 Situated on nine acres of the downtown waterfront, the bustling, historic market sells everything from salmon to strawberries to ceramics in hundreds of shops, stalls, and restaurants. It is the ideal place to people-watch or grab a meal, picnic ingredients, or a coffee (from the original Starbucks). 
Pioneer Square
The city's oldest neighborhood has seen it all—from the Gold Rush to riots and renewal. Discover the city's past on eerie ghost tours, and atmospheric underground tours, at Klondike Gold Rush National Historical Park, and Tlingit Indian Totem, before exploring today's shops, galleries, and eateries. 
Chihuly Garden and Glass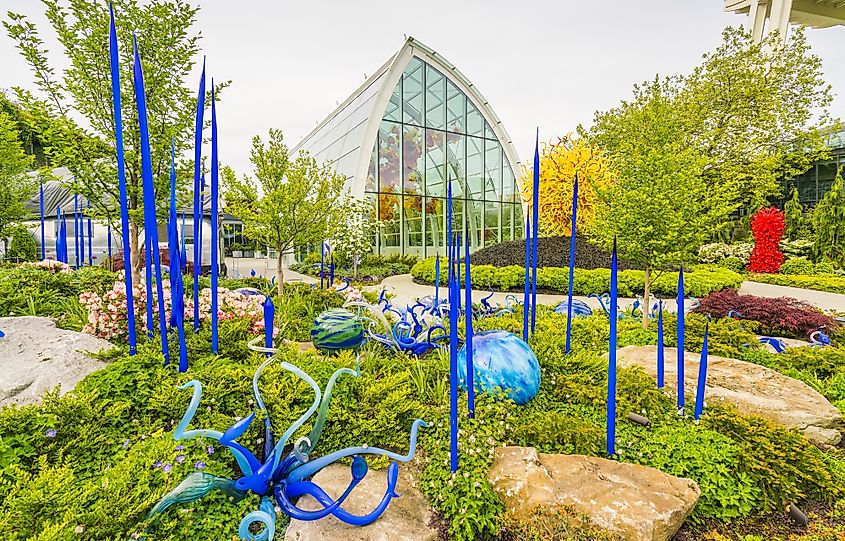 Next door to the Space Needle, you will find a museum dedicated to local glass artist Dale Chihuly. Eight exhibition galleries, a Glasshouse, and lush gardens display incredible sculptures, including a one-hundred-foot-long work created from red, yellow, and orange glass flowers.
Seattle Art Museum
Seattle Art Museum (SAM) offers two experiences—SAM itself (home to almost 25,000 works) and nine acres of waterfront park that make up the dramatic Olympic Sculpture Park.
Puget Sound and The Islands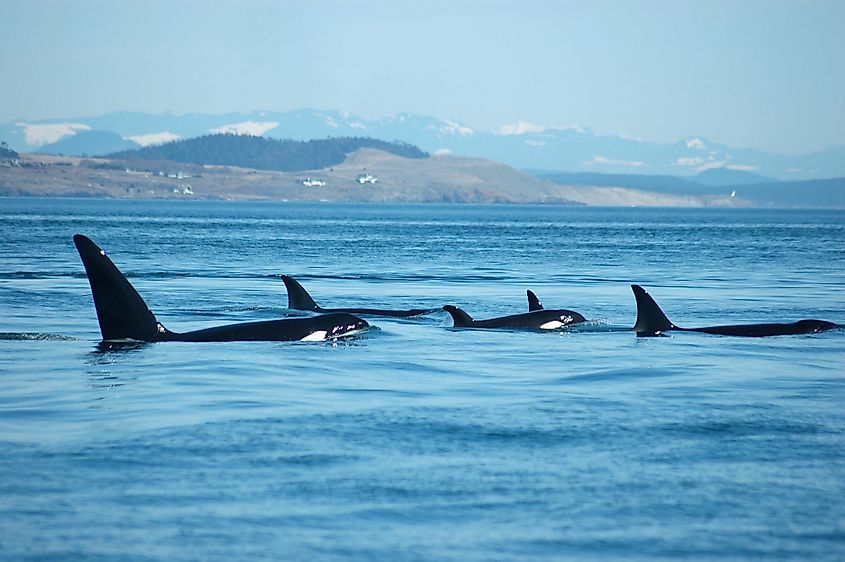 Drive to Camano and Whidbey islands or hop aboard a ferry or seaplane to revel in the charms of the San Juan Islands. Even closer, water taxis take you to Vashon Island, home of excellent ice cream, while 30-minute ferry rides to Bainbridge Island often offer excellent whale-watching opportunities on route.
Seattle is an incredible destination and an ideal base for exploring Olympic National Park, Mount Rainier, the islands, and western Washington. The city boasts a wealth of cultural resources and attractions, distinct neighborhoods, a thriving economy, and a unique character. As the 21st century progresses, it will be fascinating to see how this vibrant city rises to its challenges.