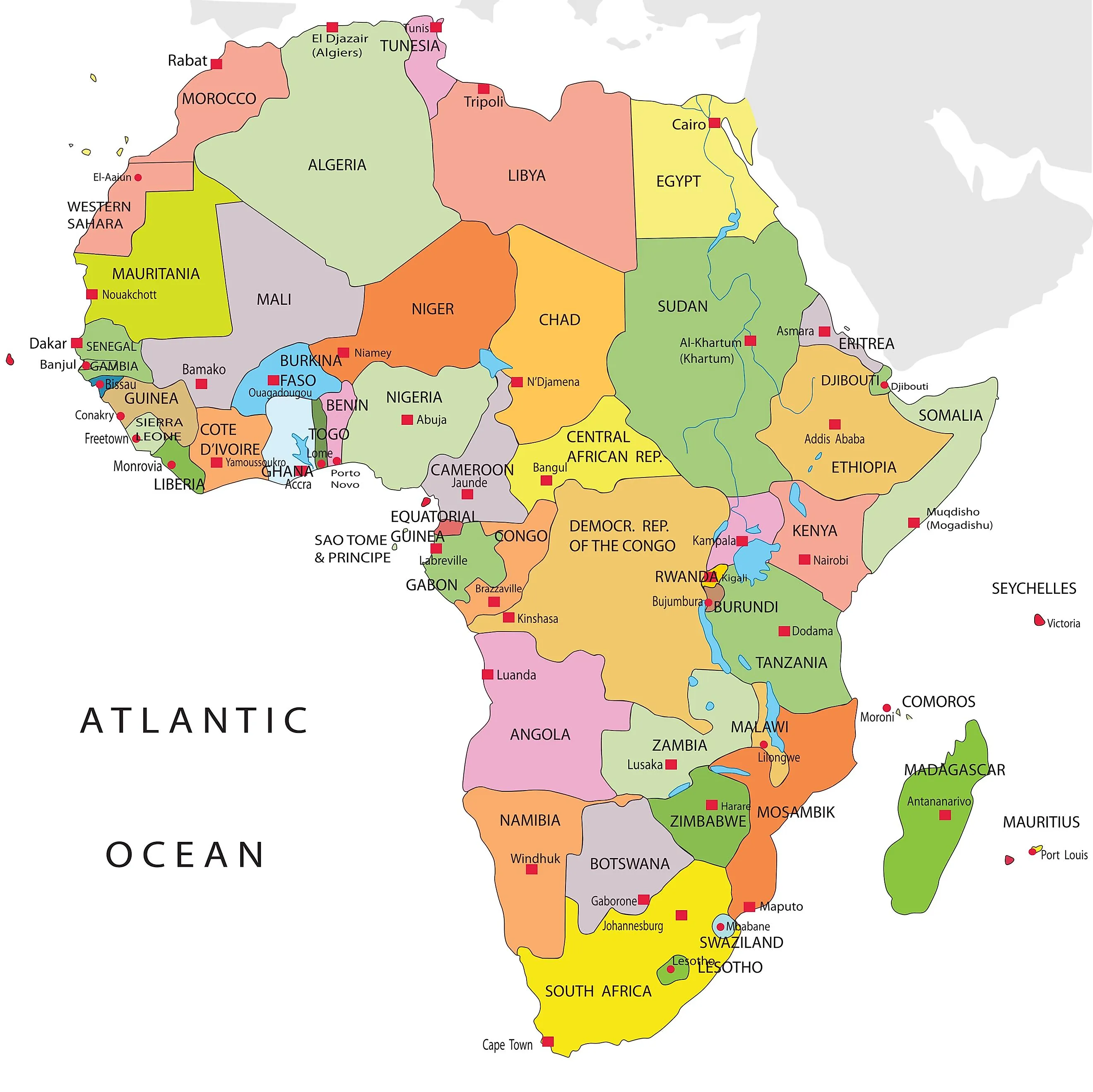 How Many Countries Are There In Africa?
Africa is the world's second-largest, second-most populated continent, covering approximately 11.7 million square miles. Therefore, it makes sense that over 1.4 billion people call it home. The continent is south of Europe and southwest of Asia, bordering the Atlantic Ocean to the west/south, the Indian Ocean to the east, and the Mediterranean Sea to the north. Today, Africa comprises 54 independent countries (as recognized by the UN) and 4 dependencies with unique cultures and traditions.
The land possesses significant natural resources such as oil in Nigeria and Angola, diamonds in Botswana and South Africa, and gold in Ghana. Furthermore, Africa's Bauxite, cobalt, diamonds, phosphate rocks, platinum-group metals (PGM), vermiculite, and zirconium reserves rank first or second globally, highlighting the continent's significant contribution to the global mining industry.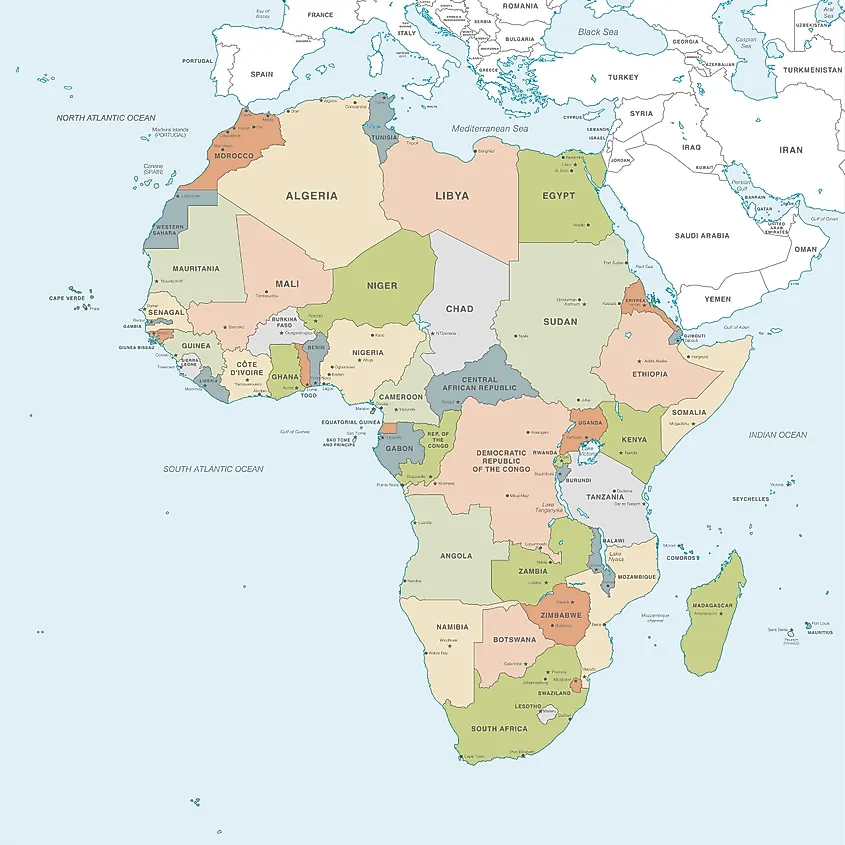 Geographically, Africa is diverse, with various landscapes ranging from deserts like Sahara in North Africa to rainforests like Congo Basin in Central Africa. Mount Kilimanjaro in Tanzania is Africa's highest peak at 19,340 feet above sea level. 
The history of Africa dates back millions of years, with evidence suggesting that some of the earliest human ancestors originated on this continent hundreds of thousands of years ago. Over time, various empires and kingdoms rose and fell across different regions of Africa, including ancient Egypt, the Ghana Empire, the Mali Empire, and the Songhai Empire, among others.  
Africa faces several challenges, including poverty, corruption, conflicts, and diseases such as HIV/AIDS, which have significantly impacted its development over time. However, efforts are underway by African governments and international organizations to address these challenges through initiatives such as Sustainable Development Goals (SDGs) aimed at reducing poverty levels across the continent.
African Countries By Region
Northern Africa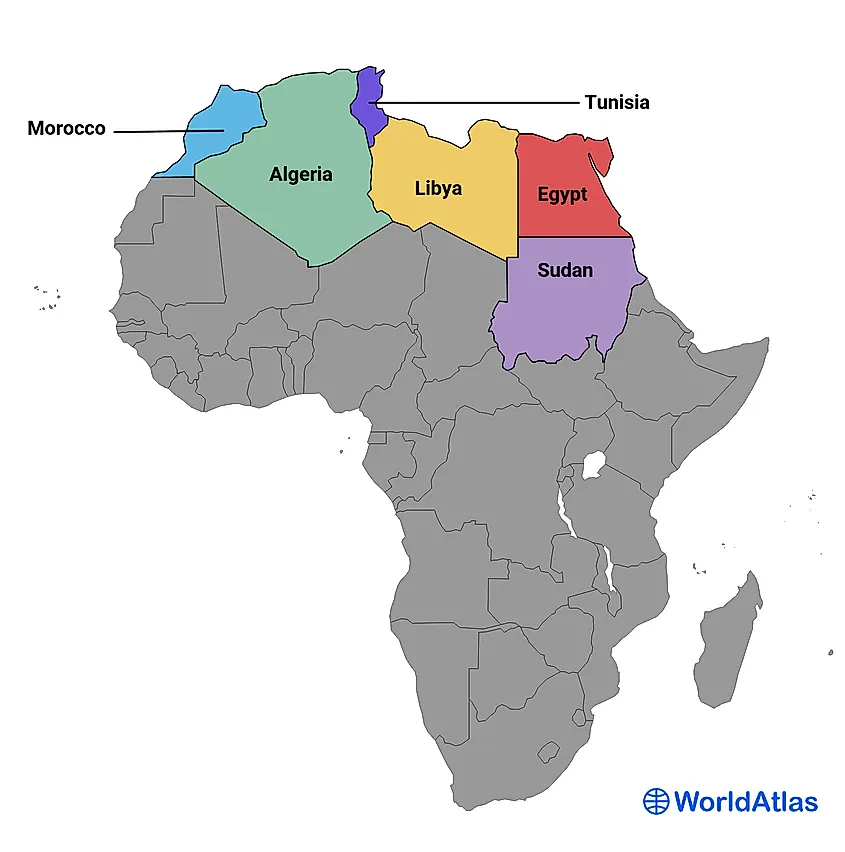 Northern Africa is a region that comprises Algeria, Egypt, Libya, Morocco, Sudan, and Tunisia. 
The geography of Northern Africa includes vast deserts such as the Sahara Desert, which covers a significant part of the region. Moreover, the Nile River runs through Egypt and Sudan, providing water for agriculture and other human activities. Last, the Atlas Mountains in Morocco and Algeria are another notable feature of the region's landscape. 
Northern Africa was home to some of the world's earliest civilizations, such as Ancient Egypt and Carthage. More recently, European powers colonized many countries in Northern Africa during the 19th and 20th centuries. These powers were infamous for exploiting enslaved people during the slave trade, an international abuse that lasted over 400 years. 
Today, Northern Africa faces various challenges, such as political instability, economic inequality, terrorism, and environmental degradation. Many countries in the region also struggle with human rights abuses and governance issues. 
Despite these challenges, Northern Africa has made significant strides in various areas, such as education and healthcare. Many countries in the region have implemented policies to promote economic growth and improve living standards for their citizens.
Eastern Africa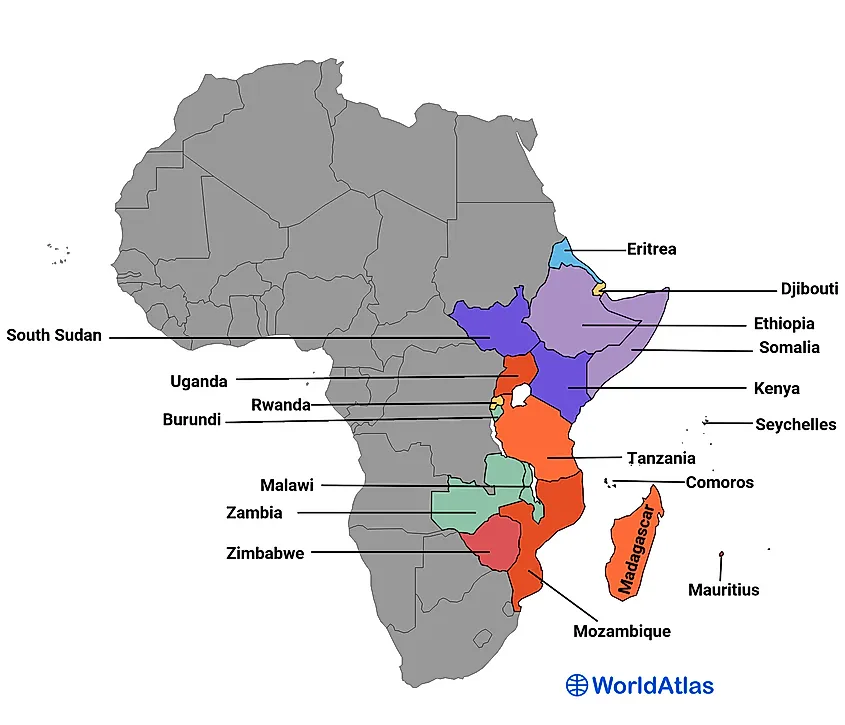 The region of Eastern Africa includes Kenya, Tanzania, Uganda, Rwanda, Burundi, South Sudan, and several other countries. It is a diverse area with a rich cultural heritage and natural resources. 
One of the most notable features of Eastern Africa is its geography. The region is home to some of the highest peaks on the African continent, including Mount Kilimanjaro in Tanzania and Mount Kenya in Kenya. Additionally, the Great Rift Valley runs through Eastern Africa, creating stunning landscapes and unique ecosystems. 
The region has faced various conflicts, including civil wars and insurgencies. For example, the 1994 Rwandan Genocide highlights the fatal tensions and politics between opposed groups. These events have resulted in the displacement of people and loss of life. International organizations such as the United Nations have involved themselves in peacekeeping efforts. 
Eastern Africa is known for its vibrant culture and artistic traditions. Music and dance are essential parts of daily life in many communities throughout the region. Additionally, Eastern African cuisine is diverse and flavorful, featuring cumin, coriander, turmeric, and cardamom spices.
Western Africa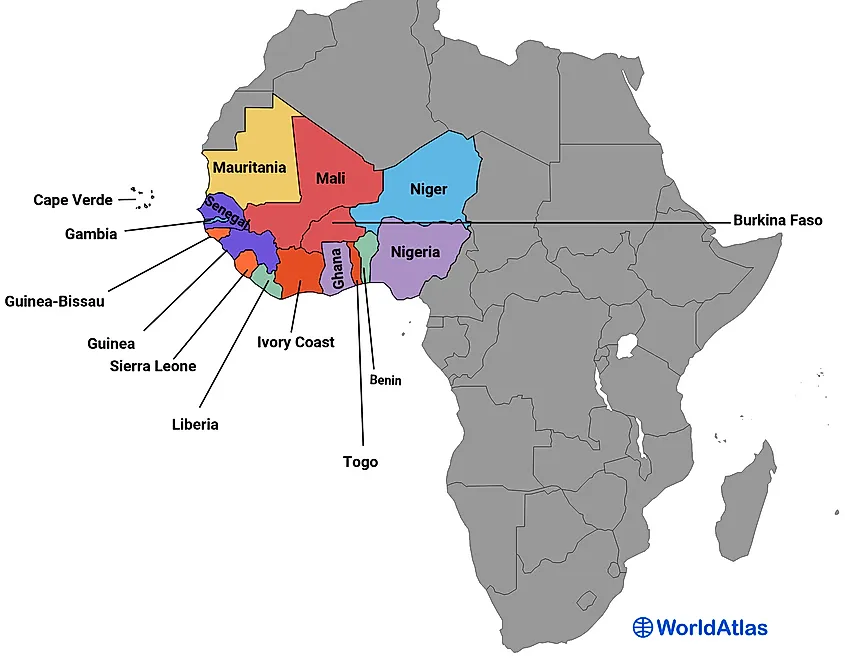 Western Africa is a region that encompasses 16 countries with diverse landscapes like savannas in the north and rainforests in the south. The region has a rich history dating back to the ancient empires of Ghana and Mali. Arab traders introduced Islam to the area in the 7th century, and today it remains a leading religion alongside Christianity and traditional African religions. 
Western Africa is home to numerous ethnic groups with unique cultures and traditions. Despite this diversity, many share similar cultural practices, such as music and dance. The region is known for its vibrant art scene with intricate textiles and sculptures. 
Economically, Western Africa faces challenges due to political instability and poverty. However, efforts are ongoing to improve infrastructure and promote economic growth through initiatives such as the Economic Community of West African States (ECOWAS).
Middle Africa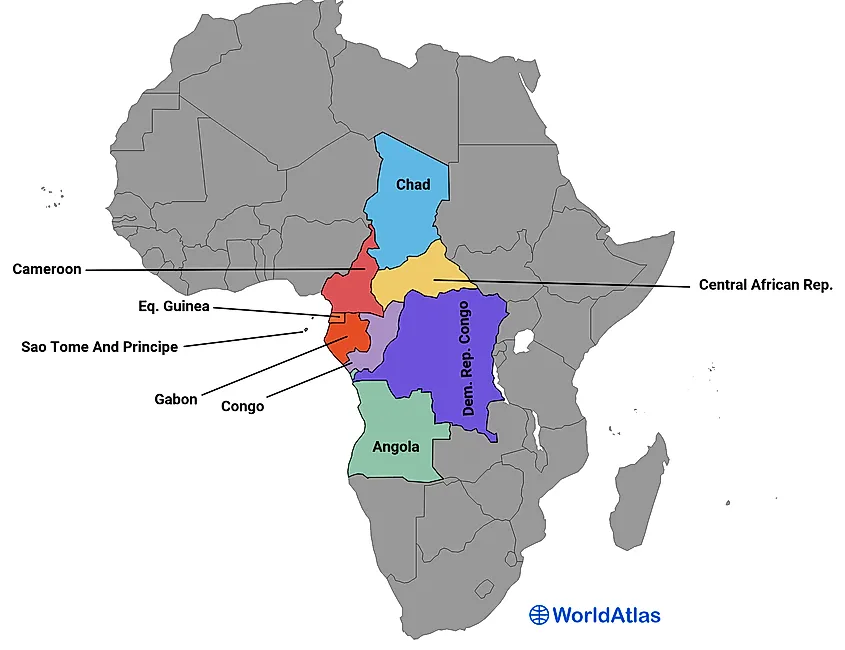 Middle Africa is another subregion of the African continent, composed of 9 countries, such as Cameroon, the Democratic Republic of Congo (DRC), Equatorial Guinea, and Gabon. 
Geographically, Middle Africa spans around 2.5 million square miles and is in the continent's heart. It contains vast tropical rainforests in the Congo Basin to the south and savannah grasslands to the north. The region also includes Lake Victoria - one of the largest freshwater lakes in the world - which borders Tanzania, Kenya, and Uganda. 
Middle Africa has approximately 180 million people who speak hundreds of different languages. Most of these languages are Bantu, spoken by about two-thirds of Middle Africa's population. French is also an official language in many countries due to colonization by France. 
Many indigenous tribes inhabited this region for thousands of years before European colonialism began in the late 19th century. During this period, European powers carved much of Africa into colonies for exploitation and resource extraction. This turbulence, a misfortune shared by the other regions of Africa, led to decades-long struggles for independence throughout Middle Africa during the mid-20th century.
Southern Africa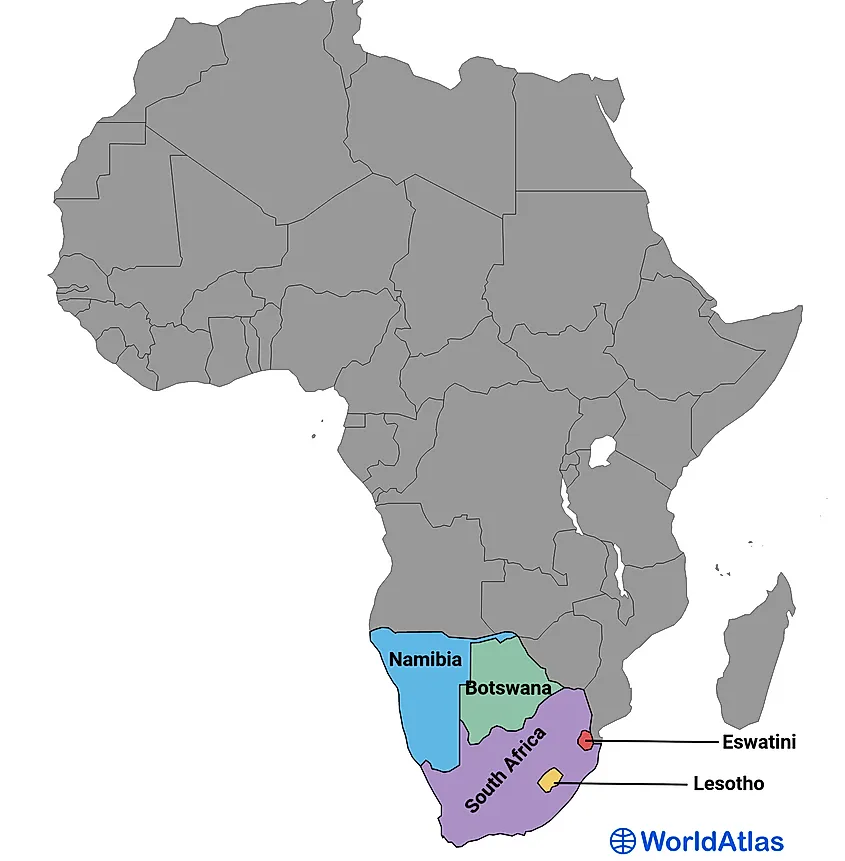 Southern Africa is a region of the African continent that includes the countries of South Africa, Namibia, Botswana, Eswatini, and Lesotho. Here, one will find vast deserts, mountain ranges, savannas, and coastal areas. 
The population of Southern Africa is estimated to be around 70 million people. The largest country in the region is South Africa, with a population of over 59 million people. The official languages spoken in Southern Africa include English, Portuguese, and several indigenous languages such as Zulu, Xhosa, and Shona. 
The San people were some of the region's earliest inhabitants, and their rock art can still be seen in many parts of Southern Africa today. In more recent times, European colonialism significantly impacted the region, with countries such as South Africa and Zimbabwe experiencing apartheid and racial segregation. 
Economy-wise, besides mineral and oil resources, crops such as maize, tobacco, and cotton are being grown in abundance. Tourism is also a growing industry, with sightseers visiting famous attractions such as Victoria Falls and Kruger National Park.
African Non-Sovereign Territories
The African continent has room for four dependent territories: Saint Helena, Réunion, Mayotte, and Western Sahara. Saint Helena is located in the South Atlantic Ocean, roughly midway between Brazil and Angola. This British Overseas Territory consists of the main island of Saint Helena and two smaller islands of Ascension Island and Tristan da Cunha. While it has been home to humans for over 500 years, it is best known as the final resting place of Napoleon Bonaparte, who was exiled here in 1815.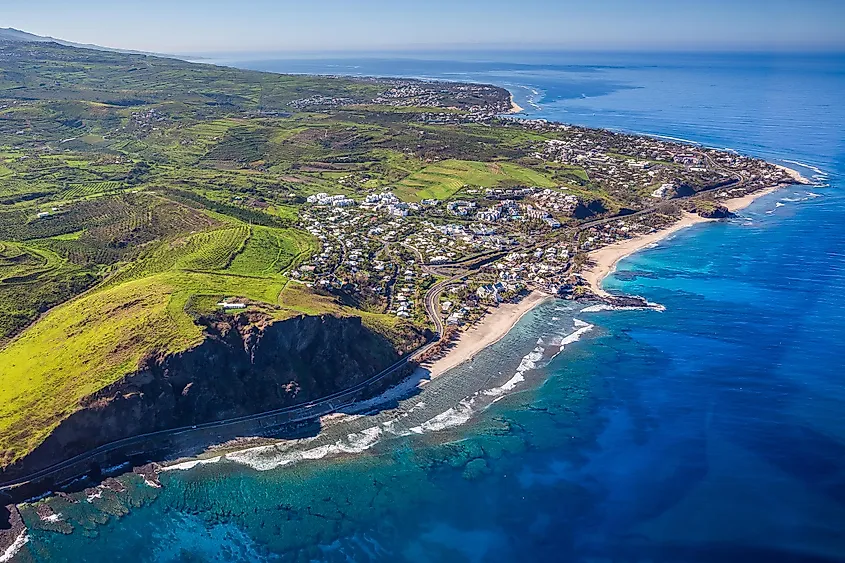 Réunion is an overseas department with special status within France. Located east of Madagascar in the Indian Ocean, it comprises the main island and several smaller outlying islands stretching across an area covering more than 970 square miles. It has a population of approximately 895,312 people representing various cultures, including French, Chinese, and Malagasy (the official language); this diversity stems from the global reach of the slave trade, which was abolished here in 1848.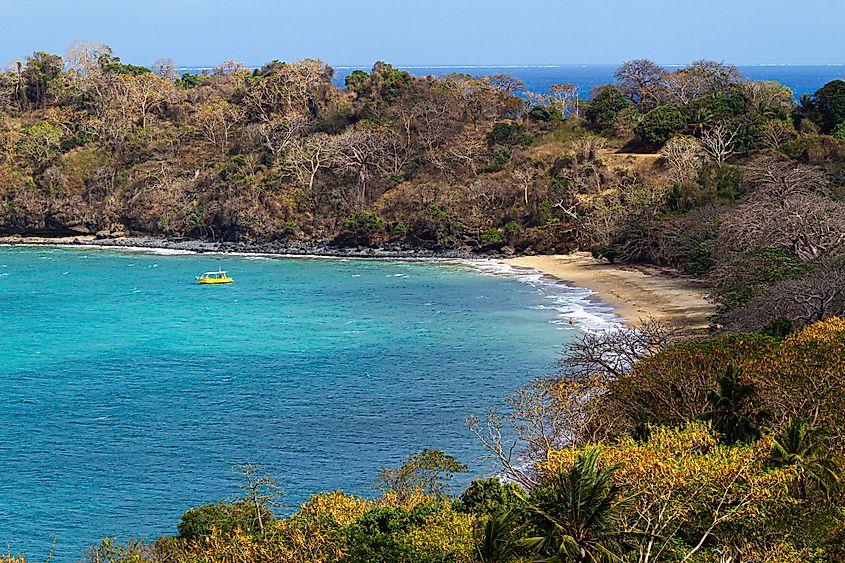 To the northeast of Mozambique lies Mayotte – two joined islands that are part of France's Overseas Community. The largest island in this group is Grande Terre, which covers 144 square miles serving as a home for roughly 272,815 people who speak both French and Shimaore (the local dialect). Due to its proximity to mainland Africa, it has become increasingly popular among refugees seeking refuge from nearby countries such as Somalia or Burundi.
Finally, on the far western coast of Africa lies Western Sahara, formerly known as Spanish Sahara. Western Sahara was home to Spain's last colonial outpost when they withdrew from the territory in 1975 after decades of battling Sahrawi rebels who had asserted their independence. That same year, Moroccan forces invaded the country, and had conflicts with the Sahrawi between 2020-2023. Although there have been several attempts by United Nations special envoys to broker peace agreements between Morocco and Polisario Front (the Western Saharan government in exile), there are disputes around sovereignty. Notably, this large desert region borders Algeria, Mauritania, and Morocco.
| Territory | Population (2020) | Dependency |
| --- | --- | --- |
| Saint Helena | 6,077 | U.K. |
| Réunion | 895,312 | France |
| Mayotte | 272,815 | France |
| Western Sahara | 597,339 | Disputed |
From the ancient civilizations of Egypt and Ethiopia to the modern democracies of South Africa and Ghana, each of these 54 countries, and four territories, have an ancient and proud history. However, the future may bring changes to these nations in their current forms. Sudan already split into two countries in 2011, and others may follow suit. Unification and trade federations between countries, similar to the EU, are underway in efforts like the East African Federation (EAF). Regardless, as a continent near the center of the world, each of these countries will continue to receive everyone's attention.
| Rank | Country | Region | Population (in 1000's) |
| --- | --- | --- | --- |
| 1 | Nigeria | Western Africa |  213,401 |
| 2 | Ethiopia | Eastern Africa |  120,283 |
| 3 | Egypt | Northern Africa |  109,262 |
| 4 | DR Congo | Middle Africa |  95,894 |
| 5 | Tanzania | Eastern Africa |  63,588 |
| 6 | South Africa | Southern Africa |  59,392 |
| 7 | Kenya | Eastern Africa |  53,006 |
| 8 | Uganda | Eastern Africa |  45,854 |
| 9 | Sudan | Northern Africa |  45,657 |
| 10 | Algeria | Northern Africa |  44,178 |
| 11 | Morocco | Northern Africa |  37,077 |
| 12 | Angola | Middle Africa |  34,504 |
| 13 | Ghana | Western Africa |  32,833 |
| 14 | Mozambique | Eastern Africa |  32,077 |
| 15 | Madagascar | Eastern Africa |  28,916 |
| 16 | Côte d'Ivoire | Western Africa |  27,478 |
| 17 | Cameroon | Middle Africa |  27,199 |
| 18 | Niger | Western Africa |  25,253 |
| 19 | Burkina Faso | Western Africa |  22,101 |
| 20 | Mali | Western Africa |  21,905 |
| 21 | Malawi | Eastern Africa |  19,890 |
| 22 | Zambia | Eastern Africa |  19,473 |
| 23 | Chad | Middle Africa |  17,180 |
| 24 | Somalia | Eastern Africa |  17,066 |
| 25 | Senegal | Western Africa |  16,877 |
| 26 | Zimbabwe | Eastern Africa |  15,994 |
| 27 | Guinea | Western Africa |  13,532 |
| 28 | Rwanda | Eastern Africa |  13,462 |
| 29 | Benin | Western Africa |  12,997 |
| 30 | Burundi | Eastern Africa |  12,551 |
| 31 | Tunisia | Northern Africa |  12,263 |
| 32 | South Sudan | Eastern Africa |  10,748 |
| 33 | Togo | Western Africa |  8,645 |
| 34 | Sierra Leone | Western Africa |  8,421 |
| 35 | Libya | Northern Africa |  6,735 |
| 36 | Congo | Middle Africa |  5,836 |
| 37 | Central African Republic | Middle Africa |  5,457 |
| 38 | Liberia | Western Africa |  5,193 |
| 39 | Eritrea | Eastern Africa |  3,620 |
| 40 | Mauritania | Western Africa |  4,615 |
| 41 | Gambia | Western Africa |  2,640 |
| 42 | Botswana | Southern Africa |  2,588 |
| 43 | Namibia | Southern Africa |  2,530 |
| 44 | Gabon | Middle Africa |  2,341 |
| 45 | Lesotho | Southern Africa |  2,281 |
| 46 | Guinea-Bissau | Western Africa |  2,061 |
| 47 | Equatorial Guinea | Middle Africa |  1,634 |
| 48 | Mauritius | Eastern Africa |  1,299 |
| 49 | Eswatini | Southern Africa |  1,192 |
| 50 | Djibouti | Eastern Africa |  1,106 |
| 51 | Comoros | Eastern Africa |  822 |
| 52 | Cape Verde | Western Africa |  588 |
| 53 | Sao Tome & Principe | Middle Africa |  223 |
| 54 | Seychelles | Eastern Africa |  106 |