Arizona Flag
Arizona Flag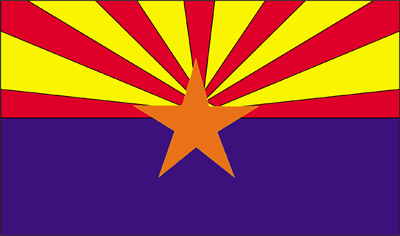 DESCRIPTION:
Arizona's state flag was designed and adopted in 1927. It's divided into two halves.
The top half consists of thirteen alternating yellow and red rays which represent America's thirteen original colonies. Because Arizona is a western state, the rays show a setting sun. The colors of the rays refer to yellow and red in the Spanish flags carried by Coronado when he came to Arizona in the sixteenth century.
The bottom half of the flag is a solid blue field, the same color as the blue in the United States of America flag.
A large copper colored star is superimposed in the center of the flag. This identifies Arizona as the largest producer of copper in the United States.
LARGER FLAG: View this flag at 800 pixels wide here!
all Country Flags here!
all USA State Flags here!
ARIZONA map here!
Arizona Photographs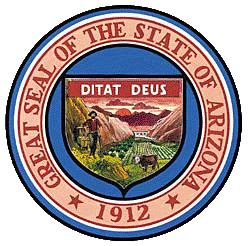 Official Seal of the State of Arizona
Arizona Cities, Counties & Area Codes
This page was last updated on August 24, 2020.