New Jersey Flag
New Jersey Flag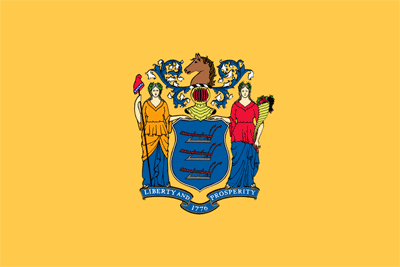 DESCRIPTION:

The New Jersey flag (with the centered sea) originated in 1787, and was officially adopted in 1896.
The flag's field is a light, yellow (or buff) color. It was personally selected by General George Washington in 1779, and worn as a uniform color by his New Jersey Continental Line troops in the Revolutionary War.
The centered blue shield features three plows, the head armor of a knight, and a horse's head above. The two women (right and left) represent the goddesses of Liberty and Agriculture.
The blue ribbon (bottom) includes 1776 (the year of independence) and the states's motto - Liberty and Prosperity.
LARGER FLAG: View this flag at 800 pixels wide here!
all Country Flags here!
all USA State Flags here!
NEW JERSEY map here!

New Jersey Photographs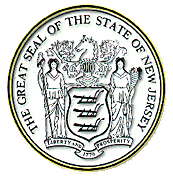 Official Seal of the State of New Jersey
New Jersey Cities, Counties & Area Codes
This page was last updated on August 24, 2020.