Maine Flag
Maine Flag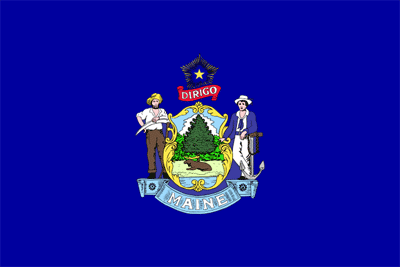 DESCRIPTION:

This Maine flag was officially adopted is 1909. It features a centered coat of arms (adopted in 1820) on a dark blue field.
The coat of arms pictures a farmer (with scythe) and a seaman (with anchor) representing the agricultural and maritime industries.
The shield between them includes a pine tree, a moose (the state animal of Maine), green grass, a tranquil sky, and deep blue water.
At the top is a yellow star (representing the North Star, as Maine was the northernmost state when it entered the Union) and a ribbon that reads, "DIRIGO," which means "I direct" in Latin. Below, a ribbon reads, "MAINE."
LARGER FLAG: View this flag at 800 pixels wide here!
all Country Flags here!
all USA State Flags here!
MAINE map here!
Maine Photographs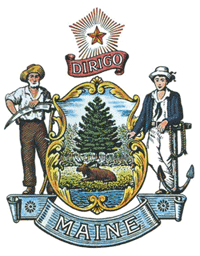 Official Seal of the State of Maine
Maine Cities, Counties & Area Codes
This page was last updated on August 24, 2020.