Maine Geography
Maine is divided into three distinct areas; the Atlantic Ocean Coastal Lowlands, the Central Uplands, and mountain ranges of the Appalachian Mountains in the northwestern reaches of the state.
The scattered Longfellow Mountains, the state's major range, are considered an extension of New Hampshire's White Mountains. They were named by the Maine Legislature (in 1959) for Henry Wadsworth Longfellow, poet and native son.
Mt. Katahdin, located within the boundaries of Baxter State Park, is the state's highest point at 5,267 ft.
North central, deep water lakes, remnants of the last Ice Age, cover the land. They mix with the seemingly endless pine forests, as Maine is 90% forested, and remains one of the world's leading producers of paper.
The jagged, and rockbound Atlantic Ocean coastline is a mixture of bay, inlets, sandy beaches and thousands of odd-shaped islands.
Significant rivers include the Androscoggin, Kennebec, Penobscot, St. Croix and St. John.
For a look at the topography of Maine, view this map.
Maine Photographs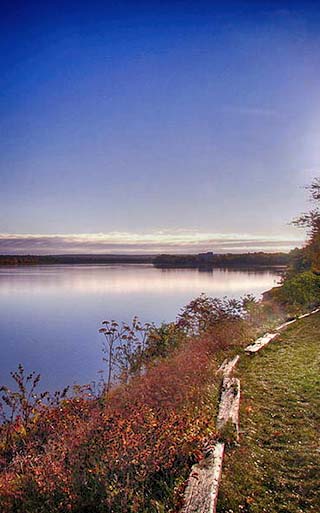 Morning on the Saint John River
Maine Cities, Counties & Area Codes
This page was last updated on April 7, 2017.