District of Columbia Flag
Delaware Flag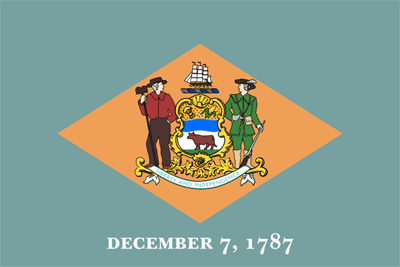 DESCRIPTION:

Adopted on July 24, 1913, the Delaware flag has a background of colonial blue surrounding a diamond of buff color in which the coat of arms of the state of Delaware is placed. Below the diamond are the words "December 7, 1787," indicating the day on which Delaware was the first state to ratify the Federal Constitution.

Because of this ratification, Delaware became the first state in the Union, and is, therefore, accorded the first position in such national events as presidential inaugurations.

According to members of the original commission established to design the flag, the shades of buff and colonial blue represent those of the uniform of General George Washington, the first President of the United States, and adapted from an official U.S. Army publication.

The central images within the diamond represent the state's economy and history. Farming is honored by the farmer holding his hoe. The importance of animals is represented by the ox. The contributions of citizens who bore arms to defend the rights of all Delaware's population is evident in the musket-toting militiaman. Shipping, ship building, and water-based commerce are also honored.

LARGER FLAG: View this flag at 800 pixels wide here!

all Country Flags here!

all USA State Flags here!

DELAWARE map here!
District of Columbia Cities, Counties & Area Codes
This page was last updated on August 24, 2020.