Nevada Flag
Nevada Flag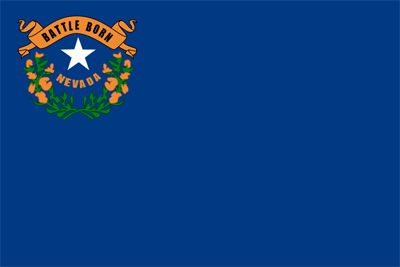 DESCRIPTION:

After a lengthy design competition, Nevada's flag was officially adopted on March 26, 1929. It was revised on June 8, 1991, and the state's name was added.
It has a deep blue background and features a yellow, flowing ribbon that reads "BATTLE BORN." That phrase makes reference to Nevada becoming a state during America's Civil War.
A silver star, and the word NEVADA, in a circular pattern, are featured under the ribbon. The silver star represents the states's rich silver and gold mineral wealth.
This is surrounded by green sagebrush with yellow flowers. Note that sagebrush is Nevada's official state flower.
LARGER FLAG: View this flag at 800 pixels wide here!
all Country Flags here!
all USA State Flags here!
NEVADA map here!
Nevada Photographs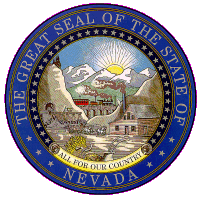 Official Seal of the State of Nevada
Nevada Cities, Counties & Area Codes
This page was last updated on August 24, 2020.