Despite having the world's longest land border a 5,530 miles, and a coastline approximately 151,019 miles long, Canada ranks low on this list of nations with shared borders, having only one neighbor on its physical boundary - the United States. America doubles that, bordering not only Canada to the north, but also Mexico to the south. Of the 3 North American countries, Mexico has the largest number of shared land borders in North America, sharing an international land boundary with the United States, Belize, and Guatemala. While North American nations have few neighbors, the countries of the African, Eurasian, and South American continents share international boundaries with multiple nations. Six of the countries on this list share a border with eight other countries, while the top spot goes to China with 16 nations. Read on to discover more about which countries have the highest numbers of international borders and surprising facts about their boundaries.
1. China - 16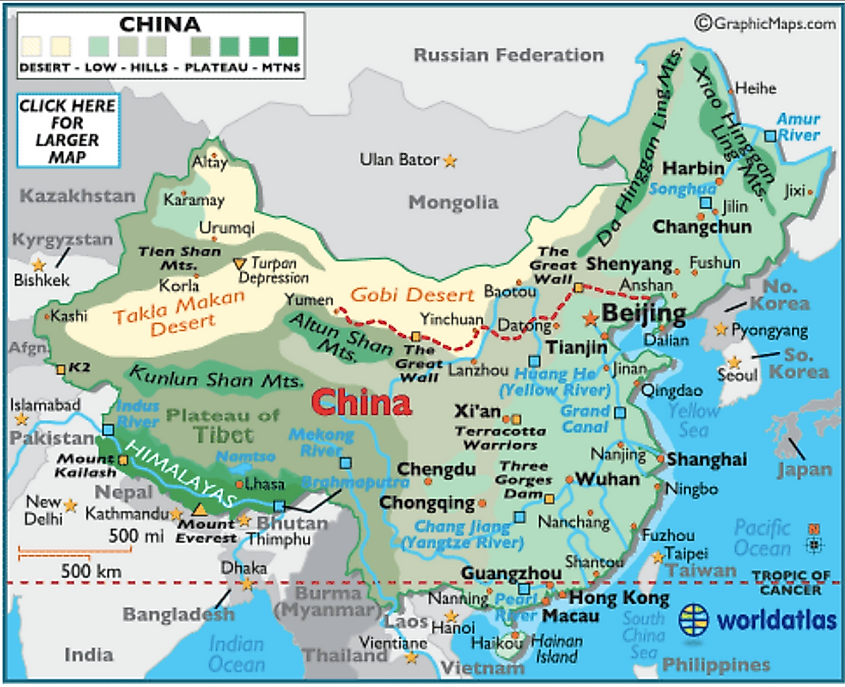 They say that good fences make good neighbours, and with a national defence budget of  1.19 trillion yuan (US$175.4 billion) in 2019, China can certainly afford to build a lot of fences. That is a good thing, because despite being only the fourth largest country by landmass, it shares an international border with 16 neighbors, more than any other country in the world. The country occupies nearly 7% of the globe's surface and is also its most populous, while it's 13,761 miles of borders line Mongolia, Russia, Kazakhstan and Kyrgyzstan to the North; Vietnam, Laos, Myanmar, and Bhutan; along with Pakistan, Afghanistan and Tajikistan to the west; and Hong Kong, North Korea, Macau to the east. India borders China three times, to the south and west, totalling 2100 miles of border.
2. Russia - 14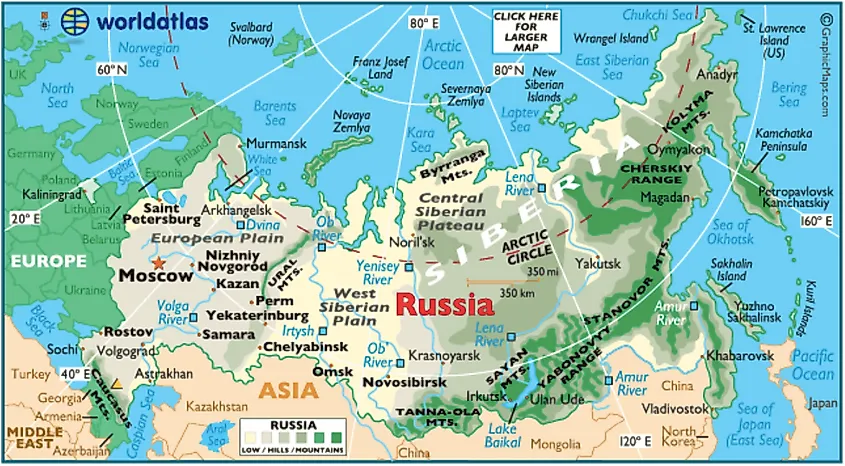 The world's largest country comes in second place when it comes to unique land neighbors. Although geographically adjacent to its one-time cold war nemesis the United States, a natural  waterway separates these two countries in their northern territories along the Bering Strait and between the Diomede Islands. These two islands sit between Alaska and Siberia, and are separated not only by water but also an international date line, meaning the Russian owned Big Diomede is a full calendar day ahead of nearby American Small Diomede. While it doesn't share a land boundary with the US, Russia does have land borders with the Scandinavian countries of Finland and Norway, the Baltic states of Estonia and Latvia, as well as Azerbaijan, Belarus, China,  Georgia, Kazakhstan, North Korea, Lithuania, Mongolia, Poland, Ukraine. 
3. Brazil - 10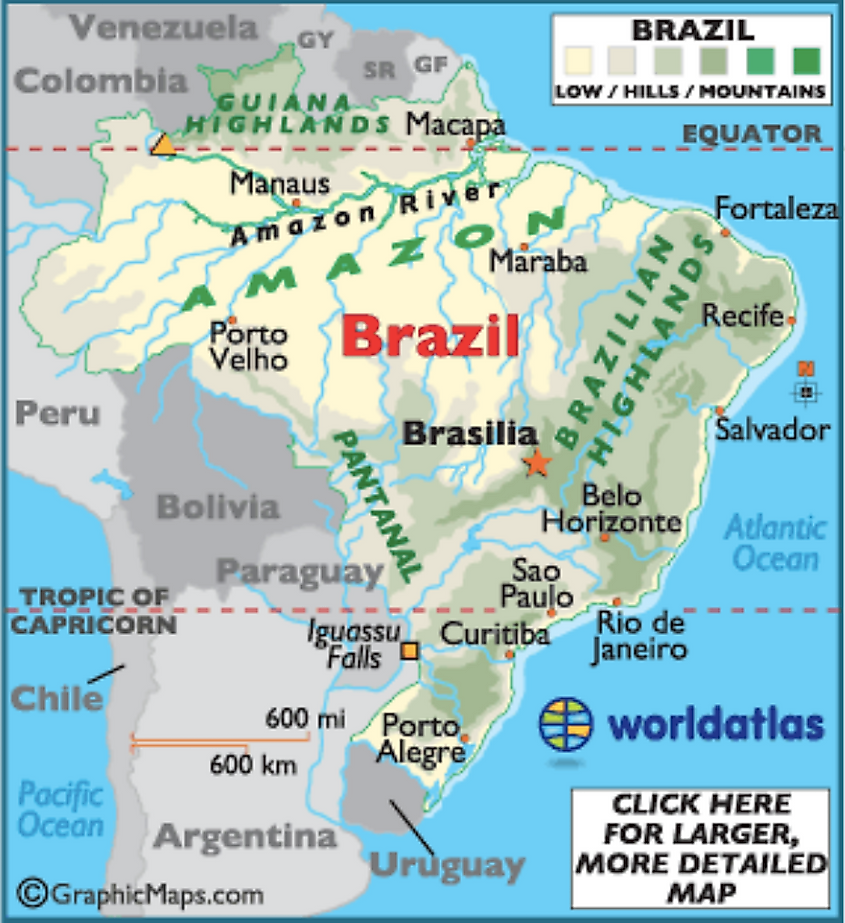 The only South American country on this list, Brazil is that continent's largest nation at 3.3 million square miles. In fact, Brazil is so large that almost all South American countries, except Ecuador and Chile, share its borders. The nine nations it shares land boundaries with are Argentina, Bolivia, Colombia, French Guiana, Guyana, Paraguay, Peru, Suriname, Uruguay, Venezuela. 
4. Democratic Republic of the Congo - 9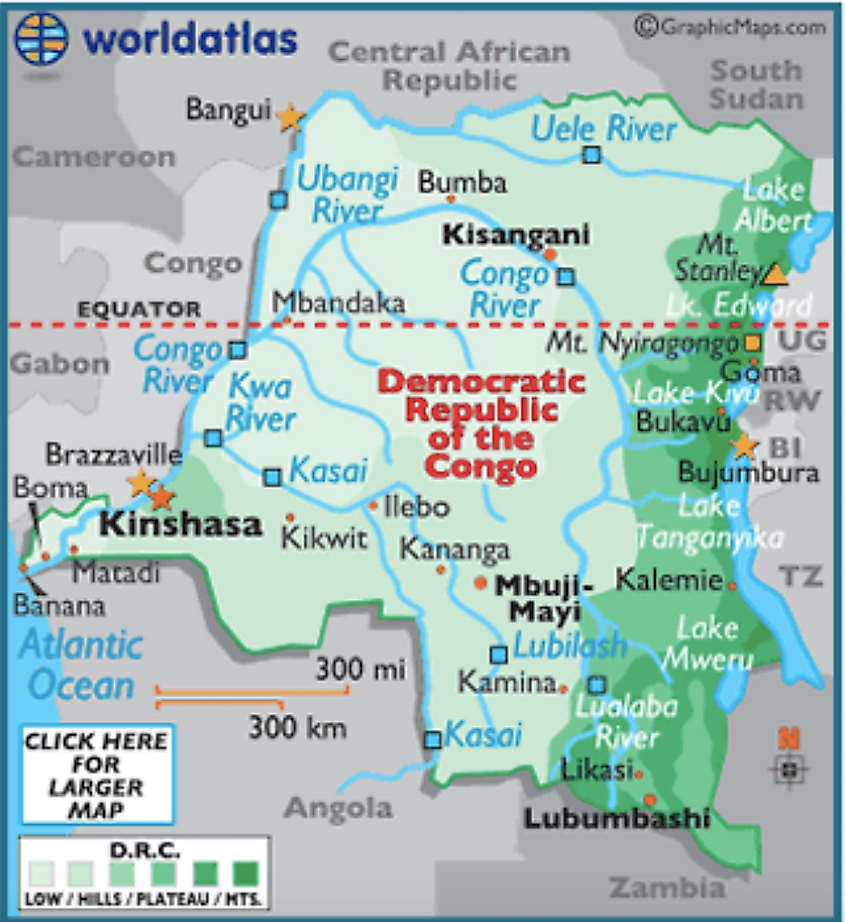 Nearly landlocked in the center of Africa, the Democratic Republic of the Congo (DRC) borders ten countries over 6,667 miles. While the countries of Angola, Burundi, Central African Republic, Republic of the Congo, Rwanda, South Sudan, Tanzania, Uganda, and Zambia for the DRC land borders, it does enjoy almost 23 miles of Atlantic coastline to the west.  
4. Germany - 9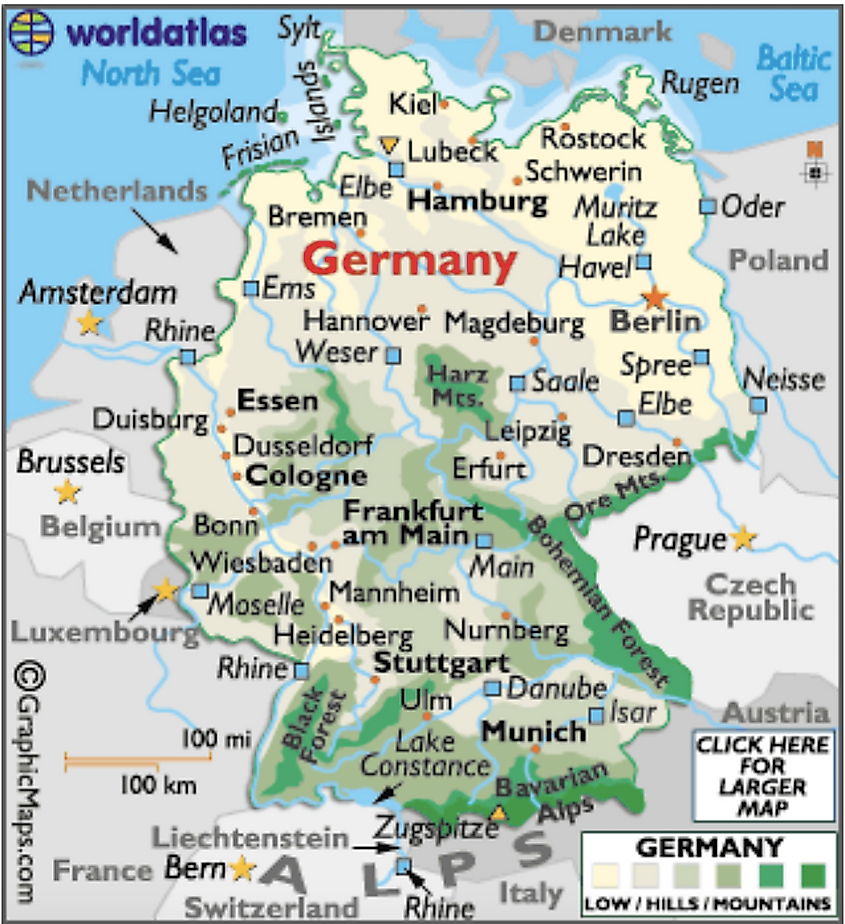 Tied with the DRC with nine land bordering countries, Germany's total landmass is over 137,988 square miles. Just under 2250 miles of the country are shared with its neighbors Austria, Belgium, Czech Republic,  along with Denmark, France, Luxembourg, Netherlands, Poland, Switzerland and a northern coastline of 1,484 miles. 
5. Zambia - 8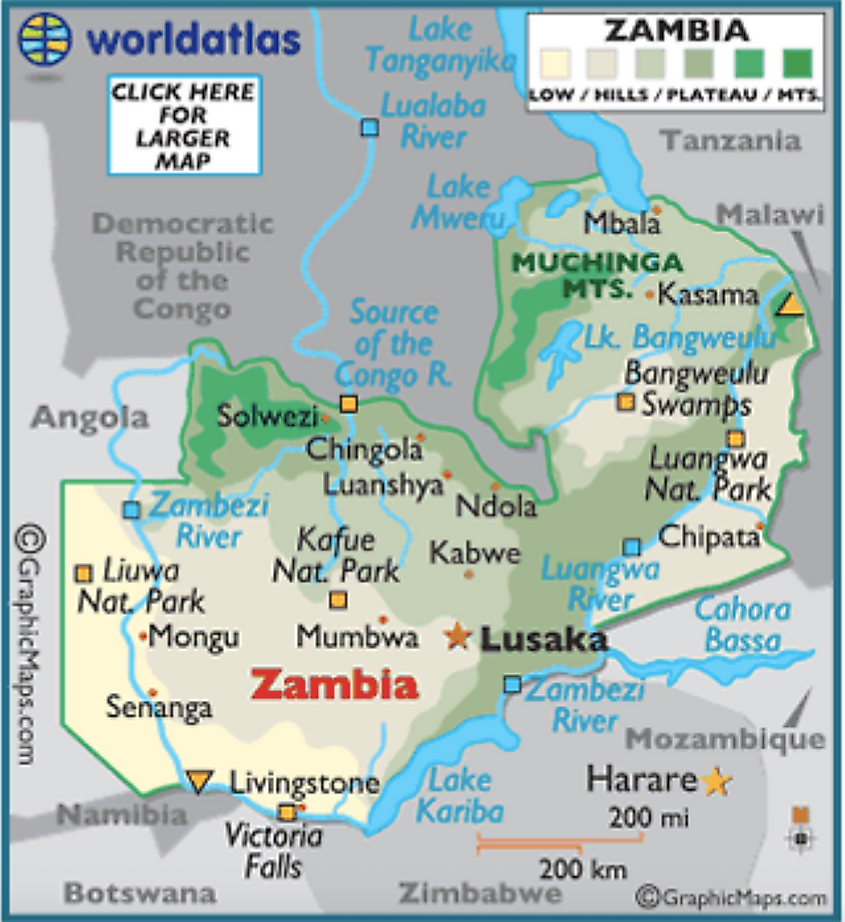 While Russia is the largest country on this list and China borders the most countries, the African nation of Zambia has the shortest border on this list. It's boundary with Botswana is just 492 feet long, making it the second shortest in the world after the 278 foot long border between Morocco and the Spanish peninsula Peñón de Vélez de la Gomera. The other seven unique boundaries along Zambia's 3521 miles of border are Angola, Democratic Republic of the Congo, Malawi, Mozambique, Namibia, Tanzania, Zimbabwe.
5. Tanzania - 8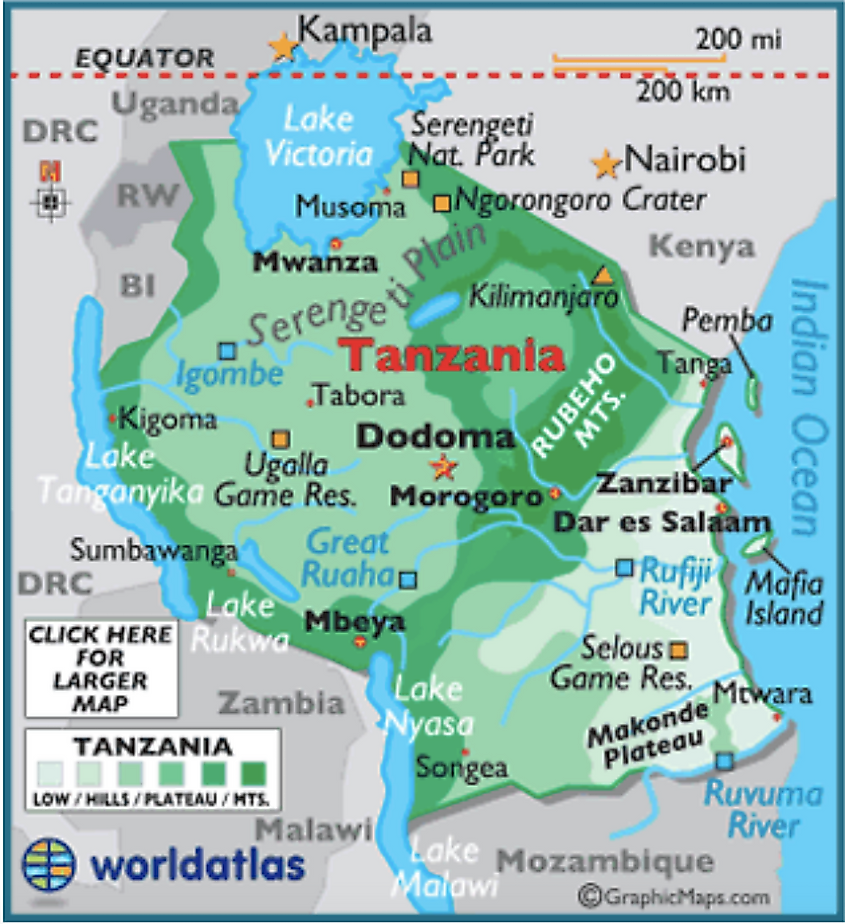 The final African nation on this list borders with the other two, and like Zambia it has eight unique land neighbors. The borders total 2400 miles in length along the countries of Uganda and Kenya to the north, Mozambique, Malawi, and and Zambia to the south, and Burundi, Democratic Republic of the Congo, Rwanda to the west. To the east, the Indian Ocean forms a natural border.
5. France - 8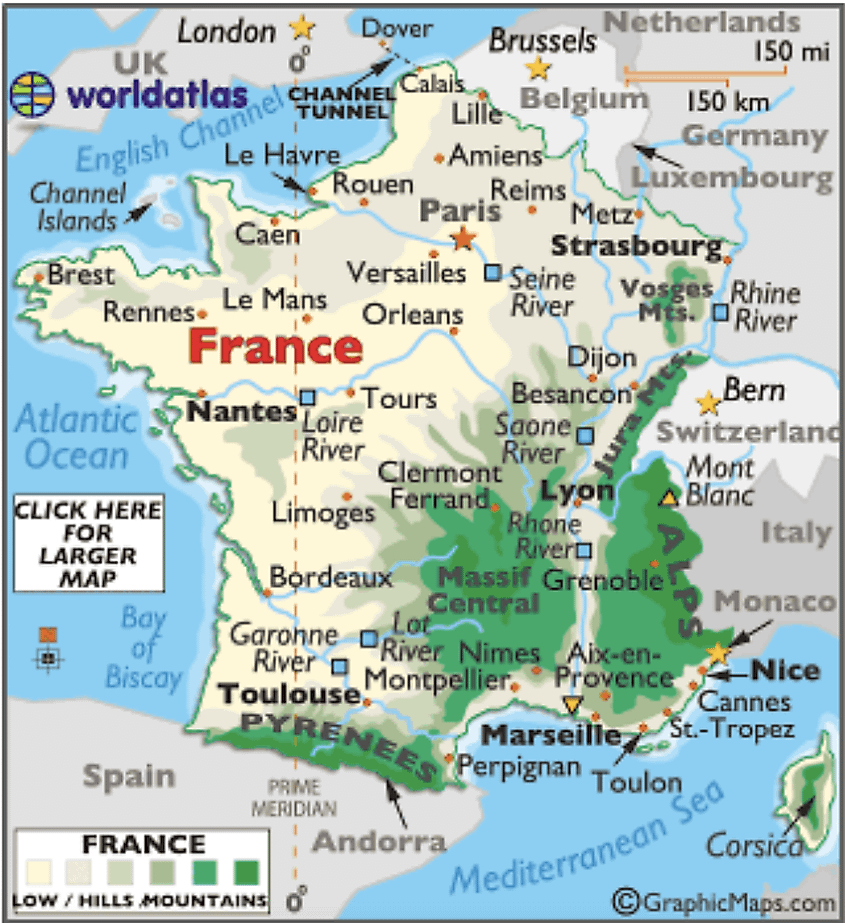 The overseas territories of France are located in the Atlantic, Pacific, and Indian oceans and include Guadeloupe, Guyane, Martinique as well the last French territories in North America, the small islands of Saint-Pierre and Miquelon. Together these territories increase the number of land borders for France to 11. Meanwhile, on the European continent, the eight countries that form a border with France are Andorra, Belgium, Germany, Italy, Luxembourg, Monaco, Spain, Switzerland.
5. Austria - 8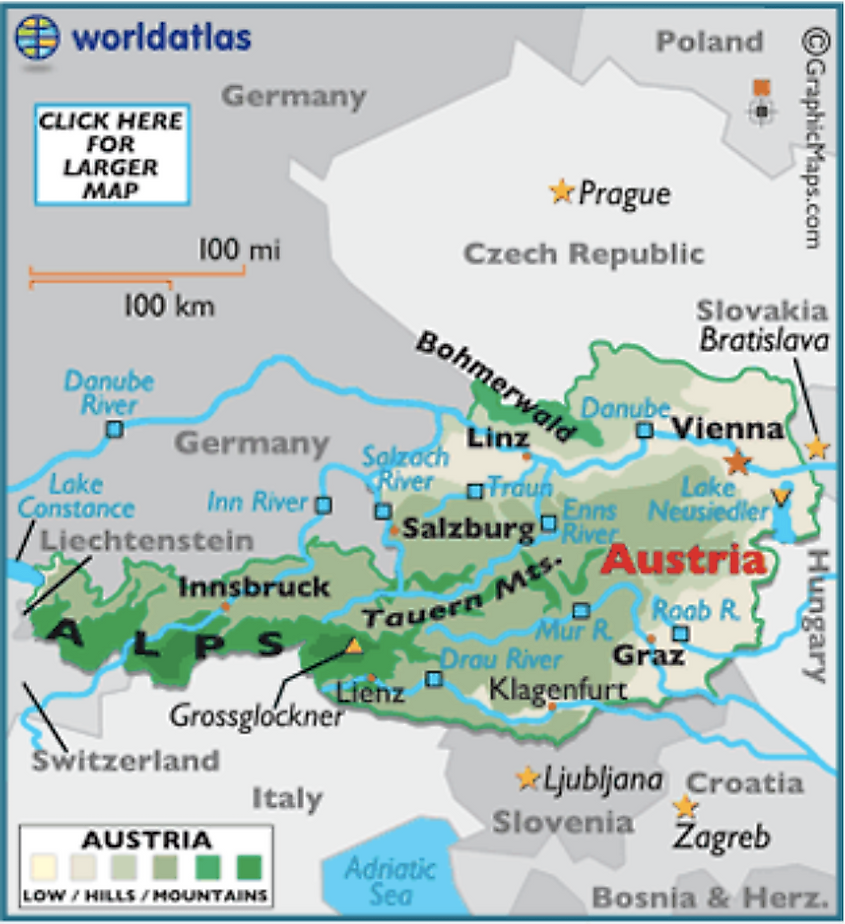 With one of its borders stretching a mere 22 miles along the small country of Liechtenstein and another 487 miles long with neighboring Germany, Austria's other six land boundaries include Czech Republic, Hungary, Italy, Slovakia, Slovenia, and Switzerland. Along its western border runs a narrow corridor that varies between 20 and 60 miles wide north to south, separating Germany from Italy. At its widest Austria stretches 170 miles north to south, and in total the country is almost double in size of it's neighbor Switzerland.
5. Turkey - 8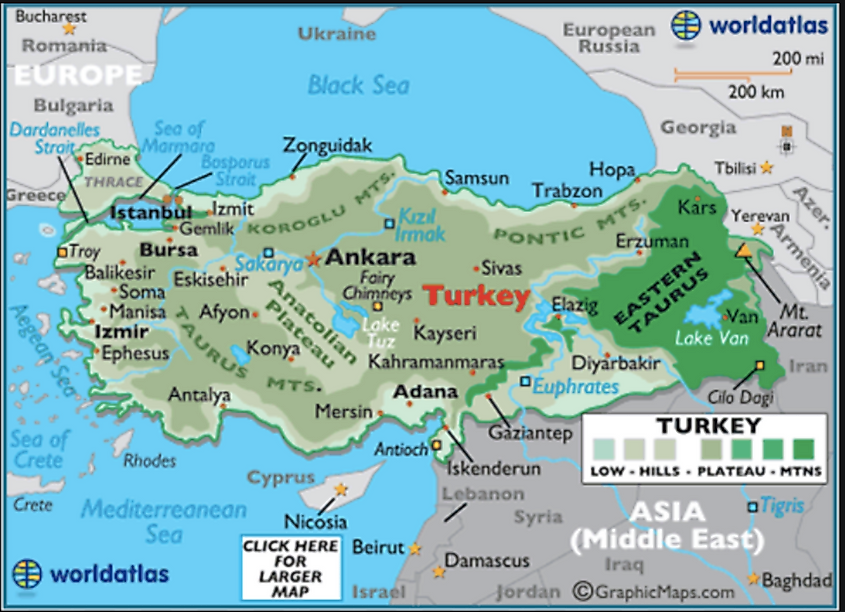 Straddling both Europe and Asia, Turkey's borders have been the site of wars, conquests, and empires for millennia. Trojans, Greeks, Persians, Romans and the Byzantines crossed the Turkish borders from all directions in ancient times. From the 13th century up until the First World War the Ottomans controlled Turkey's borders. Today the land between Turkey and Syria is in a near constant state of turmoil and unrest. Along with its Syrian neighbors, Turkey's 1645 miles of land borders are shared with Armenia, Azerbaijan, Bulgaria, Georgia, Greece, Iran, and Iraq.
5. Serbia - 8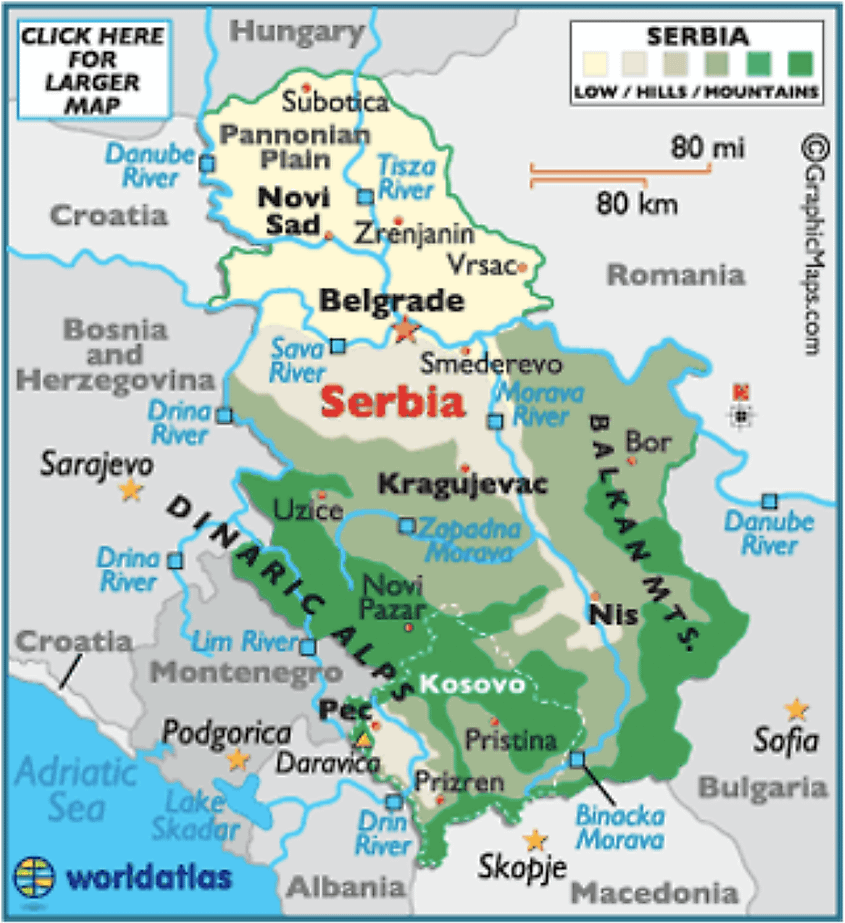 Like France, the number of land borders Serbia shares with its neighbors is not straightforward. It is generally accepted that the nearly 1260 miles of Serbian border connect with eight other nations, namely  Bosnia and Herzegovina, Bulgaria, Croatia, Hungary, Kosovo, Macedonia, Montenegro, Romania. However, recognition of the independent state of Kosovo increases this number to nine. The Republic of Kosovo declared its independence from Serbia in 2008, and the international community is still undecided as to whether or not to issue diplomatic recognition. As of March 2020, 97 of 193 United Nations member countries and 22 of the 27 European Union members recognize Kosovo, whereas Serbia continues to consider the region as part of its territory.