American Flag - USA Flag, Us Flag, 1776 Flag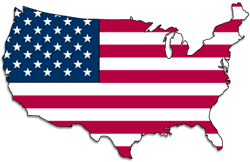 72 x 42 Pixels - 90 x 53 Pixels - 113 x 66 Pixels - 142 x 83 Pixels - 178 x 105 Pixels - 565 x 301 Pixels - 891 x 527 Pixels
The flag of the United States features thirteen equal horizontal stripes of red (top and bottom) alternating with white; there is a blue rectangle in the upper hoist-side corner bearing 50 small, white, five-pointed stars arranged in nine offset horizontal rows of six stars (top and bottom) alternating with rows of five stars; the 50 stars represent the 50 states, the 13 stripes represent the 13 original colonies.
The flag is known as Old Glory, and no one knows for certain who designed it. Many historians believe that U.S. Congressman, Francis Hopkinson was the original designer, while a few still think that Betsy Ross, a Philadelphia seamstress, made the first one.
Great Seal of the United States
The seal was developed by Benjamin Franklin, John Adams and Thomas Jefferson at the direction of the delegates to the Constitutional Convention in 1776. A final design was approved in 1782, and today (both sides) are found on the back of the U.S. one-dollar bill, and often stamped onto specific documents, including foreign treaties and presidential proclamations.
National Emblem:
The Bald Eagle was officially declared the National Emblem of the United States by the Second Continental Congress in 1782. It was selected by the USA's founding fathers because it is a species unique to North America. It has become the living symbol of the USA's freedoms, spirit and pursuit of excellence. Its image and symbolism have played a significant role in American art, folklore, music and architecture.
This page was last updated on August 31, 2020.