How Many Countries Are There In Europe?

There are 44 countries in Europe altogether. Some of these countries are transcontinental, which means that their territory spreads over more than one continent.
Countries that are in the European Union can trade with each other much more easily, and people from those countries can freely travel from one country to the other.
Brexit is the withdrawal of the United Kingdom from the European Union, which was the first time something like that happened, and it was the subject of intense debate all over Europe.
---
Europe is the sixth-largest continent on Earth, spreading across 4 million square miles. Europe can also be considered a vast peninsula that is a part of the Eurasian landmass. Europe is home to many countries and cultures and is affected by a vast range of influences from its surrounding countries. However, the countries that makeup Europe are all rich in culture and various habits that make them unique.
All in all, there are 44 countries in Europe altogether. Some of these countries are transcontinental, which means that their territory spreads over more than one continent. An important part of European politics and culture is the European Union. This special organization connects 27 member states intending to develop a single market and a standardized system of laws.
Geographic Regions Of Europe
There are seven main regions of Europe, and one could say that each of these regions has a distinctly defined culture that bonds all of the countries of that region in some ways. Scandinavia is one of the most well-known regions of Europe, and it contains Sweden, Iceland, Finland, Norway, and Denmark. These countries all have strong cultural, linguistic, and historical ties. The British Isles is the next region, and only two countries are a part of it, the United Kingdom and Ireland. This area is composed of many islands, and the people living here share a rich history.
The other regions are much larger, and it is not as easy to find something that connects all of the countries in them. Western Europe is made up of the Netherlands, France, Belgium, Luxembourg, and Monaco.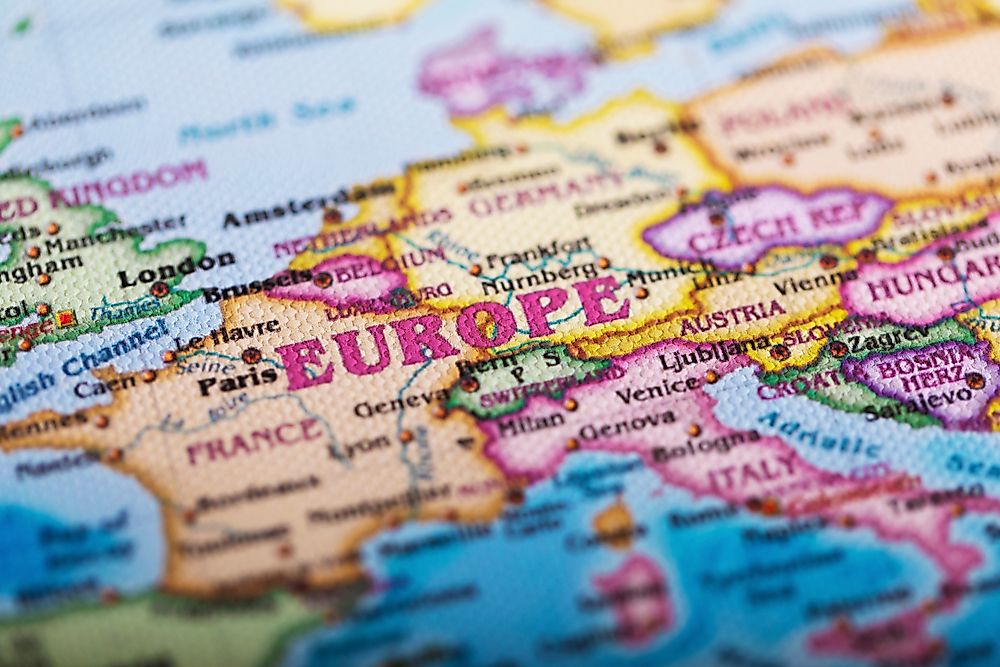 One could say that all of these countries share a successful economy if nothing else. Southern Europe consists mostly of coastal countries that are close to the Mediterranean Sea and the Atlantic Ocean, including Spain, Portugal, Andorra, Italy, Vatican City, San Marino, and Malta.
Central Europe has a large number of countries that all share a cultural and historical identity, to an extent. These countries are Switzerland, Germany, Liechtenstein, Austria, Poland, Slovakia, Hungary, and the Czech Republic. Finally, we have Eastern and Southeastern Europe. Countries that are in these regions also share a lot of cultural and historical factors and have also often interacted with each other through history.
Eastern Europe is made up of Estonia, Latvia, Lithuania, Belarus, Moldova, Ukraine, and Russia. Southeastern Europe consists mostly of the countries in the Balkan region, such as Croatia, Serbia, Bosnia, and Herzegovina, Slovenia, Montenegro, Romania, Albania, Macedonia, Bulgaria, and Greece.
European Union
The European Union (EU) is a special economic and political union of 27 European countries. This union managed to develop a single market shared by these countries by using a standardized set of laws that applies to all of them. All of the members of the European Union agreed to act as one when it comes to these matters, and this has made trading among its member states much easier. It also affected things like online shopping, which was made extremely simple among countries that are members of the EU.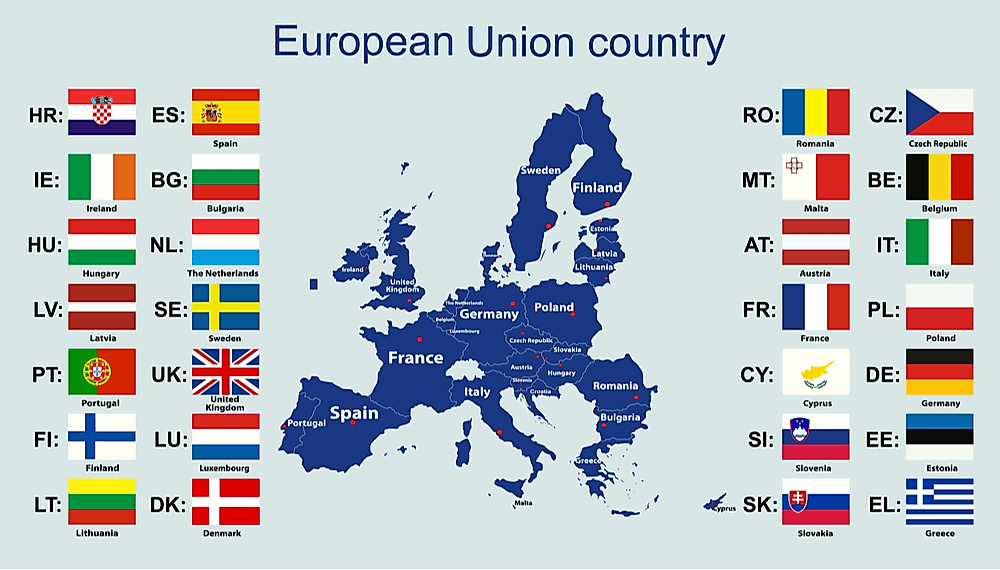 Not only that, but traveling has also been made more simple, and people can move around the EU countries with complete freedom. Many countries do not even use passports anymore. Other areas where the EU managed to achieve common policies are agriculture and regional development, as well as legislation. 
The European Union also managed to establish a monetary union, with nineteen of the member countries using the euro as their currency. Ideas of a unified Europe existed prior to World War II, but only after it did the wheels begin to be set in motion. The union was finally established with the Maastricht Treaty in 1993.
The United Kingdom And Brexit
In recent years, the United Kingdom and its relationship with the rest of Europe have become the subject of debate. The UK became the first country to ever leave the European Union on January 31st, 2020. This followed a referendum signed in 2016, after which the UK managed to negotiate an agreement upon which it could leave the EU. The country will remain subject to all of the EU laws and a part of the unified market at least until the end of 2020. The withdrawal of the UK from the European Union was dubbed Brexit and remained a controversial topic.
This withdrawal was advocated by the more traditionalist part of the UK population, the so-called Eurosceptics. The younger population, as well as the other, more progressive citizens of the UK, strongly objected to Brexit but were outvoted. It remains to be seen how this withdrawal will affect the relationship of the United Kingdom with other members of the European Union.
It depends on how closely the UK intends to be tied to these other countries and what the terms of the withdrawal will be. Experts believe that this will permanently damage the economy of the United Kingdom. 
How Many Countries Are There In Europe?
| Rank | Countries of Europe |
| --- | --- |
| 1 | Albania |
| 2 | Andorra |
| 3 | Austria |
| 4 | Belarus |
| 5 | Belgium |
| 6 | Bosnia and Herzegovina |
| 7 | Bulgaria |
| 8 | Croatia |
| 9 | Czech Republic |
| 10 | Denmark |
| 11 | Estonia |
| 12 | Finland |
| 13 | France |
| 14 | Germany |
| 15 | Greece |
| 16 | Holy See |
| 17 | Hungary |
| 18 | Iceland |
| 19 | Ireland |
| 20 | Italy |
| 21 | Latvia |
| 22 | Liechtenstein |
| 23 | Lithuania |
| 24 | Luxembourg |
| 25 | Macedonia |
| 26 | Malta |
| 27 | Moldova |
| 28 | Monaco |
| 29 | Montenegro |
| 30 | Netherlands |
| 31 | Norway |
| 32 | Poland |
| 33 | Portugal |
| 34 | Romania |
| 35 | Russia |
| 36 | San Marino |
| 37 | Serbia |
| 38 | Slovakia |
| 39 | Slovenia |
| 40 | Spain |
| 41 | Sweden |
| 42 | Switzerland |
| 43 | Ukraine |
| 44 | United Kingdom |