Although the definitions of the extent of Northern Europe vary, as per the United Nations geoscheme for Europe, Northern Europe comprises of 10 sovereign nations. These countries can be divided into three regions: Scandinavia, the British Isles, and Baltic region.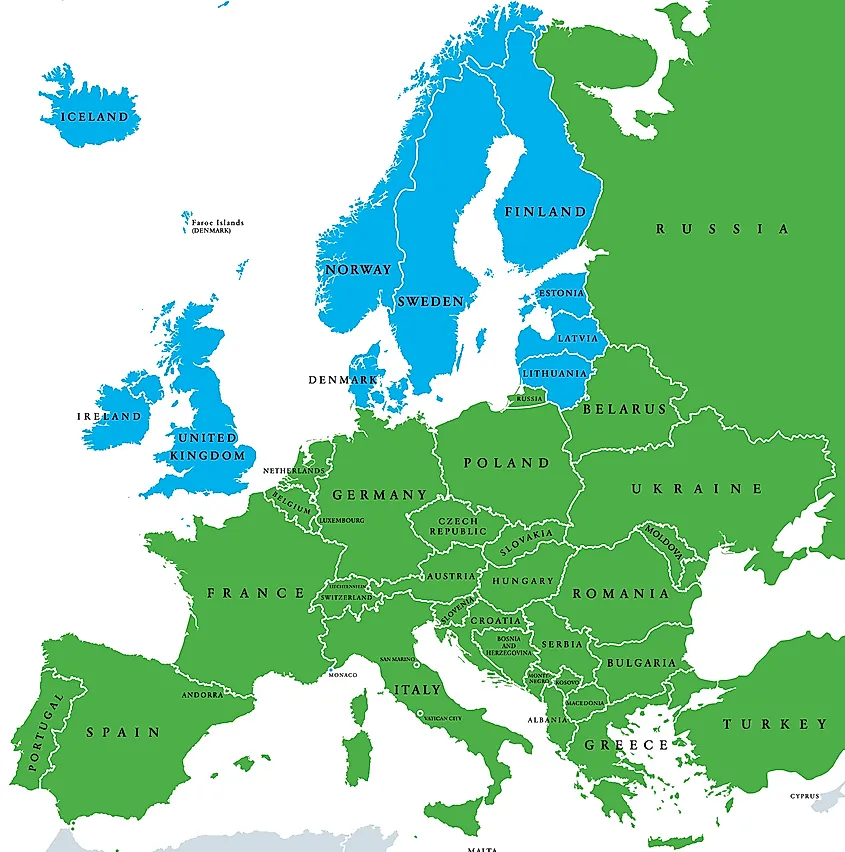 Here are the ten countries that make up Northern Europe: 
Scandinavia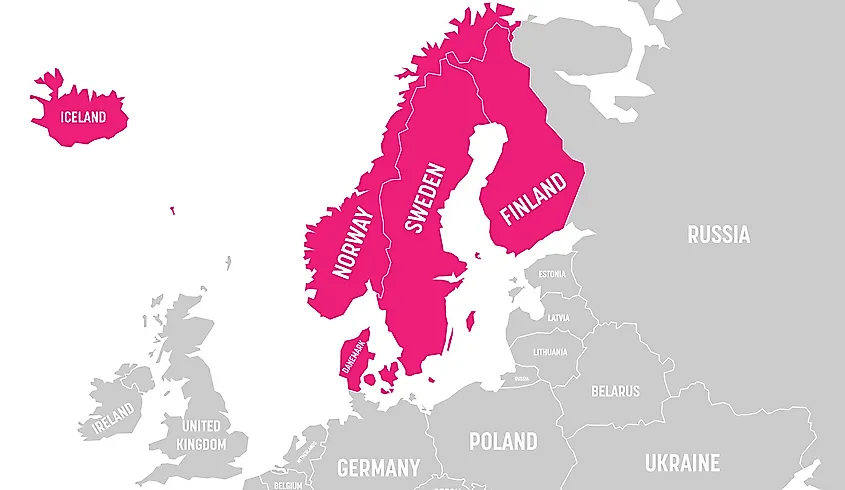 Norway
Norway is characterized by its rugged coastline, mountainous terrain, deep fjords, and numerous islands. Formally known as the Kingdom of Norway, this Nordic nation is home to a population of approximately 5,421,241 residents. Norway's capital and the most populated city is Oslo, which is considered the economic, political, and cultural hub of the nation. This constitutional monarchy is ceremoniously led by monarch King Harald V while the true head of the government is its Prime Minister.
Sweden 
Sweden is situated between Norway and Finland. The country, which has been inhabited since prehistoric times, comprises an area of approximately 172,750 square miles (447,420 square km). Sweden has an estimated population of 10,099,265 residents. The nation's capital city of Stockholm is home to various world-renowned sites including the Vasa Museum, Nationalmuseum, Stockholm Palace, and Stockholm Concert Hall where the Nobel prize ceremonies are held.
Denmark 
Denmark shares a land border with Germany and is situated on a peninsula. A portion of the country is within 100 miles (161 km) of the coast of Sweden. The country, officially known as the Kingdom of Denmark is the most southern of all the Scandinavian countries. Denmark is also comprised of 443 islands, including Funen and Zealand, which is the island hosting the nation's capital, Copenhagen. Recent population estimates for the nation total 5,792,202 citizens. Well-known figures from Denmark include writers Hans Christian Anderson and Karen Blixen, filmmakers Billie August and Lars von Trier, and tennis player Caroline Wozniacki.  
Finland
Finland is located in northern Europe and sandwiched between Sweden and Russia, with Norway to its Northen border. Officially the Republic of Finland, this Nordic nation is comprised of a total land area of 150,928 square miles (390,903 square km). Its population is estimated to stand at 5,540,720 residents. Formerly a part of the Russian Empire, and before that a part of Sweden, they declared independence in 1917 and have since skillfully maintained a neutral position in many geopolitical issues in Europe. Finland's capital city Helsinki is located in the southern portion of the country and has a metropolitan population of 1,268,296 residents. 
Iceland
The island nation of Iceland is situated just south of the Arctic Circle. The country's landscape is dominated by features such as volcanos, geysers, hot springs, and waterfalls. The country, which takes up a land area of only 39,777 square miles (103,022 square km), has an estimated population of 341,243 residents. Iceland's history dates back to the 9th century and includes political alliances with neighboring countries Norway and Denmark. Iceland's capital and most populated city, Reykjavik, has the distinction of being the most northern state capital in the entire world. Reykjavik is thought to have been established in 874 AD. Today it is home to approximately 131,136 citizens. 
British Isles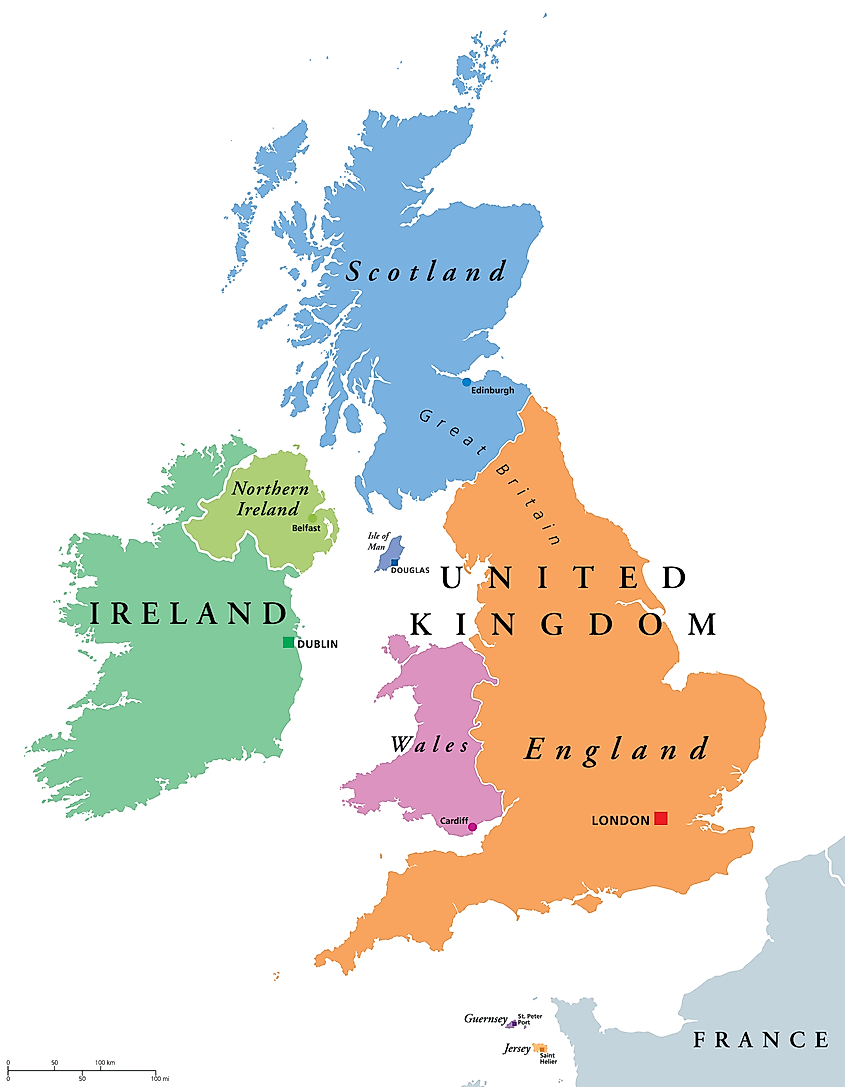 United Kingdom
The United Kingdom of Great Britain and Northern Ireland is a constitutional monarchy whose head of state, Queen Elizabeth II, holds the title of the world's longest-serving monarch. The UK, as it is popularly known, consists of England, Wales, Scotland, and Northern Ireland. With a land area of 93,630 square miles (242,500 square km), the nation is home to an estimated population of 67,886,011 residents. The cosmopolitan city of London serves as the capital of the United Kingdom. Located on the Thames River, London is home to an urban population of 9,789,426. 
Ireland
The island of Ireland is divided into the Republic of Ireland in the south and Northern Ireland, which remains part of the United Kingdom. Taking up an area of 27,133 square miles (70,273 square km), Ireland has a population of approximately 4,937,786 people. Its capital city, Dublin, has a metro population of 1,024,027 residents. 
The Baltics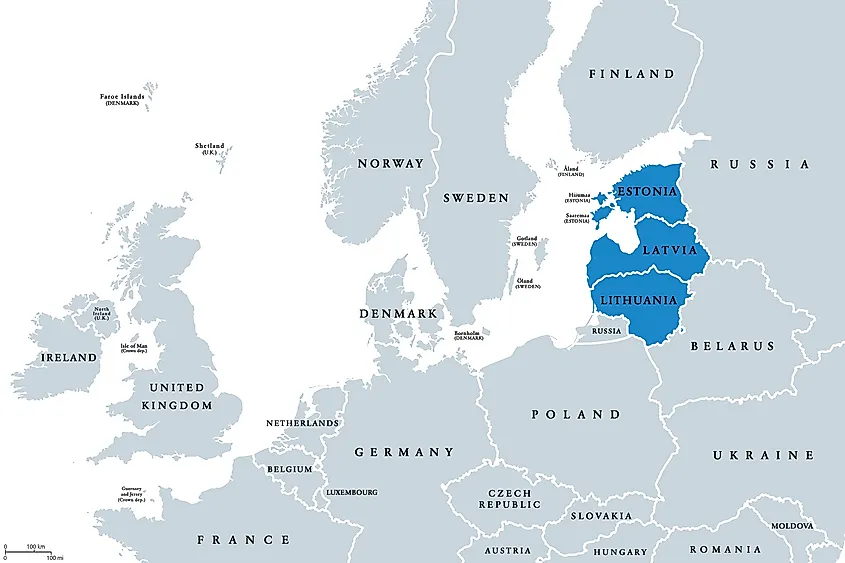 Lithuania
Lithuania is located in Europe's Baltic region. Formally known as the Republic of Lithuania, this country takes up an area of 25,207 square miles (65,286 square km) and has an estimated population of 2,722,289. The nation's capital city, Vilnius, boasts a metropolitan population of 700,275. This northern nation is a member of various international coalitions including NATO, the European Union, and the Council of Europe.
Latvia
Latvia is bordered by the countries of Lithuania, Russia, Estonia, and Belarus. Officially known as the Republic of Latvia, the nation is comprised of an area of 24,932 square miles (64,573 square km) and is home to an estimated population of 1,886,198 citizens. The capital and largest city in Latvia is Riga which is home to about a third of the country's total population. 
Estonia 
Formally known as the Republic of Estonia, this Northern European nation is located on the eastern coast of the continent bordering the Baltic Sea. The country, which was formerly a part of Russia, has been a member of the European Union since 2004. Estonia is relatively small and takes up a total land area of only 17,462 square miles (45,227 square km). Its current population is estimated to be 1,326,535. Estonia's capital city, Tallinn, borders the Gulf of Finland and is home to approximately 445,259 residents.