Society
How Many Countries Are in Europe?
Europe is divided into 50 different countries.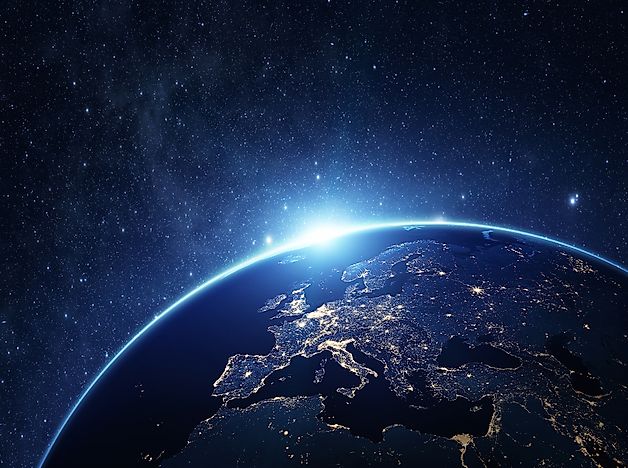 Europe is home to 50 countries, including a small number of countries whose territory is considered to be in both Europe and Asia (Eurasia).

Countries Of Europe
Politically, Europe is subdivided into 50 sovereign states. Within the sovereign states are several de facto independent states that are not fully recognized and are not also members of the United Nations. Some dependencies and territories are also found within the continent such as Aland, two constituent countries of Denmark, British Overseas territories, and Svalbard. Of the 50 states, only 28 countries are members of the politico-economic European Union while 19 are members of the monetary union Eurozone. Thus, the European Union should not be confused with the continent of Europe. Europe is subdivided into four main regions: Southern, Northern, Eastern, and Western Europe
Southern Europe
Southern Europe is the region covering the southern half of the landmass of Europe. It includes the European countries of the Iberian Peninsula, Italian peninsula, Greece, and Malta. Southern Europe may be defined to include Balkan countries that are traditionally placed in Eastern Europe. Southern Europe can be defined as a political, economic, or cultural region. It can also be defined by its natural features. Geographically, Southern Europe comprises of 21 countries and four islands. Some of these countries include Italy, Spain, Greece, Portugal, Serbia, Croatia, Albania, Montenegro, Malta, Andorra, San Marino, and the Holy See.
Northern Europe
Northern Europe covers the northern portion of Europe. The region is defined geographically as consisting of all of Europe above 52nd parallel north with notable geographical features including North European Plain, Baltic Plain, and British Isle. The region consists of Scandinavian and Jutland Peninsula. The countries forming the Northern Europe, with an exception of the UK and Ireland, are known for a cold climate. Some of the Northern European countries include Iceland, the UK, Sweden, Denmark, Finland, Norway, Ireland, Lithuania, Latvia, and Estonia among other countries.
Western Europe
Western Europe comprises of countries covering the western portion of the continent. The region was defined as countries with dominant Catholics and Protestants for decades. However, contemporary definition subdivides Western Europe into sub-regions such as Central and Northern Europe. Some of the countries forming the larger Western Europe including Germany, France, Netherlands, Belgium, Austria, Switzerland, and Luxembourg.
Eastern Europe
Although Eastern Europe covers the eastern portion of Europe, there is no consensus on the exact area it covers since the term has a wide range of socioeconomic and geopolitical connotations. However, the geographical boundaries of the Eastern Europe are well defined with the exception of its boundaries with the Western Europe. The Eastern European countries include Russia, Ukraine, Poland, Romania, Czech Republic, Bulgaria, Slovakia, and Moldova.
How Many Countries Are in Europe?
| Country | Population |
| --- | --- |
| Albania | 2,887,000 |
| Andorra | 78,000 |
| Armenia | 3,010,000 |
| Austria | 8,608,000 |
| Azerbaijan | 9,651,000 |
| Belarus | 9,481,000 |
| Belgium | 11,259,000 |
| Bosnia and Herzegovina | 3,750,000 |
| Bulgaria | 7,185,000 |
| Croatia | 4,230,000 |
| Cyprus | 876,000 |
| Czech Republic | 10,535,000 |
| Denmark | 5,673,000 |
| Estonia | 1,315,000 |
| Finland | 5,475,000 |
| France | 66,991,000 |
| Georgia | 3,707,000 |
| Germany | 82,900,000 |
| Greece | 10,769,000 |
| Hungary | 9,835,000 |
| Iceland | 331,000 |
| Ireland | 4,630,000 |
| Italy | 60,589,445 |
| Kazakhstan | 17,543,000 |
| Kosovo | 1,867,000 |
| Latvia | 1,979,000 |
| Liechtenstein | 37,000 |
| Lithuania | 2,906,000 |
| Luxembourg | 570,000 |
| Macedonia | 2,071,000 |
| Malta | 425,000 |
| Moldova | 3,564,000 |
| Monaco | 37,000 |
| Montenegro | 620,000 |
| Netherlands | 17,003,777 |
| Norway | 5,194,000 |
| Poland | 38,494,000 |
| Portugal | 10,311,000 |
| Romania | 19,822,000 |
| Russia | 144,031,000 |
| San Marino | 33,000 |
| Serbia | 7,103,000 |
| Slovakia | 5,426,000 |
| Slovenia | 2,065,000 |
| Spain | 46,423,064 |
| Sweden | 9,858,794 |
| Switzerland | 8,265,000 |
| Turkey | 79,817,849 |
| Ukraine | 42,850,000 |
| United Kingdom | 65,110,276 |
| Vatican City | 800 |