Countries in Europe
Albania | Andorra | Armenia | Austria | Azerbaijan | Belgium | Belarus | Bosnia-Herzegovina | Bulgaria | Croatia | Cyprus |Czech Republic | Denmark | Estonia | Finland | France | Georgia | Germany | Greece | Hungary | Iceland | Ireland | Italy |Latvia | Liechtenstein | Lithuania | Luxembourg | Macedonia | Malta | Moldova | Monaco | Montenegro | Netherlands |Norway | Poland | Portugal | Romania | Russia | San Marino | Serbia | Slovakia | Slovenia | Spain | Sweden | Switzerland |Turkey | Ukraine | United Kingdom | England | Scotland | Northern Ireland | Wales | Vatican City
Political Map of Europe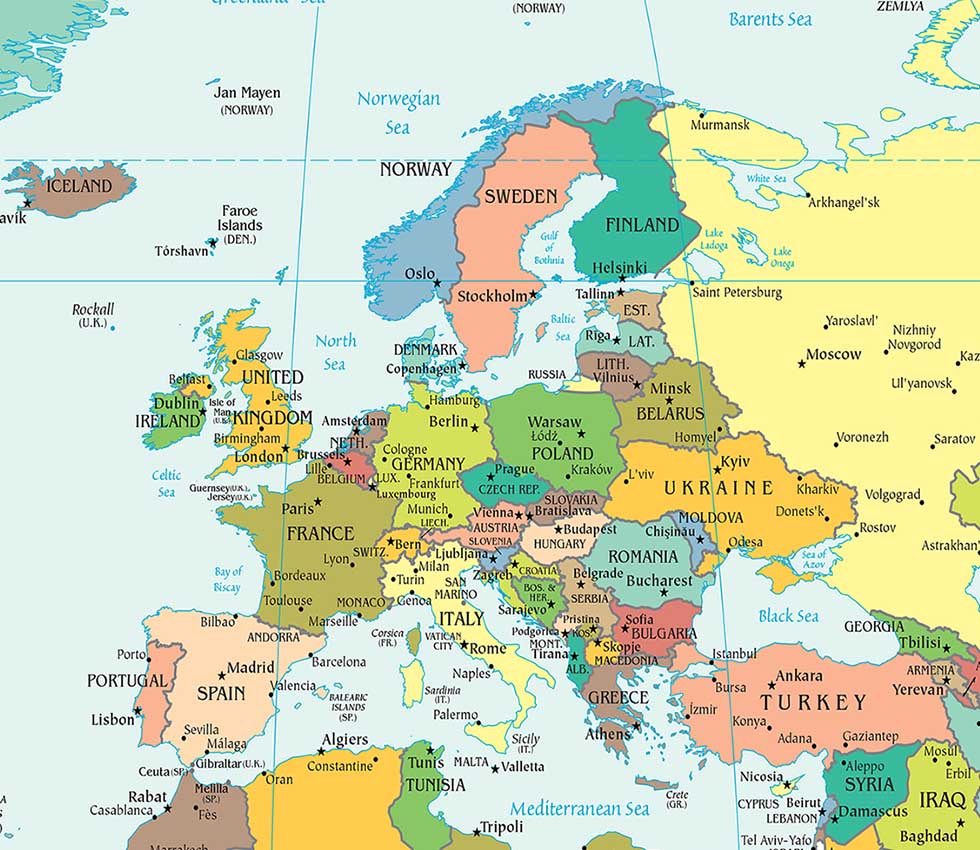 This is a political map of Europe which shows the countries of Europe along with capital cities, major cities, islands, oceans, seas, and gulfs. The map is using Robinson Projection.
Differences between a Political and Physical Map
European Cities:
Amsterdam, Belgrade, Berlin, Bern, Bratislava, Brussels, Bucharest, Chisinau, Copenhagen, Dublin, Helsinki, Kiev, Lisbon, London, Madrid, Minsk, Moscow, Oslo, Paris, Podgorica, Prague, Riga, Rome, Sarajevo, Skopje, Sofia, Stockholm, Tallinn, Tirana, Vienna, Vilnius, Warsaw and Zagreb.


This page was last updated on February 6, 2019.