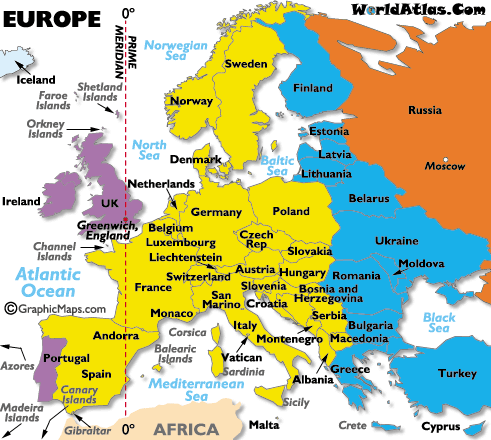 (Match the time bar color to the map color)
Print this map
View time zone clocks
UTC at Greenwich, England

Time in Azores

GMT +0 hour from UTC

BST/WEST +1 hours from UTC

CEST +2 hour from UTC

EEST +3 hours from UTC

MSD +4 hours from UTC

Time in Iceland
Timezone Abbreviations
UTC Coordinated Universal Time
AZOST Azores Summer Time
GMT Greenwich Mean Time
IST Irish Summer Time
BST British Summer Time
MSD Moscow Daylight Time
DST Daylight Saving Time
WEST Western Europe Summer Time
CEST Central European Summer Time
EEST Eastern European Summer Time
Current Dates and Times across Europe
Across the European continent, Daylight Savings Time is now in effect.
Iceland does not use Daylight Saving Time and remains on UTC Time permanently.
The local time in the United Kingdom (UK) in the summer is referred to as BST British Summer Time. In winter it's referred to as GMT, and is based upon the UTC time in Greenwich, England.
The massive country of Russia is stretched across eleven times zones, more than any other country. On this map page we display the current time for European Russia, or Moscow Time.
Canary Islands and Madeira Islands are now on WET Time.
UTC and GMT an update
The worldwide standard for coordinated universal time, formerly known as GMT (Greenwich Mean Time), is now abbreviated as UTC (Coordinated Universal Time).
Some sources still refer to it as UTC/GMT and some web browsers, e.g. Mozilla Firefox, still display it as GMT.
The UTC Time (shown directly below) is the standard time zone upon which all other worldwide time zones are based. It never observes daylight saving time.