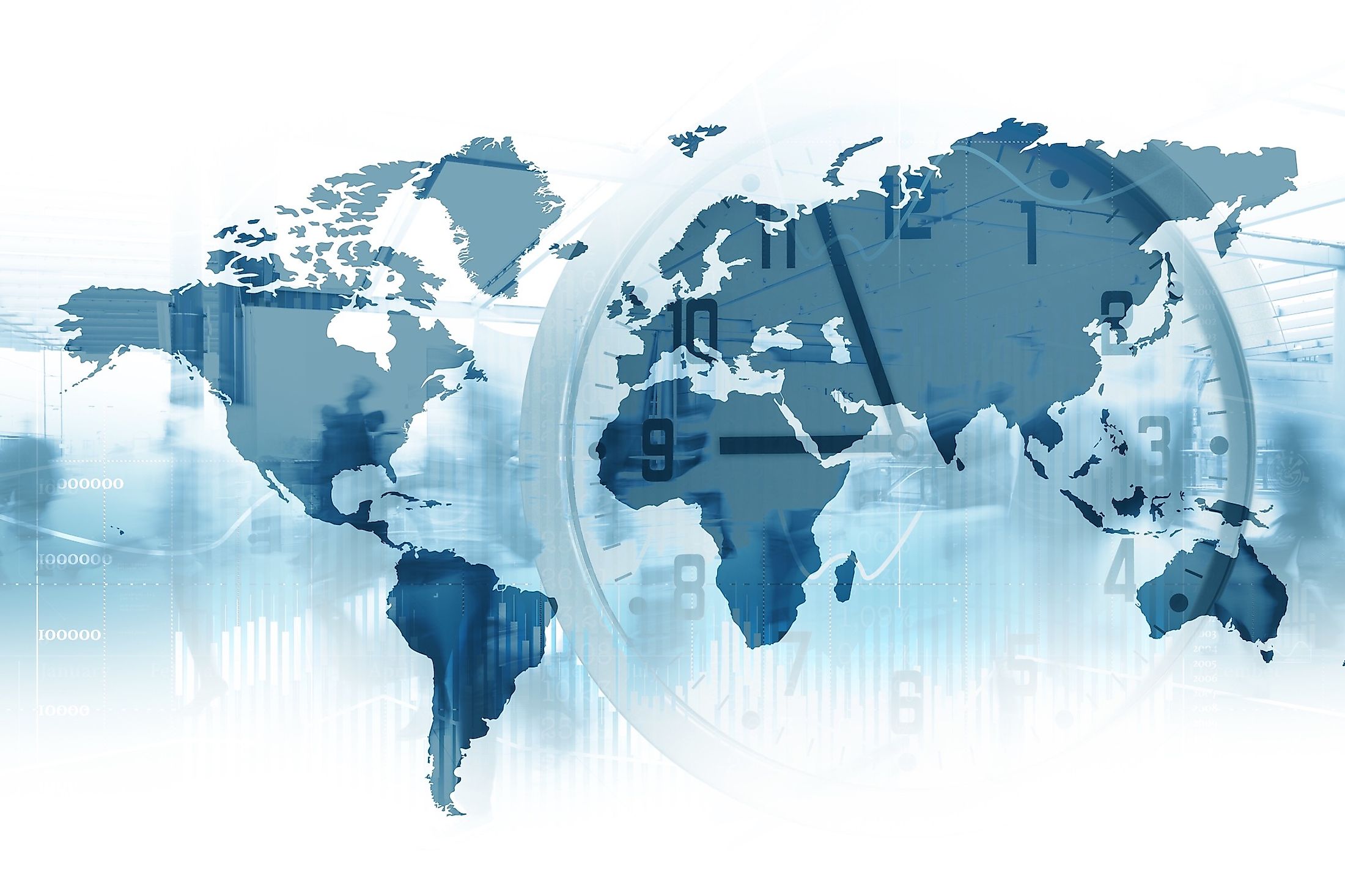 Oceania is the second-smallest continent after Antarctica, covering approximately 8.5 million km2. It comprises thousands of islands throughout the South and Central Pacific. Oceania is geographically divided into Australasia, Polynesia, Micronesia, and Melanesia. The World Time Zone Map shows that 12 time zones are used throughout the region, ranging from UTC-9 to UTC+14. Some countries and territories offset their time from UTC by partial hours, meaning that they do not use full-hour time zones. Australia, the region's largest country, uses up to three time zones. Most Oceanian countries do not observe Daylight Saving Time.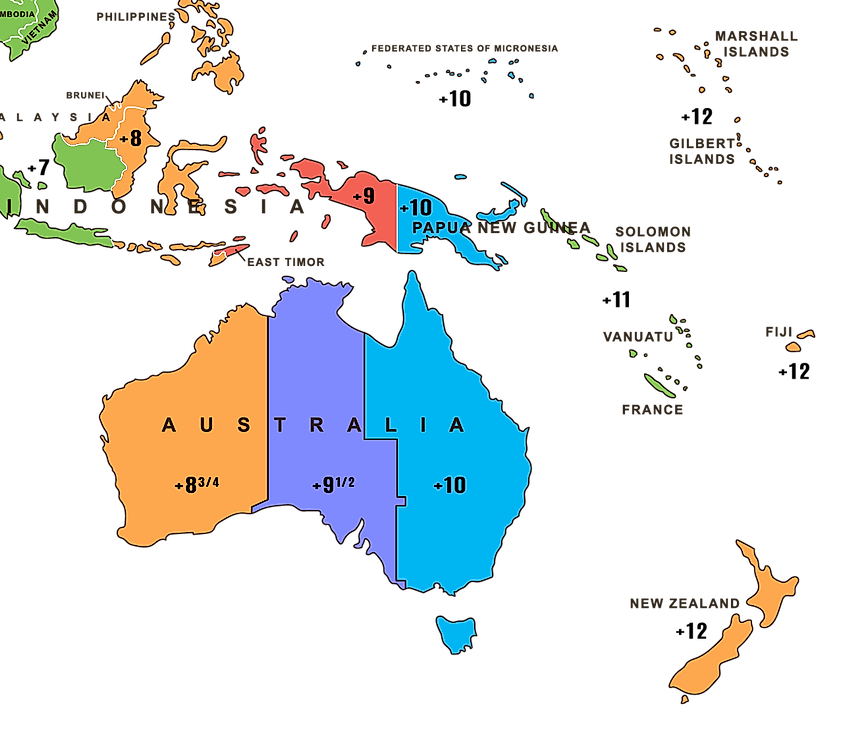 Earliest Time Zone
Some parts of Oceania observe the Earth's earliest time zone, known as UTC+14. These are the first places on the planet to usher in a new day and New Year and other major world calendar days. Clocks in these areas often show the latest time of any time zone. UTC+14 is observed around Kiribati, specifically the Line Islands in the Central Pacific Ocean. The time on the Line Islands is ahead of some islands in Oceania by up to 26 hours. The time zone is used in Samoa as daylight saving time. 
Australasia Time Zones
Australasia comprises New Zealand, Australia, and the surrounding islands. Australia observes three time zones ranging from UTC+8 to UTC+10. These time zones are Australian Eastern Standard Time (AEST), Australian Central Standard Time (ACST), and Australian Western Standard Time (AWST). All states and territories also use DST, except Northern Territory, Queensland, and Western Australia. On the other hand, New Zealand has only two time zones; New Zealand Standard Time (UTC+12) and Chatham Standard Time (UTC+12:45). DST is observed throughout the country and is often UTC+13.
Melanesia Time Zones
Melanesia comprises four countries, Papua New Guinea, the Solomon Islands, Vanuatu, and Fiji, located in the southwestern Pacific Ocean. Three time zones are observed in this region, ranging from UTC+10 to UTC+12. Papua New Guinea uses two time zones (UTC+10 and UTC+11), while the Solomon Islands and Vanuatu observe UTC+11. Fiji uses UTC+12.
Micronesia Time Zones
Micronesia comprises four main archipelagos: the Marshall Islands, Northern Mariana Islands, Gilbert Islands (Kiribati), and Caroline Islands (shared by Palau and the Federated State of Micronesia). Nauru is an island nation that is also situated in Micronesia. Micronesia has four time zones, ranging from UTC+10 to UTC+13. The Mariana Islands, comprising Guam and the Northern Mariana Islands, use Chamorro Time Zone (UTC+10), while the Caroline Islands (Papua and FSM) observe UTC+10 and UTC+11. Kiribati uses UTC+12 to UTC+14 and has the latest time on Earth. Nauru uses UTC+12.
Polynesia Time Zones
Polynesia comprises four sovereign states and several territories, including Hawaii, Niue, Cook Islands, French Polynesia, and the Pitcairn Islands. The sovereign states are New Zealand, Samoa, Tonga, and Tuvalu. The time zones in the region range from UTC+12 to UTC-9. While Tuvalu (Polynesia's westernmost island) observes UTC+12, Easter Island, the region's easternmost island, uses UTC-6.