The 7 Best Lakes in the Poconos
The Poconos Mountains also referred to as the Poconos, are a natural wonder situated in North Eastern Pennsylvania, US. The mountainscape, located in the counties of Carbon, Pike, Wayne, and Monroe, reaches an elevation of 2,133 feet. The Poconos is more than just a pretty sight to behold. It is the ideal location for hikers and outdoor enthusiasts, with numerous trails and campgrounds located throughout the mountain and valley terrain. There is plenty to explore, but the lakes and scenic views are worth staying a little longer for.
1. Arrowhead Lake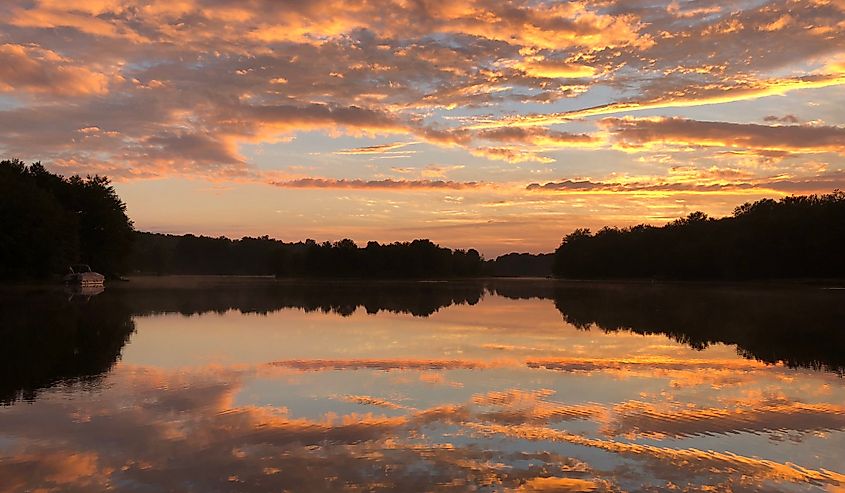 While Arrowhead Lake is a private community, it is also home to the lake and numerous recreational activities appealing to visitors. Fishing is one of the most popular activities, with a catch and release policy, as well as fishing contests throughout the year.
Sail boating and swimming are top choices for beach-goers, along with water aerobics and tennis. The lake is only a couple of hours away from Philadelphia, New York City, and New Jersey, making for a perfect weekend getaway.
2. Fawn Lake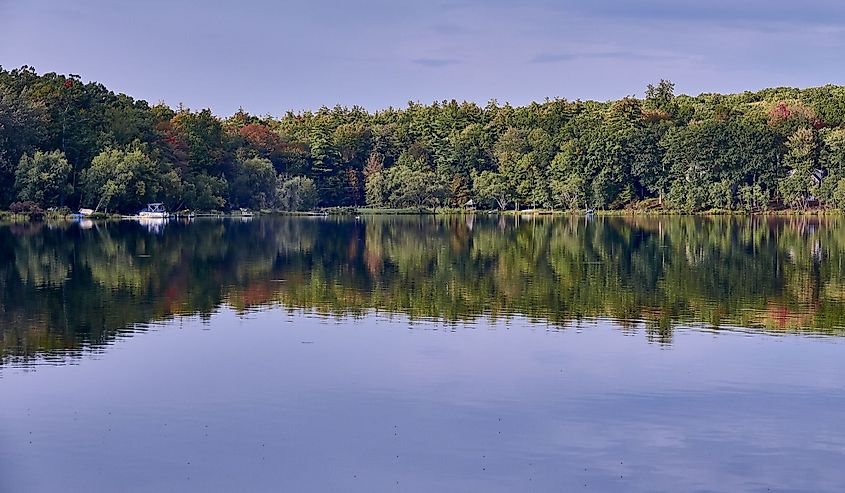 Fawn Lake, located in the gated community of Fawn Lake Forest, is one of two beautiful lakes in the small town. There are a number of Airbnb-style inns and accommodations to choose from, perfect for a short, water-activity-filled vacation.
The 150-acre lake allows sailboats, rowboats, and just about any non-gasoline-powered water vehicle, as well as fishing and swimming. Mini golf, basketball courts, and tennis facilities are also available.
3. Lake Harmony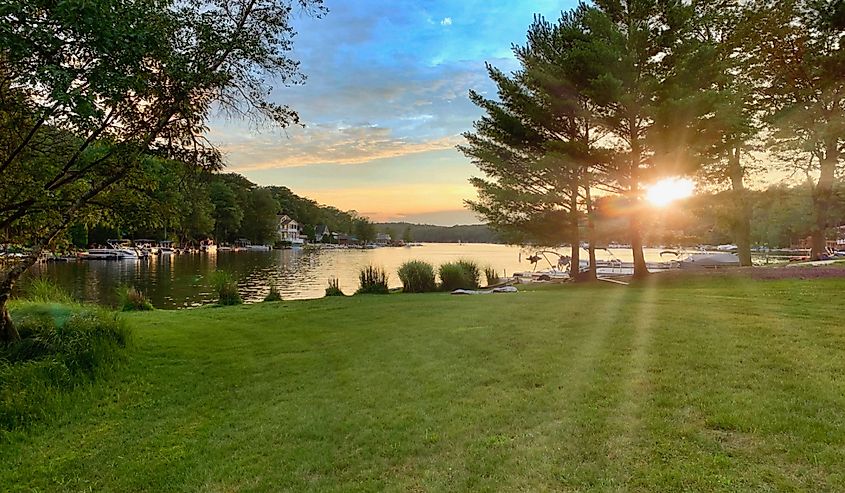 Situated in the historic town of Harmony, Lake Harmony is a natural glacial lake, though you can only access it by booking one of the many privately owned vacation rentals. Visitors can also check out the nearby hiking trails for beautiful scenic views of the water.
The lake is the perfect spot for boat paddling, kayaking, fishing, swimming, and even golf. While the town is a hub for summer sports, it also boasts access to winter activities such as skiing and snowmobiling.
4. Locust Lake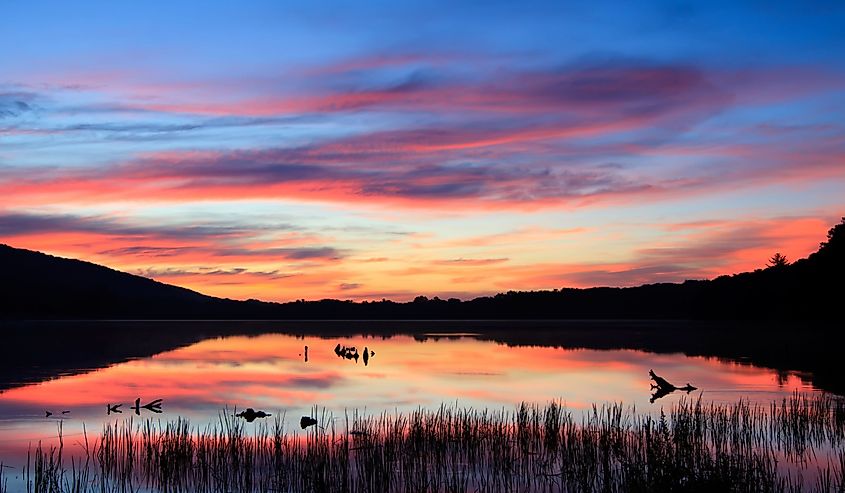 Nestled in the town of Poconos Lake, Locust Lake Village is a private community consisting of an abundance of lakes. The most notable is Locust Lake, which offers activities such as fishing, swimming, and boating. It even has a food concession stand for long day trips.
The wooded setting and sandy beaches make the community ideal for those who love to hike and spend their day chilling on the beach! There are also many nearby vacation rentals, so you can spend a weekend on the water with your family and relax in a cozy cabin or chalet, or enjoy a little luxury in a fancy hotel. 
5. Lake Wallenpaupack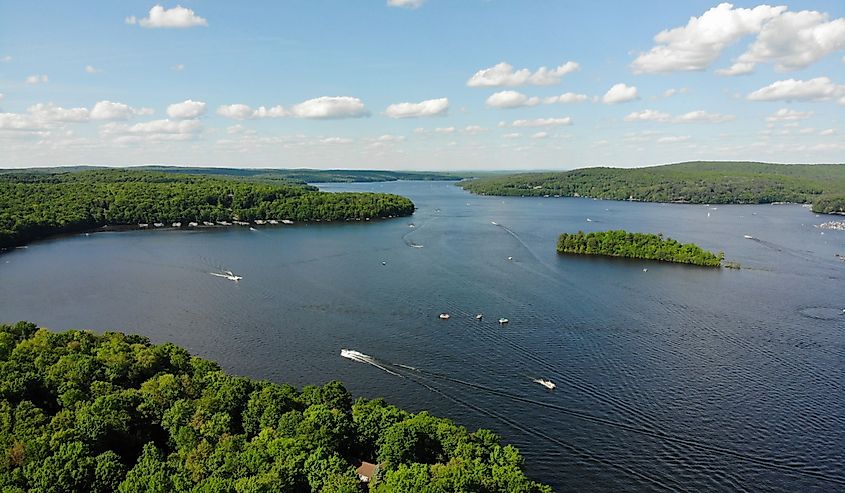 Lake Wallenpaupack is one of Pennsylvania's largest reservoirs and is 13 miles long with 52 miles of shoreline, bordered by the popular town of Hawley. There are six public recreation areas surrounding the lake. Each of the areas is set in the forest with available campsites as well as essentials for numerous water activities.
With so much to do, the lake offers something for everyone and every adventure. Head out on a hike for your annual girl's trip, take a scenic boat tour for a romantic weekend, or opt for a family fun-filled weekend and check out Costa's family park nearby.
6. Gouldsboro Lake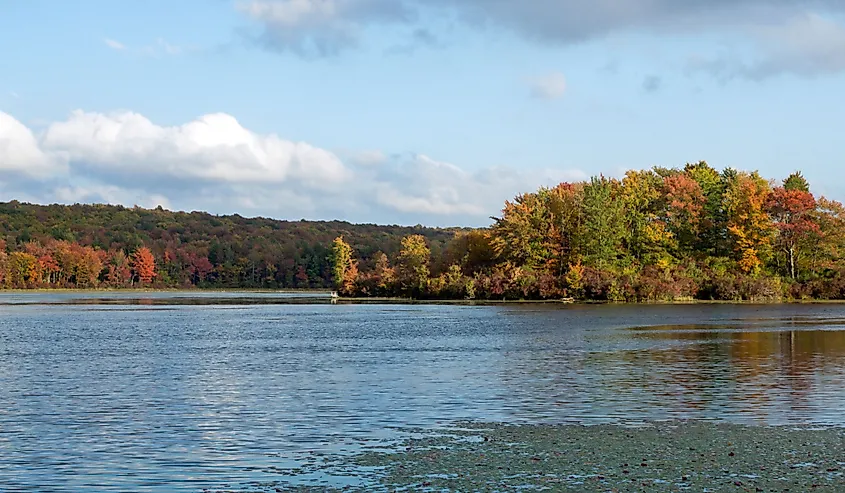 Part of Gouldsboro State Park, Gouldsboro Lake is 250 acres in size and boasts attractions such as boating and fishing. This spot is the perfect location for anyone who is in need of a few adventures in the great outdoors, ranging from hikes with picturesque views and picnicking in the summer to skiing and ice skating in the winter.
7. Mauch Chunk Lake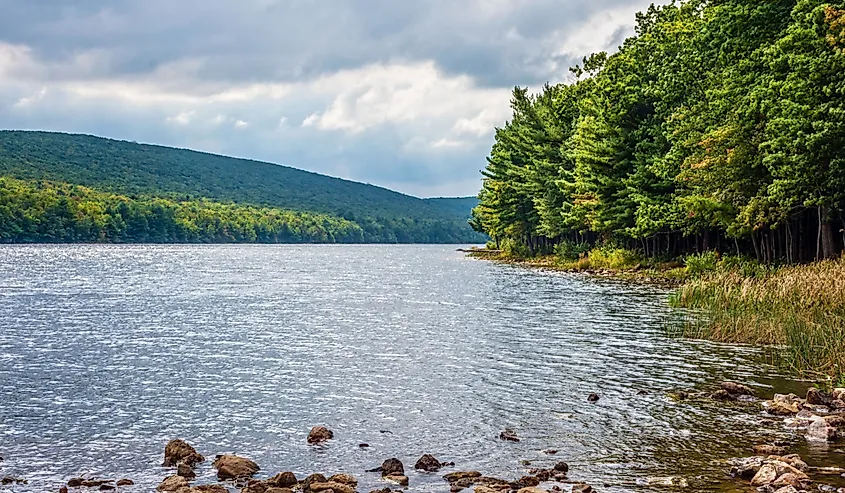 Mauch Chunk Lake, located in the historic town of Jim Thorpe (once known as Mauch Chunk), is one of the prettiest locations in the Poconos. Sandy beaches and beautiful woodland views surround the lake, making for an enjoyable and activity-filled weekend away.
With a playground, beach pavilion, food stand, hiking and biking trails, campgrounds, and more, you will be a busy bee at Mauch Chunk Lake! On top of the copious activities available, there are many events throughout the year, including Lights at the Lake which features holiday displays.
A-Boat Time You Head To the Poconos!
The Poconos Mountains boast everything from resorts and campgrounds to beaches, trails, recreational facilities, waterfalls, lakes, and more. For lovers of the great outdoors and those especially keen on water activities, the Poconos is the place to be. So, when you are planning your next trip, be sure to add one of these lakes to your list!