10 Must-Visit Ski Resorts From Around The World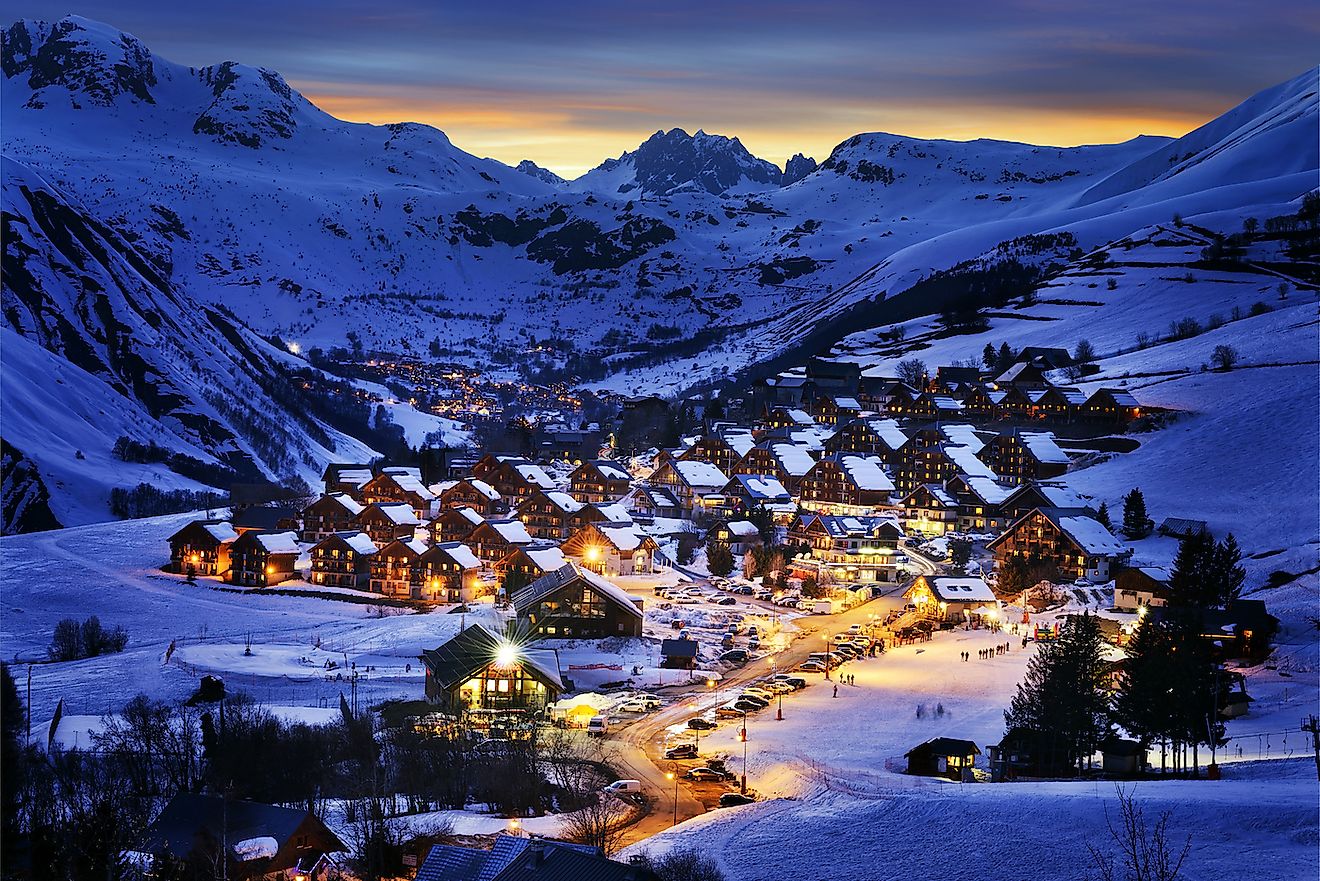 St. Moritz in Switzerland is home to the "Free Fall"— the world's steepest start gate that launches skiers from 0 to 90 mph in just 6 seconds.
Alpe d'Huez in France was awarded Best Ski Resort in Europe by EDEN, the European Destinations of Excellence Network, in 2017 and 2019.
Niseko, located in Hokkaido, is Japan's most famous ski resort town.
Guaranteed snow, check. Reliable lifts, check. A variety of natural terrain, check. Accommodation and entertainment, check. These playgrounds for snowsport aficionados have everything you need for a fun ski vacation. Most of them have a variety of natural terrains perfect for both novice and experienced skiers. Hobby skiers and those who just picked up the sport can take level-specific lessons and have a fun family vacation with their top-notch accommodations, restaurants, and other amenities.
Here are a few of the must-visit ski resorts around the world.
10. St. Moritz, Switzerland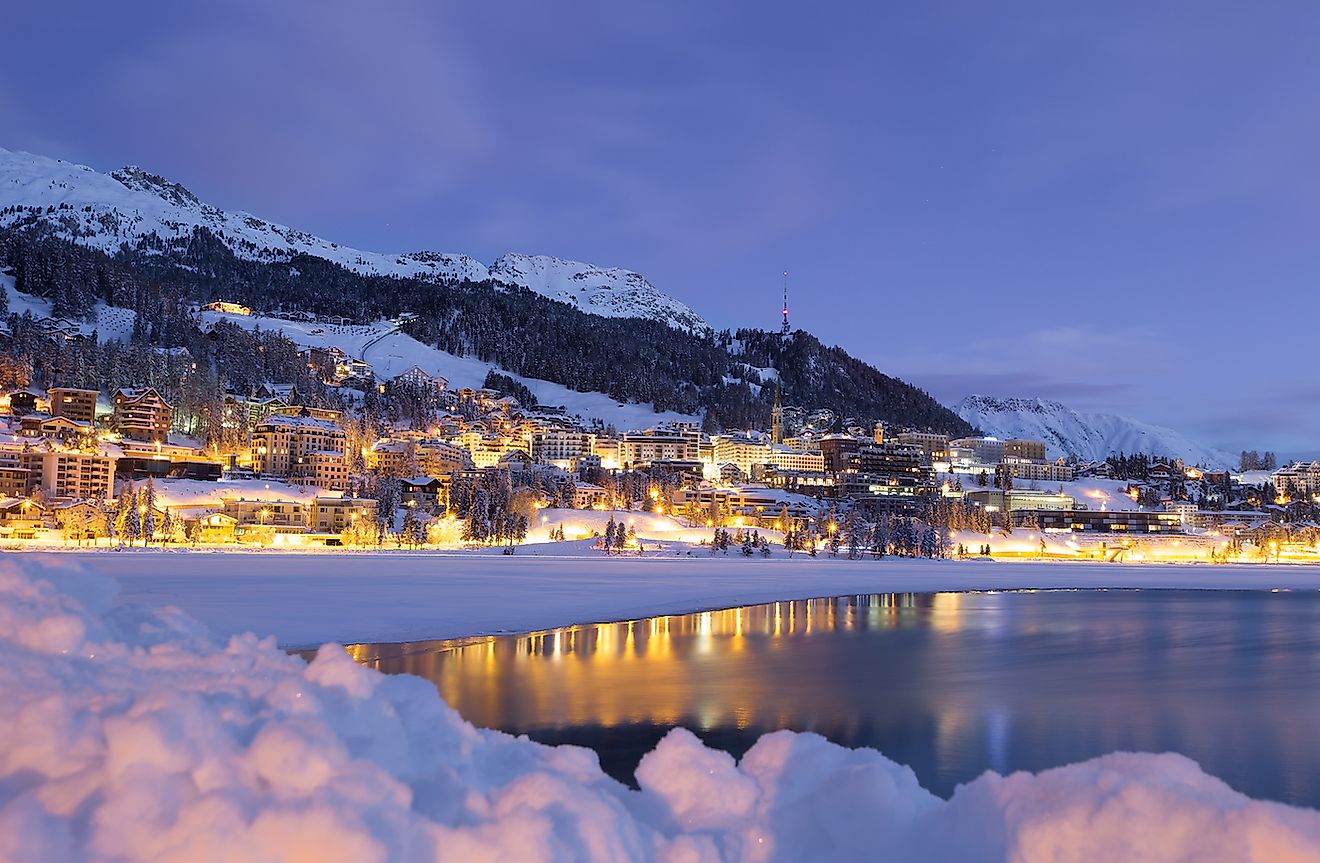 Said to be the playground of the rich and famous, the place is known for world ski championships, five-star hotels including the 120-year old Badrutt Palace, Michelin-starred restaurants like Ecco St. Moritz, and its frozen lake that often hosts "White Turf" horse races. St. Moritz played host to two Winter Olympic Games and five Alpine Ski World Championships. It is home to the famous "Free Fall"  the world's steepest start gate that launches skiers from 0 to 90 mph in just 6 seconds.
9. Niseko, Japan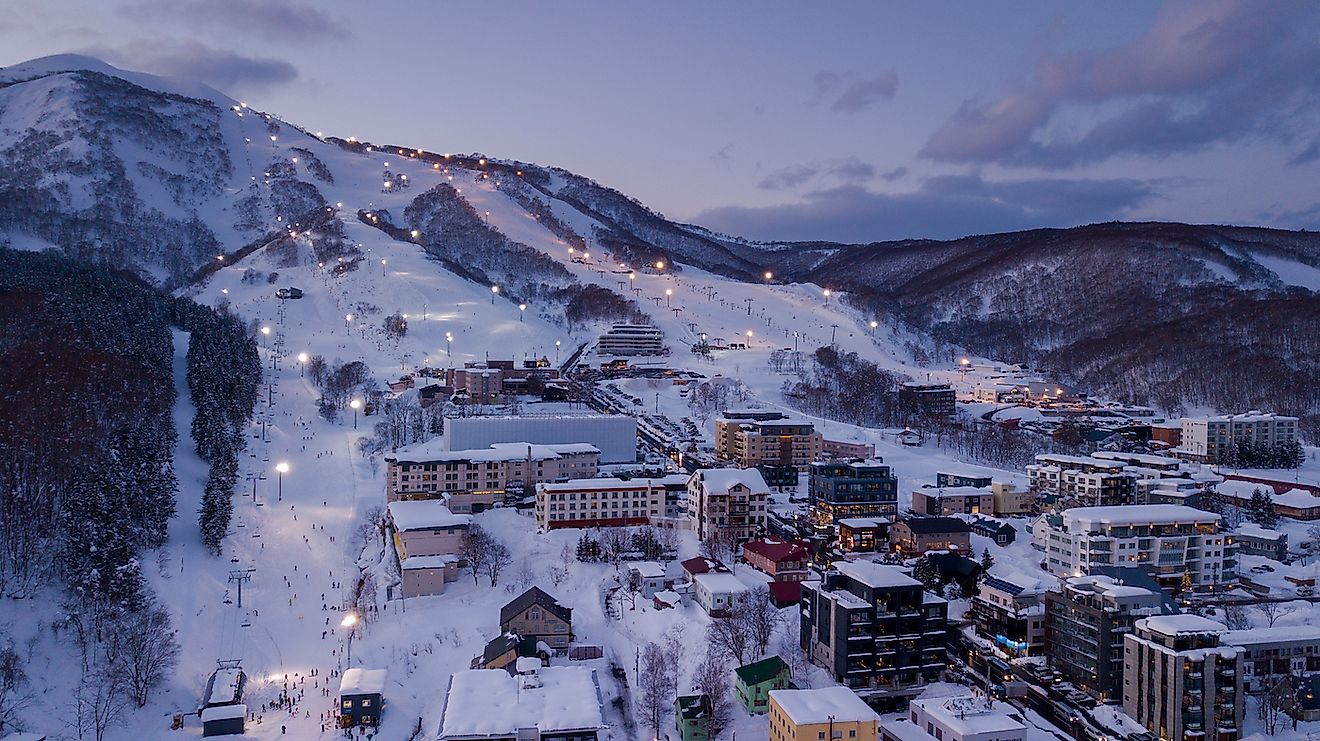 Located in Hokkaido Japan, Niseko is a ski resort town north of Tokyo. Considered the country's most famous ski resort, it draws visitors for its light powder snow with quality that remains consistent throughout winter. Other activities you can do in Niseko include snowmobiling, snowshoeing, cat skiing, and heli-skiing among many others.
The place provides access to backcountry terrain through the resort's lifts. Tourists can also keep their palates busy with the variety of dining options where you can sample authentic Japanese cuisine. In between skiing and activities, you can relax in any of their fifteen volcanic hot springs including the 100-year old Kombu onsen
8. Aspen Colorado, USA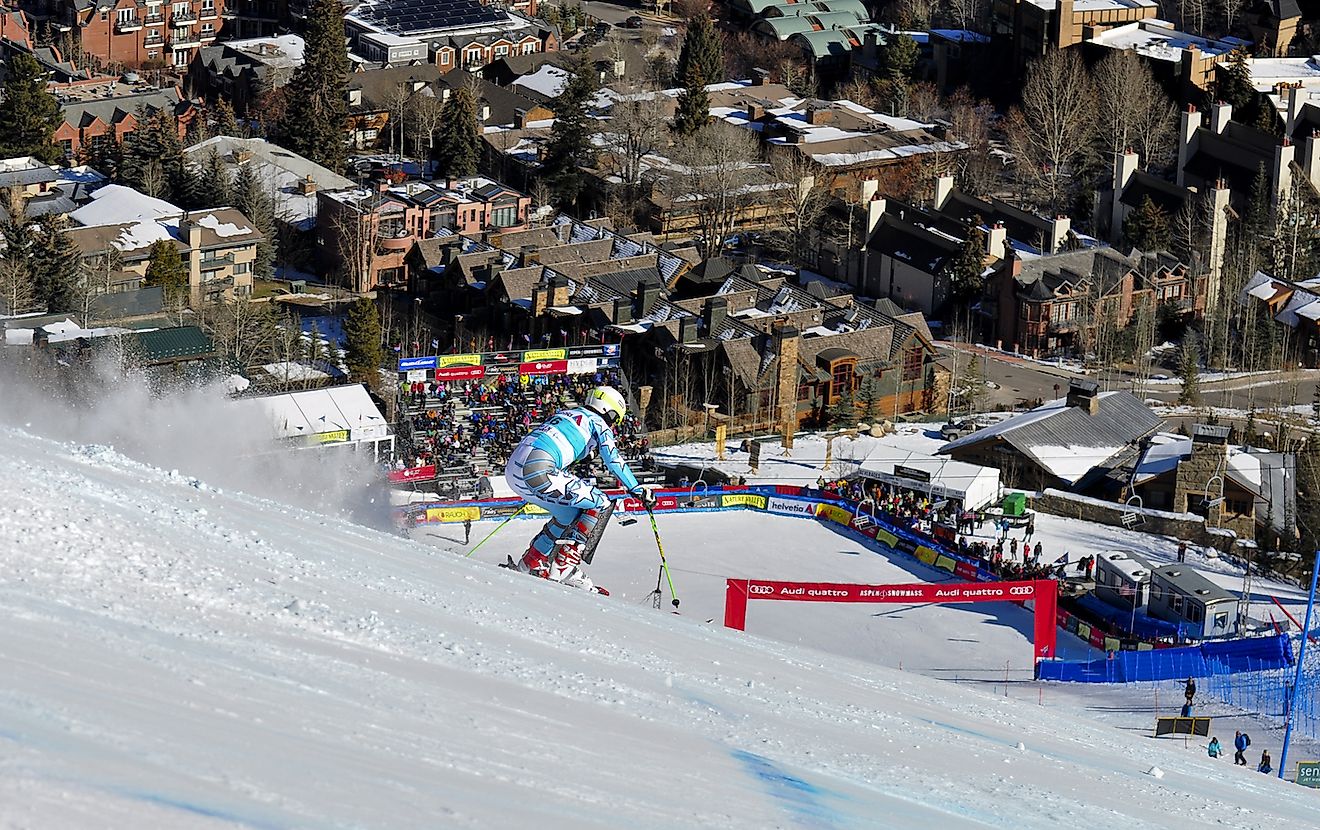 This ski resort town, located atop Colorado's Rocky Mountains is known for its four famous ski resorts: Aspen Mountain, Snowmass Mountain, Aspen Highlands Mountain, and Buttermilk Mountain. Snowsport aficionados visit the place to ski and witness events like the Games Aspen at Buttermilk and the Audi Power of Four that starts at Snowmass as well as the popular X Games. Its location 7,908 feet above sea level gives the place a high alpine climate with low humidity affording it snow for most months of the year. Hobbyists and beginners can also take lessons or simply enjoy Aspen's many vacation amenities.
7. Whistler Blackcomb, British Columbia, Canada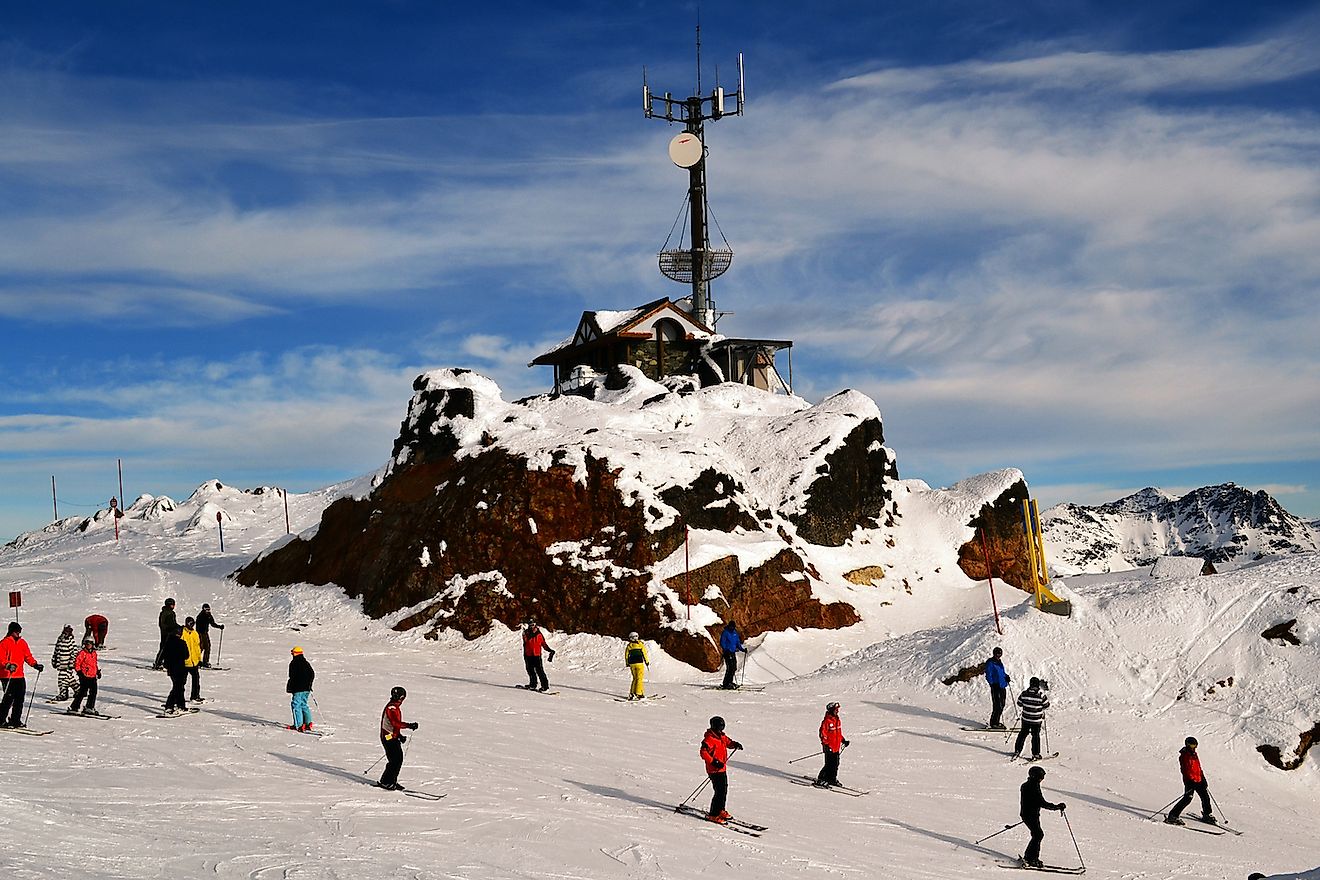 Located two hours north of Vancouver in Canada, Whistler is what many consider the largest ski resort in North America. It features 8,171 acres of accessible terrain served by 35 lifts and peak to peak gondola. Composed of two colossal mountains, Whistler and Blackcomb, the area includes in-bounds backcountry, powder-filled bowls, and eight terrain parks for both beginners and experienced skiers.
The place is also a family-friendly resort with plenty of mini-terrain parks for children as well as over 18 restaurants and a variety of accommodation to fit your needs. The entire place, with the brightly lit hotels, amidst the glistening snow looks stunning at night.
6. Gstaad, Switzerland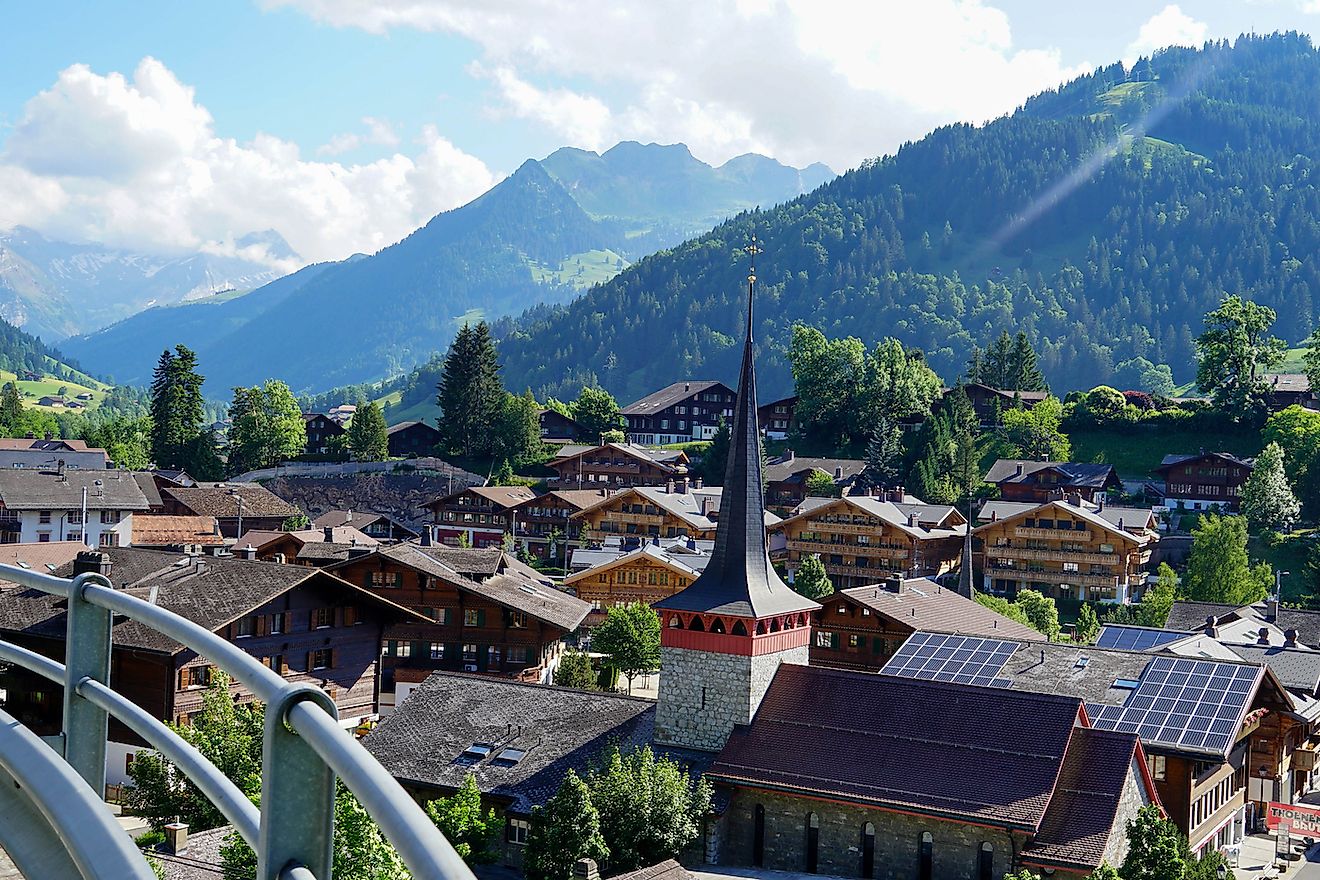 Many tourists come to Gstaad to ski and stay to enjoy its charming chalet village. Aside from the 200 kilometers of ski slopes,  the place also features a laid-out resort system composed of six areas that are interconnected by 53 lifts including 10 gondolas, four trams, 17 chairlifts, and 22 surface lifts.
Gstaad has plenty of downhill runs, as well as plenty of terrain for beginners and other vacation amenities for the entire family. There's also a seemingly endless selection of boutiques, pastry shops, and cafes in and around this rustic Swiss town located in Southwestern Switzerland.
5. Alpe d'Huez, France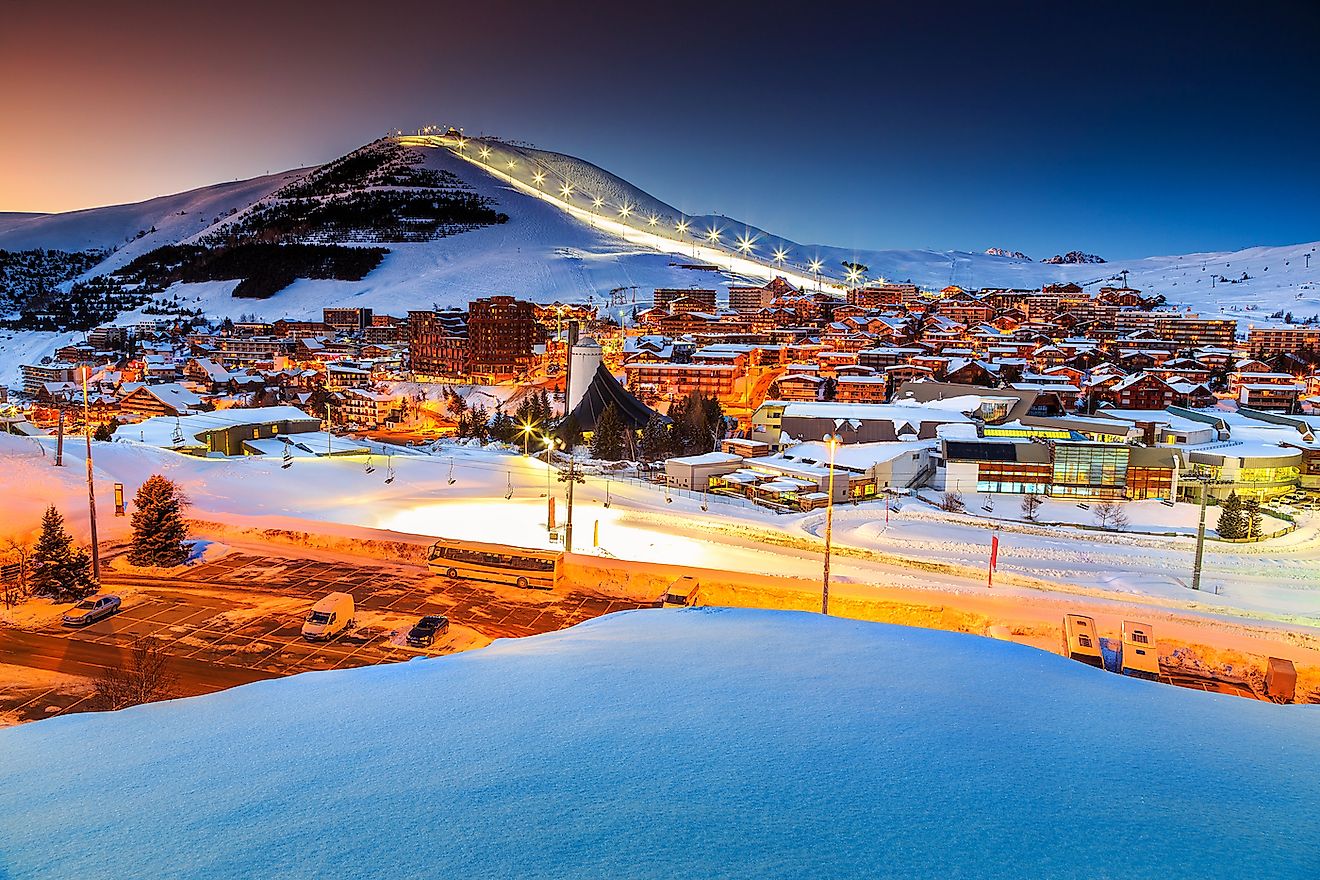 This modern ski resort located in southeastern France was awarded the Best Ski Resort in Europe by EDEN, the European Destinations of Excellence Network twice, in 2017 and again in 2019. It's also been chosen as the Best Ski Resort For Guaranteed Snow.
Visitors love Alpe d'Huez for its fun mix of relaxation, fun, and sports. It features amenities for families of both beginner and advanced skiers. The place is composed of five ski resorts spread across two mountain villages  Auris-en-Oisans, La Garde, Le Freney d'Oisans, Oz-en-Oisans, Vaujany and Villard-Reculas.
4. Cortina d'Ampezzo, Italy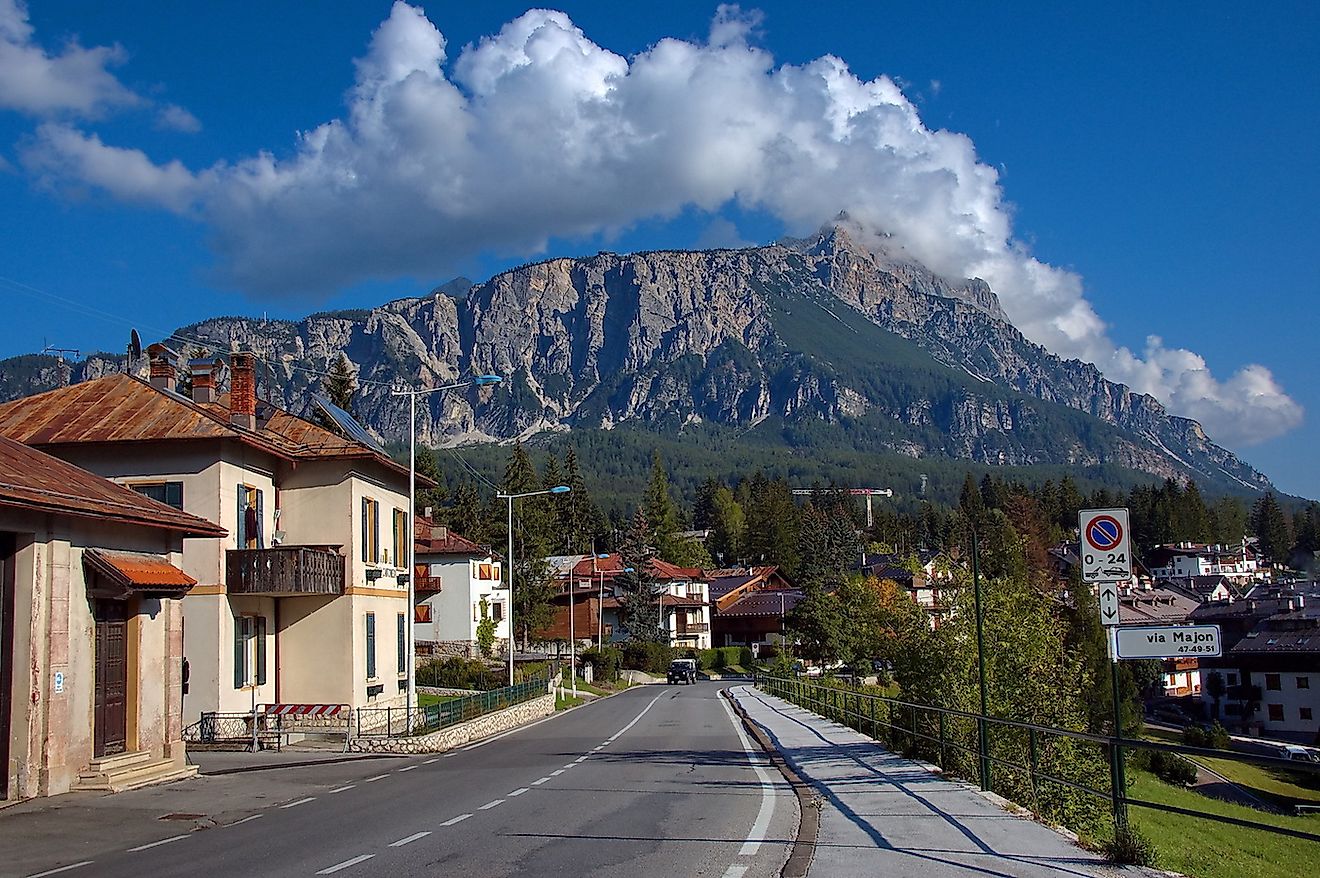 Known locally simply as Cortina, this ski town located a few hours from Venice, ­­­ features over 50 miles of cross-country pistes and 140 ski runs. But there's more to Cortina than its challenging slopes and seemingly endless ski fields. This picturesque little town with its charming Italian architecture pressed against a beautiful backdrop is also steep in history.
When you're not busy skiing, you can explore the charming town and learn about its role in the first world war or you can go around and find areas used for the Bond movie For Your Eyes Only. Others come here to catch a glimpse of the beautiful Dolomiti on the Italian Alps.
3. St. Anton, Austria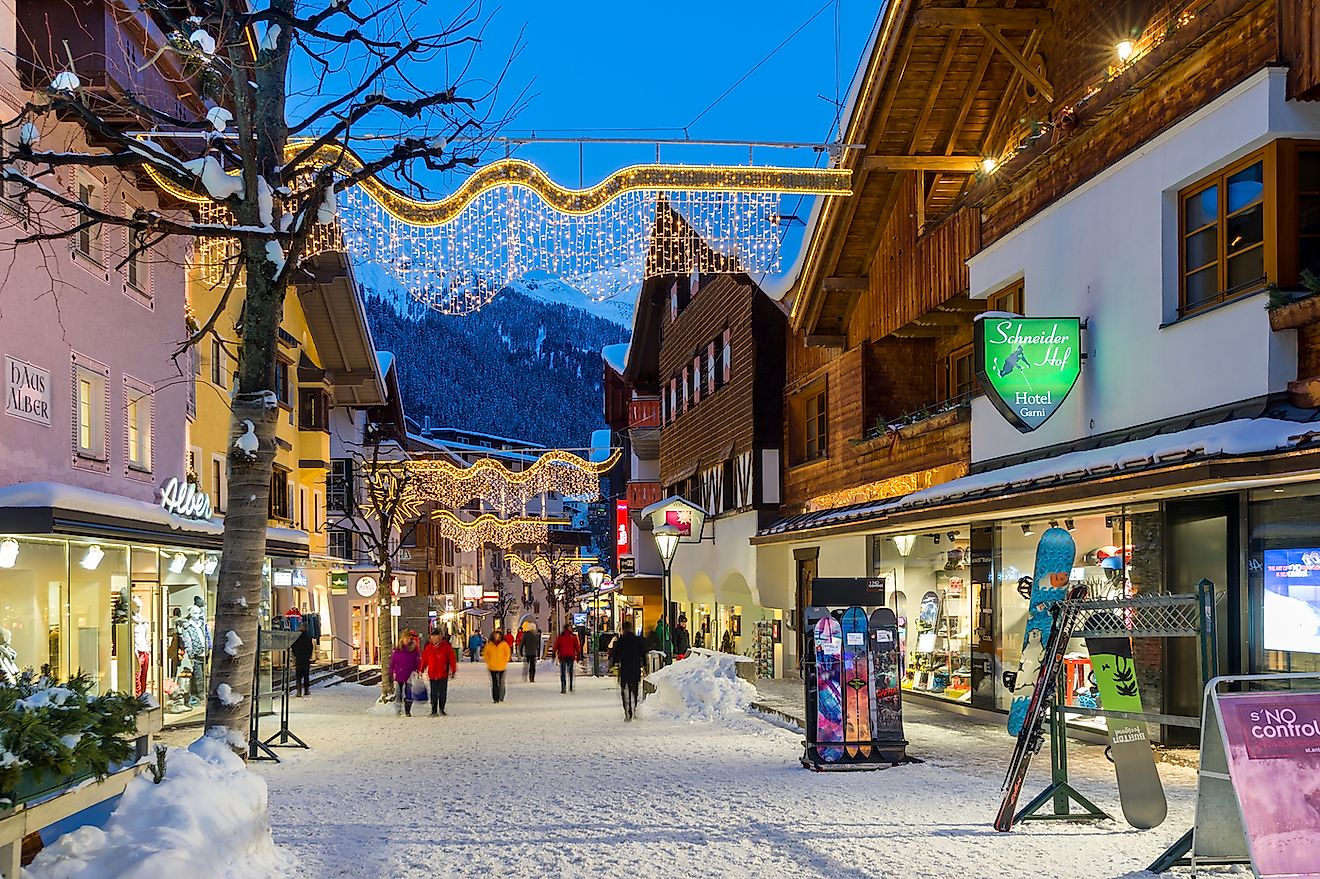 This village cum ski resort located at the western border of Tyrol in the Arlberg region of Austria has been attracting ski enthusiasts for 100 years. Considered one of the top ski destinations in the Alps, St. Anton is the biggest connected ski area in Austria. It features 305km of slopes, an efficient lift system, and a town that boasts a varied selection of chalets, hotels, and restaurants.
The place was home to the legendary ski meister Hannes Schneider, considered the father of modern skiing, who established a ski school in St. Anton. With its challenging terrain and steep slopes, the place is more suited for advanced and more experienced skiers.
2. Zermatt, Switzerland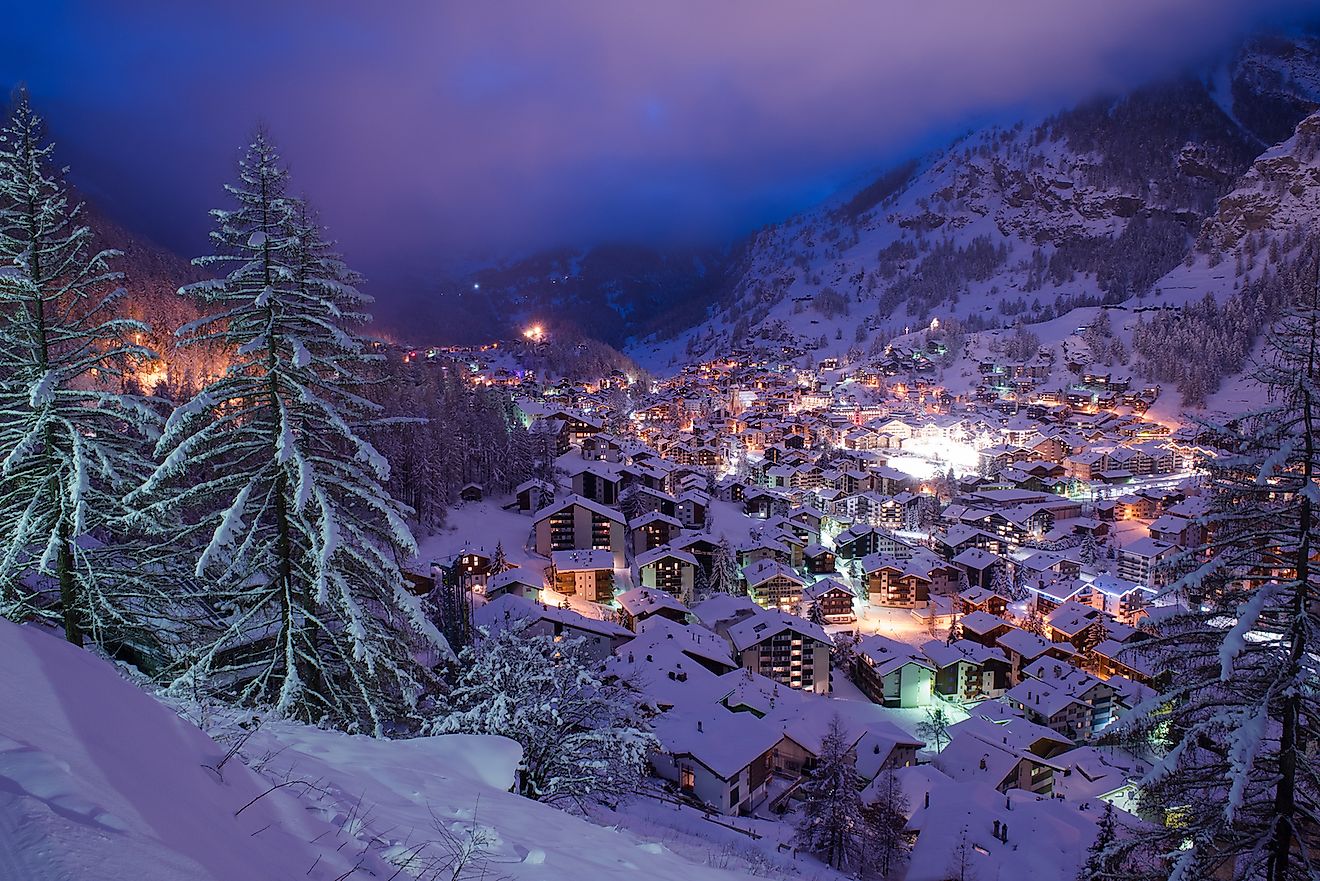 Zermatt is an idyllic mountain village located in Valais and is considered the highest ski resort in Switzerland. It's famous for its majestic view of the Matterhorn and year-round skiing. Zermatt's ski region also known as the "Matterhorn glacier paradise" features four ski areas–Sunnegga, Gornergrat, Klein Matterhorn and Schwarzsee—connected by 63 lifts.  
It's the only year-round ski resort in Switzerland and one of the two remaining glaciers in the Alps to open 365 days a year. Aside from skiing, people also visit Zermatt to see the glacier trail, climb up the mountain, or enjoy a tub of Cheese fondue inside a gondola with a view of the splendid Matterhorn.
1. Chamonix, France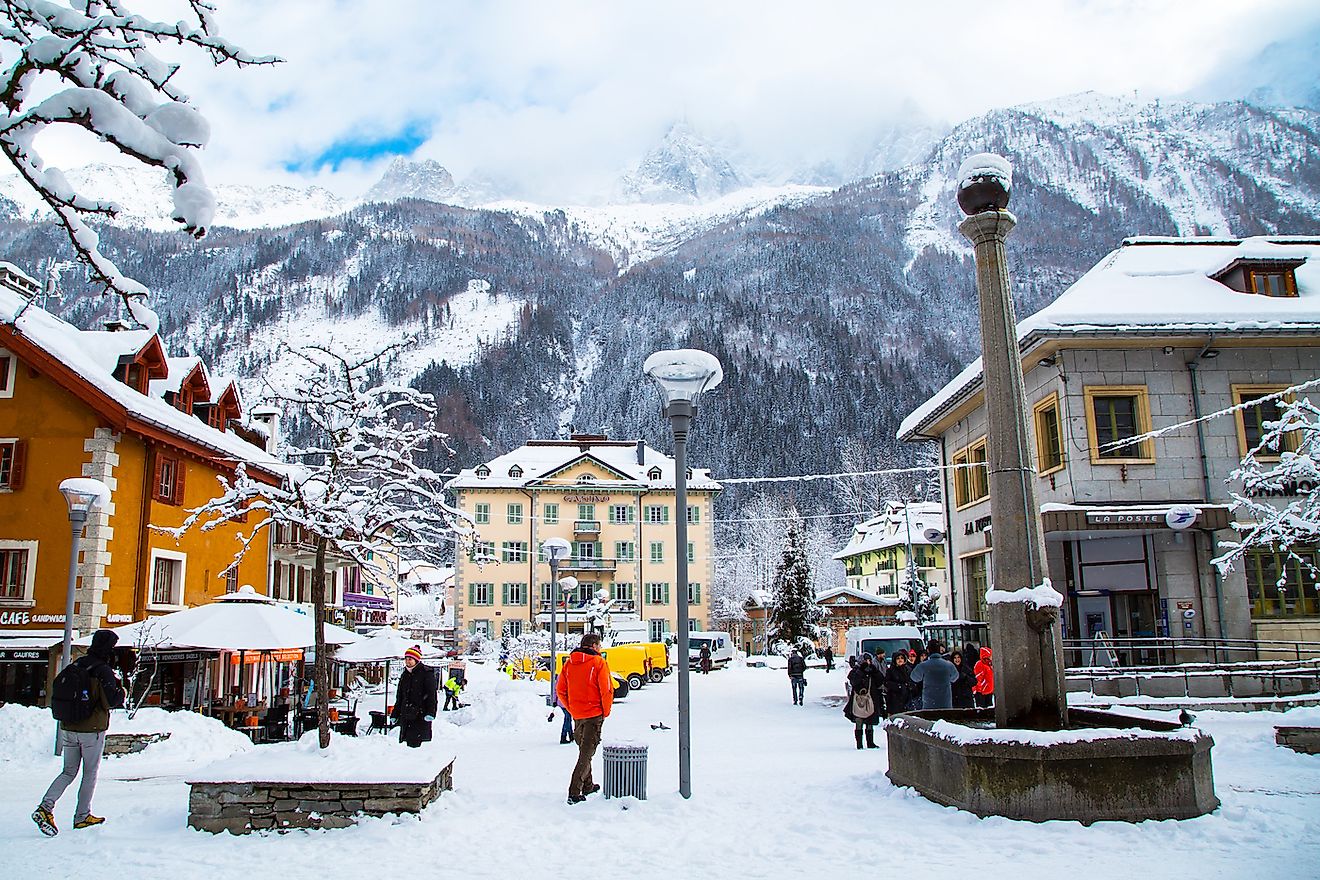 The host of the first-ever Winter Olympics held in 1924 has become famous throughout the years among professional skiers and mountain climbing enthusiasts. This ski resort town nestled at the foot of Mount-Blanc is as charming as it is exciting. Although its ski areas with its steep piste, extreme weather conditions, and challenging slopes are more suited for advanced skiers.
Aside from skiing, snowboarding, mountain climbing, and mountain biking people also come here to enjoy its vibrant nightlife. Chamonix has an array of bars and clubs that offer respite to vacationers after a day of snow activities.