Travel
Longest Hiking Trails In The World
Trans Canada Trail blows its competition out of the water, stretching along for almost 15,000 miles.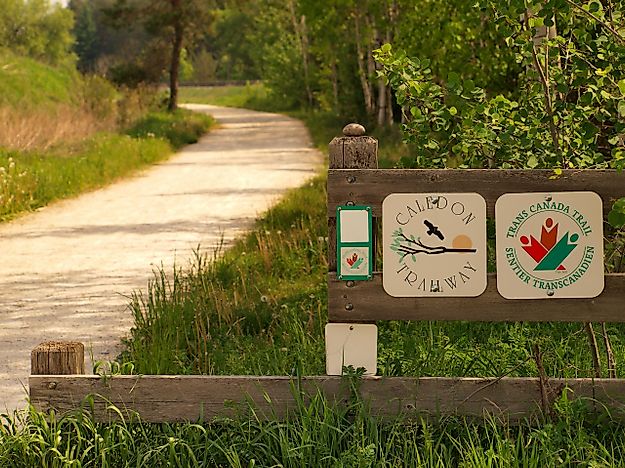 The United States is one country where hiking has been a popular recreational activity that is associated with camping, day hiking, and cross-country hikes. Hiking trails are mostly well-maintained by volunteers, and some are funded by national parks. According to the Outdoor Industry Association, an estimated 34 million Americans adopted the hobby in 2012. A strange twist to an outdoor activity that many used to frown upon because in the 18th century and earlier, hiking in America was associated with tramps, homelessness, and impoverishment. The development and appointment of many wild hiking trails have gained momentum as more Americans have adopted the leisure activity.
Longest Hikes in the World
There is a lot in store for the hikers of the world. The following trails offer the best and longest hiking trails in the world.
Trans Canada Trail

Let us start with the Trans Canada Trail, Canada (14,912 miles) that blows its competition out of the water, stretching along for almost 15,000 miles. This hiking trail is 86% complete (12,000 miles) as of May 2016. It is comprised of about 400 interconnected communities that maintain its own connected trails. The trail begins at St. John's as the Grand Concourse Trail and ends as the Wreckhouse Trail in New Foundland. Outdoor activities include biking, horseback riding, skiing, and canoeing.
Sentiero Italia

Second is Sentiero Italia, Italy (3,700 miles). It begins in Trieste and ends in St. Teresa Gallura in Sardinia. The hike goes through the Alpine Arc and the Apennine mountain range. It winds thru the Italian coastline, vineyards, and ancient ruins to snow-capped mountains.
Hokkaido Nature Trail

Third is Hokkaido Nature Trail, Japan (2,849 miles). It offers a moderate walking and backpacking trek. Mountainous and volcanic scenery with cool summer temperature in the island of Hokkaido.
Tohoku-Honshu Nature Trail
Fourth is Tohoku-Honshu Nature Trail, Japan (2,718 miles). Located in northern Honshu Island. It has an 8-mile shaded trekking trail that is covered by maple, beech, and oak trees. There are ancient villages, temples, and mountainous scenery to see.
Chubu Hokuriku

Fifth is Chubu Hokuriku, Japan (2,504 miles). It runs along the coast of Japan and is near the Japanese Alps. It has mountainous and seacoast scenery.
Kinki

Sixth is Kinki, Japan (2,045 miles). It is situated in the Kansai region close to Kyoto and Osaka with a scenery of fruit trees, mountains, and forests.
The other worthwhile hiking trails on the list are Te Araroa, New Zealand (1,894 miles); Kyushu Nature Trail, Japan (1,607 miles); Camino de Santiago de Compostela, Spain-France (1,570 miles); Sultan's Trail, Austria-Bulgaria-Croatia-Greece-Hungary-Romania-Serbia-Slovakia-Turkey (1,400 miles).
The Usefulness Of Hiking
Trails may be for day hikes, weekend hikes, snow hikes, and cross-country hikes that take months or longer to accomplish. Getting there is half the fun as hikers encounter waterfalls, tarns, glaciers, mountains, wildlife, montane forests, lakes, and even lost civilizations. Some hikers prefer solitude while others love hiking with friends and the camaraderie that it offers. Hiking the world not only offers more opportunities to connect and experience different cultures and foreign scenery but also gives a different perspective to the hiker. Solitude, camaraderie, and a new outlook of life maybe the effects of hiking the world.
The Longest Hiking Trails In The World
| Rank | Trail Network, Country | Length |
| --- | --- | --- |
| 1 | Trans Canada, Canada | 14,912 miles |
| 2 | Sentiero Italia, Italy | 3,700 miles |
| 3 | Hokkaido Nature Trail, Japan | 2,849 miles |
| 4 | Tohoku-Honshu Nature Trail, Japan | 2,718 miles |
| 5 | Chubu Hokuriku, Japan | 2,504 miles |
| 6 | Kinki, Japan | 2,045 miles |
| 7 | Te Araroa, New Zealand | 1,894 miles |
| 8 | Kyushu Nature Trail, Japan | 1,607 miles |
| 9 | Camino de Santiago de Compostela, Spain-France | 1,570 miles |
| 10 | Sultan's Trail, Austria-Bulgaria-Croatia-Greece-Hungary-Romania-Serbia-Slovakia-Turkey | 1,400 miles |