World Facts
US State Abbreviations
The current two-letter state abbreviations were defined by the United States Postal Service in 1963.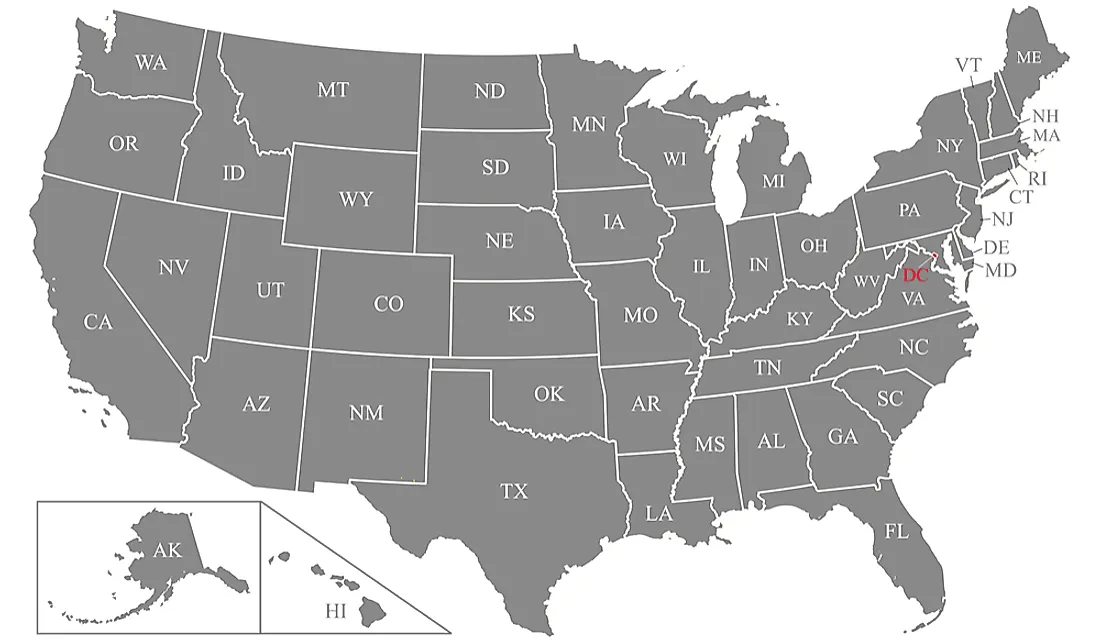 The United States is a country that consists of 50 states, a federal district, 5 major self-governing territories, and numerous minor islands. 48 states and the nation's capital, Washington, D.C., are located in North America and referred to as the contiguous United States, situated between Canada and Mexico to the north and south, respectively. The two other states, Alaska and Hawaii, are located in the extreme northwest of North America and Oceania, respectively. Since the names of many US states and territories are long, they all have unique two-letter abbreviations, which were first recognized by the United States Postal Service (USPS) in October 1831.
History of the Two-Letter Abbreviation System
The current two-letter state abbreviations were introduced in October 1963, three months after the United States Postal Service adopted ZIP codes. In addition to standardizing state abbreviations, the US Postal Service introduced the two-letter abbreviations to make space in a line with a maximum of 23 characters for the city, state, and ZIP code. Traditional US state abbreviations, which were used prior to the introduction of the current two-letter system, are still used for various purposes, such as legal citation. Learning the old US state abbreviations can be useful for purposes such as searching old records that were prepared before 1963.
Selection of Two-Letter Abbreviations
The two-letter abbreviations can be complicated since numerous state names begin with the same letter. For example, two state names begin with the word "North," four with the word "New," and eight with the letter "N." All state abbreviations start with the first letter of the state's name.
In cases where a state's name contains two words, the USPS chose the first letter of each word, such as North Carolina (NC) and West Virginia (WV).
The Postal Service selected the first two letters for state names that contain one word, such as Florida (FL), California (CA), Alabama (AL), Delaware (DE), Massachusetts (MA), Illinois (IL), Indiana (IN) and Ohio (OH).
For state names which start with the same letter, the first and last letter were selected, such as Kentucky (KY), and Kansas (KS).
However, these rules don't apply to all states. Tennessee and Texas, which would both be abbreviated to TE using the first two-letter rule, don't follow the first and last letter rule either, instead becoming TN (Tennessee) and TX (Texas).
Abbreviation Changes
The only abbreviation which has changed since 1963 is that of Nebraska. The original abbreviation for Nebraska was "NB," but the US Postal Service changed it to "NE" in November 1969 to avoid confusion with the Canadian province of New Brunswick, which was also abbreviated as "NB."
United States Overseas Military Bases and Minor Outlying Islands
The state codes and abbreviations used by the US Postal Service and the American National Standards Institute (ANSI) are similar, except for military locations and minor outlying islands. The Postal Service uses the acronyms "APO" and "FPO" when sending mail to military personnel who are stationed overseas. Military bases have various US postal codes, such as "AP" for military bases in the Pacific, "AA" for those in the Americas, and "AE" for bases in Canada, Africa, the Middle East, and Europe. The abbreviations for all minor outlying islands use the American National Standards code "UM" instead of a US Postal Service code.
List of Two-Letter US State Abbreviations
| State | Abbreviation |
| --- | --- |
| Alabama | AL |
| Alaska | AK |
| Arizona | AZ |
| Arkansas | AR |
| California | CA |
| Colorado | CO |
| Connecticut | CT |
| Delaware | DE |
| Florida | FL |
| Georgia | GA |
| Hawaii | HI |
| Idaho | ID |
| Illinois | IL |
| Indiana | IN |
| Iowa | IA |
| Kansas | KS |
| Kentucky | KY |
| Louisiana | LA |
| Maine | ME |
| Maryland | MD |
| Massachusetts | MA |
| Michigan | MI |
| Minnesota | MN |
| Mississippi | MS |
| Missouri | MO |
| Montana | MT |
| Nebraska | NE |
| Nevada | NV |
| New Hampshire | NH |
| New Jersey | NJ |
| New Mexico | NM |
| New York | NY |
| North Carolina | NC |
| North Dakota | ND |
| Ohio | OH |
| Oklahoma | OK |
| Oregon | OR |
| Pennsylvania | PA |
| Rhode Island | RI |
| South Carolina | SC |
| South Dakota | SD |
| Tennessee | TN |
| Texas | TX |
| Utah | UT |
| Vermont | VT |
| Virginia | VA |
| Washington | WA |
| West Virginia | WV |
| Wisconsin | WI |
| Wyoming | WY |
This page was last updated on April 16, 2019.
Citations
Your MLA Citation
Your APA Citation
Your Chicago Citation
Your Harvard Citation
Remember to italicize the title of this article in your Harvard citation.