The 10 Most Populated Countries In The World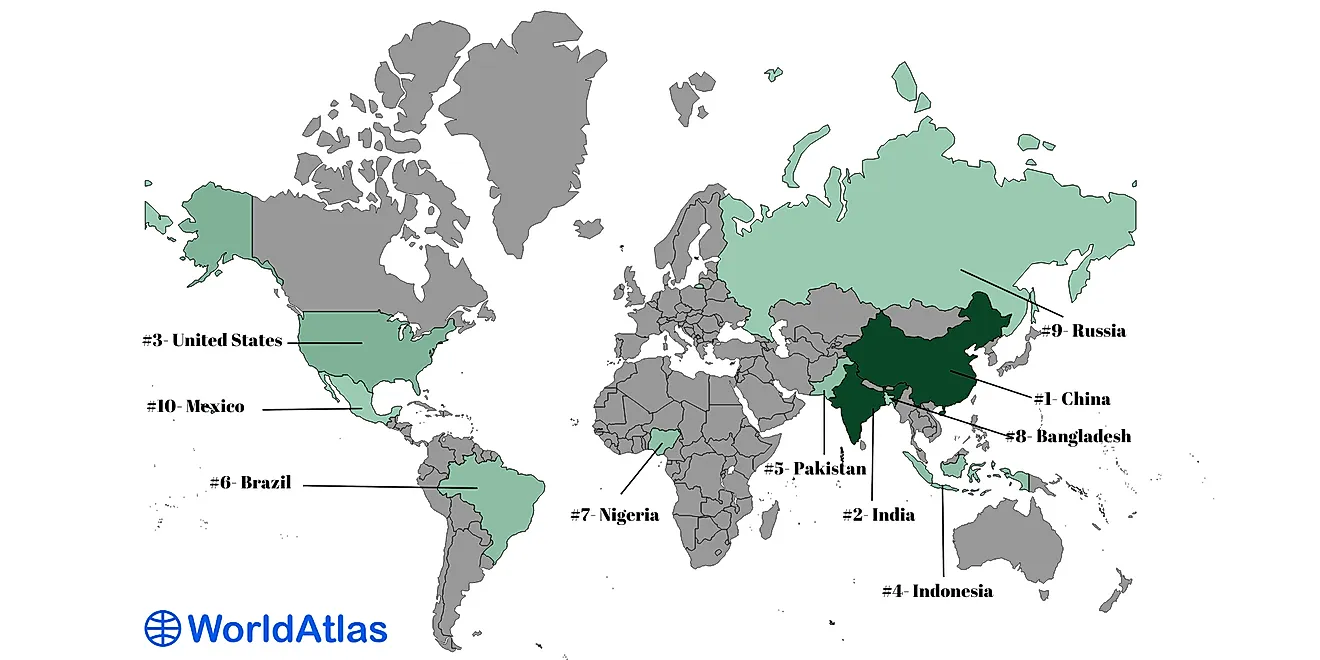 More than half of the world's population lives in one of the 10 most populous countries in the world.
China is the most populous country on Earth.
India is projected to overtake China as the most populous country on Earth by 2027.
More than half of the world's people live in just 10 countries, the most populous countries on Earth. More people means more demand for everything, from natural resources to jobs. Hence, surging population growth can hinder development. Still, most of the world's most populous countries have managed to reduce their yearly population growth rates. Introducing 10 of the world's most populous countries: 
1. China - 1,397,715,000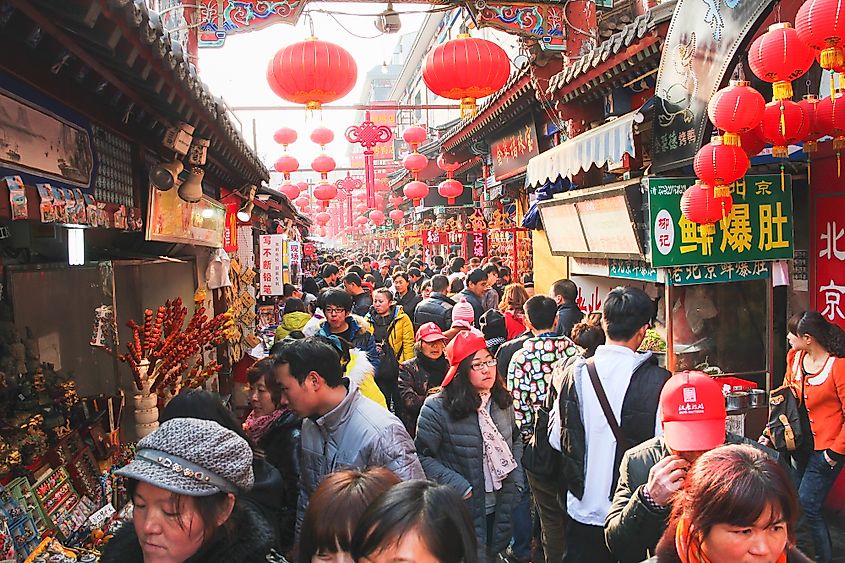 China is the most populous country on Earth. Nearly 1.4 billion people call it home. The country has taken certain measures to combat overpopulation, including a so-called one-child policy, instituted in 1979, which made it illegal for families in the country to have more than one child. Now, however, Chinese citizens can have up to two children. Since the late 1980s, China's annual population growth rate has fallen significantly. Whereas the growth rate was 1.94% in 1988, it was just 0.39% in 2020. In fact, if present trends continue, the Chinese population will start to decline by 2035.
2. India - 1,366,417,750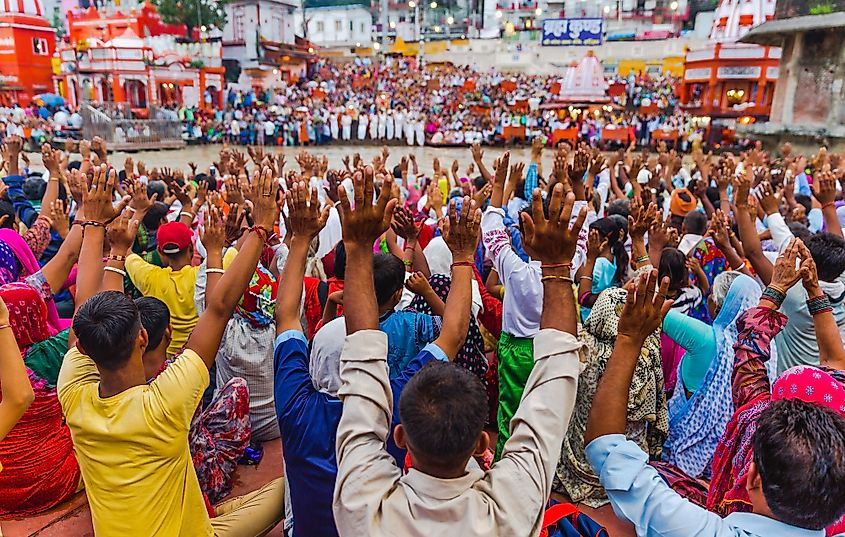 India is the second most populous country in the world, with over 1.36 billion people. In fact, it is estimated that by 2027, India could overtake China as the world's most populous country. India's annual population growth rate has been steadily declining since the early 1980s. The country's growth rate in 1982 was 2.35%, but in 2020, the rate was just 0.99% According to recent estimates, India's population may reach its peak in the early 2060s. Unlike China, India has not taken measures to limit the number of children its people can have. Instead, growing affluence, women's education, and family planning are credited with reducing the country's population growth.
3. United States - 328,239,520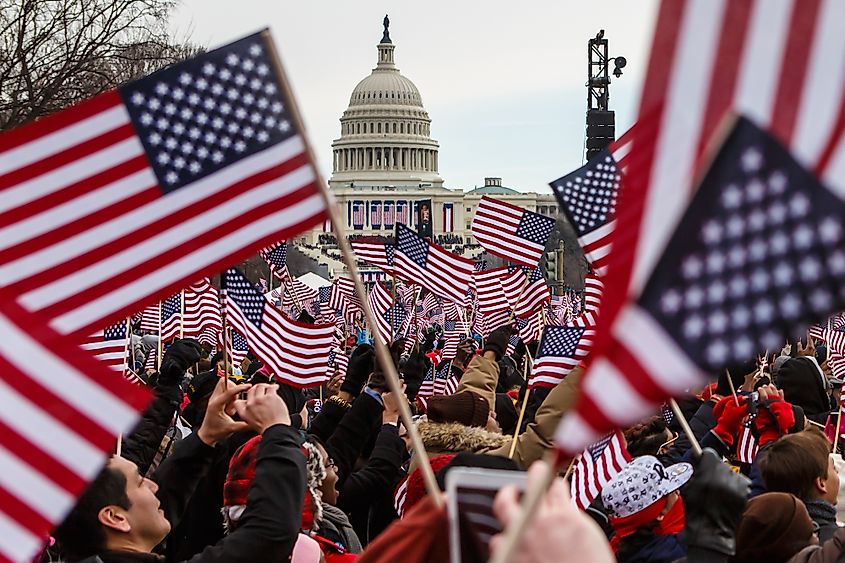 The United States has a total population of over 328 million. Yearly population growth in the U.S. reached 1.76% in 1956, then declined to a low of 0.89% in 1970. The rate remained more or less unchanged during the 1970s and 80s. In the 1990s, however, the population growth rate surged to a high of 1.27%. This period was followed by a decline in the first half of the 2000s, a slight rebound in the second half of the decade, then another decline from 2009 onward. In 2020, America's annual population growth rate stood at just 0.59%, and is only expected to get lower in the future, though it will remain positive through 2050.
4. Indonesia - 270,625,570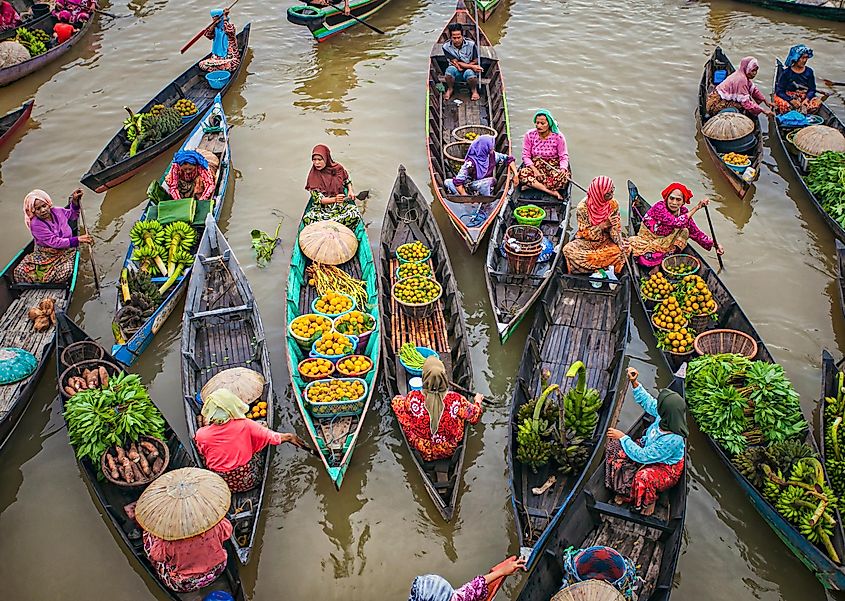 Indonesia's population is more than 270.6 million. Growth in Indonesia's population stood at an annual rate of 2.76% in 1967, but has declined since. The rate in 2020 was just 1.07%. Projections show that Indonesia's yearly population growth rate will only decline further, with an annual growth rate of just 0.32% predicted by 2050. 
5. Pakistan - 216,565,320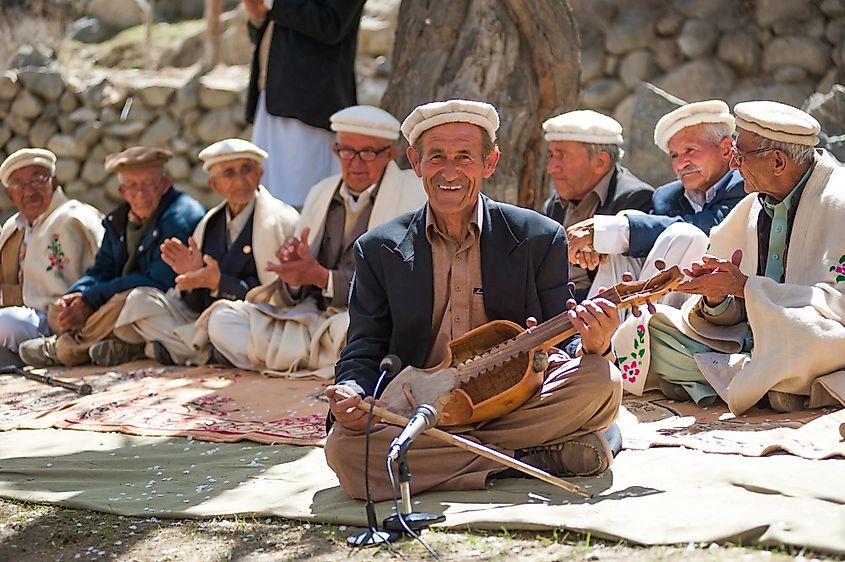 Pakistan's population is approximately 216.6 million. Its yearly population growth rate continued to rise up until 1982, reaching a peak of 3.41%. Afterwards, Pakistan's population growth rate finally began to decline. In 2020, the rate stood at 2%. Population experts credit religious taboos, political timidity, and ignorance as the reason Pakistan's population continues to grow at an alarming rate. In fact, the country's birth rate ranks among the highest outside of Africa. Projections show that although the population growth rate in Pakistan will continue to decline, the number of people in the country will continue to grow significantly, to the point where there will be more than 338 million people in Pakistan by 2050.
6. Brazil - 211,049,530
Brazil is the most populous county in South America. More than 211 million live in the country. Although Brazil's population is still growing, its annual growth rate has gradually slowed since the 1950s. In 1951, Brazil's population grew at a rate of 3.02%. In contrast, 2020 saw the Brazilian population grow just 0.72%. By 2050, Brazil's population is actually projected to decline 0.05%.
7. Nigeria - 200,963,600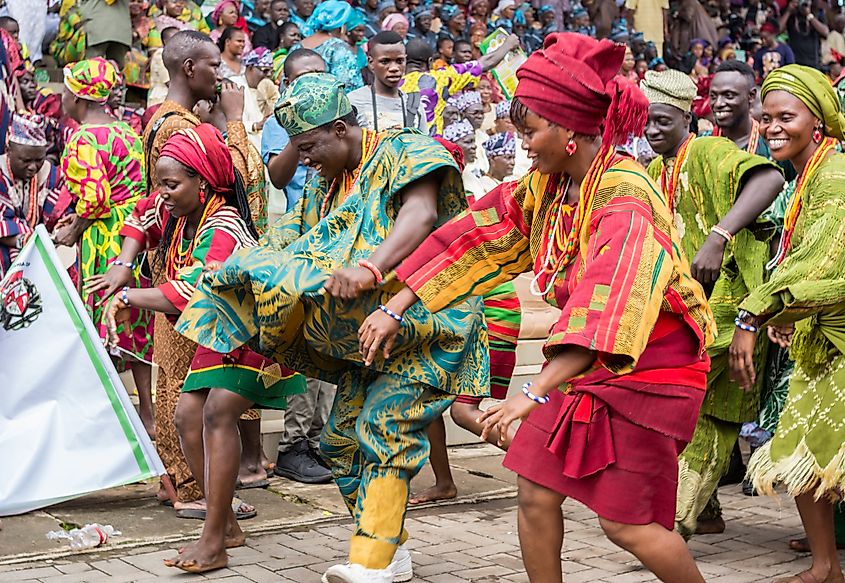 Nigeria is the most populous country in Africa. More than 200 million people call the West African country home. In sharp contrast to other developing countries, the annual growth rate of Nigeria's population is actually higher now than it was in the 1950s. In 1951, Nigeria's population grew at a rate of 1.49%. In 2020, however, its population grew by 2.58%. If present trends continue, Nigeria's population may double by 2050.
8. Bangladesh - 163,046,160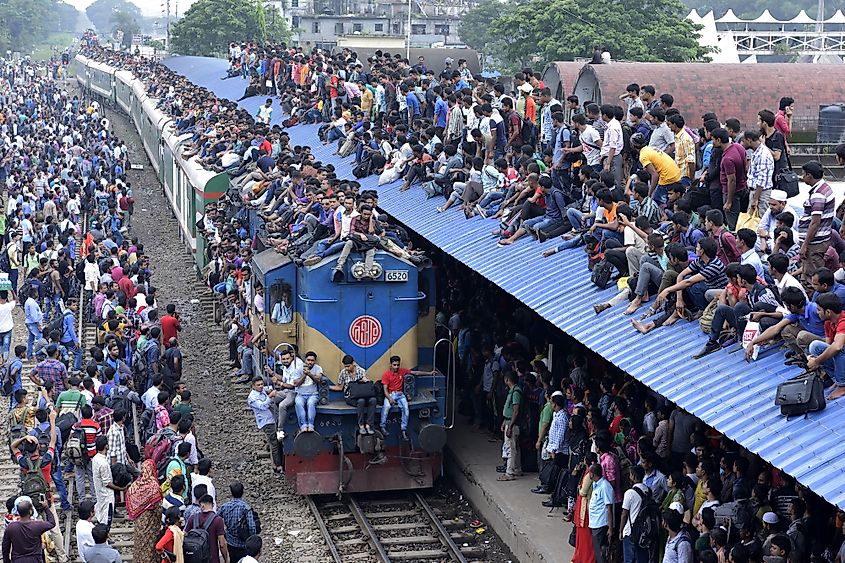 Bangladesh has a population of over 163 million. The growth rate of the Bangladeshi population has not been consistent over the decades. In 1951, the country's annual rate of population growth was 2.14%. In 1967, that rate went all the way up to 3.28%, before declining to 1.52% in 1973, then rebounding to 2.76% in 1979. Bangladesh's rate of population growth has been on a downward trend since the 1980s. In 2020, the country's population growth rate was at an all-time low of 1.01%. This rate is projected to go down to 0.15% by 2050. 
9. Russian Federation - 144,373,540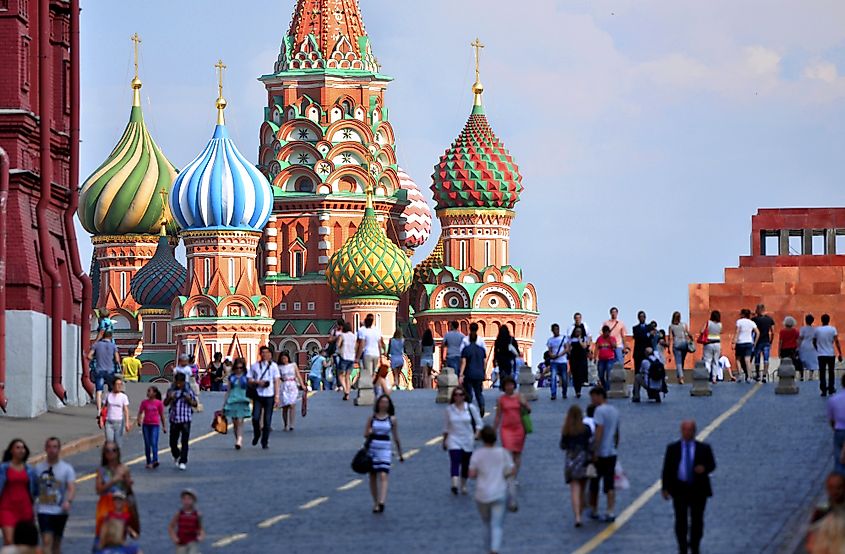 Russia is the most populous country in Europe, with a population of more than 144 million. In 1954, Russia's yearly population growth rate was 1.68%. This rate declined significantly during the mid-1950s, 60s, and 70s, before rebounding somewhat in the 80s. Shortly after the Soviet Union collapsed, however, Russia's rate of population growth started to decline again, to the point where, by 1994, the country was actually losing population. Only by 2009 did Russia's population begin to grow again, reaching annual growth of 0.14% in 2014, before lowering again. In 2020, Russia's yearly population growth rate was just 0.04%, and statistics show that the country will start to lose people again from 2025 onward.
10. Mexico - 127,575,530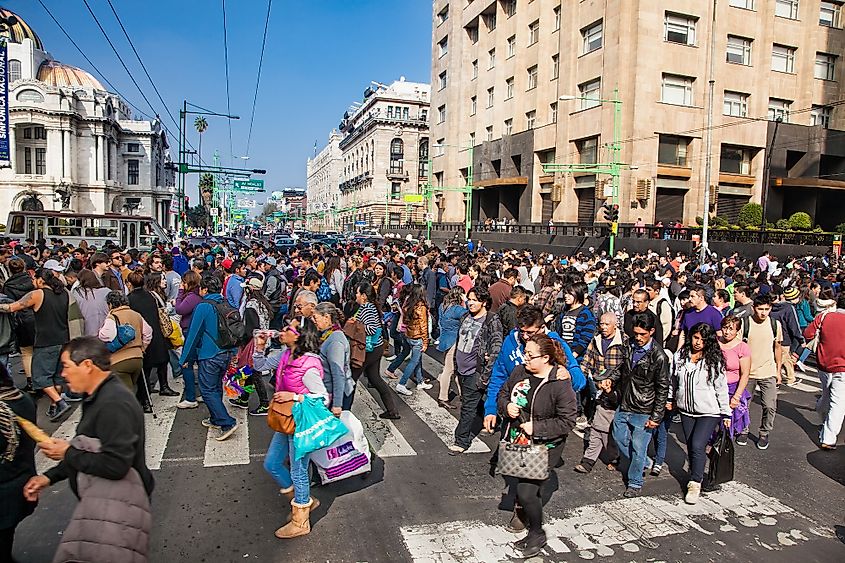 Latin America's second most populous country is Mexico, with nearly 127.6 million people. The country's yearly population growth was more or less steady during the late 1950s and 60s, but began to decline in the 1970s. In 1959, the rate was 3.17%, but by 2020, that rate was slashed to just 1.06%. According to projections, Mexico's population growth will continue to slow through 2050, though the country will still add population. 
The 10 Most Populous Countries In The Future
Reducing population growth is what developing countries need to do in order to continue developing at a steady pace. All but one of the developing countries that are among the world's 10 most populous have managed to slow the growth of their populations, though Nigeria continues to struggle. The opposite problem is taking shape in Russia, where trends indicate that the country will lose population in the years to come. No matter what happens in individual countries, however, the world's population is in no danger of declining if present trends hold. Quite the opposite, in fact.
The 10 Most Populated Countries In The World
| Rank | Country | Total Population |
| --- | --- | --- |
| 1 | China | 1,397,715,000 |
| 2 | India | 1,366,417,750 |
| 3 | United States | 328,239,520 |
| 4 | Indonesia | 270,625,570 |
| 5 | Pakistan | 216,565,320 |
| 6 | Brazil | 211,049,530 |
| 7 | Nigeria | 200,963,600 |
| 8 | Bangladesh | 163,046,160 |
| 9 | Russian Federation | 144,373,540 |
| 10 | Mexico | 127,575,530 |
| 11 | Japan | 126,264,930 |
| 12 | Ethiopia | 112,078,730 |
| 13 | Philippines | 108,116,620 |
| 14 | Egypt, Arab Rep. | 100,388,070 |
| 15 | Vietnam | 96,462,110 |
| 16 | Congo, Dem. Rep. | 86,790,570 |
| 17 | Turkey | 83,429,620 |
| 18 | Germany | 83,132,800 |
| 19 | Iran, Islamic Rep. | 82,913,910 |
| 20 | Thailand | 69,625,580 |
| 21 | France | 67,059,890 |
| 22 | United Kingdom | 66,834,400 |
| 23 | Italy | 60,297,400 |
| 24 | South Africa | 58,558,270 |
| 25 | Tanzania | 58,005,460 |
| 26 | Myanmar | 54,045,420 |
| 27 | Kenya | 52,573,970 |
| 28 | Korea, Rep. | 51,709,100 |
| 29 | Colombia | 50,339,440 |
| 30 | Spain | 47,076,780 |
| 31 | Argentina | 44,938,710 |
| 32 | Ukraine | 44,385,150 |
| 33 | Uganda | 44,269,590 |
| 34 | Algeria | 43,053,050 |
| 35 | Sudan | 42,813,240 |
| 36 | Iraq | 39,309,780 |
| 37 | Afghanistan | 38,041,750 |
| 38 | Poland | 37,970,870 |
| 39 | Canada | 37,589,260 |
| 40 | Morocco | 36,471,770 |
| 41 | Saudi Arabia | 34,268,530 |
| 42 | Uzbekistan | 33,580,650 |
| 43 | Peru | 32,510,450 |
| 44 | Malaysia | 31,949,780 |
| 45 | Angola | 31,825,290 |
| 46 | Ghana | 30,417,860 |
| 47 | Mozambique | 30,366,040 |
| 48 | Yemen, Rep. | 29,161,920 |
| 49 | Nepal | 28,608,710 |
| 50 | Venezuela, RB | 28,515,830 |