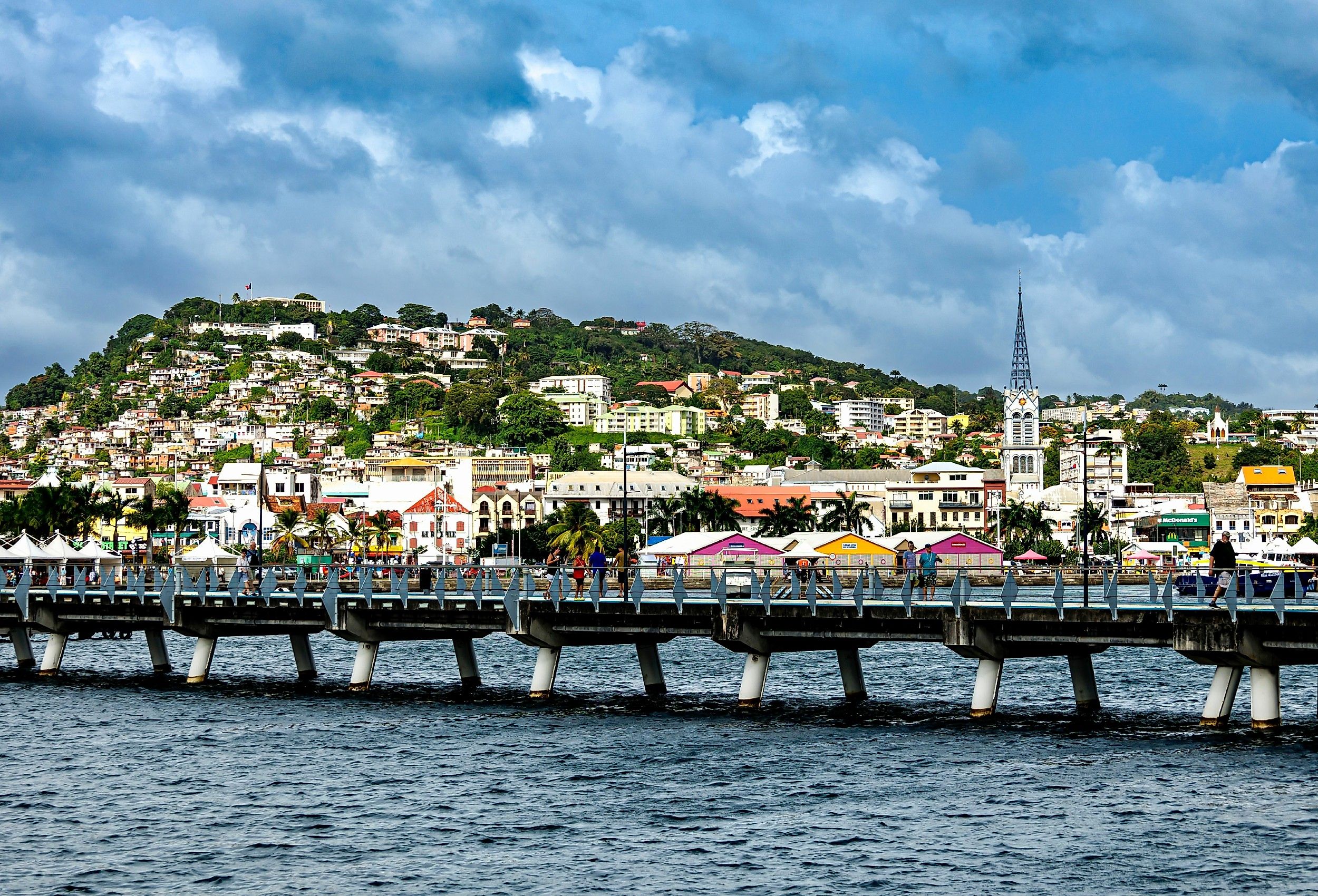 Richest Countries in South America
South America is a continent represented by its stunning natural features and the people that inhabit it; in turn, this 441-million population relies on the economies of the region's twelve nations and three dependencies. However, understanding the economic wealth of each nation is a complex process encompassing various factors. One useful metric is Gross Domestic Product (GDP) per capita based on Purchasing Power Parity (PPP), which adjusts for the cost of living and inflation rates globally. This figure, expressed in international dollars, gives a more precise snapshot of a country's average income per person, providing a comparison of living standards between different nations in South America based on data from the International Monetary Fund's World Economic Outlook (WEO) as of April 2023.
7 Richest Countries in South America
1. Guyana — $60,648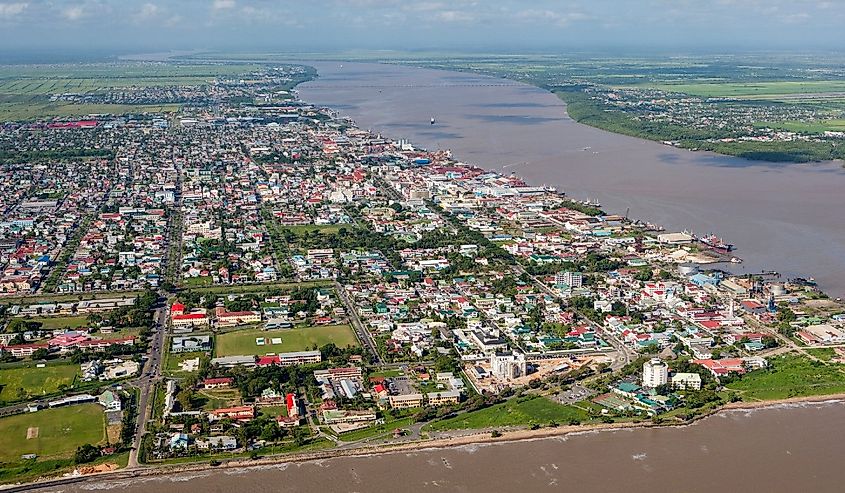 Guyana has experienced a strong upsurge in wealth in comparison with previous years. Guyana's economy primarily revolves around three significant sectors: agriculture, mining, and services. Agriculture has a long-standing tradition in the country, with sugar and rice as key export commodities. Guyana has also benefited immensely from its abundant natural resources, particularly in the mining sector, bolstered by large-scale gold and bauxite extraction.
In 2020, the commencement of oil production in the Stabroek Block, located approximately 120 miles offshore Guyana by a consortium led by ExxonMobil, transformed the country's economic prospects. The newfound oil wealth has been the primary driver for the meteoric rise in GDP per capita since then. The services sector, especially in areas such as information technology and telecommunication services, has seen steady growth, further contributing to the rise in GDP per capita. Moreover, foreign investments, especially in infrastructure development projects, have also played a significant role in bolstering Guyana's economy. 
2. Chile — $29,613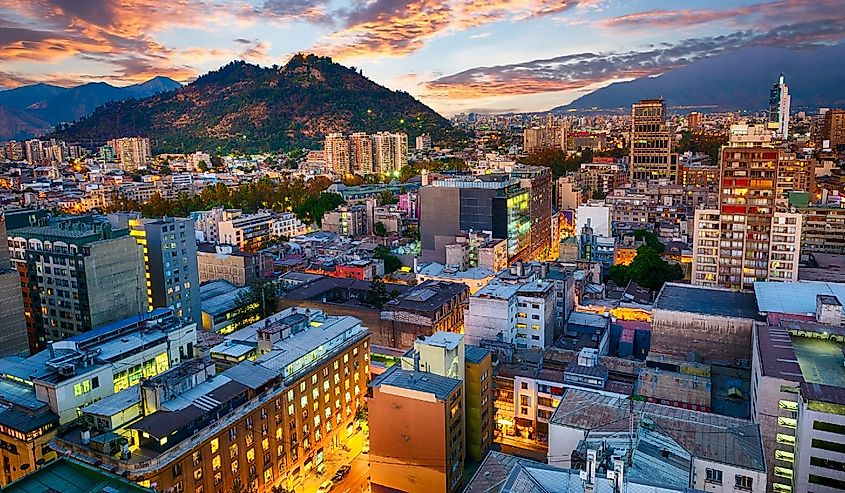 As of 2023, Chile exhibits a GDP per capita (PPP) of $29,613, reflecting a solid economic infrastructure underpinned by robust market-oriented policies. A significant portion of this economic strength is due to its abundant natural resources. Chile is the world's largest producer of copper, with the state-owned enterprise CODELCO leading the charge in copper production since its establishment in 1976. Copper exports have long been a key component of Chile's economic backbone, contributing substantially to the country's GDP.
Additionally, Chile has a vibrant agricultural sector, particularly in the production of wine, fruit, and fishery products, providing diverse streams of income beyond mining. The Maule and O'Higgins regions have become renowned for their high-quality wine production, exporting to markets across the globe. Chile's service sector has grown considerably over the past decade, aided by the rapid digitalization of the economy. Santiago, the country's capital and economic hub, has seen an increase in tech start-ups and is a focal point for foreign direct investment (FDI).
Infrastructure development, bolstered by strong public and private investments, notably in renewable energy and public transportation, further underscores Chile's economic resilience. This balanced growth has been managed by the Central Bank of Chile and supported by economic reforms from the Chilean government. However, the political situation is uncertain, with a Progressive series of victories in 2022, which may affect Chile's future economic situation.
3. Uruguay — $28,740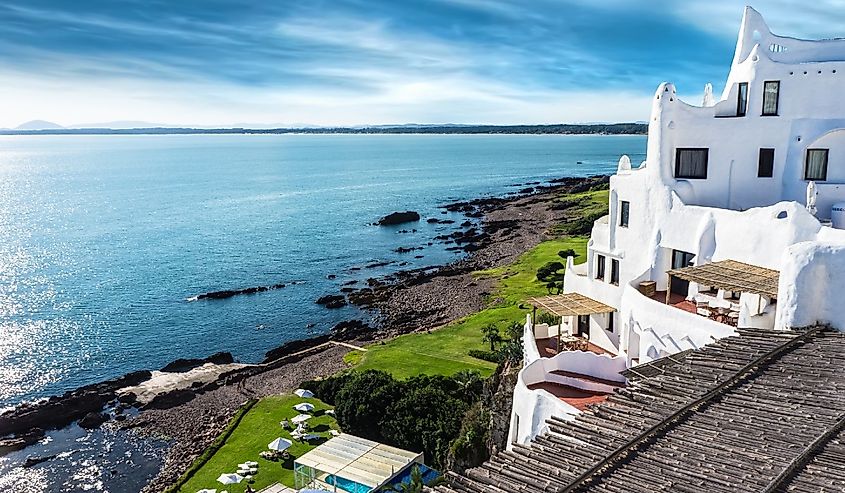 Uruguay is predominantly an export-oriented economy. It relies heavily on its agricultural sector, boasting significant production in beef, soybeans, and rice. Furthermore, its workforce is reliable and resolute due to educational investments. The Uruguayan government has made considerable strides in advancing sustainable development. Focusing on the technology sector, it implemented the Ceibal Plan in 2007, achieving the world's first entirely network-connected public education system. By 2023, these efforts evolved to include a burgeoning IT industry, which substantially contributes to Uruguay's GDP.
In 2023, Uruguay's banking sector, traditionally a crucial contributor to its economy, remains robust. The Central Bank of Uruguay's prudent monetary policies, in response to global economic conditions, have helped maintain stability. The nation's economic success is also tied to its strategic location. Montevideo, the capital, operates as a significant logistics hub, benefiting from the Mercosur trade bloc and enabling access to larger markets like Brazil and Argentina.
Uruguay has also shown progress in tourism, with its seaside resorts like Punta del Este attracting a global audience. Furthermore, renewable energy, particularly wind and solar, forms a significant component of its energy matrix (roughly 98 percent of all electricity is from renewable sources), aligning economic growth with environmental responsibility.
4. Argentina — $27,261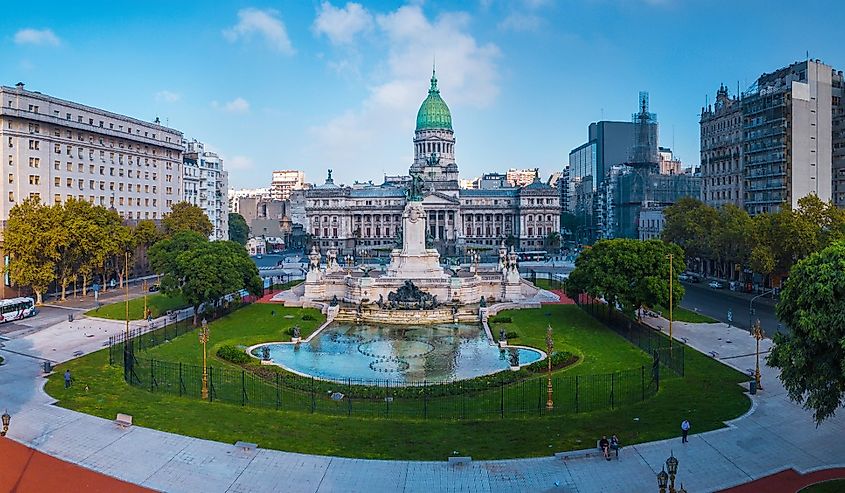 Over the years, Argentina has reoriented its economic strategies with an emphasis on strengthening domestic industries, improving infrastructure, and ensuring sustainable growth. In terms of strength, it operates as the third-largest economy in Latin America. However, economic challenges exist. The country continues to grapple with inflation, fiscal deficits, and external debt.
Agriculture remains a critical pillar of Argentina's economy. As the world's third-largest exporter of soybeans and corn, the agricultural sector contributes significantly to the nation's GDP. With a favorable climate and expansive fertile land, Argentina's agricultural industry has managed to maintain steady growth, providing stable export revenue.
Simultaneously, the industrial sector has also seen robust development, particularly in the automotive and pharmaceutical industries. Argentina is now the third-largest automobile manufacturer in Latin America, with major multinational companies, including Toyota, Ford, and Volkswagen, operating substantial production plants in the country. Investments in information technology and renewable energy sectors have increased, marking a shift towards a more diversified and sustainable economy. Buenos Aires, the nation's capital, has become a hotspot for tech start-ups and green initiatives.
5. Colombia — $19,460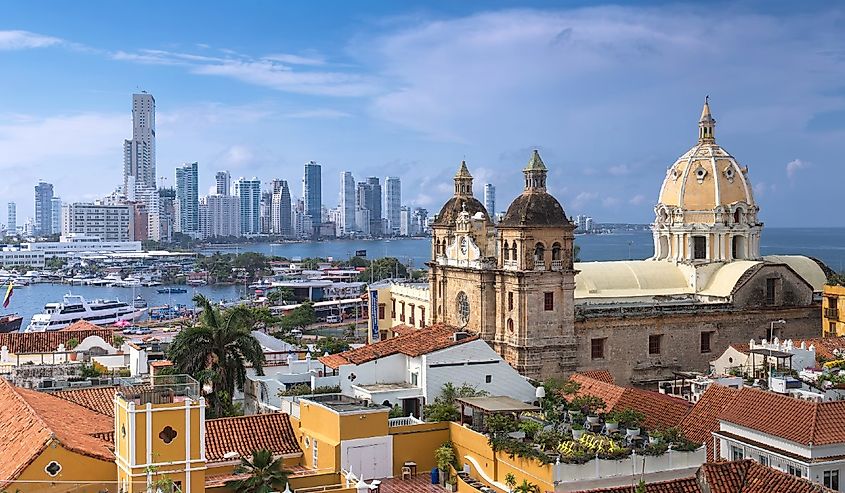 After growing 7.9% in 2022 (according to median analysts), Colombia's economy is on the road to success. Currently, the energy, textiles, food processing, and financial sectors are primary contributors to Colombia's economic structure. The oil industry remains central to the economy, with Ecopetrol, the state-owned petroleum company, as a significant contributor. The textile industry, led by companies such as Arturo Calle and Leonisa, contributes to the manufacturing sector. For example, Colombia ranks among the global top three in the export of girdles and corselettes, standing as a significant competitor against China.
On the agricultural front, Colombia remains the world's third-largest source of coffee beans, with the National Federation of Coffee Growers of Colombia overseeing the industry since 1927. It remains an essential pillar of rural employment and export revenue. The food processing industry, driven by Grupo Nutresa and other regional firms, shows steady growth as local demand and exports rise. Finally, Bancolombia, the nation's largest bank, represents a strong financial services sector, facilitating economic transactions and investment. Despite considerable progress, wealth inequality and regional disparities in quality of life are an ongoing conflict for the nation.
6. Brazil — $18,686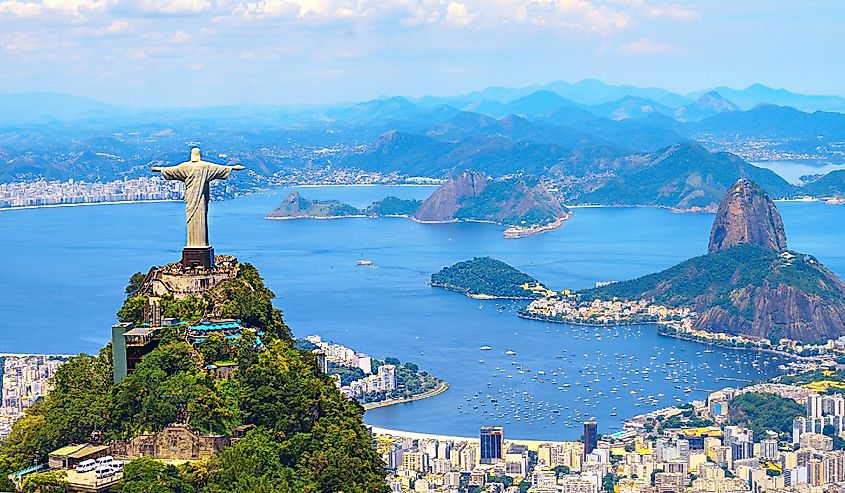 Because it has an overall GDP of over 1.6 trillion USD, Brazil's economy stands behind Canada and the United States in terms of the largest economies in the Americas. However, lack of access to technology, education, and skill training, has resulted in wealth inequality across the country. The performance of Brazil's economy has been significantly shaped by several key sectors, particularly agriculture, industry, and services. The agricultural sector, renowned for its immense production of commodities such as soybeans, coffee, and sugar, continues to be a strong export contributor, with China and the United States as major trade partners.
The industrial sector, particularly automotive and aviation, has significant international importance, with notable companies such as Embraer and Volkswagen Brazil. However, it has faced challenges related to infrastructure and competitiveness. The services sector, the largest component of Brazil's GDP, has also seen consistent growth. Technology-driven areas like FinTech, digital services, and IT outsourcing have been gaining ground, spurred by investments in Sao Paulo and Rio de Janeiro. Inflation and unemployment rates have been notable issues in the past years. The Central Bank of Brazil and the Ministry of Economy have been tasked with stabilizing these through policies and reforms, which remain integral to the future development trajectory of Brazil's economy.
7. Suriname — $18,427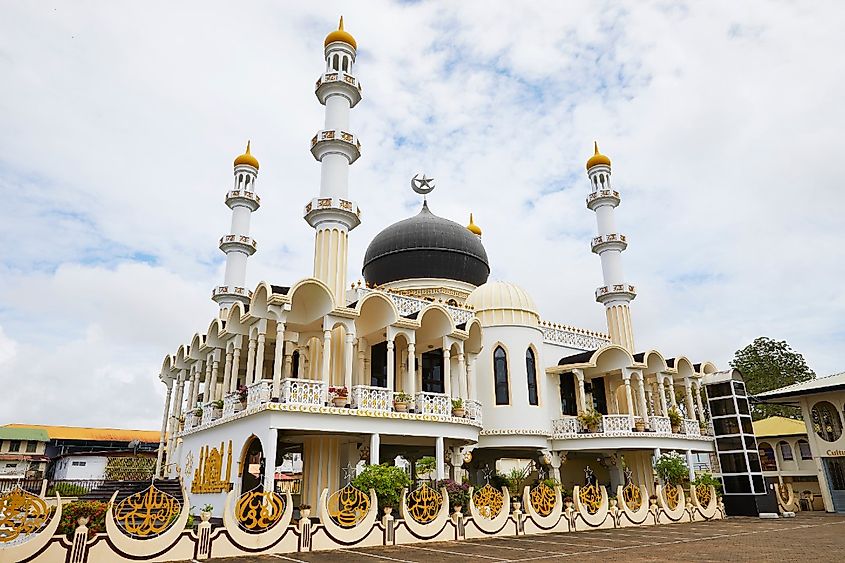 The extractive industries are a cornerstone of Suriname's economy. Its bauxite mining sector, traditionally a major contributor to its GDP, has long been dominated by Suriname Aluminium Company (Suralco), a subsidiary of Alcoa. The gold mining sector has also grown considerably, with companies such as Newmont Corporation and Iamgold extracting substantial volumes. On the agricultural front, Suriname exports a variety of products, including rice, bananas, and palm kernels.
Furthermore, Suriname's budding oil industry has shown promise, with Staatsolie, the state-owned company, spearheading exploration and production. In early 2020, there were significant offshore oil discoveries by international partners like TotalEnergies and Apache Corporation, indicating a potential for growth in this sector. Last, despite these strengths, the economy also has challenges, such as high costs of living and a sovereign debt crisis, which are causes of social unrest.
The nations of South America have varying degrees of economic prosperity. The most recent WEO report provides insightful snapshots of these economies, highlighting their primary industries, growth factors, and challenges. However, while GDP per capita (PPP) can offer valuable insights, it does not fully capture the complexity of a country's wealth or the distribution of that wealth among its population. It is only one of many indicators when assessing a country's economic standing and prosperity. Therefore, the potential for these nations to thrive is vast, and there is much in store for South America should its states continue to invest in their natural and social ecosystems.
12 Richest Countries in South America
| Rank | Country | GDP Per Capita (PPP)* |
| --- | --- | --- |
| 1 | Guyana | 60,648.07 |
| 2 | Chile | 29,613.09 |
| 3 | Uruguay | 28,740.23 |
| 4 | Argentina | 27,260.79 |
| 5 | Colombia | 19,460.33 |
| 6 | Brazil | 18,685.79 |
| 7 | Suriname | 18,427.07 |
| 8 | Peru | 16,131.58 |
| 9 | Paraguay | 15,577.62 |
| 10 | Ecuador | 13,513.42 |
| 11 | Bolivia | 10,327.03 |
| 12 | Venezuela | 8,027.55 |
*Source: International Monetary Fund (April 2023)