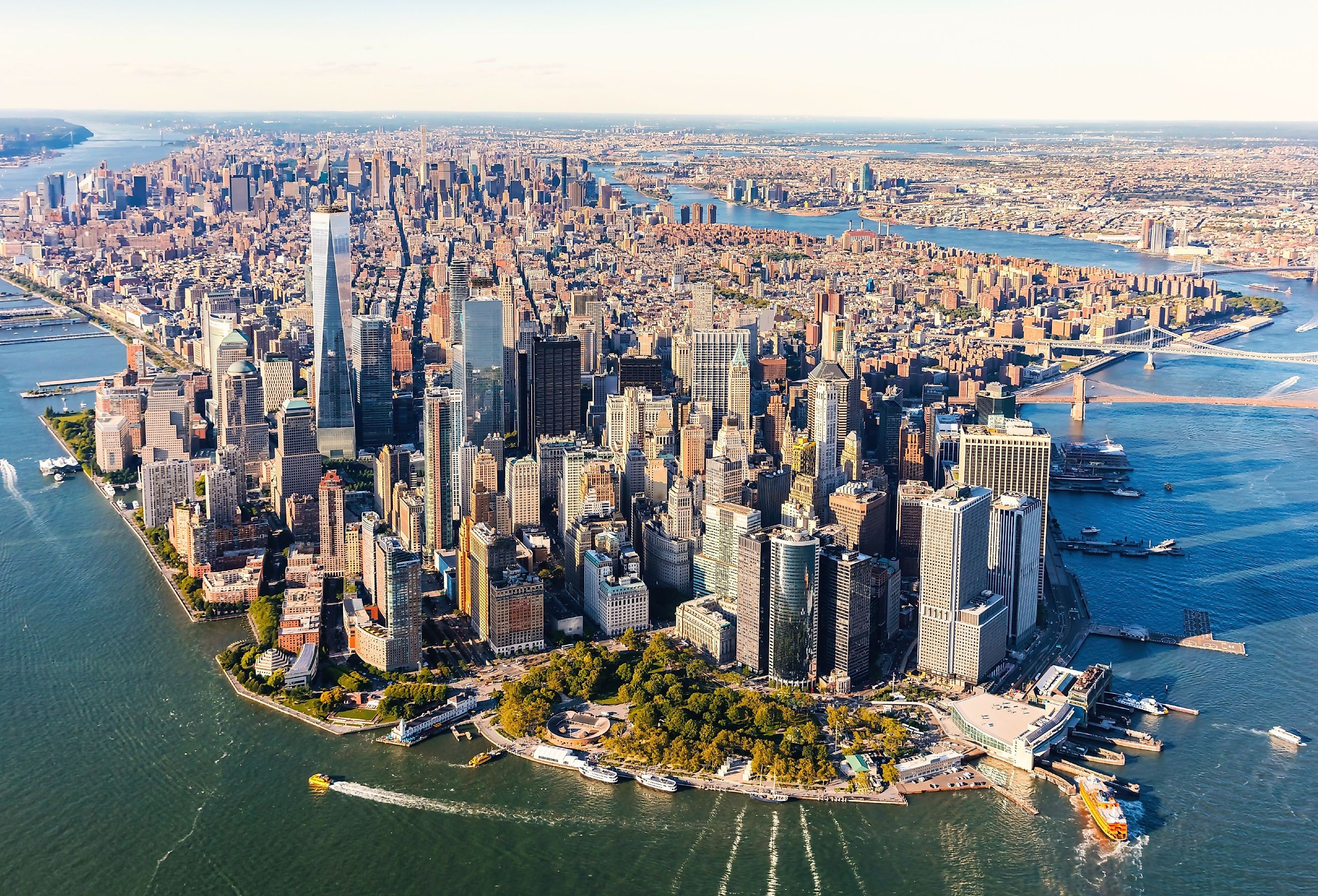 Richest Countries in North America
North America's nations are bathed in natural resources and blessed with geographic isolation that shields them from global conflicts. Yet, this same landscape that gifts prosperity also delivers punishment in the form of earthquakes, hurricanes, and other natural calamities. Once the dust settles, it is possible to weigh the boons and the curses of each country through key financial metrics provided by the International Monetary Fund.
To measure a nation's wealth, the International Monetary Fund employs three pivotal financial indicators. Purchasing Power Parity (PPP) offers an accurate comparison of currency strength across nations, factoring in the cost of specific goods in each country. The Gross Domestic Product (GDP) quantifies the yearly total value of goods and services produced and sold by a country. Then, by integrating these two metrics and dividing the GDP by the population, the 'GDP per capita (PPP)' is calculated, providing a comprehensive picture of the economic prosperity per individual in each North American nation.
Richest Countries in North America
1. The United States — $80,035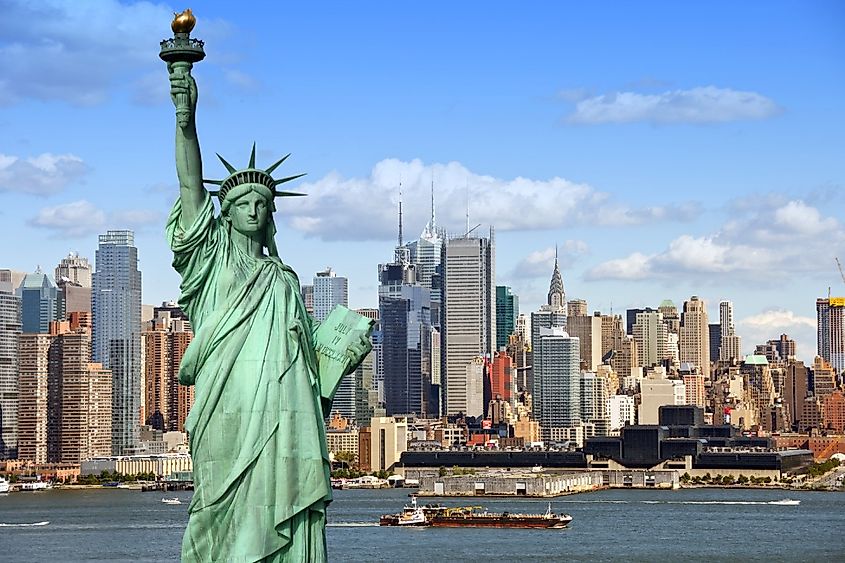 The US economy is now sitting at the tail end of the havoc wrought by Covid as well as the trade war that former President Trump instigated with China in 2018. Although citizens still face challenges related to upticks in inflation, housing shortages, and healthcare, much of that turbulence has begun to level out. In hindsight, this is in spite of a shrinking middle class and a reduced amount of domestic manufacturing.
However, thanks to its industrious and highly educated workforce, the key drivers behind the USA's competitive GDP Per Capita (PPP) still include sectors such as technology, healthcare, finance, and manufacturing. Silicon Valley in California remains a global technology hub, with industry giants like Google, Apple, and Facebook contributing significantly to the national GDP. Texas, as another example, thrives on energy production and manufacturing, hosting companies like Exxon, Mobil, and Dell.
In healthcare, pharmaceutical titans such as Pfizer and Johnson & Johnson (based in New York and New Jersey, respectively) continue to show robust growth. Wall Street, in New York City, remains the nucleus of the financial sector, with Goldman Sachs and JP Morgan Chase playing key roles. After all, Wall Street employs around 180,000 and represents the largest economy in the world. Nonetheless, the uneven economic recovery from the COVID-19 pandemic is still felt. While most sectors have rebounded, tourism and hospitality, especially in areas like Las Vegas and Orlando, are projected to recover substantially.  
2. Canada — $60,177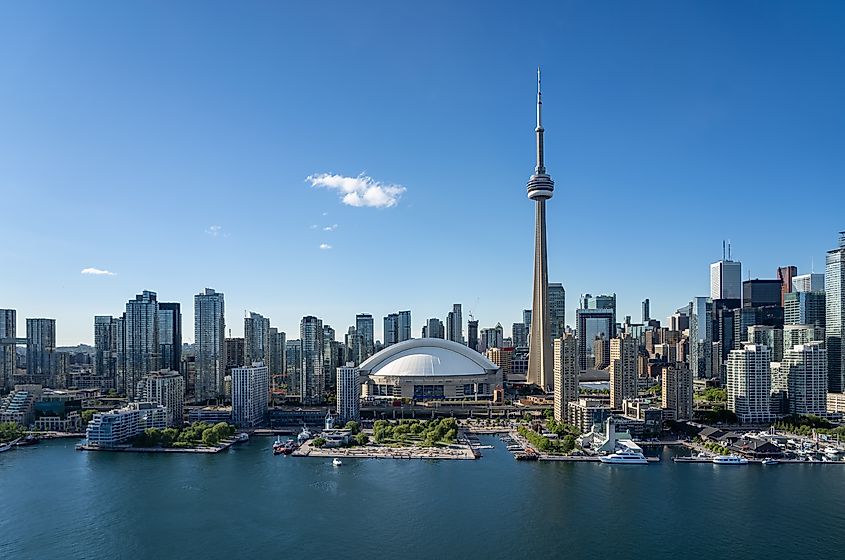 Canada's high economic score reflects a consistently high standard of living and economic prosperity. A significant driver is Canada's strong endowment of natural resources and its strategic position in the global supply chain, exporting oil, gas, minerals, and forestry products. Canada's economy spans several sectors. The service sector is the most dominant, contributing about 70% to the GDP, while the industrial sector contributes approximately 28%, and agriculture, despite its high output, only contributes about 2%.
A few of Canada's strengths are its: wealth of natural resources, status as the 5th-largest oil and gas producer, strong banking sector, proximity to the US market, and key trade deals such as USMCA and CETA. It also boasts a favorable business environment and the lowest G7 net debt ratio. However, Canada is vulnerable due to its dependence on the US economy and energy prices, diminished manufacturing competitiveness due to low labor productivity, lackluster R&D expenditure, high household and mortgage debt, worsening housing affordability, and challenges in energy exports due to insufficient supply pipelines.
Additionally, should the world shift to green energy, many of Canada's natural resources would lose value. Furthermore, regional economic disparities, such as between Alberta and Quebec, persist. Finally, the nation is grappling with the effects of an aging population on healthcare costs and labor supply.
3. The Bahamas — $43,913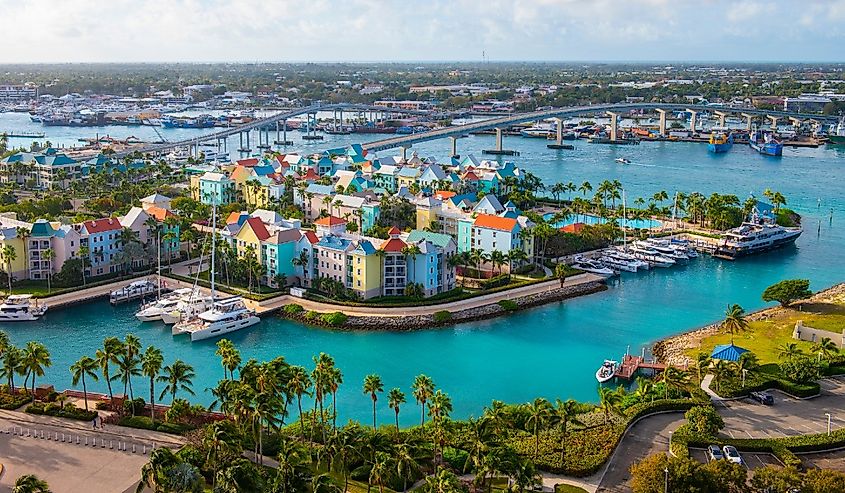 The Bahamian economy, primarily service-oriented, revolves around its tourism industry which accounts for over half of the nation's GDP. This sector benefits majorly from its location in close proximity to the US. The economy's second leading sector is offshore banking, which leverages its tax incentives and firm adherence to confidentiality laws, thus making the Bahamas a preferred destination for global investors.
Despite being a high-income economy, the Bahamas experiences challenges of income inequality and job creation. Its heavy reliance on tourism and offshore banking makes it susceptible to external shocks, like global financial crises or pandemics, causing high volatility in its economic performance. This volatility is also fuelled by the susceptibility of the country to natural disasters like hurricanes, which significantly affect infrastructural development.
A noteworthy shift in the Bahamas' economy is the growing importance of the digital economy, primarily in fintech, as a response to the increasing global digitalization trend. Lastly, the contributions of agriculture and manufacturing to the nation's GDP remain marginal.
4. Panama — $40,177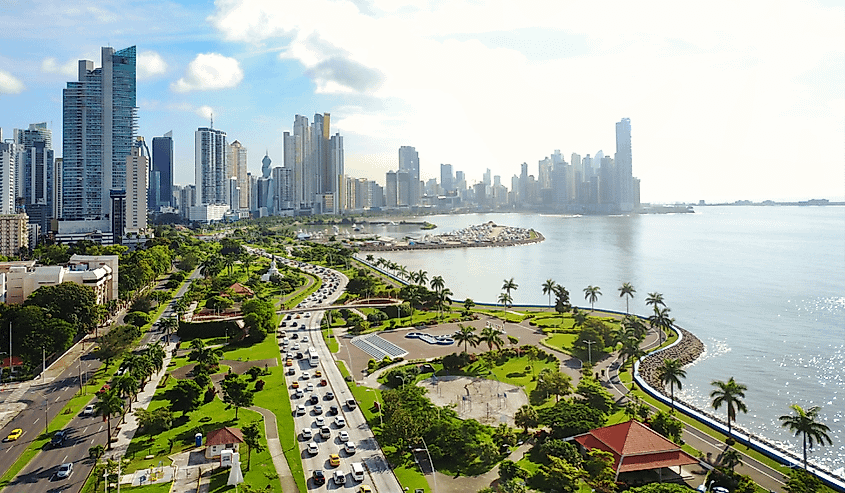 With its strategic position as a global hub for commerce and finance, anchored by the Panama Canal, Panama has become one of the fastest-growing economies in Latin America. The canal, which is a vital conduit for international maritime trade, continues to be a significant contributor to the country's economy. It not only generates substantial toll revenues (roughly $3 billion in 2021) but also stimulates allied industries such as logistics, ship repair, and freight forwarding.
Further diversification of the Panamanian economy is evident in its robust financial services sector. Panama City is a leading regional financial center, housing over 80 banks, and a significant proportion of the country's GDP stems from this sector. Favorable tax laws and confidentiality rules have attracted a variety of international businesses, albeit with some controversy (e.g., the Panama Papers incident) around transparency and regulation.
Moreover, the service sector, particularly tourism and real estate, has seen impressive growth. Tourism, in particular, has been boosted by Panama's variety of attractions like rainforests, beaches, and mountain refuges.
5. Trinidad and Tobago — $32,054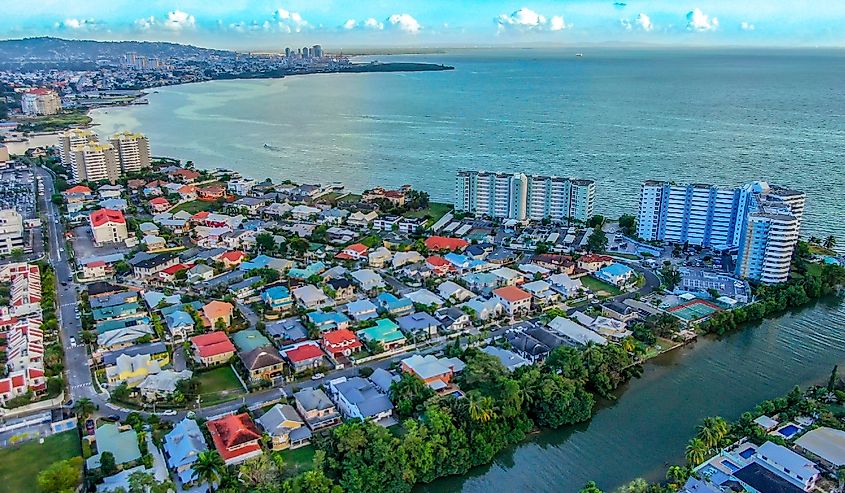 Trinidad and Tobago's economy is principally underpinned by the energy sector, with petroleum, natural gas, and petrochemicals serving as the cornerstones of economic output. The hydrocarbon industry has been the bedrock of this prosperity, enabling substantial government revenue and foreign exchange. To give a sense of scale, Trinidad and Tobago earned nearly $12 billion in energy revenue between 2018 and 2022.
The country's robust energy sector serves both domestic consumption and exports. It is also the foundation for downstream industries, particularly petrochemicals, facilitating further economic diversification. Moreover, the manufacturing sector, which includes food and beverage production, printing, and assembly-type industries, contributes to the economy.
While Trinidad and Tobago's services sector is not as dominant as in many other island economies, it still plays a role, particularly in finance and tourism. The financial sector remains competitive, with a mix of local and international banks offering a wide range of services. Meanwhile, tourism centered on culture, natural beauty, and the annual Carnival festival remains a crucial, albeit smaller, revenue source. 
6. Saint Kitts and Nevis — $29,662
Saint Kitts and Nevis, a dual-island nation in the Caribbean, has an economy primarily driven by tourism, financial services, and agriculture. Tourism has emerged as a leading sector, contributing significantly to the nation's GDP. The nation's appeal as a cruise ship destination, coupled with its luxury resorts, eco-tourism, and cultural heritage sites, has attracted a steady stream of international visitors. A strong focus on sustainable tourism has resulted in a careful balance between economic growth and environmental preservation.
The financial services sector also plays a critical role. The government's Citizen by Investment Program (CIP), which invites foreign capital through real estate investment or a donation to the national development fund, has injected substantial liquidity into the economy. This has helped finance public sector debt, enhance infrastructure, and stimulate the real estate market.
Agriculture, once the mainstay, has seen a decline but continues to contribute. The nation exports roughly 2,000 tonnes of oil crops, vegetables, and tuberous roots annually. However, crops like sugarcane have vanished altogether due to the rise of tourism.
7. Dominican Republic — $25,896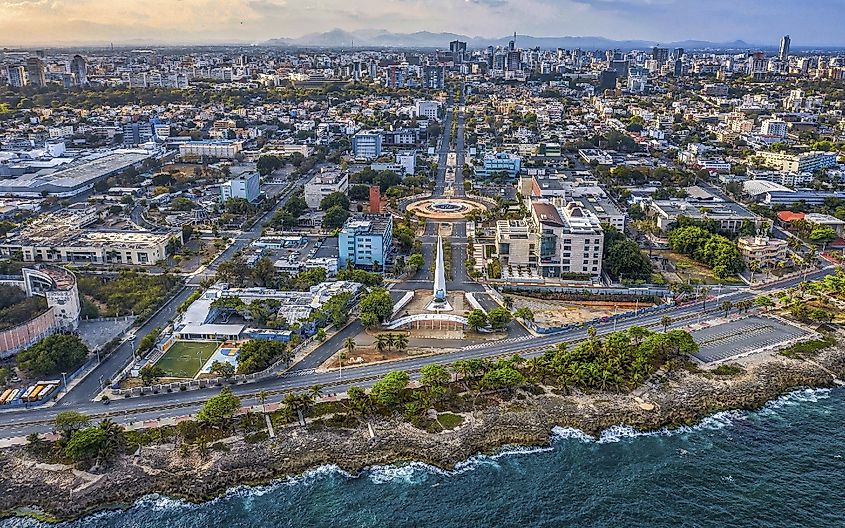 It is hard to go wrong with access to the largest gold mine in Latin America, and the Dominican Republic is currently on track to be a high-income nation by 2030. Several factors have bolstered its economy over the last two decades, including foreign investment, improved disaster management, policy reform, and economic integration into regional trade groups.
Services contribute a significant portion to the Dominican Republic's economic growth. In particular, the tourism industry has thrived due to the country's beautiful beaches and tropical climate, attracting millions of tourists annually (7.5 million in 2019, with rates recovering since the pandemic). This has been supported by extensive investments in hospitality infrastructure over recent years.
The manufacturing sector has also seen growth, most notably in the free zones, dedicated regions exempt from certain taxes and tariffs to promote export-oriented industries. These zones produce a wide range of goods, including textiles, electronic components, and medical equipment, creating jobs and contributing to export earnings.
Moreover, mining has played a pivotal role, with the Dominican Republic being a leading producer of gold in the region. The Pueblo Viejo mine, operated by Barrick Gold Corporation, is a major contributor to this sector, having significantly ramped up production over the past several years.
While these are some of the wealthiest countries in North America, the region is composed of 23 nations, each with its unique economic conditions. In principle, it is imperative that each nation wields its natural resources wisely and prepares its population to face an ever-changing global market. The countries of North America have the advantage of a relatively "fresh start" and thus a historical opportunity to draft and maintain social contracts which adapt to the modern state of the world. Furthermore, diversifying income into different sectors has proven itself to be essential; nations that relied primarily on tourism suffered during the pandemic, and nations that currently rely on natural gases will potentially struggle in a greener future. Regardless, the 23 countries of North America also stand to benefit by uniting under trade agreements which can work to absorb adversity by relying on the different strengths of its members. Though some countries like Haiti and Honduras still lag far behind the pack economically, it would be to the profit of all to integrate them into the global market. Ultimately, the path to global (or at least continental) success is firmly rooted in the principle of solidarity.
Richest Countries in North America
| Rank | Country | GDP Per Capita (PPP) |
| --- | --- | --- |
| 1 | United States | 80,034.58 |
| 2 | Canada | 60,176.69 |
| 3 | The Bahamas | 43,912.81 |
| 4 | Panama | 40,176.77 |
| 5 | Trinidad and Tobago | 32,054.31 |
| 6 | Saint Kitts and Nevis | 29,662.13 |
| 7 | Costa Rica | 26,421.89 |
| 8 | Dominican Republic | 25,895.63 |
| 9 | Antigua and Barbuda | 24,011.80 |
| 10 | Mexico | 23,819.98 |
| 11 | Grenada | 20,074.79 |
| 12 | Barbados | 18,857.56 |
| 13 | Saint Lucia | 18,435.21 |
| 14 | Saint Vincent and the Grenadines | 17,792.92 |
| 15 | Dominica | 14,160.88 |
| 16 | Jamaica | 12,886.91 |
| 17 | El Salvador | 11,646.59 |
| 18 | Belize | 10,938.99 |
| 19 | Guatemala | 10,545.80 |
| 20 | Nicaragua | 7,601.39 |
| 21 | Honduras | 7,227.98 |
| 22 | Haiti | 3,248.44 |
*Source: International Monetary Fund (2023)