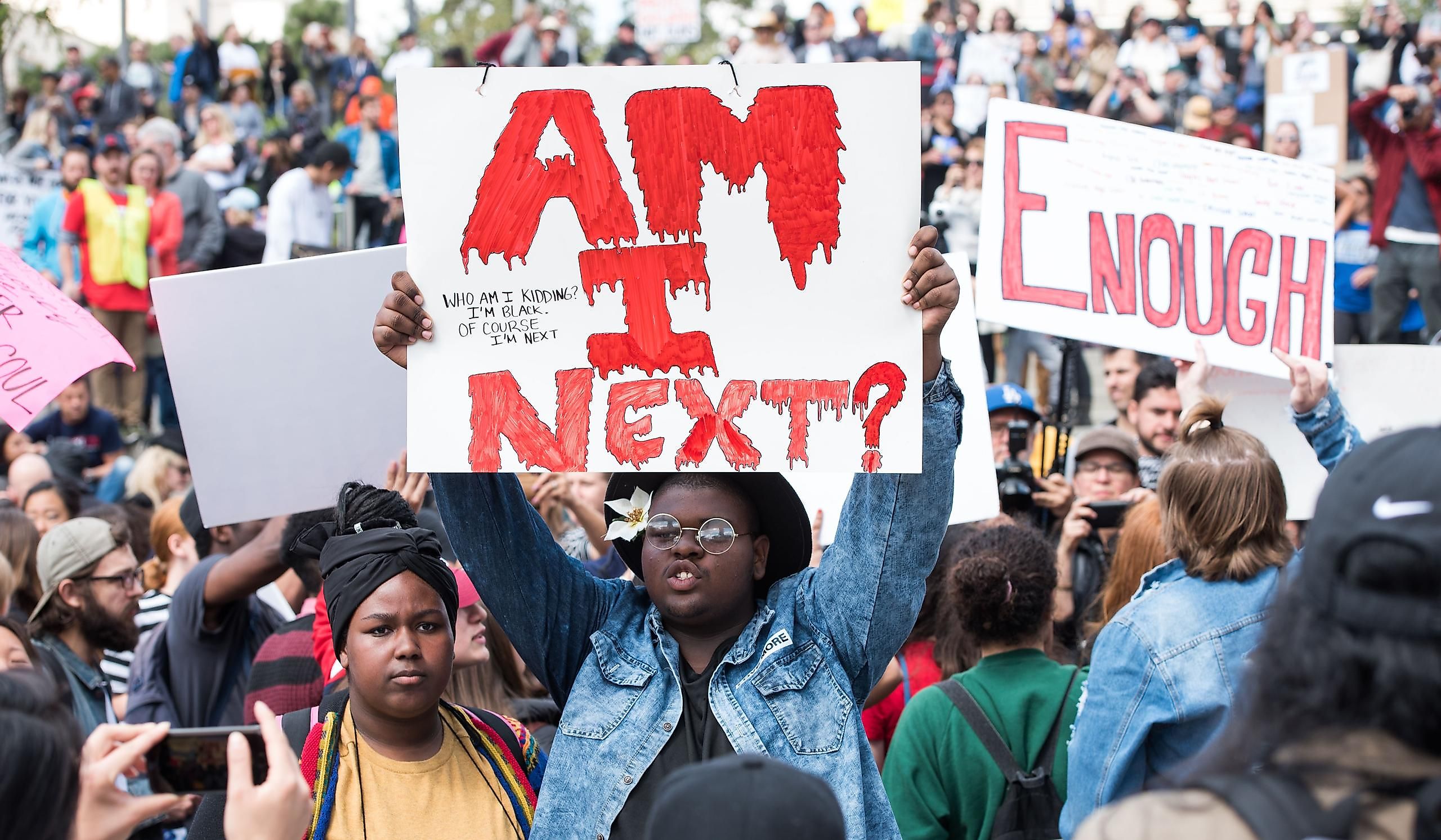 What are 'Red Flag' Laws And How Can They Prevent Gun Violence?
The United States experiences a tense relationship between public safety and gun ownership, as it surpasses all other countries in the amount of firearms its residents possess. Approximately 433.9 million guns exist in the United States, according to data from the ATF, but this does not account for guns that have left circulation. Of those, only 7,512,175 are registered. In the past few decades, mass shooting events have highlighted that persons in distress, with access to such weaponry, pose a danger to both themselves and others. Accordingly, many states have taken steps to preemptively remove firearms from such persons — these policies are called "Red Flag Laws."
Map of States With Red Flag Laws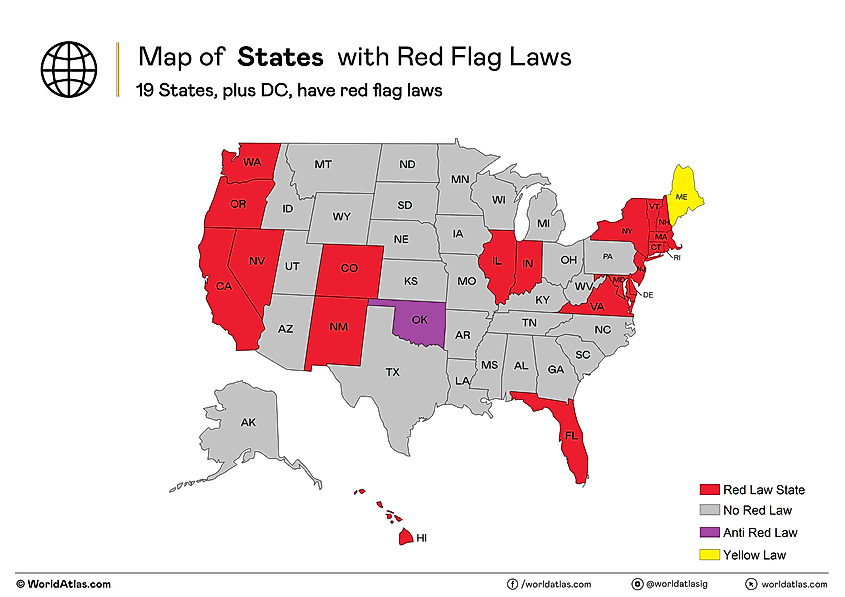 What is A Red Flag Law?
Red flag laws, also known as Extreme Risk Protection Orders (ERPOs), are state laws that permit specific individuals to petition a court to temporarily remove firearms from someone believed to pose a significant risk to themselves or others. These laws aim to prevent potential gun-related tragedies, including mass shootings and suicides.
The primary objective of red flag laws is to identify and act upon warning signs before a violent act takes place. They fill a crucial gap in the legal system by allowing for proactive measures based on evidence of risk rather than waiting for a crime to occur or relying solely on mental health diagnoses. Many tragic incidents involve clear signals or threats beforehand, making these laws a vital preventive tool.
The legislation is intricate, with each state having its criteria for what constitutes a 'red flag.' Typically, the process involves presenting evidence before a judge, who then decides if an order is warranted. If granted, the individual in question must surrender their firearms for a specified period. During this time, they cannot purchase or possess any guns.
Who can petition for such an order varies by state. Common petitioners include law enforcement agencies, as they often encounter situations suggesting an individual may pose a risk. Additionally, family members and household members, recognizing worrisome behaviors or threats firsthand, frequently have the right to petition. In several states, this circle extends to medical professionals, educators, and even colleagues who might notice alarming signs in day-to-day interactions. Some jurisdictions also allow roommates, employers, people with a child in common, or those in a dating relationship to file a petition. Last, certain states have included gun licensing authorities, district attorneys, and school administrators in this list.
Are Red Flag Laws Controversial?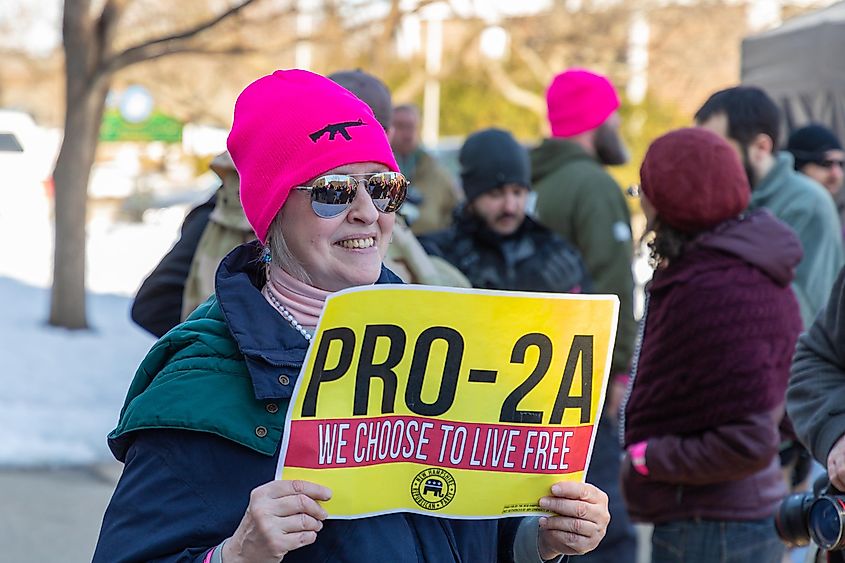 The debate surrounding red flag laws centers on a balance between public safety and individual rights. Proponents argue that these laws are essential tools for preventing gun violence, especially in cases where an individual demonstrates clear signs of being a threat to themselves or others. They posit that with a structured legal process, red flag laws can temporarily remove firearms from potentially dangerous individuals, reducing the likelihood of tragic events.
Opponents, on the other hand, contend that red flag laws infringe upon Second Amendment rights and can be used maliciously to disarm innocent individuals without proper due process. Their primary concern is the potential for these laws to be abused, leading to unwarranted confiscation of firearms based on mere accusations or misunderstandings.
Oklahoma stands out in this debate, having enacted the nation's first anti-red flag law. The Anti-Red Flag Act, as it's known, not only prohibits the state and its subdivisions from implementing red flag laws but also bars them from accepting any funding aimed at enacting such laws. Supporters of this anti-red flag law, like Sen. Nathan Dahm and State Rep. Jay Steagall, emphasize the need to safeguard constitutional rights, particularly the Second Amendment. They argue that red flag laws bypass essential legal protections, leading to potential abuses.
The History of Red Flag Laws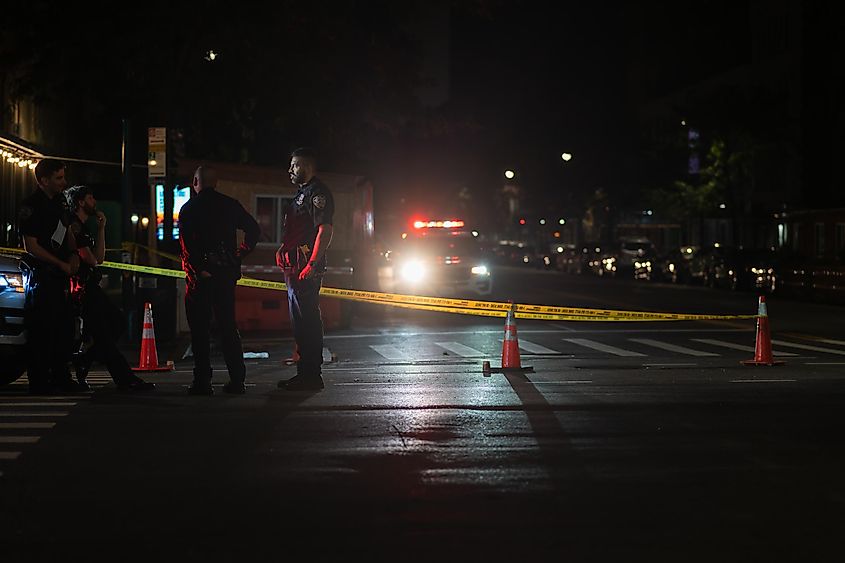 Connecticut was the pioneer, enacting the first red flag law in 1999 following a tragic shooting at the Connecticut Lottery. The early 2000s saw Indiana follow suit, introducing Jake Laird's Law in 2005 after an Indianapolis officer was killed by a mentally disturbed individual. The progression was slow initially, with only California, Washington, and Oregon enacting similar laws between 2014 and 2017.
The Stoneman Douglas High School shooting in Parkland, Florida, in 2018 marked a watershed moment for red flag legislation. The horror of that day spurred a significant number of states to take action. In the immediate aftermath, states such as Florida, Vermont, Maryland, and Rhode Island, among others, established their own versions of red flag laws.
As momentum built, 2019 saw New York adopt a unique approach by allowing educators to petition for ERPOs, recognizing the critical role schools play in identifying potential threats. This was a year of rapid adoption, with Colorado, Nevada, and Hawaii also passing red flag laws. By 2020, Virginia, despite initial resistance, and New Mexico had also joined the ranks.
Interestingly, while many states were quick to embrace these laws, some counties within these states resisted. Colorado became a focal point of this debate, with certain counties declaring themselves "sanctuaries" from such laws. However, the tragic shooting in Colorado Springs in 2022 underscored the urgency and relevance of these protective measures, leading to a reevaluation by many of these counties.
By May 2023, Minnesota and Michigan had also recognized the importance of these laws, becoming the 20th and 21st states, respectively, to enact them.
However, the recent 2023 incident in Lewiston, Maine, serves as a sobering reminder that there is still much work to be done. With U.S. Rep. Jared Golden's apology and the absence of a red flag law in Maine, it is evident that the journey to national consensus and adoption remains ongoing.
Maine's Yellow Flag Law Exception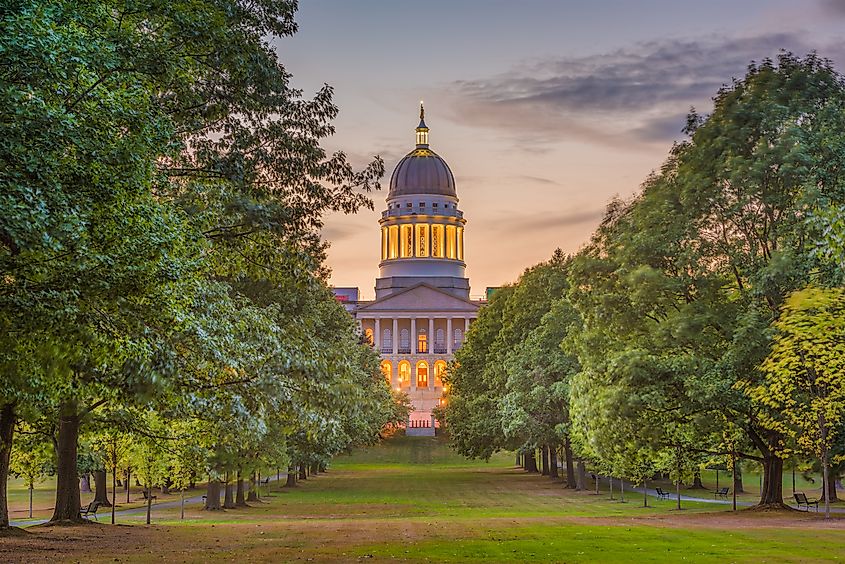 Maine's unique "yellow flag law," distinct from the more common red flag laws in other states, requires a more comprehensive process for addressing concerns about potentially dangerous gun owners. Under this law, if someone, be it a close relative or a police officer, suspects a gun owner is an imminent threat, they report to the police. Local law enforcement then takes the individual into protective custody and mandates a mental health evaluation by a medical expert. Based on the findings, law enforcement may apply for a court order to temporarily remove the individual's guns and suspend their gun license.
Implemented in 2020, the law aims to provide judges with more precise information before making decisions on gun ownership. This contrasts with Massachusetts' red flag law, which allows relatives or roommates to directly apply for an emergency court order to remove guns from a suspected violent threat.
Since its enactment, Maine's yellow flag law has been used 82 times, a statistic that legislators cite as evidence of its effectiveness. However, some gun control advocates argue that Maine's approach, being the only one of its kind in the U.S., places excessive burdens and is less effective in quickly disarming dangerous individuals compared to red flag laws. The 2023 tragedy in Lewiston, Maine, where local law enforcement did not utilize the yellow flag law despite several warnings, highlights the law's limitations and potential for improvement. Shortly after the incident, local mental health advocates publically stated on radio broadcast that a lack of awareness about the law has been a recurring issue for law enforcement.
The Takeaway
Despite the evident benefits that red flag laws might offer in preventing gun violence, not all states have adopted them due to the intense polarization of gun rights in the U.S. Some view them as an obvious solution to a pressing problem, while others see them as an overreach and potential threat to civil liberties. The Oklahoma example highlights the depth of this divide, with some states moving to strengthen gun rights even as others look to impose more restrictions.
Which States Have a Red Flag Law?
| State | Red Flag Law? | Who may petition for an order? |
| --- | --- | --- |
| Alabama | No | — |
| Alaska | No | — |
| Arizona | No | — |
| Arkansas | No | — |
| California | Yes | Law enforcement, immediate family members, employers, coworkers, teachers, roommates, people with a child in common or who have a dating relationship |
| Colorado | Yes | Law enforcement, family/household members, certain medical professionals, and certain educators |
| Connecticut | Yes | Law enforcement, family/household members, and medical professionals |
| Delaware | Yes | Law enforcement and family members |
| Florida | Yes | Law enforcement only |
| Georgia | No | — |
| Hawaii | Yes | Law enforcement, family/household members, medical professionals, educators, and colleagues |
| Idaho | No | — |
| Illinois | Yes | Law enforcement and family members |
| Indiana | Yes | Law enforcement only |
| Iowa | No | — |
| Kansas | No | — |
| Kentucky | No | — |
| Louisiana | No | — |
| Maine | Partial | Law enforcement evaluates and possibly disarms potentially dangerous gun owners. |
| Maryland | Yes | Law enforcement, family members, doctors, and mental health professionals |
| Massachusetts | Yes | Family/household members and gun licensing authorities |
| Michigan | Yes | Law enforcement, family/household members, certain health care providers |
| Minnesota | Yes | Law enforcement and family members |
| Mississippi | No | — |
| Missouri | No | — |
| Montana | No | — |
| Nebraska | No | — |
| Nevada | Yes | Law enforcement and family/household members |
| New Hampshire | No | — |
| New Jersey | Yes | Law enforcement and family/household members |
| New Mexico | Yes | Law enforcement only |
| New York | Yes | Law enforcement, district attorneys, family/household members, school administrators, certain medical professionals |
| North Carolina | No | — |
| North Dakota | No | — |
| Ohio | No | — |
| Oklahoma | No | — |
| Oregon | Yes | Law enforcement and family/household members |
| Pennsylvania | No | — |
| Rhode Island | Yes | Law enforcement only |
| South Carolina | No | — |
| South Dakota | No | — |
| Tennessee | No | — |
| Texas | No | — |
| Utah | No | — |
| Vermont | Yes | States attorneys and the Office of the Attorney General; family/household members |
| Virginia | Yes | Law enforcement and Commonwealth Attorneys |
| Washington | Yes | Law enforcement and family/household members |
| West Virginia | No | — |
| Wisconsin | No | — |
| Wyoming | No | — |
States Ranked By Total Number of Registered Weapons
| State | Number of Registered Weapons |
| --- | --- |
| Texas | 1,006,555 |
| Florida | 518,725 |
| Virginia | 423,707 |
| California | 406,360 |
| Pennsylvania | 348,167 |
| Georgia | 304,124 |
| Arizona | 258,691 |
| North Carolina | 222,166 |
| Ohio | 208,661 |
| Alabama | 194,920 |
| Washington | 165,534 |
| Indiana | 157,546 |
| Louisiana | 152,061 |
| Tennessee | 151,536 |
| Colorado | 149,382 |
| Illinois | 144,749 |
| Wyoming | 142,247 |
| Maryland | 136,257 |
| Arkansas | 133,981 |
| Minnesota | 129,825 |
| New Mexico | 122,968 |
| South Carolina | 119,205 |
| Nevada | 119,007 |
| Utah | 118,408 |
| Missouri | 113,351 |
| Michigan | 109,835 |
| Kentucky | 108,833 |
| Oklahoma | 103,368 |
| New Jersey | 102,228 |
| Oregon | 97,474 |
| Wisconsin | 95,430 |
| New York | 92,191 |
| Mississippi | 80,712 |
| Idaho | 76,425 |
| Connecticut | 74,874 |
| District of Columbia | 74,315 |
| New Hampshire | 72,433 |
| Kansas | 69,850 |
| South Dakota | 64,666 |
| Iowa | 54,178 |
| West Virginia | 50,963 |
| Massachusetts | 45,138 |
| Nebraska | 43,261 |
| Montana | 36,678 |
| North Dakota | 30,975 |
| Alaska | 28,237 |
| Maine | 21,396 |
| Vermont | 9,451 |
| Hawaii | 9,280 |
| Delaware | 6,092 |
| Rhode Island | 4,887 |
| U.S. Territories | 872 |
Source: statista.com