World Facts
Mass Shootings In The US By Total Victims
When it comes to the worse mass shootings in the US, we often thing of the Aurora theater shooting in number of victimes and Columbine High School massacre which changed the United States forever.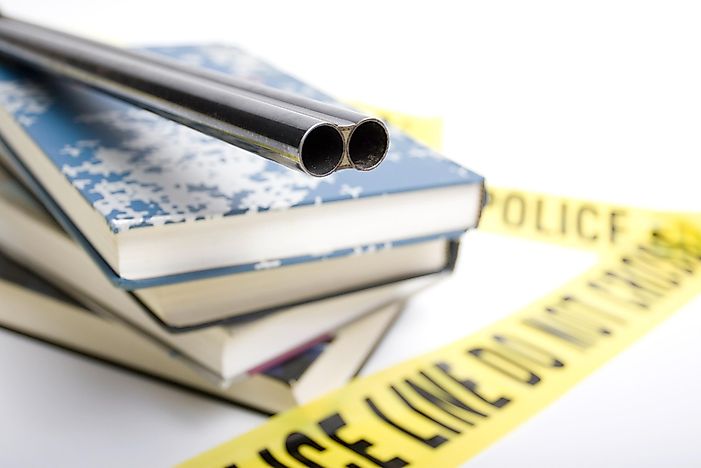 Mass shootings in the U.S have become a common occurrence. Just when people think that they have seen the worst, another happens and in a more devastating fashion. In no other country are there incidences of mass shootings more than the United States. Some people have blamed it on the easy access to guns while others think that bad people have simply found a way to let out their frustrations. Whatever the case, it is apparent that the shootings will continue to happen unless something drastic is done. The assailants have continued to target high crowd areas like schools and theaters where it's easy to get a high number of casualties with minimal resistance because people in these places do not usually carry guns.
Notable Mass Shootings
On June 12, 2016, gunman started shooting inside Pulse, a gay nightclub in Orlando, Florida, United States. The shooting resulted in 50 deaths, including the gunman, and 53 were injured. The attack was the deadliest mass shooting by a single gunman and the deadliest incident of violence against LGBT people in US history.
The shootings have been spread across the United States over the years. From New York to California, different states have had their fair share of mass shootings. The Aurora theater shooting, which happened in Colorado, left 12 people dead and 58 others injured. These people had innocently gone to watch the local premier of the Batman movie "The Dark Knight Rises" only for them to be met with gunshots. It was a sad end to an evening that was meant to be fun-filled and enjoyable.
The attack on Virginia Tech was probably one of the worst incidents in the history of mass shootings in the United States. A student opened fire on fellow students, taking the lives of 33 of them and wounding 23. The attacks were two hours apart and he ended up taking his own life after the second incident. There are many questions that can be asked from this particular incident. First of all, two hours is a very long duration for one person to be shooting up a college without confrontation. Was the law enforcement response time too slow? Didn't the Virginia Tech have its own security personnel to take him down? Weren't there any students brave enough to confront him since even if he had a gun, he was just one person against many?
In the Long Island Rail Road massacre, the shooter killed six passengers and wounded 19 others before being confronted and stopped by the other passengers. He was later sentenced to life in prison. This only goes to prove that if the same had been done in the other schools and colleges shootings, maybe fewer lives would have been lost. The assailants continue to pick on schools and colleges because of the supposed inability by the students to defends themselves. They also take advantage of the ensuing commotion after a couple of shots to get as many targets as possible.
Trends In Mass Shootings
These trends will continue unless school authorities plan their securities in readiness for such happenings. America has had issues with gun control and as the debate for and against continues, the problem seems to be getting out of hand with the number of such incidences on the rise. Is it possible to learn from history and prevent future attacks? Only time will tell.
Mass Shootings In The US By Total Victims
View information as a:
List
Chart
| Rank | Mass Shooting | Fatalities | Injured |
| --- | --- | --- | --- |
| 1 | Orlando nightclub shooting (Orlando, Florida, 2016) | 50 | 53 |
| 2 | Aurora theater shooting (Aurora, Colorado, 2012) | 12 | 58 |
| 3 | Virginia Tech massacre (Blacksburg, Virginia, 2007) | 33 | 23 |
| 4 | Luby's massacre (Killeen, Texas, 1991) | 24 | 20 |
| 5 | Fort Hood massacre (Fort Hood, Texas, 2009) | 13 | 30 |
| 6 | San Ysidro McDonald's massacre (San Ysidro, California, 1984) | 22 | 19 |
| 7 | Columbine High School massacre (Littleton, Colorado, 1999) | 15 | 24 |
| 8 | Stockton schoolyard shooting (Stockton, California, 1989) | 6 | 29 |
| 9 | Newtown school shooting (Newtown, Connecticut, 2012) | 28 | 2 |
| 10 | Thurston High School shooting (Springfield, Oregon, 1998) | 4 | 25 |
| 11 | Air Force base shooting (Fairchild Air Force Base, Washington, 1994) | 5 | 23 |
| 12 | Northern Illinois University shooting (DeKalb, Illinois, 2008) | 6 | 21 |
| 13 | Long Island Rail Road massacre (Garden City, New York, 1993) | 6 | 19 |
| 14 | Atlanta day trading spree killings (Atlanta, Georgia, 1999) | 9 | 13 |
| 15 | Washington Navy Yard shooting (Washington, D.C., 2013) | 13 | 8 |
| 16 | Standard Gravure shooting (Louisville, Kentucky, 1989) | 9 | 12 |
| 17 | United States Postal Service shooting (Edmond, Oklahoma, 1986) | 15 | 6 |
| 18 | Shopping centers spree killings (Palm Bay, Florida, 1987) | 6 | 14 |
| 19 | Tucson shooting (Tucson, Arizona, 2011) | 6 | 13 |
| 20 | Umpqua Community College shooting (Roseburg, OR, 2015) | 9 | 9 |
| 21 | Binghamton shootings (Binghamton, New York, 2009) | 14 | 4 |