World Facts
The Deadliest Mass Shootings In History
The largest mass shooting to ever occur was the Garissa University College Attack, in Garissa, Kenya, in 2014. 148 victims perished in the attack.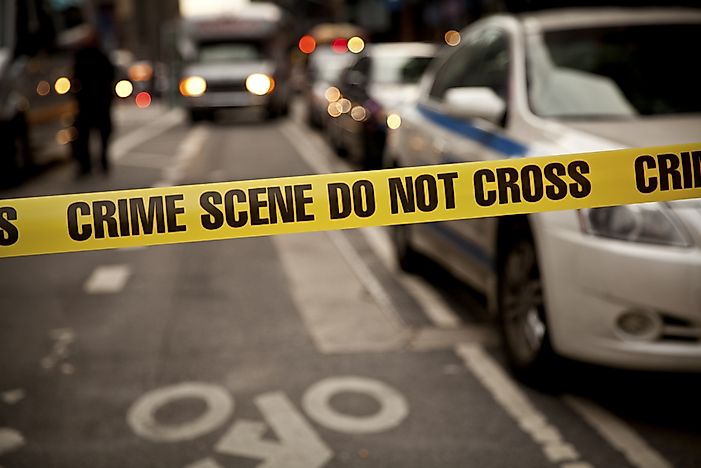 Statistics show that the number of mass shooting victims has increased significantly over the past four decades. In fact, the term "mass shooting" has only emerged in recent decades.
When it comes to dealing with gun massacres, the United States is unique in a very unfortunate way. According to a new study, more public mass shootings occur in the U.S. than in any other country in the world. In fact, more than 90 mass shootings took place in the United States between 1966 and 2012. Mass shootings are defined as shooting events having four or more victims, and do not include slayings or gang killings which involve the death of multiple family members.

Notable Mass Shooting Events
On June 12, 2016, a gunman gunned down 49 people at a gay nightclub in Orlando, Florida, USA. The Orlando nightclub shooting was considered the deadliest mass shooting in the United States until the 2017 Las Vegas Shooting one year later. On the night of October 1, 2017, Stephen Paddock fired over 1,100 rounds into the crowd of the Route 91 Harvest musical festival in Las Vegas, Nevada, USA killing 58 people.
On December 4, 2012, a gunman in Newtown, Connecticut, USA opened fire and killed 27 people, of which 20 of these victims were children aged between 5 and 10 years old, at Sandy Hook Elementary School. The shooting took place at an elementary school, and the gunman committed suicide shortly thereafter. The Sandy Hook Massacre remains the deadliest mass shooting at a grade school or high school in US history.

On Friday afternoon, July 22, 2011, a 2,000-pound home-made fertilizer bomb was planted in a motor vehicle in the central area of Oslo, Norway. The bomb exploded at around 3:30pm local time, scattering debris and rocking Norway's capital. It blew out the windows in proximate government offices, killing 8 people and wounding a dozen others. Rescuers and police quickly rushed to the scene to handle the situation and help out the survivors. Meanwhile, the attacker, Anders Behring Breivik, who had planned the bombing of the city ahead of time, headed for Utova, a small island that lies approximately 25 miles northwest of Oslo. At that time, a youth camp was being held by members of a Norwegian political party. Armed with an automatic rifle, he entered the grounds hosting the event and started shooting campers. He killed a total of 77 people.
In 1996, Martin Bryant entered a café on a historic penal colony site at Port Arthur in Tasmania, Australia. After taking his lunch, the 28-year old pulled out a semi-automatic rifle from his bag and started a shooting spree. By the time he was arrested the following morning, he had killed 35 people and wounded 23 others. The event made Bryant the worst mass-murderer in Australian history.
In April 2007, 23-year old Seung-Hui Cho murdered 32 people on the Virginia Polytechnic Institute and State University campus in Blacksburg, Virginia, USA. He later took his own life, and the event lives in infamy as the "Virginia Tech Massacre".
In a 14-hour shooting rampage, Genildo Ferreira de Franca, a former army soldier, terrorized Sao Gancalo do Amarante, a small town in the interior of Rio Grande do Norte, Brazil. In a systematic way, he left 17 people dead over the course of this personal vendetta. After the police surrounded him, he released his own five-year-old daughter and Valdenice Ribeiro da Silva, and then killed himself.
Future Outlook
Over the last five decades, mass shootings have become an important (and very controversial) issue for many developed countries having to deal with this terrible problem. According to a Gallup Survey was carried out in the U.S. in January of 2014, approximately 40 percent of the Unites States populace responded that they were completely satisfied with the gun laws in place at that time. Contrarily, 31 percent of the poll's respondents stated that they were not content with the laws in place, and desired stricter firearms regulation.
The Deadliest Mass Shootings In History
| Rank | Name | Location | Year | Victims |
| --- | --- | --- | --- | --- |
| 1 | Garissa University College Attack | Garissa, Kenya | 2015 | 148 |
| 2 | Peshawar School Massacre | Peshawar, Pakistan | 2014 | 149 |
| 3 | November 2015 Paris Attacks | Paris, France | 2015 | 130 |
| 4 | 2011 Norway Attacks | Oslo, Norway | 2011 | 77 |
| 5 | Westgate Shopping Mall Attack | Nairobi, Kenya | 2013 | 67 |
| 6 | 2017 Las Vegas Shooting | Las Vegas, Nevada, USA | 2017 | 58 |
| 7 | South Korea Shooting of 1982 | Uiryeong County, South Korea | 1982 | 56 |
| 8 | 2016 Orlando Nightclub Shooting | Orlando, Florida, USA | 2016 | 49 |
| 9 | Sousse Beach Mass Shooting | Sousse, Tunisia | 2015 | 38 |
| 10 | Port Arthur Masacre | Port Arthur, Tasmania, Australia | 1996 | 35 |
| 11 | Virginia Tech Shootings | Blacksburg, Virginia, USA | 2007 | 32 |
| 12 | Tian Mingjian Incident | Beijing, China | 1994 | 28 |
| 13 | Sandy Hook Massacre | Newtown, Connecticut, USA | 2012 | 27 |
| 14 | Sutherland Springs Church Shooting | Sutherland Springs, Texas, USA | 2017 | 26 |
| 15 | Kampala Wedding Massacre | Kampala, Uganda | 1994 | 26 |
| 16 | Luby's Shooting | Killen, Texas, USA | 1991 | 23 |
| 17 | San Ysidro McDonald's Massacre | San Ysidro, California, USA | 1984 | 21 |
| 18 | 2015 Bamako Hotel Attack | Bamako, Mali | 2015 | 20 |
| 19 | 2010 Chihuahua Shootings | Chihuahua, Mexico | 2010 | 19 |
| 20 | University of Texas Tower Shooting | Austin, Texas, USA | 1966 | 18 |
| 21 | Dunblane Massacre | Dunblane, Scotland, UK | 1996 | 17 |
| 22 | Erfurt School Massacre | Erfurt, Germany | 2002 | 17 |
| 23 | Stoneman Douglas High School Shooting | Parkland, Florida, USA | 2018 | 17 |
| 24 | Hungerford Massacre | Hungergord, Berkshire, UK | 1987 | 16 |
| 25 | Winneden School Shooting | Winnenden, Germany | 2009 | 16 |
| 26 | Columbine High School Massacre | Columbine, Colorado, USA | 1999 | 15 |
| 27 | Edmond Post Office Shooting | Edmond, Oklahoma, USA | 1986 | 15 |
| 28 | Toulon France Shooting | Toulon, France | 1995 | 15 |
| 29 | Zug Massacre | Zug, Switzerland | 2001 | 14 |
| 30 | Luxiol Massacre | Luxiol, France | 1989 | 14 |
| 31 | 2015 San Bernandino Attack | San Bernardino, California, USA | 2015 | 14 |
| 32 | École Polytechnique massacre | Montreal, Quebec, Canada | 1989 | 14 |
| 33 | Pashupatinath Temple Shooting | Mandsaur, India | 1983 | 14 |
| 34 | Aramoana Massacre | Aramoana, New Zealand | 1990 | 13 |
| 35 | Fort Hood Shooting | Fort Hood, Texas, USA | 2009 | 13 |
| 36 | Binghamton Shootings | Binghamton, New York, USA | 2009 | 13 |
| 37 | Baku Shooting | Baku, Azerbaijan | 2009 | 13 |
| 38 | Velika Ivanča Shooting | Velika Ivanča, Serbia | 2013 | 13 |
| 39 | Kamwenge Trading Centre Shooting | Kamwenge, Uganda | 1994 | 13 |
| 40 | Aurora Shooting | Aurora, Colorado, USA | 2012 | 12 |
| 41 | 1999 Atlanta Shooting | Atlanta, Georgia, USA | 1999 | 12 |
| 42 | Rio de Janeiro School Shooting | Rio de Janeiro, Brazil | 2011 | 12 |
| 43 | Campinas Massacre | Campinas, Brazil | 2016 | 12 |
| 44 | Cumbria Shootings | Cumbria, England, UK | 2010 | 12 |
| 45 | Charlie Hebdo Shooting | Paris, France | 2015 | 12 |
| 46 | 2011 Rio de Janeiro School Shooting | Rio de Janeiro, Brazil | 2011 | 12 |
| 47 | Washington Navy Yard Shooting | Washington, D.C., USA | 2013 | 11 |
| 48 | Geneva County Massacre | Geneva County, Alabama, USA | 2009 | 10 |
| 49 | Bombo Shooting | Bombo, Uganda | 2013 | 10 |
| 50 | Kauhajoki School Shooting | Kauhajoki, Finland | 2008 | 10 |