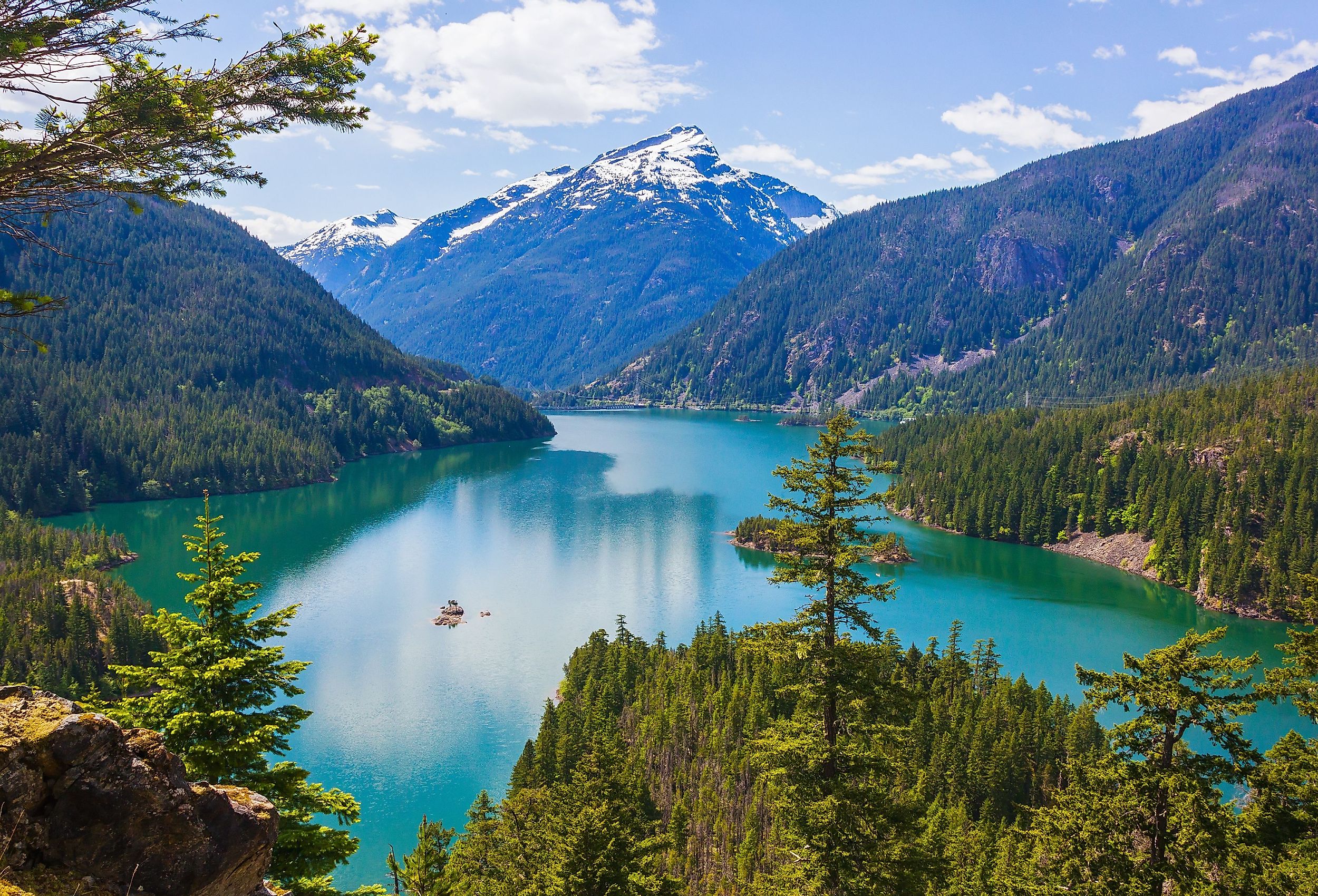 15 Most Underrated US National Parks
There are 423 National Parks scattered across the United States, spanning more than 84 million acres of land. There are 63 parks designated protected areas operated by the National Park Service. With so much beauty to explore, it can be overwhelming to decide what is up next on your bucket list. Once you check some of the most popular parks off your list, like Yosemite, Grand Canyon, or Yellowstone, it is time to pay a visit to some of the more underrated, but just as beautiful parks. Discover the 15 most underrated US National Parks so you can begin planning your next trip.
Glacier Bay National Park and Preserve, Alaska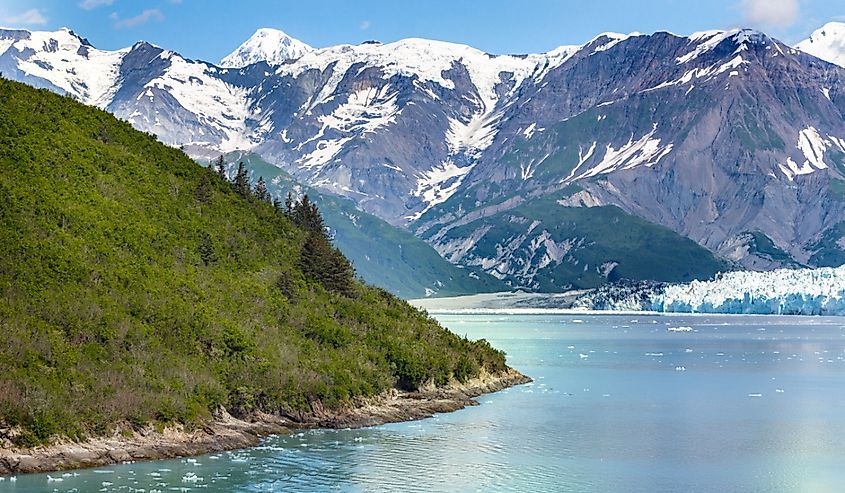 Glacier Bay National Park and Preserve is home to breathtaking glaciers, mountains, wildlife, history, and more. The marine park offers boat rides to coves and harbors with scenic views of snow-capped mountains, sparkling glaciers, and an evergreen forest. Glacier Bay is the homeland of the Huna Tlingit, who share ancient stories of the beauty that lies in the land. It is also a living laboratory, existing as a sanctuary for wildlife, holding evidence of glacial movements, and revealing changes that may occur in the future for the earth. 
You can pay a visit to Glacier Bay on a cruise ship, traveling deep into the Fairweather Mountains, watching the water for icebergs and glaciers, and the shoreline for wildlife, including bears, seabirds, and mountain goats. The region is rainy and cool, so come prepared with rain gear and warm clothing!
Black Canyon of the Gunnison National Park, Colorado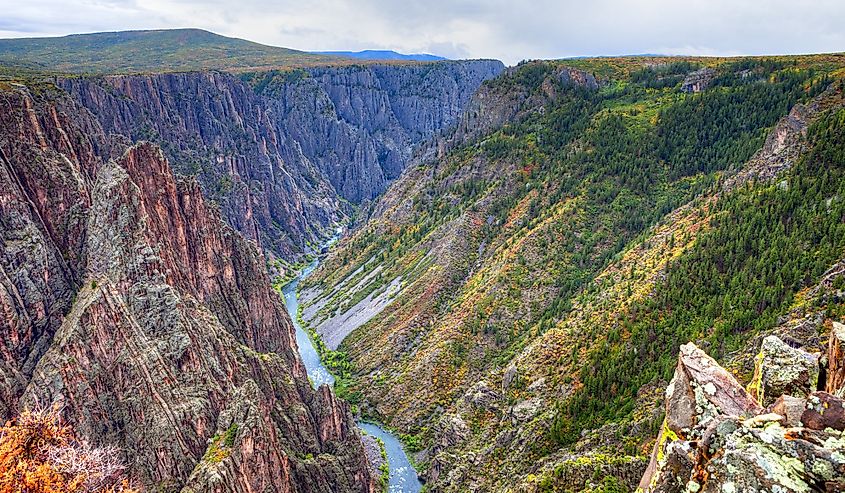 Black Canyon of the Gunnison National Park is home to the oldest rock formations and steepest cliffs in North America. Over two million years, the Gunnison River naturally eroded the volcanic rock left over from an eruption from 30 million years ago. It cut a deep canyon in the metamorphic rock, creating an all-encompassing scene to behold. 
Black Canyon of the Gunnison National Park is also an International Dark Sky Park, meaning it is a great spot for astronomy lovers and anyone interested in star gazing. There are also a number of hiking trails, with views of unique plant life and wildlife. The South Rim offers a scenic drive in the summer months, and in winter, bundle up and go cross-country skiing or snowshoeing.
White Sands National Park, New Mexico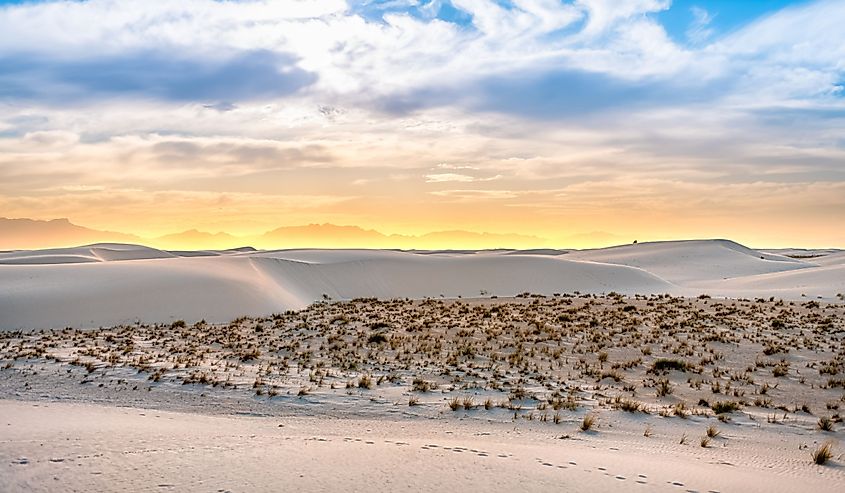 White Sands National Park, New Mexico, is one of the world's great natural wonders. The gypsum sand dunes resembling waves cover 275 square miles of the desert, making it the largest gypsum dune field in the world. You can choose to hike, drive, or bring your bike and cycle through the lovely landscape. As much as the dunes look like snow, they behave like it too. Buy a sled at the park's gift shop and go for a ride! The ever-changing dunes are perfect for landscape photography, too.
The enchanting location sits between the Sacramento and San Andres Mountain ranges, so there are plenty of things to discover. There are ten backcountry campgrounds, ideal for a unique camping experience and you can check out the nearby towns of Alamogordo and Las Cruces for a scrumptious meal.
Big Bend National Park, Texas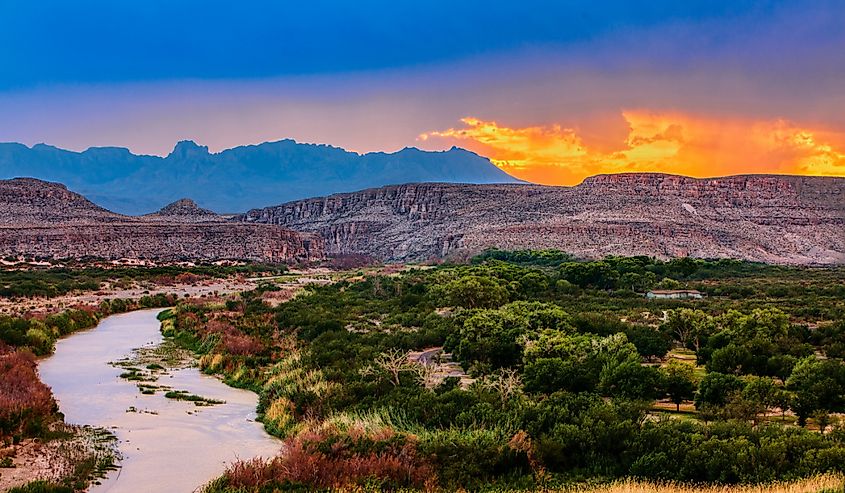 Situated in west Texas, Big Bend National Park offers everything from twinkling night skies for camping trips to warm daytime hikes. Boasting wide open spaces, the park features beautiful flowing rivers, vast canyons, and admirable ancient limestone. There are also hundreds of bird species scattered across the mountain range, so be sure to bring your binoculars for bird-watching!
When visiting Big Bend you can either extend your stay in one of the four campgrounds, backpack through the wilderness and opt for primitive camping, or pay a visit to the Chisos Mountains Lodge. For a scenic drive, the Chihuahuan Desert landscape will not disappoint.
Saguaro National Park, Arizona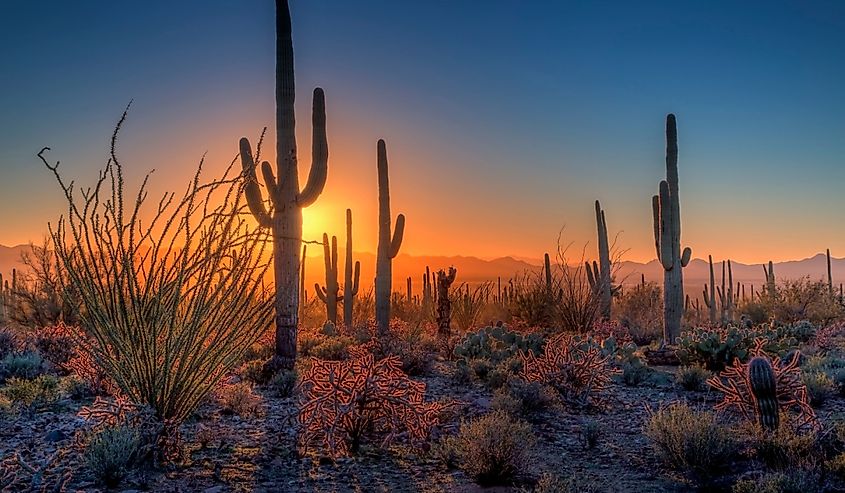 Arizona is best known for the vast, subtropical Sonoran desert, which is home to Saguaro National Park. Surrounding Tuscon, the park earns its name from the large Saguaro cactus, which grows naturally in the area. To indulge in a little history, the Signal Hill Trail in the Tucson Mountain district leads to petroglyphs of the ancient Hohokam people.
The Rincon Mountain District boasts beautiful pine forests and campsites that are perfect for backpacking trips. There are numerous trails available for mountain biking, hiking, and even horseback riding, ideal for taking in the beauty of the desert and mountain ranges. The Cactus Forest Scenic Loop drive is a great way to spend an afternoon, identifying all the different cacti scattered throughout the desert.
Lassen Volcanic National Park, California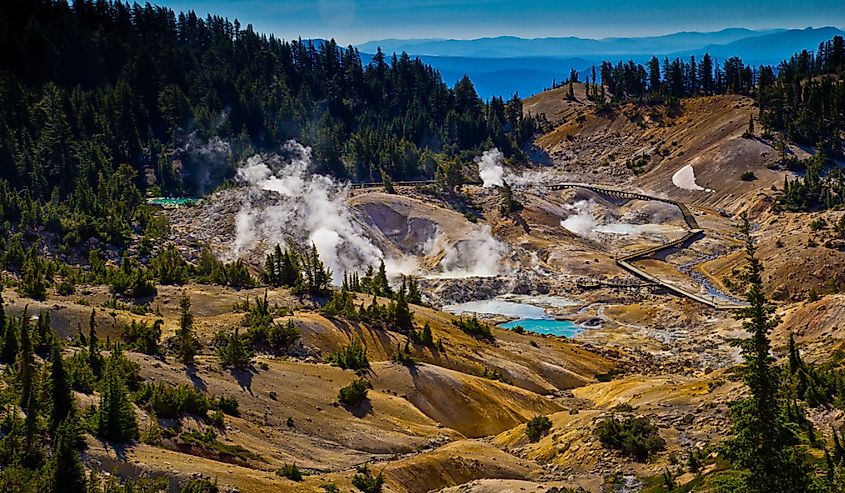 Lassen Volcanic National Park is home to a diverse landscape, ranging from the massive peaks that tell tales of eruptions from long ago, to meadows reminiscent of fairy tales, and sparkling mountain lakes. It is the perfect winter locale for skiing or snowshoeing and enjoying the snow-peaked mountain range.
If you visit in the summer, traverse through the many hiking trails within the forest, enjoying the many lakes and rivers that run through the area. For a longer stay, pay a visit to Lassen's historic guest ranch. Make sure you bring a telescope since the night sky is especially beautiful after sundown!
Great Basin National Park, Nevada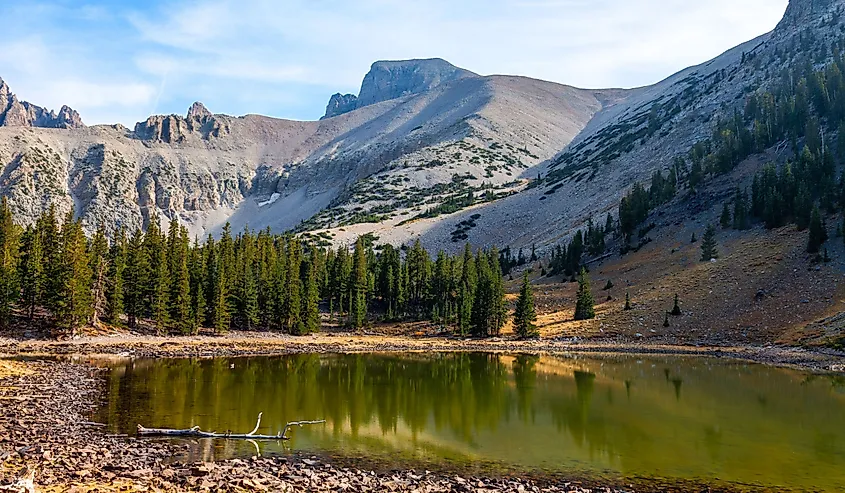 Great Basin National Park is a unique experience, painted with the 13,063-foot summit of Wheeler Peak, tranquil wilderness, and twinkling night skies. There are a variety of tours year-round, whether you want to wander through the Lehman Caves and learn all about the ecology and geology of the area or ski and snowshoe through the backcountry.
For adventurous visitors, a stay at the Grey Cliffs Campground is a must. Stargazing is a popular activity in the area since the night skies are so clear, perfect for a family trip or a romantic getaway. While in the area, be sure to hike the Timber Creek Loop Trail for stunning mountain views.
Shenandoah National Park, Virginia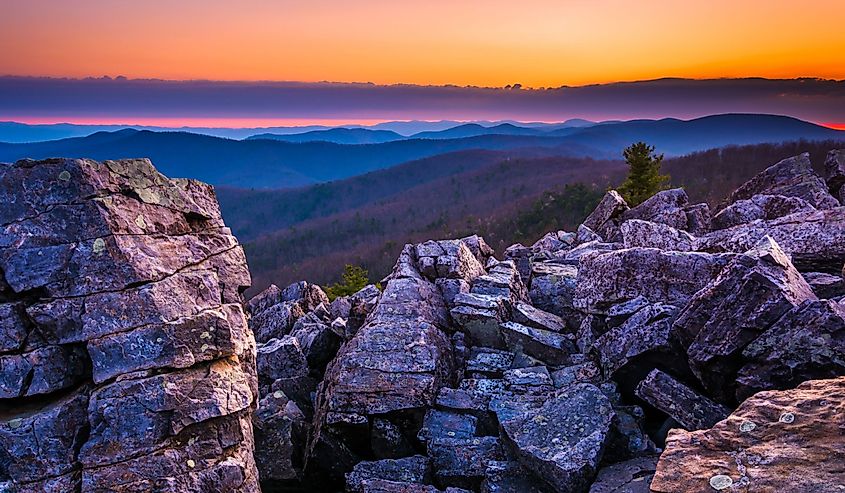 Found in the Shenandoah Valley, Shenandoah National Park stretches along the Blue Ridge Mountains. The hiking trails are just as scenic as the drive along the Blue Ridge Parkway, where you can go for a stroll through the woods or find yourself on a multi-day camping and hiking trip.
Apart from beautiful views of the valley, you will also find plenty of wildlife and spots to swim or canoe, so be sure to bring your binoculars and a swimsuit! Plus, you can stay in one of the nearby towns, enjoying the perks of the hiking trails and the charm and history of the towns. The park is just 75 miles from Washington, DC, so you can check out the unique monuments of the city and then traverse through the beauty of the National Park.
North Cascades National Park, Washington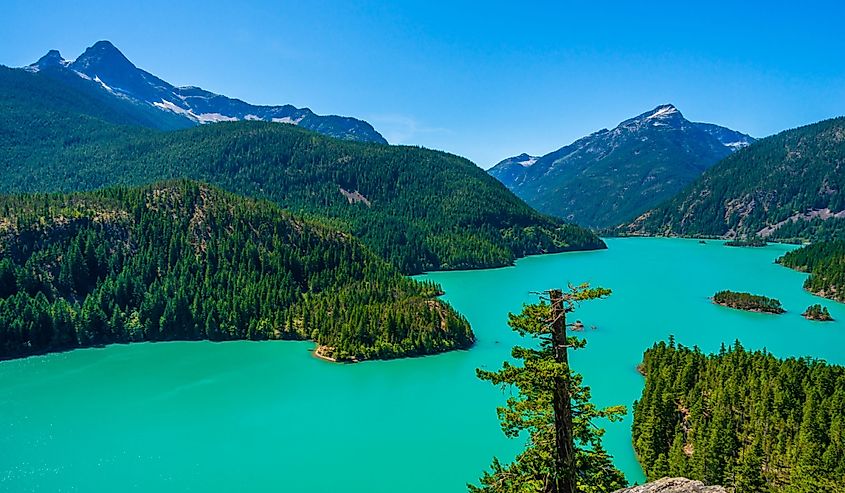 Situated only a few hours outside of Seattle, North Cascades National Park offers an enchanting alpine landscape. You will find a plethora of encapsulating scenes, ranging from massive glaciers to wide valleys and flowing bodies of water. The Stehekin Valley is one of the most beautiful sights and it is only accessible by boat, foot, or plane, perfect for a truly secluded experience.
While you should beware of avalanches in winter, the park offers a captivating experience for winter camping. Otherwise, you can visit during the warmer seasons and check out one of the many campsites. Enjoy boating through the glistening waters and hiking through the North Cascades, taking in the surrounding scenery.
Rocky Mountain National Park, Colorado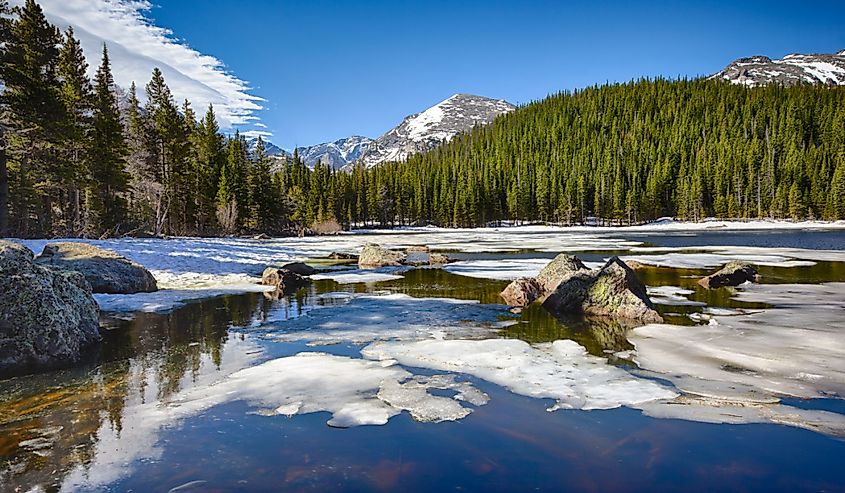 Over 415 square miles, the Rocky Mountain National Park features a plethora of mountain ranges, tranquil meadows, and alpine lakes. There are also over 350 miles of hiking trails where you will find views of waterfalls and spectacular landscapes.
You can choose between all-day hikes and lengthier excursions, whether you want to spend a weekend in a small town nearby or camp in one of the many campgrounds throughout the park. And if you would like to add to your hiking trip, you can go for a scenic drive along Trail Ridge Road, enjoying the views and wildlife. Bring along a pair of binoculars and keep your eyes peeled for elk, sheep, and deer!
Carlsbad Caverns National Park, New Mexico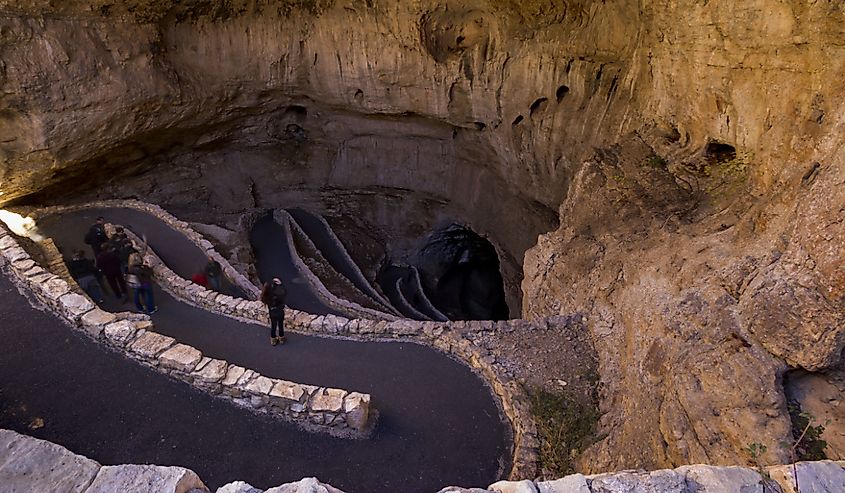 You will find Carlsbad Caverns National Park in the Chihuahuan Desert of southern New Mexico. The natural entrance leads to the Carlsbad cavern itself, but there are over 100 different caves scattered throughout the park. The location is also peppered with ancient sea ledges, canyons, and desert cacti and wildlife.
You can choose to wander the caverns on your own or opt for a guided tour. Either way, you can traverse through and enjoy the cave formations. You can also opt for surface hiking trails, such as the Guadalupe Ridge Trail. Remember to bring lots of food, water, and emergency kits to withstand the warmth of these hikes! On top of that, you can sign up for the Dawn of the Bats Program and watch thousands of bats return to Carlsbad Cavern in the early morning.
Virgin Islands National Park, St. John Island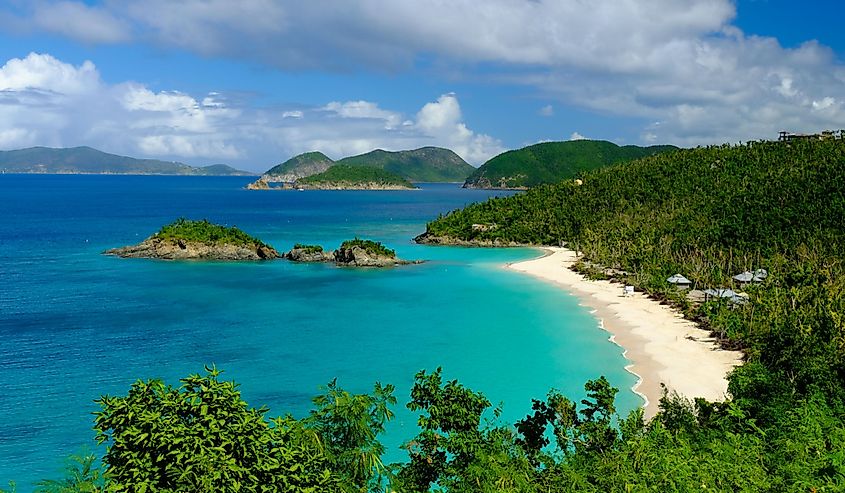 White sand beaches lie at the heart of Virgin Islands National Park, perfect for lounging, sunset views, snorkeling, long walks, and fun in the sun. The park is also sprinkled with historic plantation sites, which visitors can hike to if they choose. On top of that, there are ancient petroglyphs from the Indigenous Taino people.
Two-thirds of St. John Island is a national park, so there is plenty to see and do. You can access more private areas by hiking through the park and enjoying secluded beaches like Salomon/Honeymoon Bay. You can also boat to the different beaches lining the park, taking in the crystal clear waters and beautiful marine life.
Sequoia National Park, California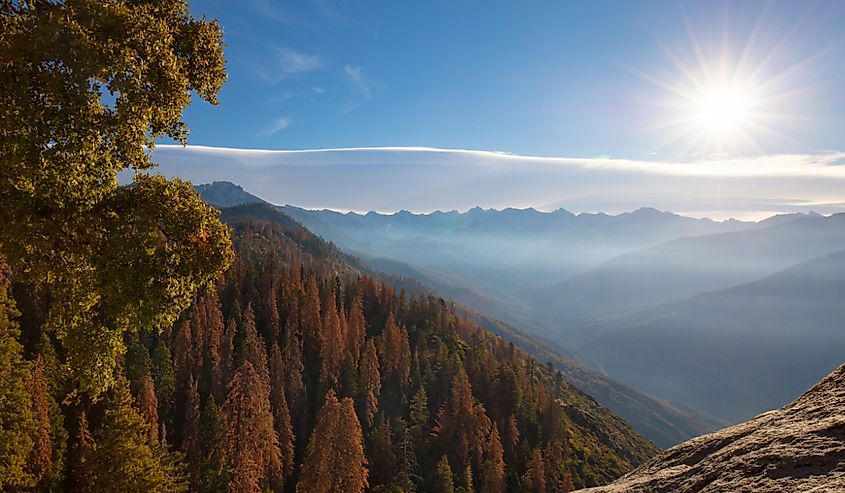 Sequoia National Park in California is full of ancient towering sequoia trees that are sure to take your breath away. You can also spend days hiking along trails that traverse through the mountains, canyons, and caverns. There are a range of activities for all different seasons, whether you want to climb Moro Rock, go day hiking, or check out spectacular viewpoints and watch the wildlife.
Enjoy everything from a peaceful sunset to a woodsy stroll, to soundscapes and rivers. There are lodging and camping locations as well, so visitors can make a weekend getaway out of this hiking trip. You can also check out the Giant Forest Museums, which offers a variety of exhibits and a gift shop.
Congaree National Park, South Carolina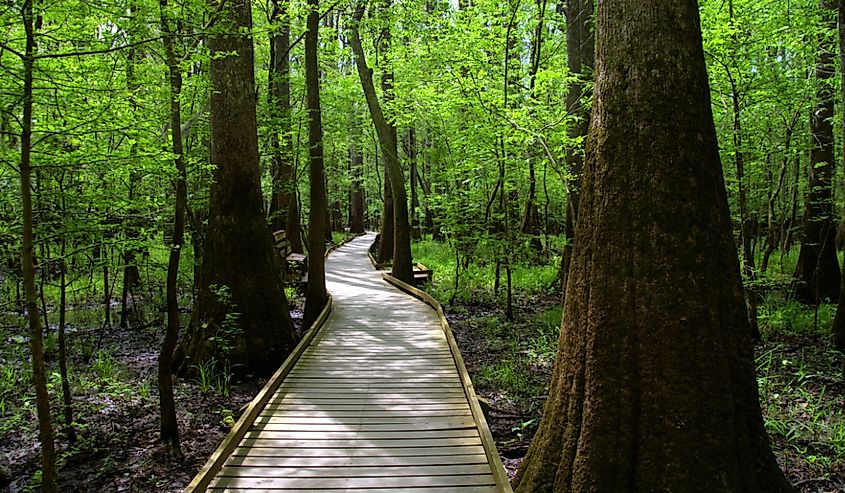 Situated in South Carolina, Congaree National Park offers plenty in terms of beauty, wildlife, and rejuvenating waters. It is also home to the largest amount of old-growth bottomland hardwood forest in the United States. The Congaree and Wateree Rivers run through the area, carrying the necessary nutrients to keep the bottomland hardwood healthy, as well as the state-champion trees.
The park is the best place to canoe, kayak, and enjoy a day of hiking all in one place. You can also fish and paddle through the 50-mile designated recreational paddle trail. Extend your stay in the park's primitive campgrounds or in the wild backcountry. The region also has a fascinating history, so do not forget to read about the last 10,000 years while you are there.
Voyageurs National Park, Minnesota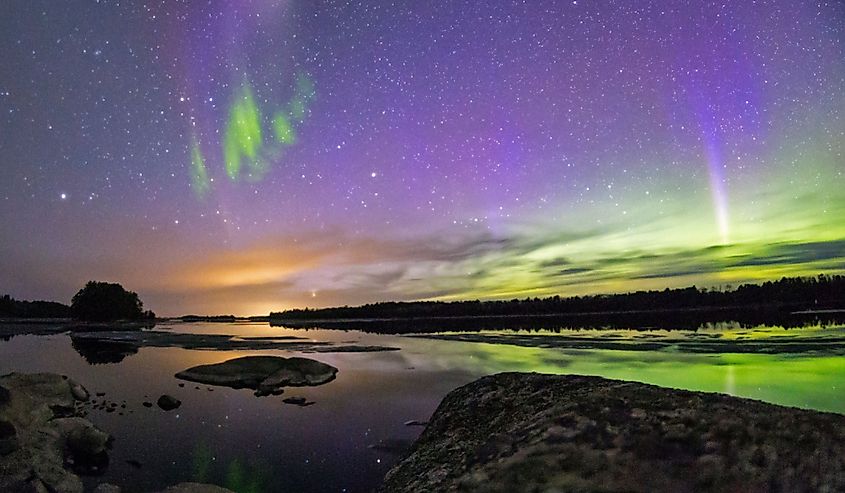 Voyageurs National Park is in Northern Minnesota, a short jaunt away from the Canadian border. The area is best known for the Rainy, Kabetogama, and Namakan lakes, alongside the Ellsworth Rock Gardens, which are a series of abstract sculptures created by artist Jack Ellsworth. 
The exposed rock ridges and cliffs add texture to the enchanting landscape while the southern boreal and northern hardwood forests are both a sight to behold and exciting to traverse through. You can also rent different watercraft and boats and enjoy a day out on the beautiful lakes. If you intend to camp in the area, remember that the campsites require some sort of watercraft for access and the lakes typically freeze up in November.
Skip the crowds and line-ups and pay a visit to one of these underrated US National Parks. Whether the vast mountainscape and chilly weather of Alaska call your name or the warmth and sandy views of New Mexico are more your speed, these beautiful locations are chock full of things to see and do. No matter which US National Park you choose, adventure awaits.