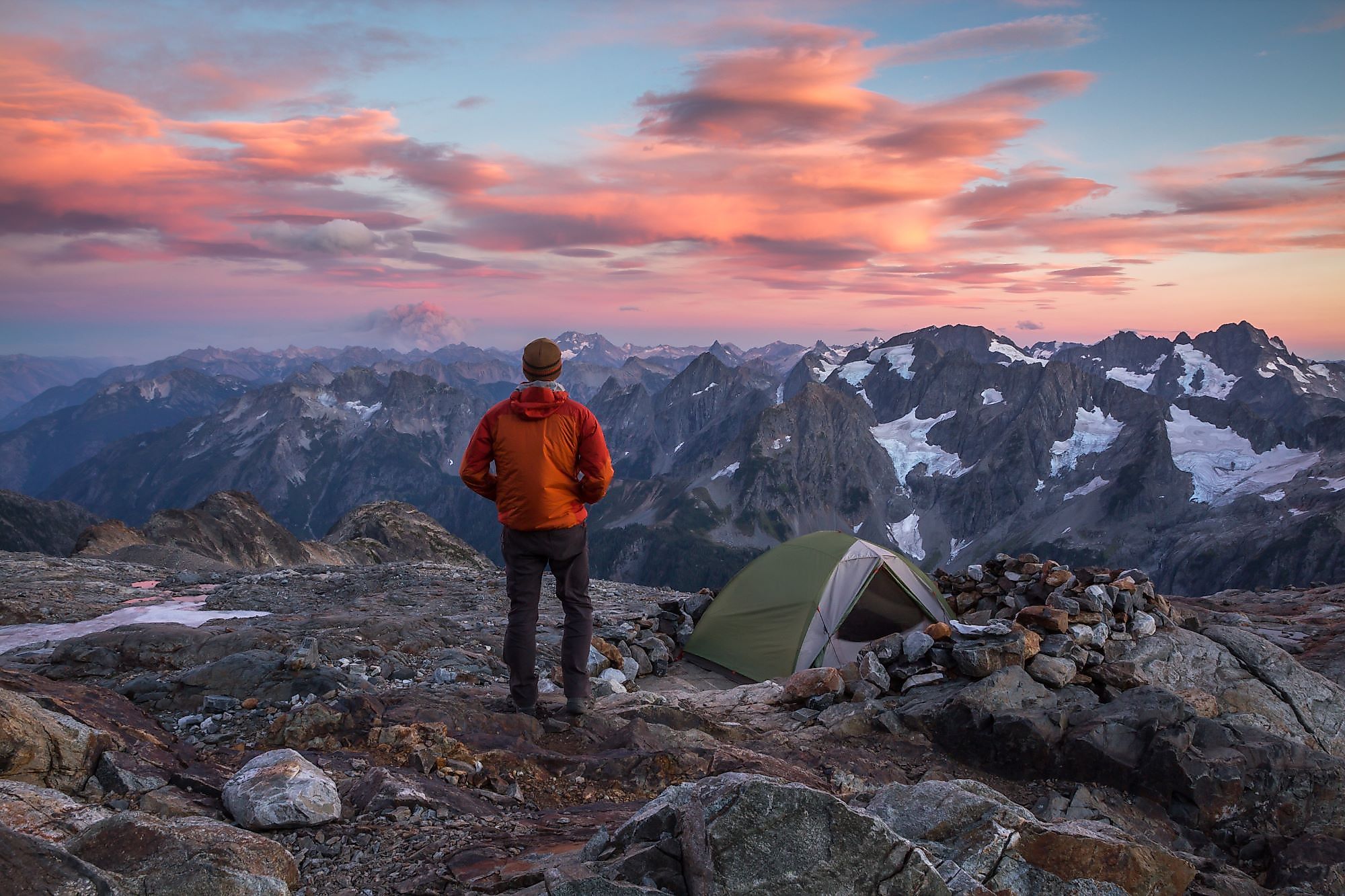 North Cascades National Park 
The North Cascades National Park is located in Washington, United States, and is often passed over in favour of more famous local parks such as Mount Rainier and Olympic National Parks. Despite its lesser-known status, North Cascades is a true hidden gem, offering an abundance of Washington nature and wildlife for those in the know. Renowned Canadian author Jack Kerouac even spent time in the park, staying in a remote cabin on Desolation Peak and drawing inspiration for his writing from the beauty and remoteness of the wilderness around him.
The park covers roughly 2,042.26 sq.km of mountains, glaciers and lakes. North Cascades is actually home to the most glaciers - more than 300 - of any national park aside from those in Alaska, United States. As the park is only about three hours outside of the major city of Seattle, it is a great destination for tourists and those looking to get away from the hustle and bustle of urban life.
Landscape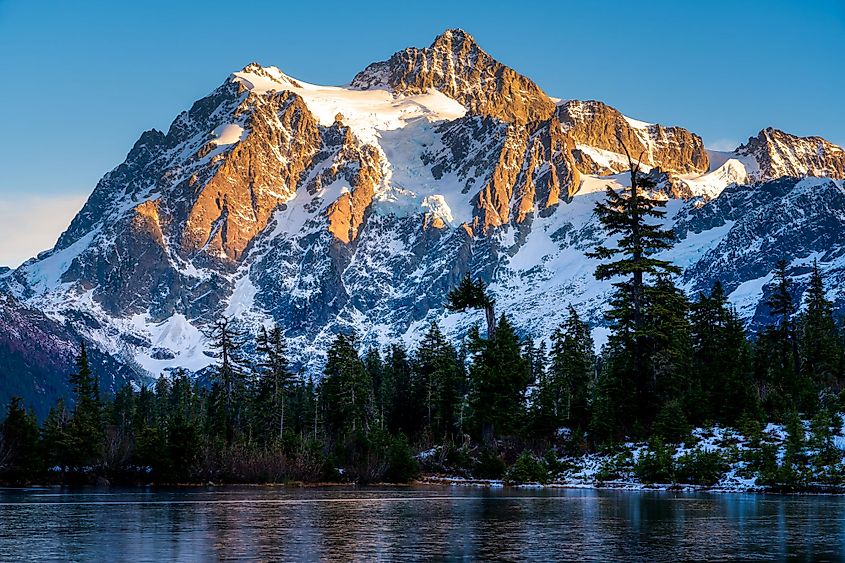 The park area covers the counties of Whatcom, Skagit, and Chelan. North Cascades sits at an elevation of 3,286 meters, with its highest point being the prominent Mount Baker. This mountain is part of the Cascade Range, which runs along the border between Washington State and the Canadian province of British Columbia. This impressive range is sometimes referred to as the 'North American Alps" for its size and splendor. The 'cascade' portion of the mountain range's name comes from the abundance of waterfalls that can be found in and among the steep rock cliffs.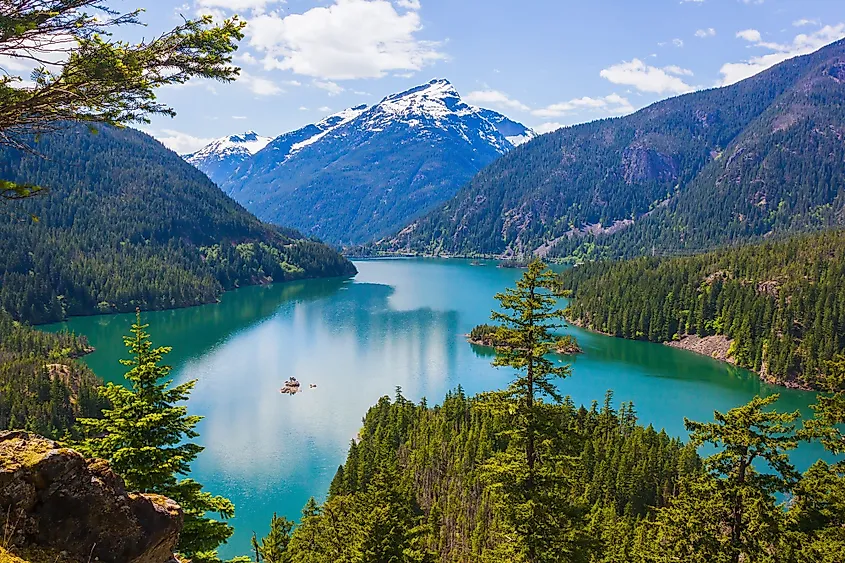 The peaks of the mountain range rise up in steep slopes from the dense forest valleys and lakes below, as well as areas of subalpine meadows. This wild and unspoilt terrain is very popular with hikers and mountain climbers seeking time in the wilderness. The lakes and streams in the area are bright and crystal blue, as many are fed from glacial runoff, which has minerals that give off a sparkling and often turquoise hue. The most prominent body of water in the park is Lake Chelan, which is roughly 80 kilometers long and sits at 335 meters above sea level.
Flora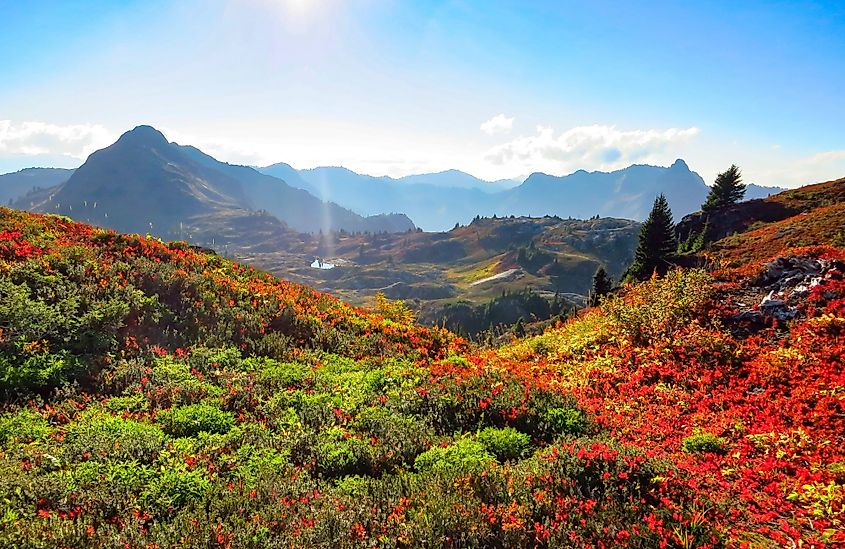 The North Cascades, and much of Washington State, is rich in vegetation and old growth forests. Changes in elevation, rock, and soil composition have created an extremely diverse assortment of plants. An estimated 1,630 species of vascular plants can be found here, and the park itself contains eight different life zones. In fact, The North Cascades National Park has the highest level of plant diversity than any of the National Parks in the United States.
Similarly, the precipitation levels - and therefore the vegetation - differs greatly within the park, from the eastern side to the western side. In the west, precipitation is high, and there is considerably more rain and snow. Because of this, forest giants such as hemlocks, Douglas fir, and western red cedars grow in abundance. On the eastern side of the slopes, and around Lake Chelan's head, precipitation level decreases exponentially, and the vegetation changes to mainly arid-type plants like Ponderosa pine and sagebrush. 
The high moisture areas also have a large number of ferns, which thrive in damp and shaded areas, like the floor of dense forests. Ferns are extremely common in the North pacific regions, and are some of the most ancient types of plants. Common types of ferns in North Cascades include the Sword, deer, licorice, lace, parsley, maidenhair, bracken, lady, oak and wood ferns.Additionally, around 150 different types of grasses - including sedge and rushes - grow in North Cascades, as well as various lichens like lungwort and Old-man's-beard. Wildflowers, too, are common in most parts of the park, from forest floors to alpine meadows and include species such as salmonberry, Indian plum, and red-flowering currant. 
Fauna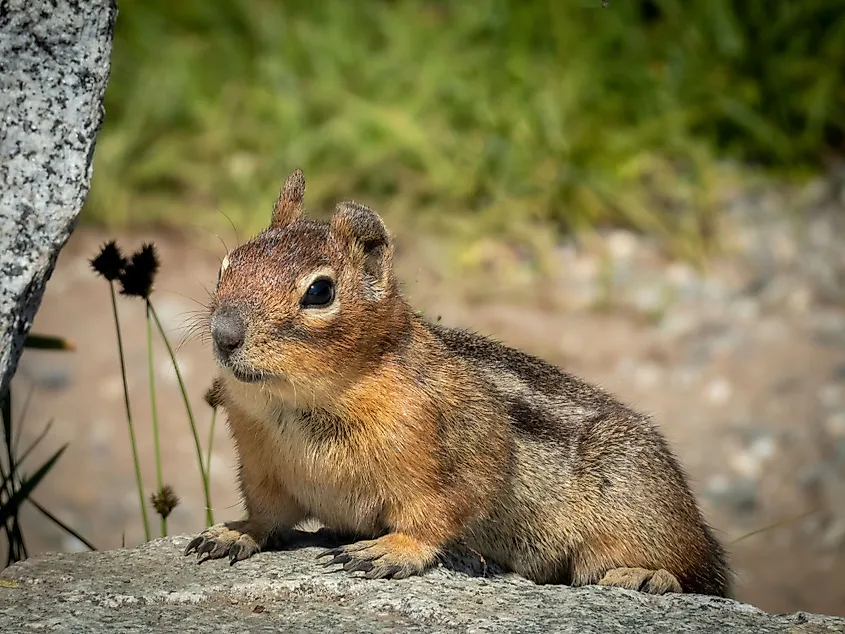 The rich diversity of life zones and vegetation means that there is also a large variety of animals and wildlife in the park. Some 75 or so species of mammals reside here, as well as 200 types of birds, 21 species of reptiles, 500 types of land insects and 250 aquatic invertebrates. Some of the most impressive species include the gray wolf, fisher, and wolverine. Though present, these species can be harder to find in part due to their smaller numbers, but also their elusive behaviour. Black tailed deer are more common, and can be seen in meadows and valleys, while douglas squirrels and pikas are almost unmissable. The park does also have some grizzly bears, which visitors should be mindful of when hiking or camping in the area. These wild giants are impressive but are best viewed only at a distance. Some of the remarkable bird species in the area include bald eagles, osprey and harlequin ducks. 
Though the park is not visited nearly as much as its famous Washington State neighbours - North Cascades gets roughly 30,000-60,000 per year - it is truly a hidden gem of a National Park. Full of life and wilderness, this remote oasis is ideal for anyone looking to break off the common path and absorb nature in all its untouched glory.