10 Largest National Parks In The United States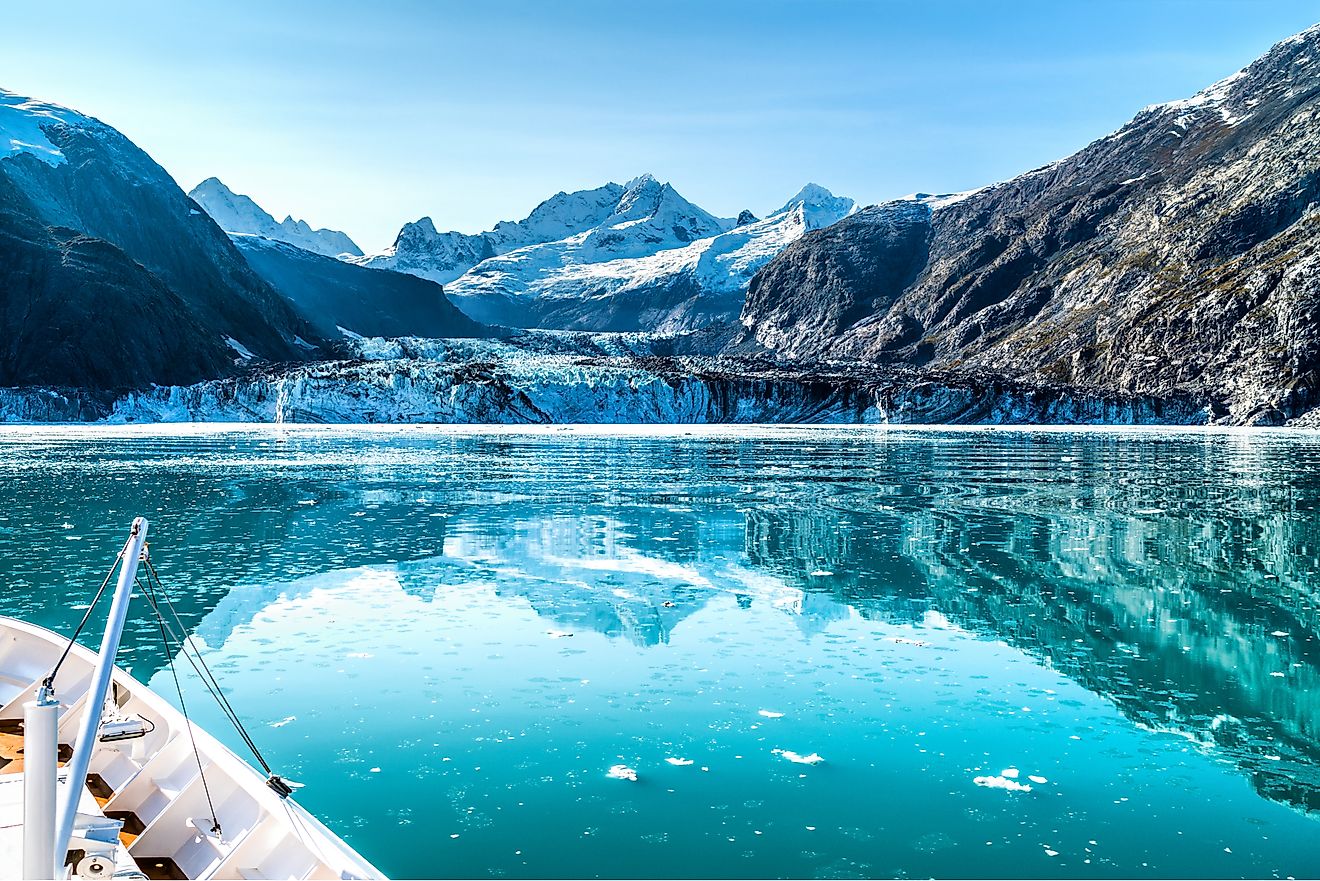 The United States has 62 national parks.
Yellowstone National Park is the oldest, established in 1872.
National Parks are established to protect unique and diverse landscapes as well as the ecosystems they house.
The United States has 62 national parks on its territory, which are maintained by the National Park Service. These parks were created to conserve the natural landscape, protect the ecosystems for the plants and animals that live in the parks, and to allow the population to enjoy nature, sightseeing and physical activity. 
For it to be a national park, the establishment of the park must be passed by the US Congress. Because of this, national parks are usually sites with unique, vulnerable wildlife or magnificent natural views. 
Largest National Parks in the US
Here are the ten largest national parks in the US:
1. Wrangell-St. Elias, Alaska (33,682.60 square km)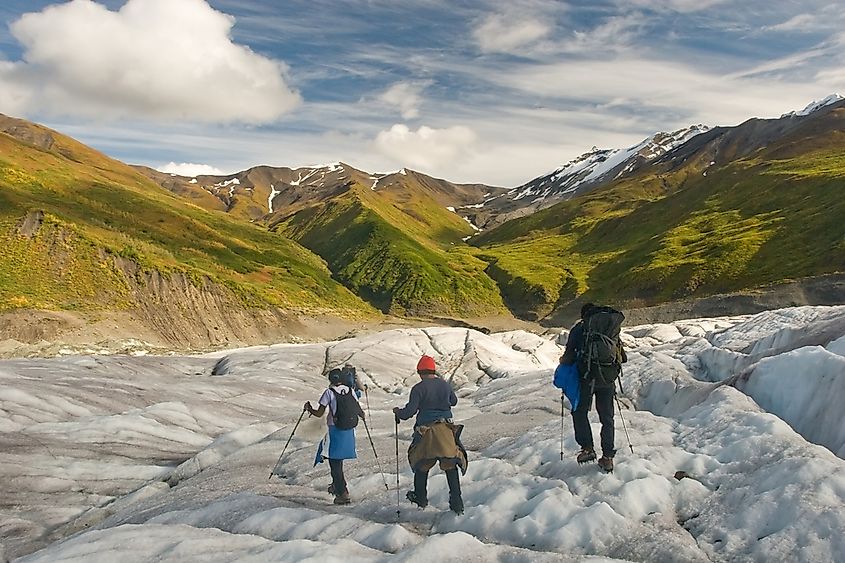 The Wrangell-St. Elias National Park is located in Alaska. At 33,682.60 square km, it is the country's largest national park. Visitors to the park can observe Alaskan bears, moose, wolves, bison, and caribou in their natural habitat. Salmon, sea lions, and seals swim in its waters, and snow-capped volcanoes line its horizon. 
This national park is part of the Kluane/Wrangell–St. Elias/Glacier Bay/Tatshenshini-Alsek UNESCO World Heritage Site, which is in both the US and Canada. It received this status because of its glacier and icefield landscape as well as the fact that it is an important home to grizzly bears, caribou and sheep.
2. Gates of the Arctic, Alaska (30,448.10 square km)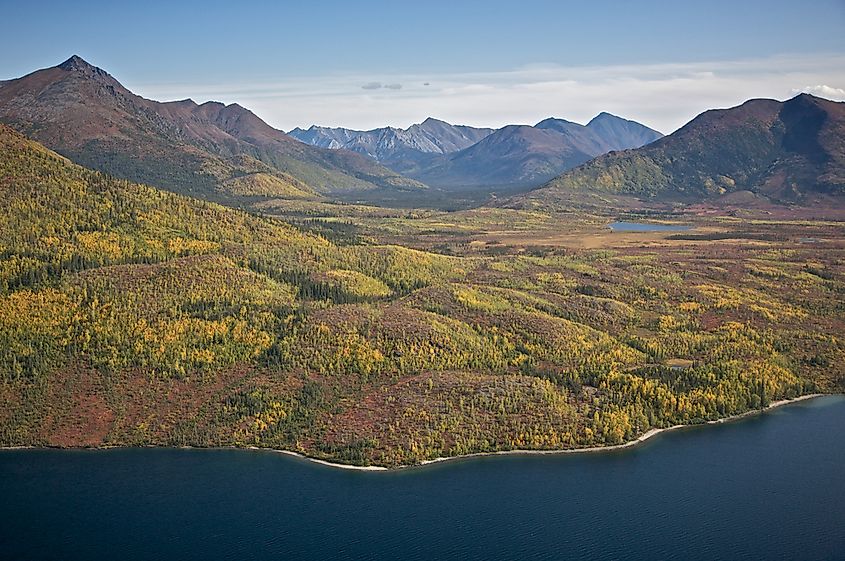 The Gates of the Arctic National Park is also in Alaska. The northernmost as well as one of the most remote national parks in the US, it has no roads. It is, therefore, the least visited national park in the country, but it was designated a national park to preserve the natural landscape and its ecosystems. Six wild rivers, boreal forests, ancient seabeds, cliffs, and mountain ranges stretching to the Arctic Ocean are all part of the topography of this park.
3. Denali, Alaska (19,185.80 square km)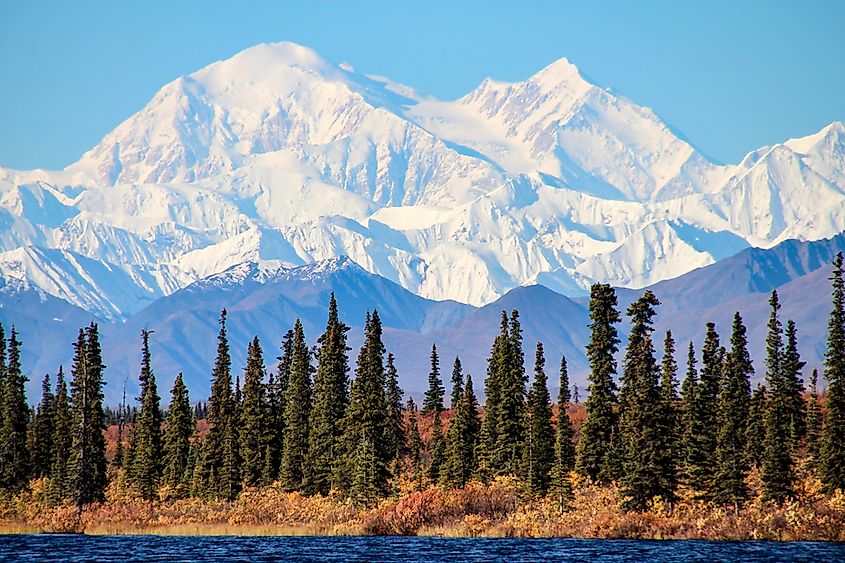 Denali National Park, is another impressive wilderness area to explore in Alaska. The highest peak in the park, Mount Mckinley (20,310 feet), is the tallest in North America. Fossils can be found in some areas, while glaciers (16% coverage) exist at the higher elevations. Grizzly and brown bears, caribou, sheep, moose, and a variety of birds are some of the fauna in the park. Denali is an ideal place for winter activities such as snowmobiling, dogsledding or cross-country skiing. 
4. Katmai, Alaska (14,870.30 square km)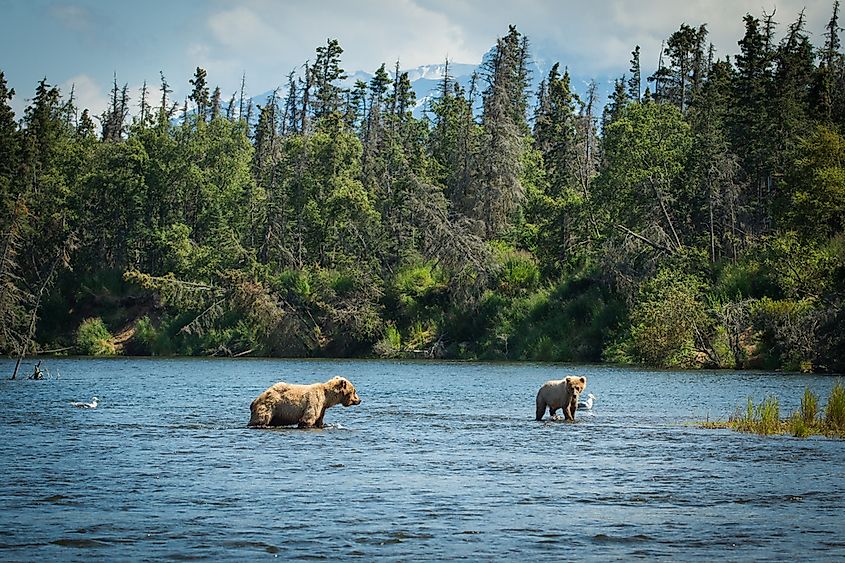 Katmai National Park is another massive park in Alaska. The area is known for its array of active volcanoes; the most impressive of which is its namesake, Mount Katmai. It also exhibits a wide assortment of wildlife such as birds, grizzlies, and moose. Spectacular waterfalls, fjords, marshlands, and densely forested areas are the major attractions of this park. Most of Katmai is a designated wilderness area, meaning all forms of hunting are prohibited. 
5. Death Valley, California (13,793.30 square km)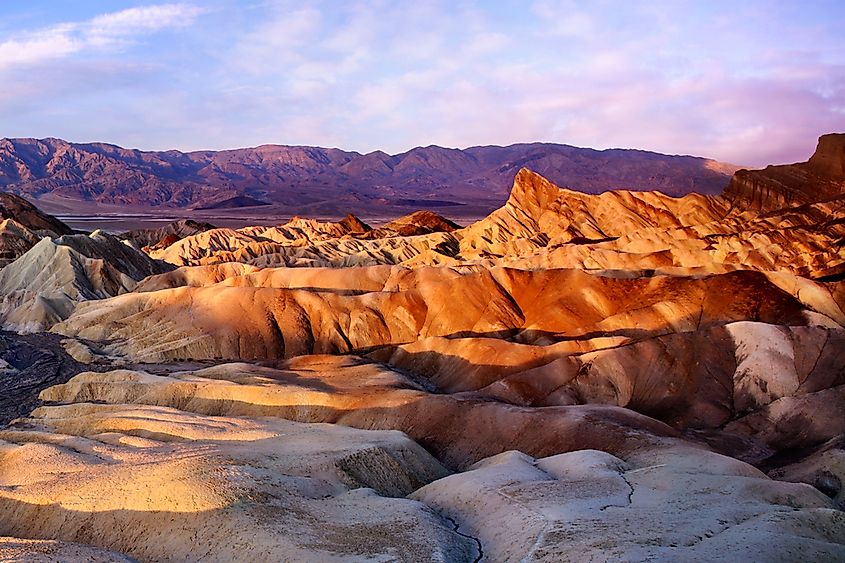 Death Valley National Park is found along the California-Nevada border. Visitors to the park can expect snow-capped mountains, colorful rock layers, water-fluted canyons, and seemingly never-ending dunes.
It is located at an interface zone between different valleys and deserts: the Panamint, Eureka and Saline valleys each make up part of the park, as well as the Great Arid Basin and the Mojave Desert. The park allows for the protection of the unique and diverse landscapes and ecosystems found here, and as such, it is a UNESCO-designated Biosphere Reserve.
6. Glacier Bay, Alaska (13,044.60 square km)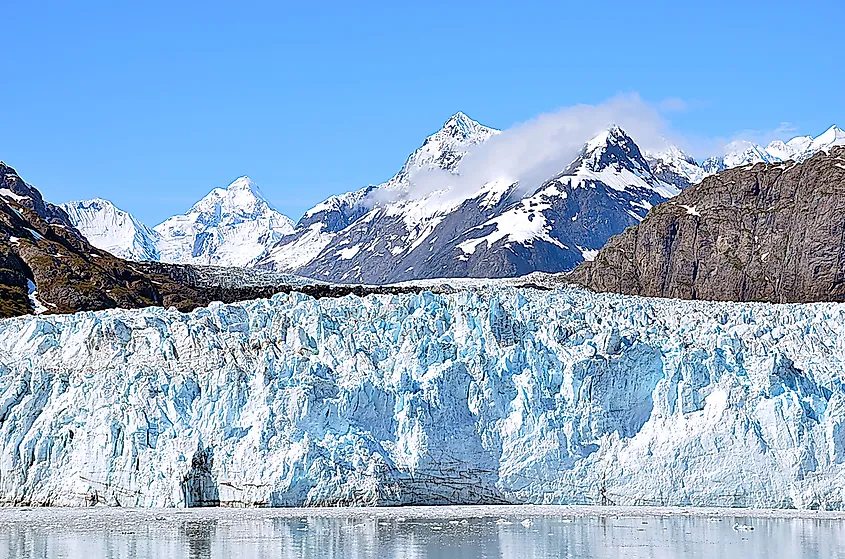 Glacier Bay is another park located in Alaska that is home to one of the world's greatest displays of glacier ice. The white scenery is complemented by deer, goats, bears, waterfowl, whales, and porpoises. It is a UNESCO World Heritage Site as well as a Biosphere Reserve, and a great location for sports such as rafting and hiking as well as more tranquil activities such as birdwatching. 
7. Lake Clark, Alaska (10,602.00 square km)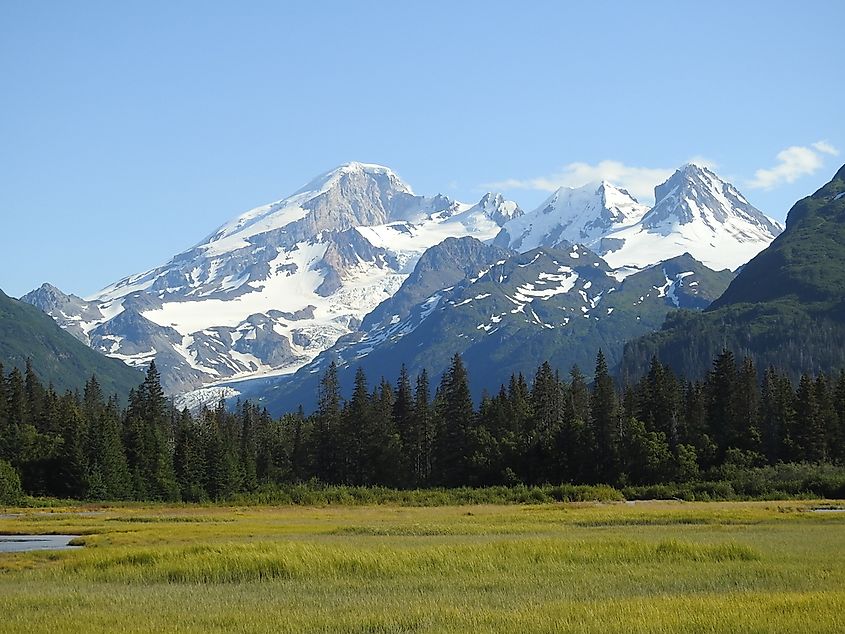 Lake Clark National Park is also located in Alaska. Active volcanoes, glaciers, wild rivers, and wild animals are the attractions in this wilderness park. Brown bears come to the area to feed on the large salmon populations in the park, so bear-watching is a popular activity for those who visit. Although, visiting can be difficult, as the park has no roads, and it can be reached by boat or floatplanes only. 
8. Yellowstone, Wyoming/Montana/Idaho (8,983.20 square km)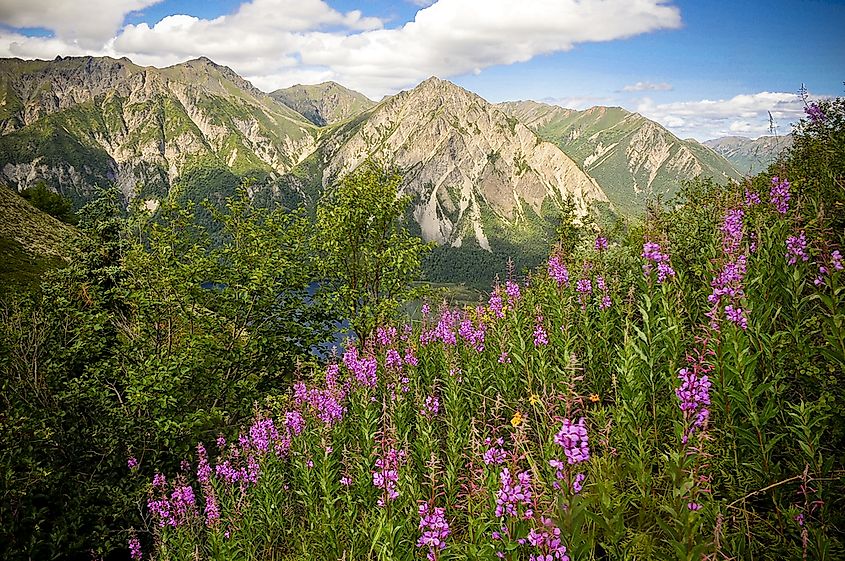 Yellowstone National Park straddles the states of Wyoming, Montana, and Idaho. It is the oldest national park, established in 1872 by President Ulysses Grant. Nature's wonders such as geysers, hot springs, waterfalls, lakes, and wild rivers abound here. In fact, half of the world's geysers are found in this park, as well as the largest supervolcano on the continent, the dormant Yellowstone Caldera. Grizzlies, bison, elk, antelopes, falcons, eagles, pelicans, swans, cougars, and wolves inhabit this wild land. 
9. Kobuk, Alaska (7,084.90 square km)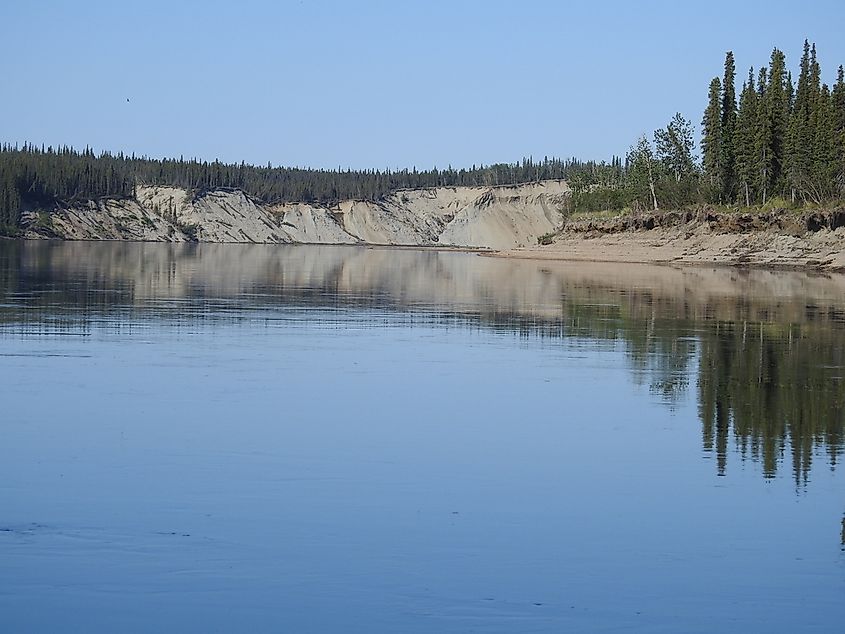 Kobuk Valley National Park is another place of solitude in Alaska, located within 50 km of the Arctic Circle. As with some other Alaskan national parks, this one is not accessible by road, and visitors arrive by air taxi. Visitors must also bring all their own supplies for the activities available here, like camping and dogsledding. Close to 1 million caribou migrate to the north in the spring and back to the south in the fall, making this park a busy place. Wild rivers, sand dunes, red bluffs, and fossils all make the park an attractive destination.
10. Everglades, Florida (6,106.50 square km)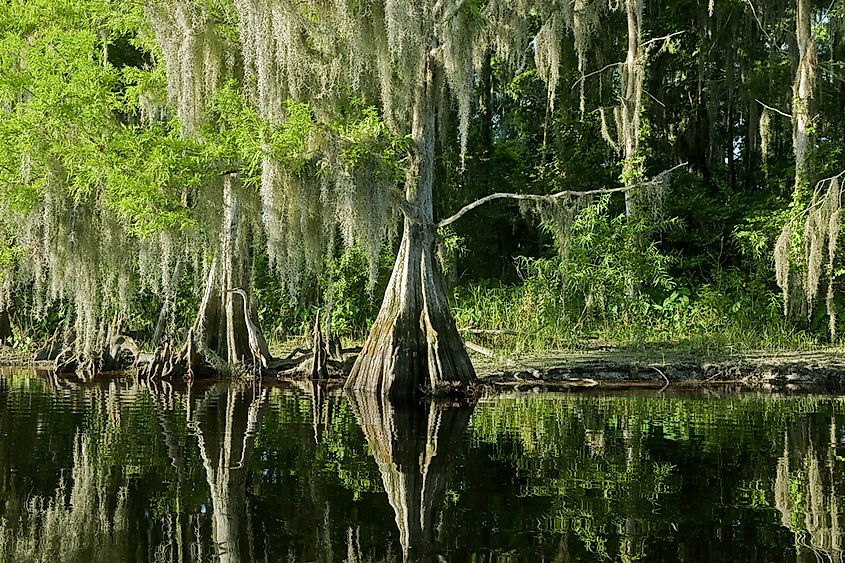 The Everglades National Park can be found in Florida. A tropical wilderness composed of wetlands and forests, fauna such as wading birds, panthers, crocodiles, and manatees all converge in this expansive water habitat. 
It was declared a national park to protect its fragile ecosystem since it is an important habitat and mating ground for various vulnerable and endangered animals. It is both a UNESCO World Heritage Site and Biosphere Reserve.
The Creation Of US National Parks
On April 20, 1832, U.S. President Andrew Jackson signed a piece of legislation to protect the Hot Springs Reservation area in Hot Springs, Arkansas, which contained thermal springs and adjacent wild forested areas. This was the first-ever act of the US Congress to protect a designated land. 
In 1872, President Ulysses Grant declared Yellowstone as the first national park in the US. This was followed by Mackinac National Park in 1875, and Rock Creek Park, Sequoia, and Yosemite in 1890.
Biggest National Parks In The United States
| Rank | Park | State | Area (square km) |
| --- | --- | --- | --- |
| 1 | Wrangell–St. Elias | Alaska | 33,682.60 |
| 2 | Gates of the Arctic | Alaska | 30,448.10 |
| 3 | Denali | Alaska | 19,185.80 |
| 4 | Katmai | Alaska | 14,870.30 |
| 5 | Death Valley | California, Nevada | 13,793.30 |
| 6 | Glacier Bay | Alaska | 13,044.60 |
| 7 | Lake Clark | Alaska | 10,602.00 |
| 8 | Yellowstone | Wyoming, Montana, Idaho | 8,983.20 |
| 9 | Kobuk Valley | Alaska | 7,084.90 |
| 10 | Everglades | Florida | 6,106.50 |
| 11 | Grand Canyon | Arizona | 4,862.90 |
| 12 | Glacier | Montana | 4,100.00 |
| 13 | Olympic | Washington | 3,733.80 |
| 14 | Big Bend | Texas | 3,242.20 |
| 15 | Joshua Tree | California | 3,217.90 |
| 16 | Yosemite | California | 3,082.70 |
| 17 | Kenai Fjords | Alaska | 2,710.00 |
| 18 | Isle Royale | Michigan | 2,314.00 |
| 19 | Great Smoky Mountains | North Carolina, Tennessee | 2,114.20 |
| 20 | North Cascades | Washington | 2,042.80 |
| 21 | Kings Canyon | California | 1,869.20 |
| 22 | Sequoia | California | 1,635.20 |
| 23 | Canyonlands | Utah | 1,366.20 |
| 24 | Hawaiʻi Volcanoes | Hawaii | 1,317.70 |
| 25 | Grand Teton | Wyoming | 1,254.70 |
| 26 | Rocky Mountain | Colorado | 1,075.70 |
| 27 | Channel Islands | California | 1,009.90 |
| 28 | Badlands | South Dakota | 982 |
| 29 | Capitol Reef | Utah | 979 |
| 30 | Mount Rainier | Washington | 957 |