The Atlantic Coast stretches from the southwestern shore of Florida north to Pemaquid Point in Maine. It comprises fourteen states: Maine, Massachusetts, New Hampshire, Rhode Island, New York, Connecticut, New Jersey, Maryland, Delaware, Virginia, South Carolina, North Carolina, Florida, and Georgia. The wilder shore than its southern counterpart is replete with gawkworthy scenery like cliffs and beating ocean waves, woodlands, and state parks, as well as the unique Outer Banks region of connected islets in North Carolina.
The historic coastal towns have beautiful architecture that complements their somber natural surroundings while also dispersing the vibe with fun attractions, pursuits for all tastes, and modern services and accommodations. Choose your next getaway and witness for yourself how the spectacle changes from serious to all cute and gentle at your feet. These thirteen towns will charm you through signs, welcoming residents, and lighthearted attractions.
Aurora, New York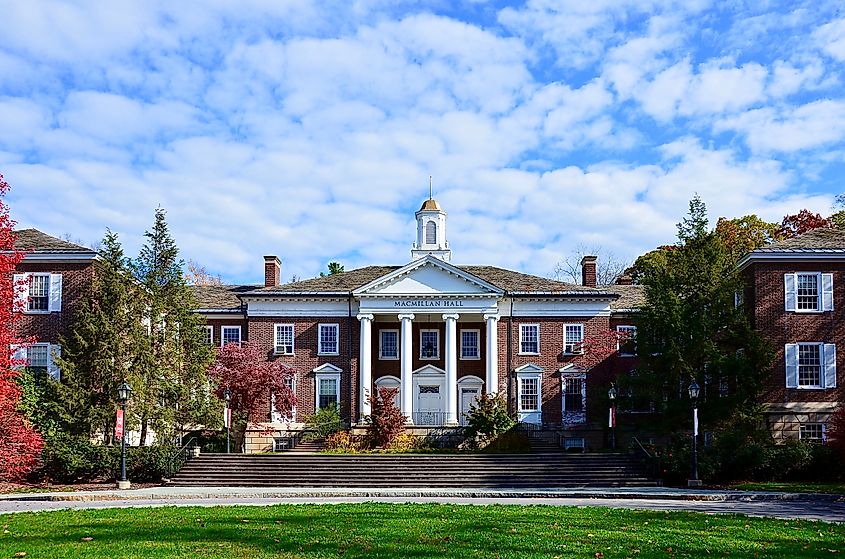 Aurora is a cute town, big on beauty, along the Atlantic Coast, just over four hours from New York City and Philadelphia. The little charmer with only 700 residents will stop you dead in your tracks with all kinds of cute, from the natural sights to lighthearted activities and relaxation by the scenic Cayuga Lake shore. Kick up your feet at the luxury boutique Inns of Aurora resort and enjoy morning coffee over stunning lake views from the balcony.
Relax by your own fireplace in winter and take a private yoga class, or sip a glass of wine in an Adirondack chair overlooking the glittering water that challenges you to take it on with a kayak during summer. Explore the local nature, and stroll downtown for the best dinner over beer at Fargo Bar & Grill. Head just north to Union Springs for a wine tasting day trip at Heart & Hands Wine Company.
Bar Harbor, Maine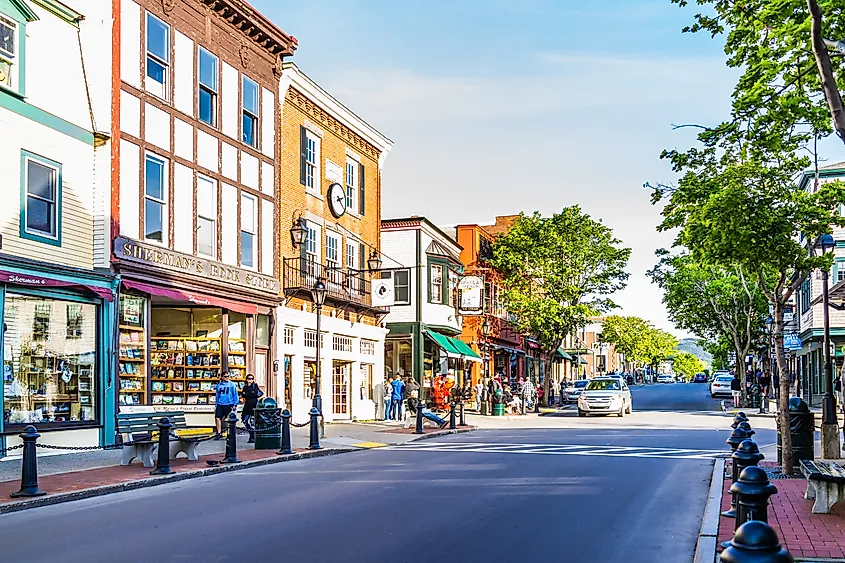 Bar Harbor is an authentic Maine townscape on Mount Desert Island along Maine's Frenchman Bay. Immerse yourself in the friendly atmosphere that welcomes you like a long-lost friend. Relish in the slow pace of life on a stroll through the cute streetscape, complete with a coastal vibe. Descend to the shore for stunning water scenery, sunrises, and the all-encompassing landscape around, including the distant mountains.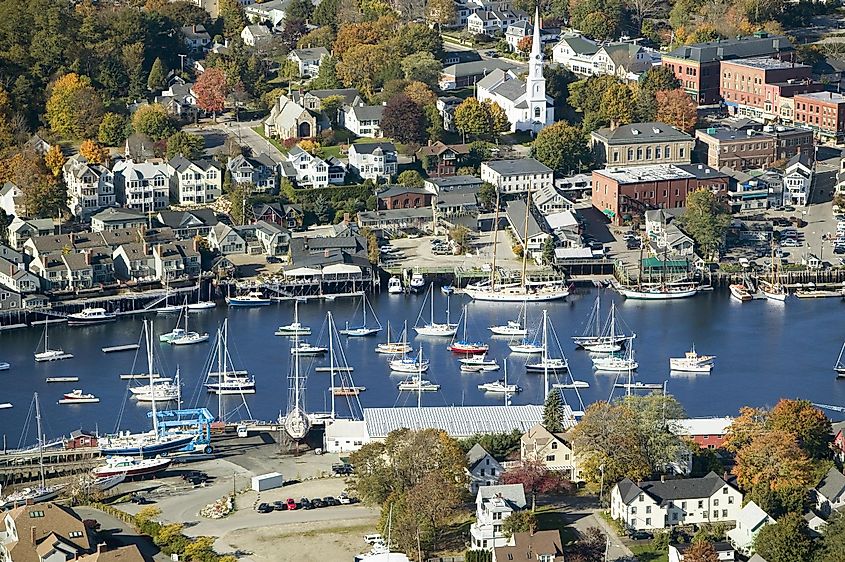 The seascape affords the best views of the beautiful area, along with the salty mist and breeze in your face on a warm summer's day. Enjoy this sensory overload and more when you feel the pleasurable muscle strain on a venture into the nearby Acadia National Park, which has beautiful trails for hikes and relaxation in nature. Take the path at Agamond Park along the shore in the morning and a boat or a whale-watching tour at sunset with different views of the cute town waiting behind.
Beaufort, South Carolina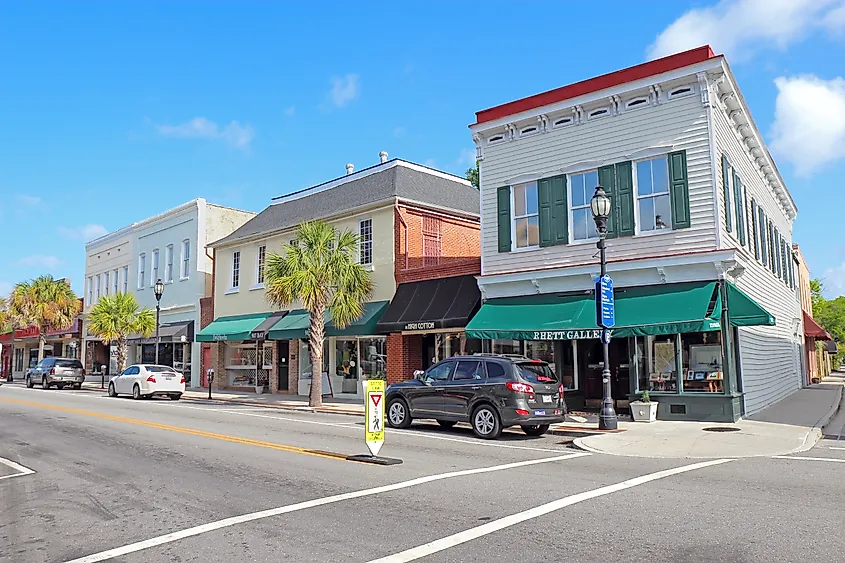 Find the island town of Beaufort on under-the-radar Port Royal Island. According to Southern Living, the elusive locale is also "The Small Town We Love." Beaufort is the second-oldest city in the state, where inland rivers flow into the sea. It is your idyllic getaway, complete with a pretty crowdless streetscape full of architectural marvels and antebellum houses that prove its deep antiquity. Find a historic downtown area amid maritime scenery and with riverfront dining.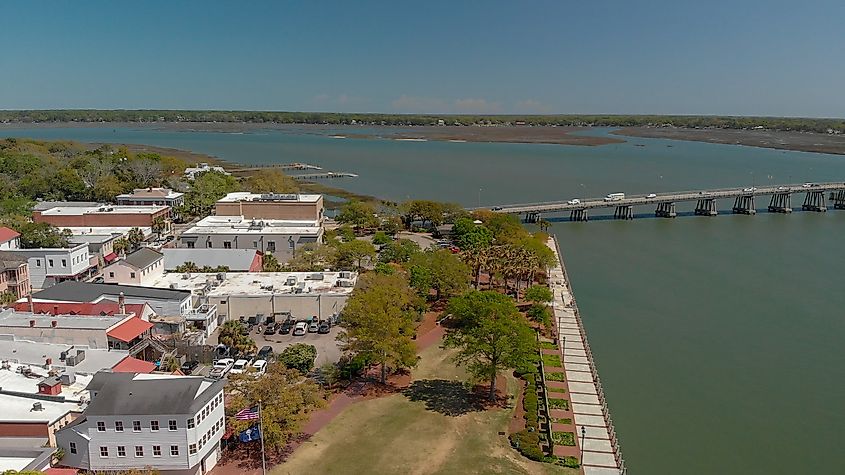 Explore the surrounding tidal marshes with unique wildlife on a scenic nature hike along the Spanish Moss with the best water views around. Uncover the secret of oceanic depths via a cruise sea escape and sight dolphins. Return for a dinner at Saltus River Grill and follow up with ice cream from YoYo's. There is also a shrimp festival in October and a water festival in July. Enjoy any-day strolls along quaint streets lined with live oak trees and mansions and trails at the Henry C. Chambers Waterfront Park.
Cape May, New Jersey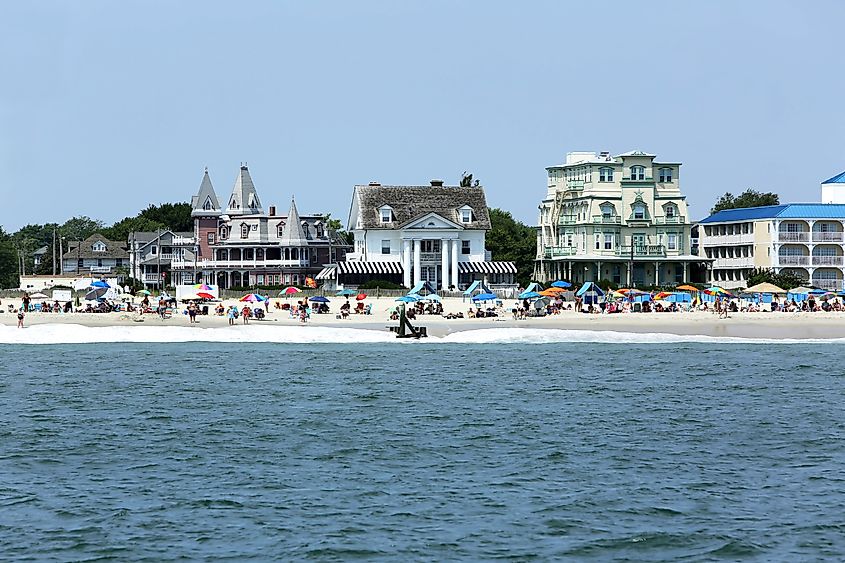 Find this cute seaside resort town at the tip of southern New Jersey's Cape May peninsula and give into sinful relaxation along the sands. Enjoy the big beach scene with fun water activities during summer all you want, but head downtown where the beachy vibe follows you amid nearly 600 old, beautifully preserved Victorian buildings.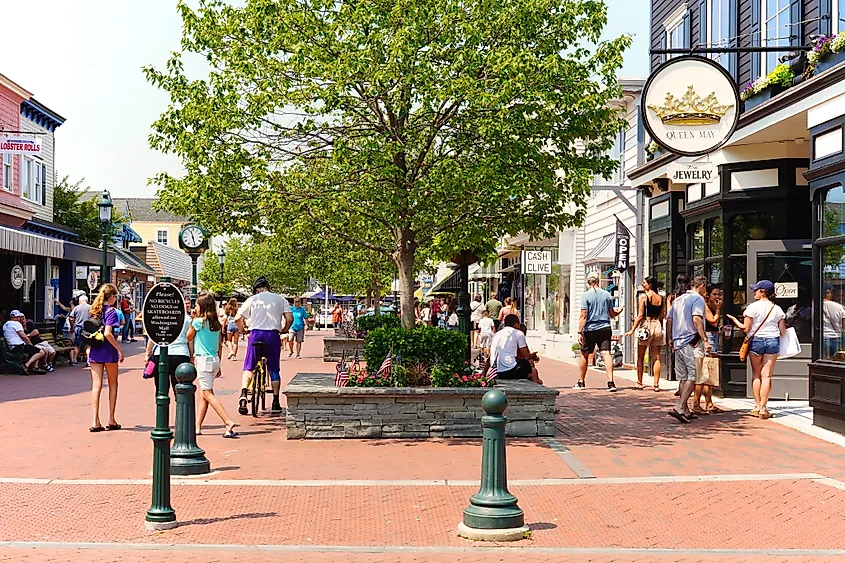 Sightsee along the Washington Street Mall and get provisions for a picnic at the top of the 199-step climb to the crowning Cape May Lighthouse. Take time to relish in the panoramic views all around, including the historic Victorian seaside gem and its most beautiful beach below. Enjoy a ride on the town's trolley and the immersive search for Cape May diamonds. You will leave scenically impressed and with pockets full of goodies, including history.
Kennebunkport, Maine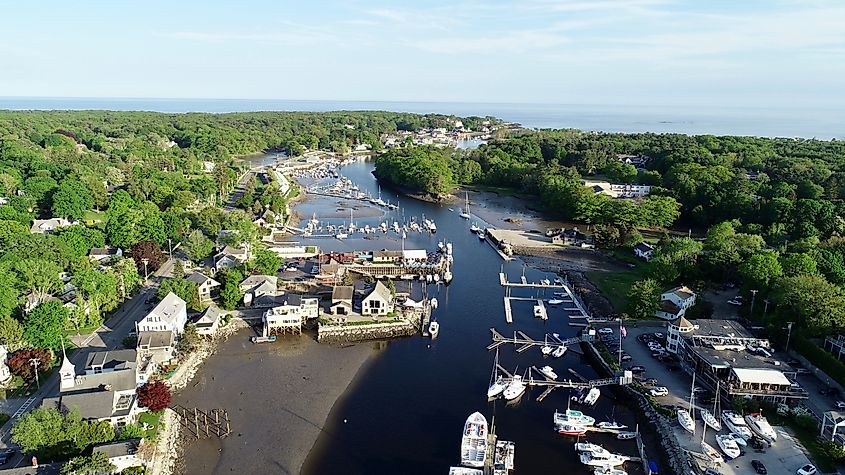 The coastal town knows how to charm you during any season with views and street sights, like the Seashore Trolley Museum, reminiscing of its fishing days and shipbuilding past. You can stroll along the shore amid Maine's wilder natural coastal sights. Hop on a restored vintage streetcar, which departs from the museum, for a ride through a friendly atmosphere and a tranquil beach vibe amid rich cultural sights.
Check out the many charming shops and unique galleries, and try some of the best lobster rolls of your life. The town is a real slice of New England heaven that revolves around maritime activities like boat tours and the Nubble Lighthouse. Visit Kennebunkport before the returning summer crowd hits the long, sandy shores at Goose Rocks Beach or Arundel Beach.
Kitty Hawk, North Carolina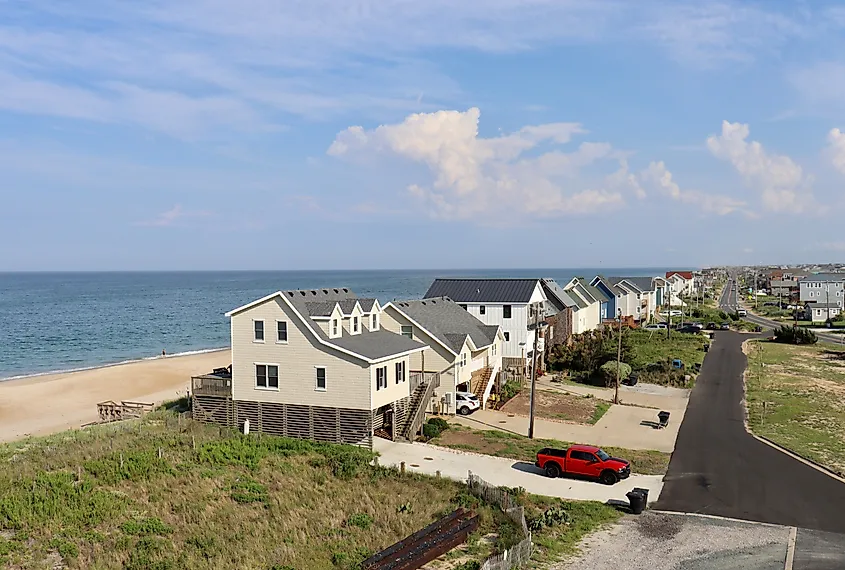 The coastal town of Kitty Hawk screams cuteness, from its adorable name to its charming Outer Banks location. This east coast enclave sits in between wild nature and a collection of reefed islets, all linked by bridges with amazing coastal roads. The town itself is the famous Wright Brothers first successful flight locale.
Kitty Hawk's casual beaches are a getaway to the rest of the Outer Banks, where you will find outdoor activities for all tastes. Try yachting or kayaking around the picturesque islets, or explore the swamps in a boat and go fishing in the sea. Kitty Hawk is prime for natural bounty with wetlands through the Kitty Hawk Woods Coastal Reserve. Take on the trails on horseback, a mountain bike, or in hiking boots.
Marathon, Florida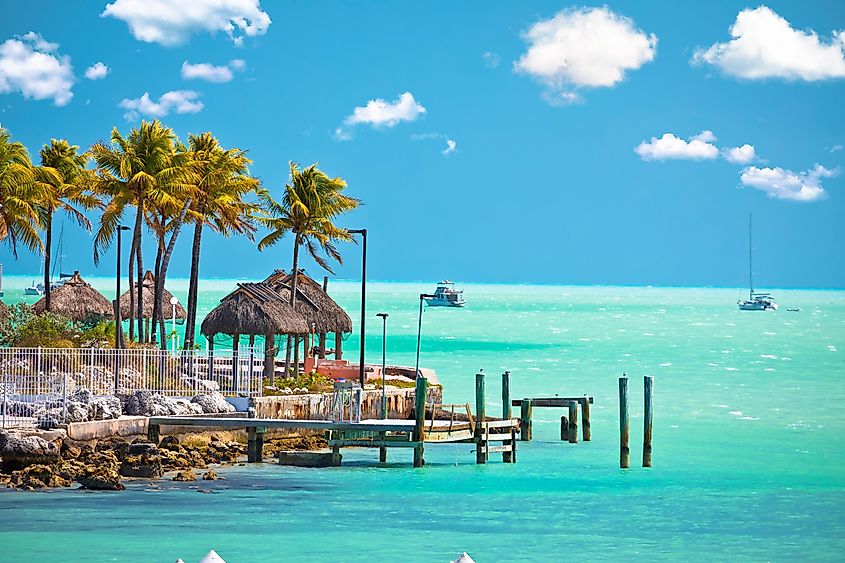 The charming town of Marathon is hard to beat in terms of coastal living. This town spread over thirteen islands leaves spring breakers scratching their heads as to how to hit them all, relax, and end up experiencing the best this town has to offer. The barrier reef is a non-discussable must-see, with the town affording direct access to this marvelous natural wonder full of marine life.
Indulge in Florida's renowned deep-sea fishing on a charter or personal boat. You must also hit the beaches under the persistent sun and experience a burst of sea flavors in your mouth from the string of waterfront restaurants. Come for the cutest seasonal spectacle of the nesting loggerhead turtles, who do not mind the gawking tourists.
Mystic, Connecticut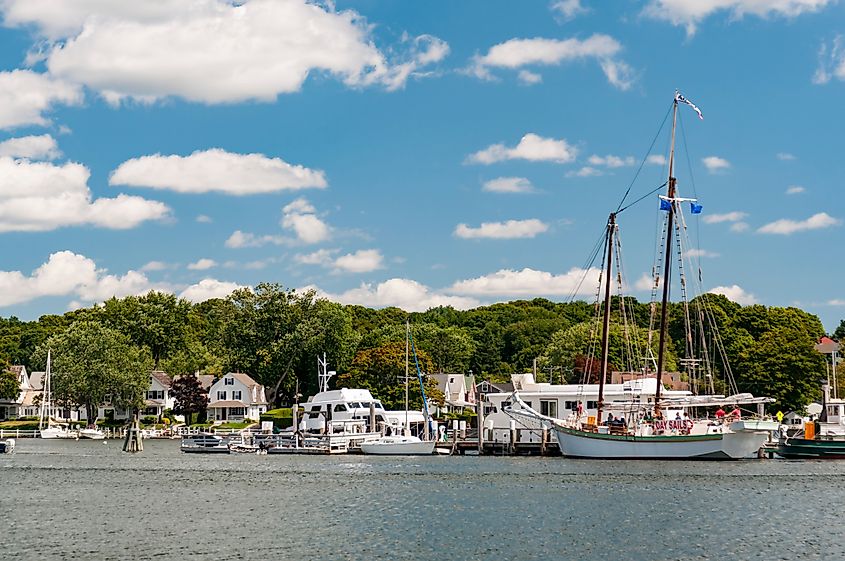 This maritime town is the setting of the charming movie classic with the charming Julia Roberts, "Mystic Pizza." Mystic rests not-so-peacefully right on the Atlantic. Reason being, it fully embraces and celebrates its stardom and seaside lifestyle daily. Join in on a rented paddleboard or a unique cruise in a classic wooden motorboat and enjoy views of Mystic from the waters and flavors in town.
The river park is a wonderful place for a stroll during any season or a summer's day picnic where you can even find your own private nature nook. Forego picnicking on a cold-day weekend getaway and visit the lovely restaurant from the film for flatbread, or dig into a plate of fresh seafood at the waterfront restaurant Red 36, which has a fantastic outdoor patio.
Newport, Rhode Island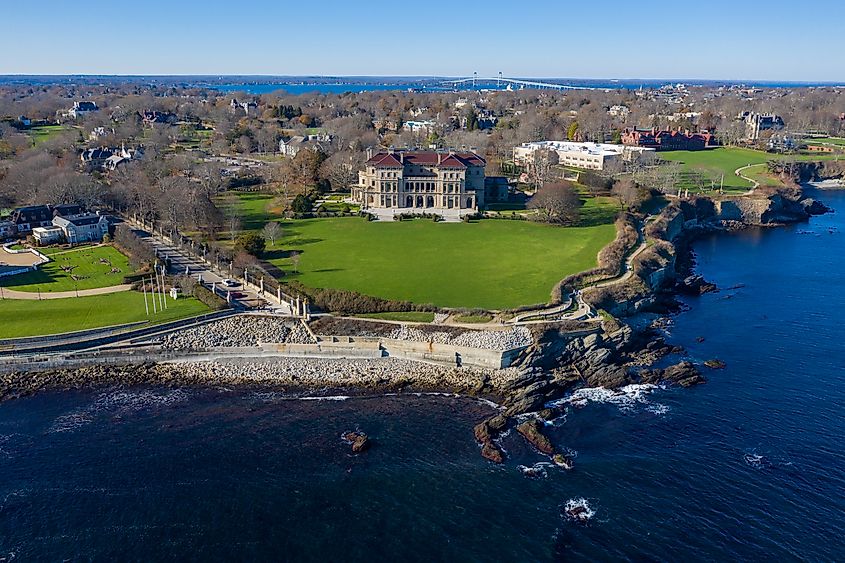 Find this unique island town, home to about 25,000 residents, on the small Aquidneck Island, not far from Block Island. Newport is perfectly suited for boundless water adventures. Take a ferry from the port after exploring its own adorable sights. Visit Newport to witness how effortlessly the best island features combine with New England charm in one beautiful seaside town.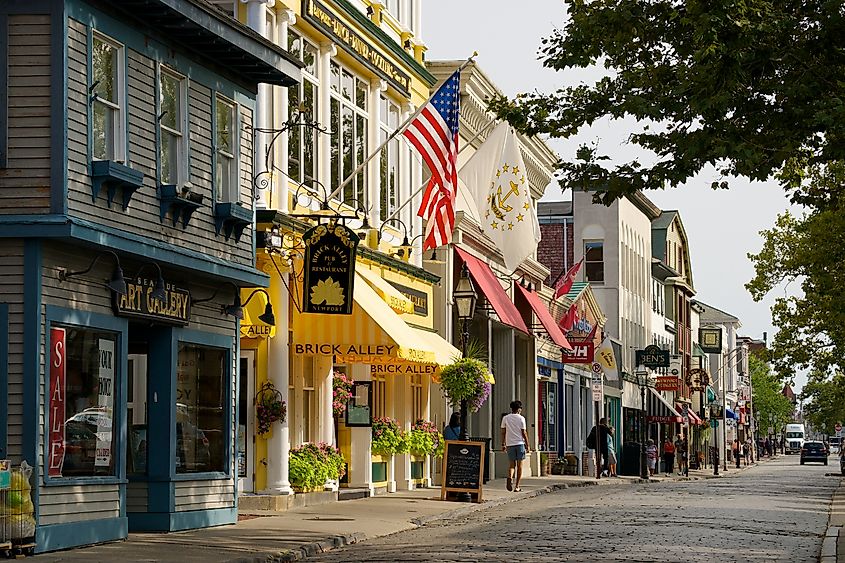 Newport's famous mansions are really a sight to behold on a stroll amid shopping and scenery. As one of America's oldest resorts, Newport houses three whole National Historic Landmark Districts. Imagine the amount of sights within a rather small island townscape, or better yet, visit and see for yourself. Newport is also the Sailing Capital of the World, with a harbor of yachts waiting for you to take advantage, or at least take a picture.
Provincetown, Massachusetts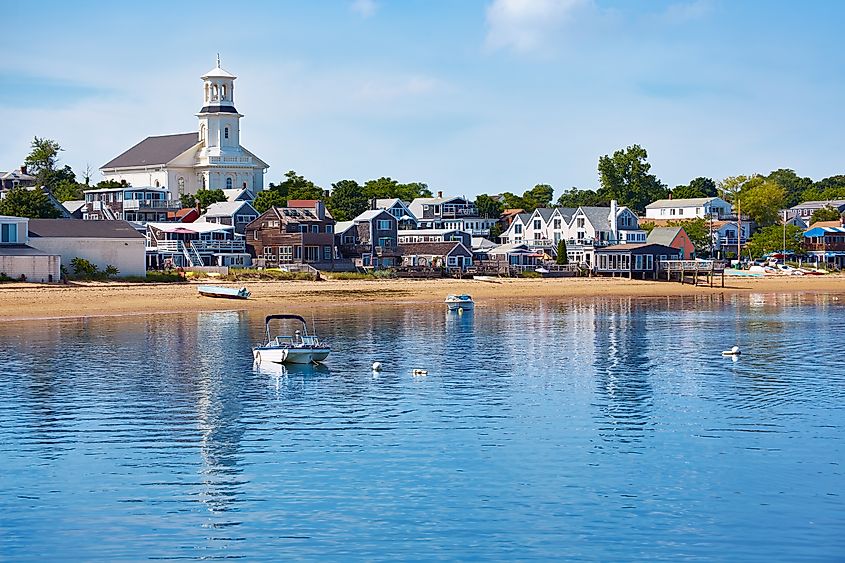 The seaside town in Massachusetts sits scenically at the northern tip of Cape Cod. Provincetown claims fame as the Mayflower's landing site in 1620. It is also famous for its creative history and for its 3000 residents, who exponentially grow to over 60,000 during the summer. Visit the popular east coast town off season for the best experiences amid unobscured sights. There is a lot to see, starting with a stroll to its US National Seashore for tranquil vibes.
Provincetown is the alternative destination for the creatives, who like to paint and write while relaxing on "America's favorite beach." Visit this town as well for the great LGBT scene and to share the vast beaches and charming guesthouses with someone special. The small fishing town is an alluring mix of rugged coastline and lots of unique shopping and dining opportunities.
Rehoboth, Delaware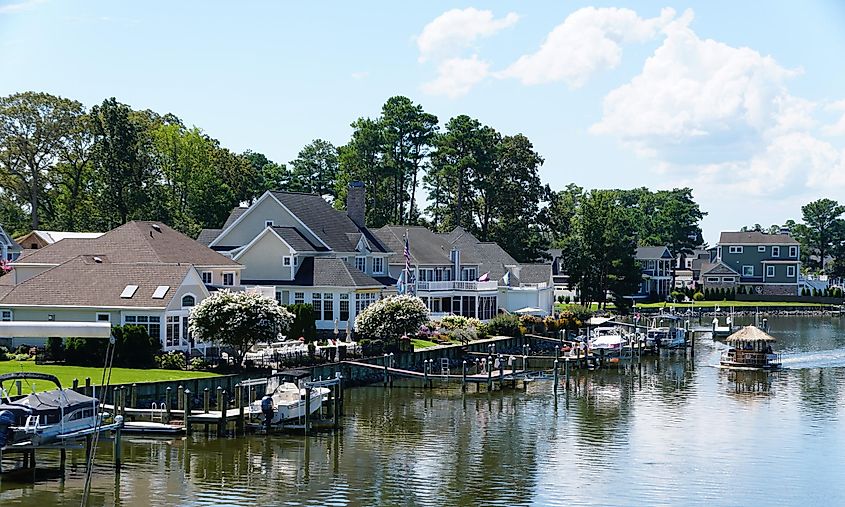 The all-American classic town of Rehoboth is a cute postcard town along the picturesque Delaware Shores. Complete with an oceanfront boardwalk, you will find a galore olden-day attractions like the 50-year-old amusement park and saltwater taffy stalls that give this town an extra retro vibe. Immerse yourself in this unique scene after a day at the incredible beach in town.
The town along the East Coast with a retro ring in its name alone is a very popular and major party scene, despite its rather tiny size. Find another atmospheric Dewey Beach two miles south on Hwy 1, and head 3 miles onward to the rustic and beautiful Delaware Seashore Park preserved area.
Southport, North Carolina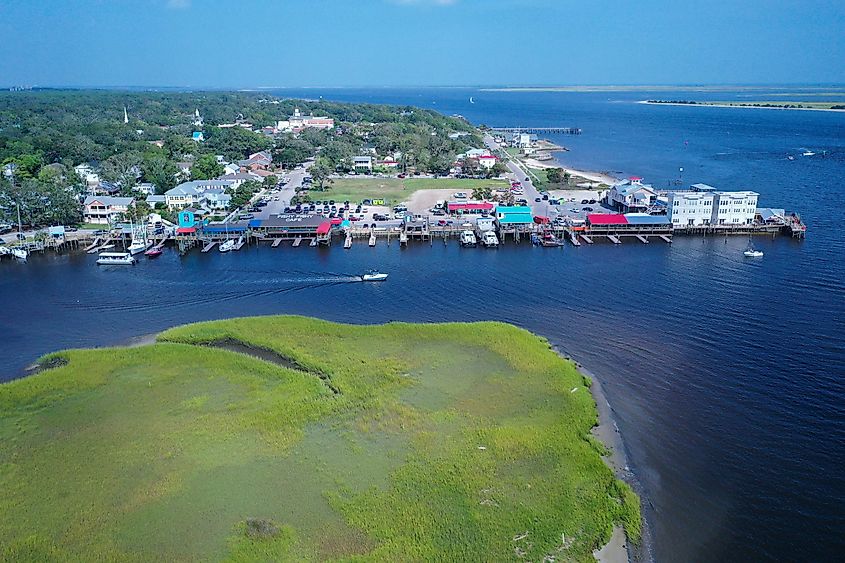 Southport is the charming setting for the homey classic Dawson's Creek series and many movies. This Atlantic Coast town in Brunswick County in southern North Carolina inspires a stroll through the sea breeze along the jutting wooden pier that affords great sea vistas and is good for fishing. The small collection of pretty buildings behind the long fishing pier adds to the picturesque charm of the sleepy village.
Southport was founded as a settlement way back in the 16th century, when Spanish explorers debarked along these Atlantic shores, with more British settlers following. Hike to the first Fort Johnston in North Carolina, from the 18th century, to immerse yourself in a historically charged atmosphere.
The Takeaway
These small towns, screaming cuteness from every pore, have the natural sights and in-town attractions to charm every taste, group, and demographic. Whether you experience the retro Atlantic Coast or visit a modern resort town, you will feel right at home amid all the cuteness. Enjoy adorable activities like oceanboard strolls and amusement parks, and indulge in your favorite lighthearted pursuits amid nature's bounty around you.
The wilder coast is perfect for scenic swimming and sun baths in summer, or the best leaf foliage. There are many cozy accommodations to welcome you in the winter in a town that will envelop you in its warmth through its sights.