Known as the "Pine Tree State", Maine is America's easternmost State, the ninth least populous, and the 12th smallest by area. Yet despite its small statistics, it remains one of the most beautiful and fascinating places to explore in the country. Filled with stunning Atlantic Ocean vistas, rural settings, and unique colonial history, visiting Maine and its towns is a great way to experience the charm of the New England region. Here wonderful weekend trips are perfect for solo travellers or families alike, ready to explore the best of America.
Rockland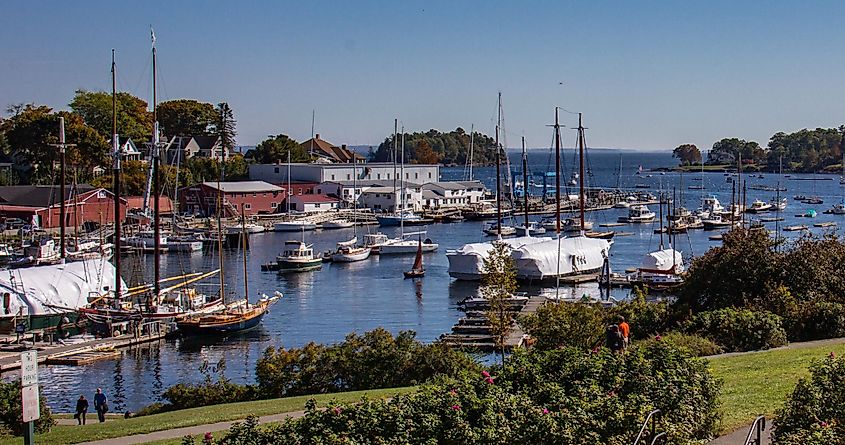 Seat of Knox County, Rockland is a beautiful Maine destination that is popular with tourists throughout the year. Home to a population of just under 7,000 residents, Rockland is a marvelous place where stunning coastal views, unique and historic architecture and of course plenty of New England charm all reside. Stop by the Maine Lighthouse Museum, which spotlights the history of these important structures (which dot Rockland's landscape), or take in the wonderful works of art at the Farnsworth Museum. Meanwhile for a most special lodging experience, visitors will surely enjoy a stay at the Old Granite Inn (1840). Near the town's port and a bevy of great restaurants and boutique shops, staying at this Inn offers not only tremendous views but a real sense of old world allure.
Bar Harbor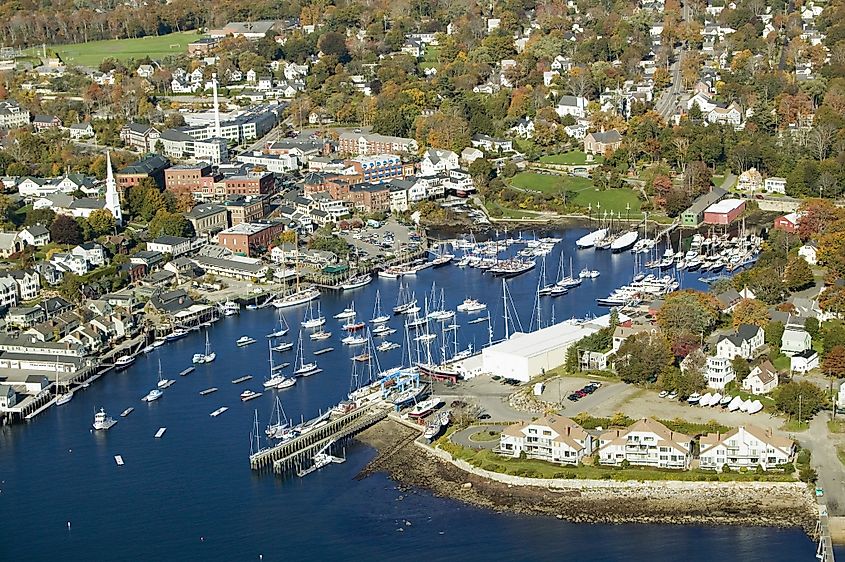 The beautiful resort town of Bar Harbor is situated on Maine's Mount Desert Island, where just over 5,000 residents call home. First settled in the 1760s, the stunning surroundings of Bar Harbor continue to make it a most popular destination for a great abundance of outdoor activities. Enjoy fishing, swimming, sailing, and scenic tours of the Frenchman Bay. And with the adjacent Acadia National Park always easy to access, a most intimate and fun encounter with nature and its raw beauty is regularly on hand.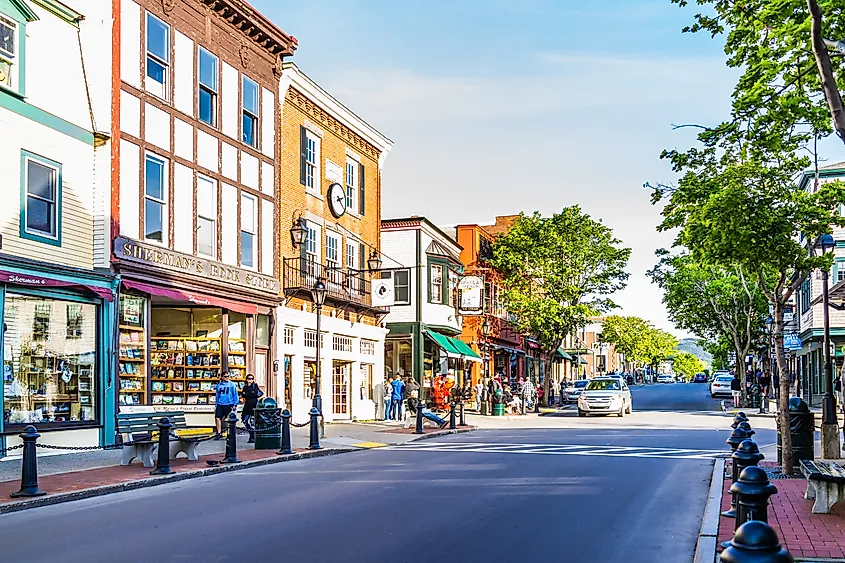 Meanwhile in town a rich scene of local arts, cute boutique shops, and tasty restaurant populate the landscape. Visit the Sherman's Maine Coast Book Shops (1886), the oldest store of its kind in the State, Ben and Bill's Chocolate Emporium, or spend a night at the historic Bar Harbor Inn (1887), where breathtaking views are not the exception, they are the norm.
Camden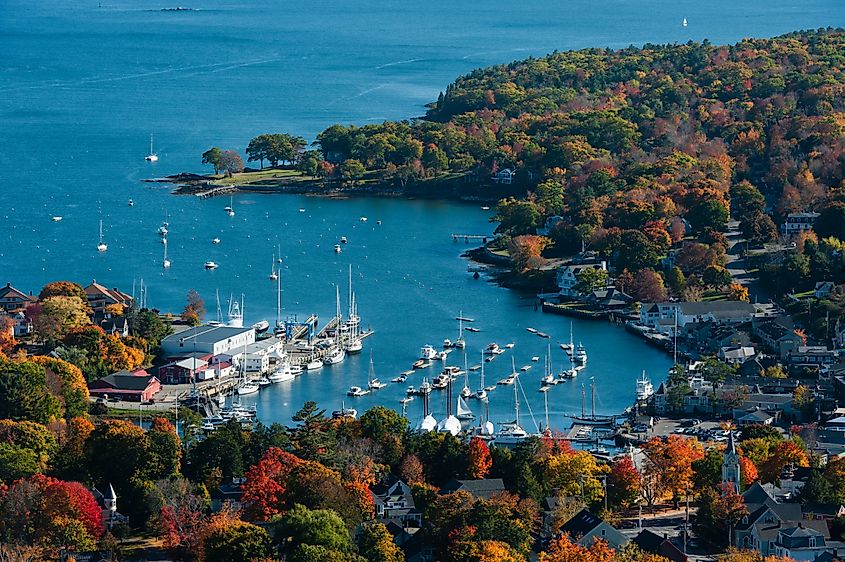 Camden is another beautiful resort town, just a short drive from Rockland. With a population of just over 5,000 inhabitants, this Knox County locale boasts warm summer and mild winter temperatures and is very popular with tourists not only from across Maine, but from neighbouring Massachusetts and New York. Spend time at the Camden Hills State Park, where hiking and biking trails galore will greet the adventurous tourist. Meanwhile opportunities for swimming, sailing, and even paddle boarding are all popular in Camden, where beautiful beach side areas fill out the landscape. In addition a number of charming boutique and antique stores, local restaurants, and plenty of galleries are all in abundance in Camden's downtown. Stop by such places like the Camden Opera House, the Conway House Museum, or the Walsh History Center, among others for a great weekend escape that shows off some of the very best of Maine.
Kennebunkport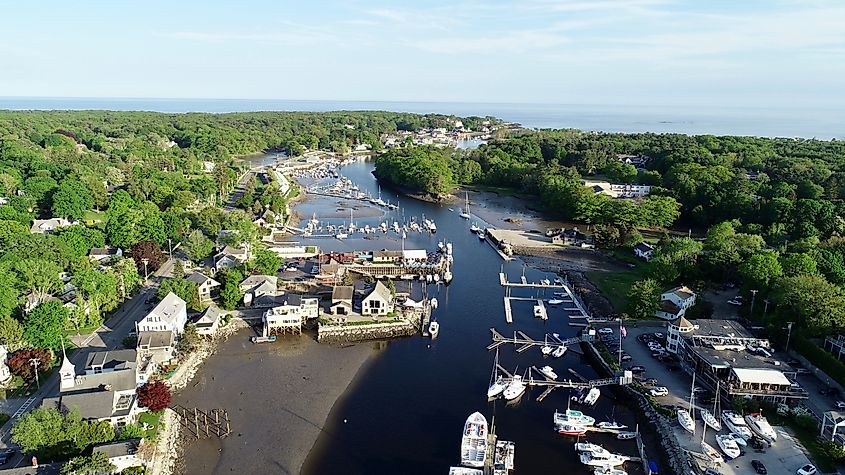 Known as a summer retreat for the Bush family of American politics, the town of Kennebunkport has been a most popular vacation destination for several decades. Incorporated back in the 1650s, this historic town maintains a most modest population of nearly 4,000 residents where natural beauty and fascinating history come together. Lined with beautiful sandy beaches and views of splendid lighthouses, the town is situated right on the Kennebunk River, very near the Atlantic Ocean.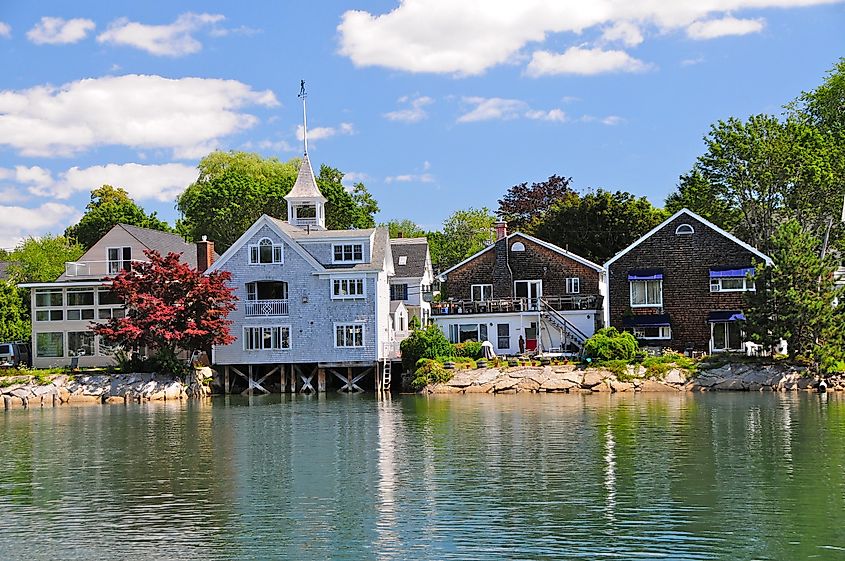 In addition to its beautiful natural setting, Kennebunkport is also steeped in small town charm and fascinating centuries of history. Stroll through town to find an assortment of tasty local restaurants (including of course seafood), unique boutique shops, and great family friendly festivals held throughout the year. And do not forget to take a ride on the Intown Trolley for a scenic and history filled experience sure to please the young and old!
Bangor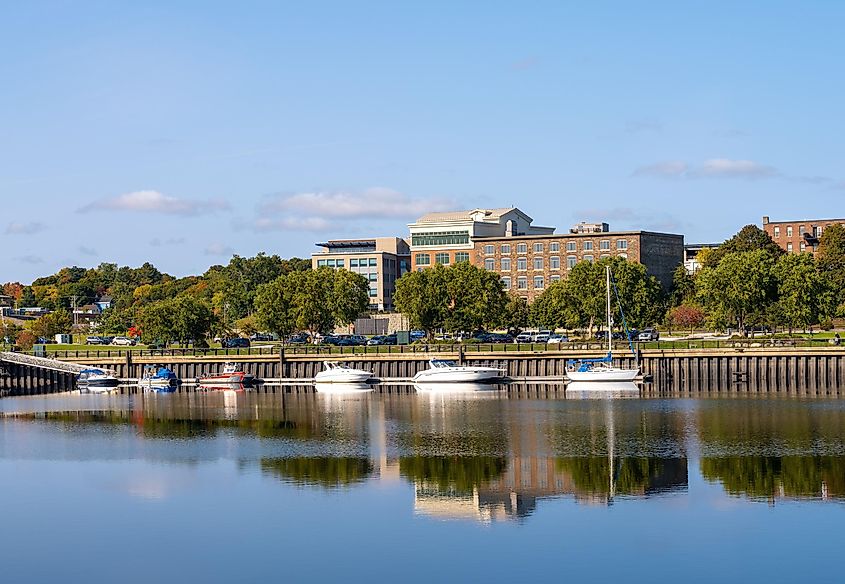 Bangor is the seat of Penobscot County and was first founded back in the 1790s. Today it has grown to a sizeable population of 31,753 residents making it one of Maine's largest towns. With a humid climate, Bangor experiences warm summers and snowy winters, making it a special place to visit throughout the year. Spend time at the Orono Bog Boardwalk for great views of local wildlife, fill an afternoon at the Cole Land Transportation Museum, or take in all the sights and sounds of the famous Bangor State Fair.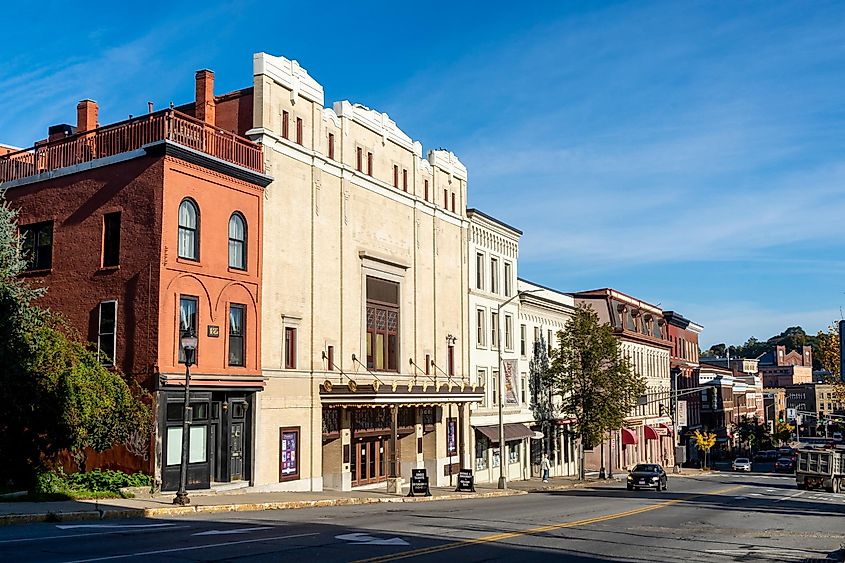 In addition a number of unique architectural styles and buildings can be found in town, many of which that are listed on the National Register of Historic Places. These include the Hammond Street Congregational Church (1833) and the Bangor Public Library. And of course posing with the 31 foot Paul Bunyan Statue is always a delight, while taking in the town's eclectic restaurant scene will surely satisfy a wide range of palates.
Ogunquit
With a population of just over 1,500 residents, the town of Ogunquit is one of Maine's newest towns, formally incorporated only in 1980. Situated in York County, Ogunquit offers some of the State's best beaches with beautiful warm and calm waters. Indeed with its warm and humid summers and cool winters, Ogunquit is generally a great place to visit throughout the year. Besides its natural appeal however the town also has a genuinely charming atmosphere ideal for a weekend sojourn or longer.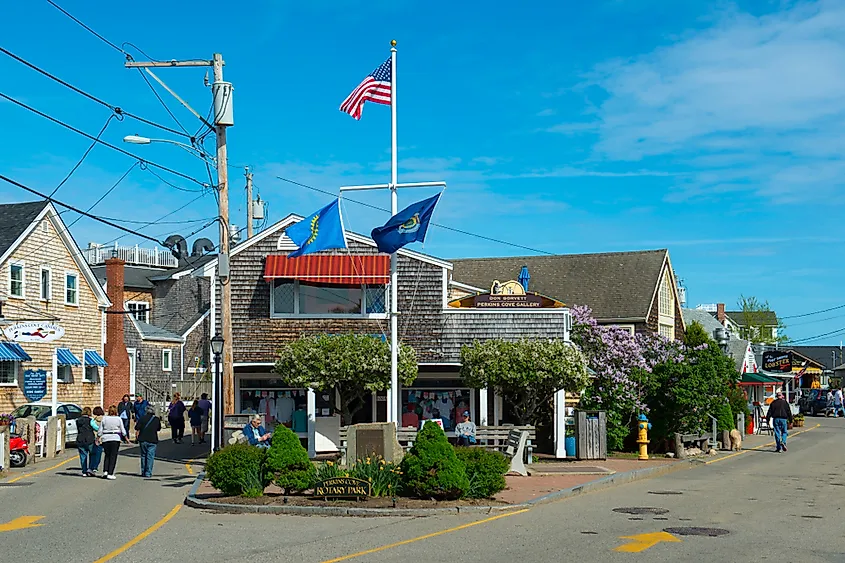 Stroll past various gift shops, boutique stores, galleries, and restaurants (of which seafood is always a specialty) or spend time at the nearby Perkins Cove fishing village. Meanwhile art lovers will surely appreciate the Ogunquit Museum of American Art, where some of the very best in American talents are on display.
Castine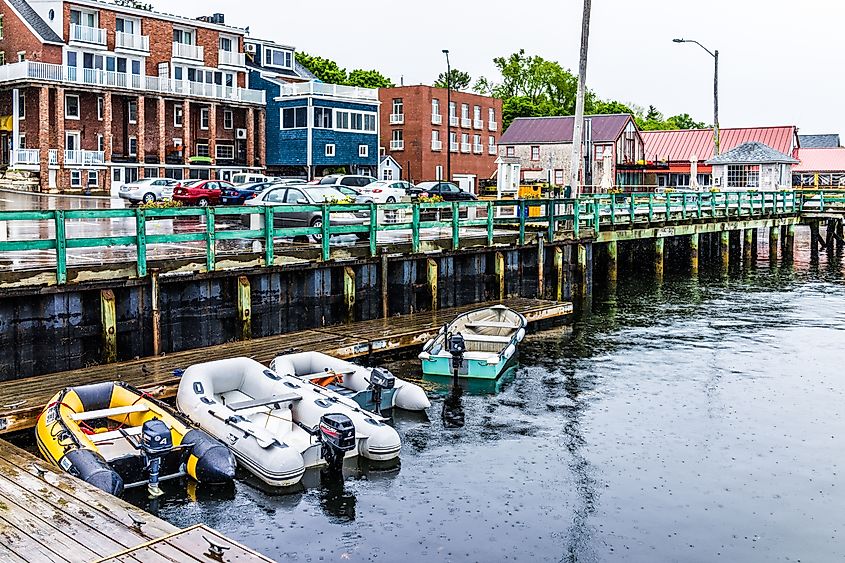 Located on Penobscot Bay, the historic town of Castine was founded some 410 years ago in 1613! Indeed with its centuries worth of history, the town with a modern day population of 1,320 residents has been listed in its entirety on the National Register of Historic Places. Visitors will have plenty of places of intrigue to explore here including Fort Knox and Fort George. The latter is well known as the final British fort to surrender during the American Revolutionary War, and where insightful tours bring tourists back in time to a most pivotal time in the nation's history.
Home to the Maine Maritime Academy, Castine has a rich sailing history and a number of sea related sites of historic importance can be discovered. This includes the Dice Head Lighthouse (1829) and the Wilson Museum and its collection of maritime artefacts and other cultural items. Meanwhile just strolling through the main town centre will offer many great restaurants, shops, and other interesting landmarks that all contribute to making Castine a most unique and memorable Maine destination.
Bethel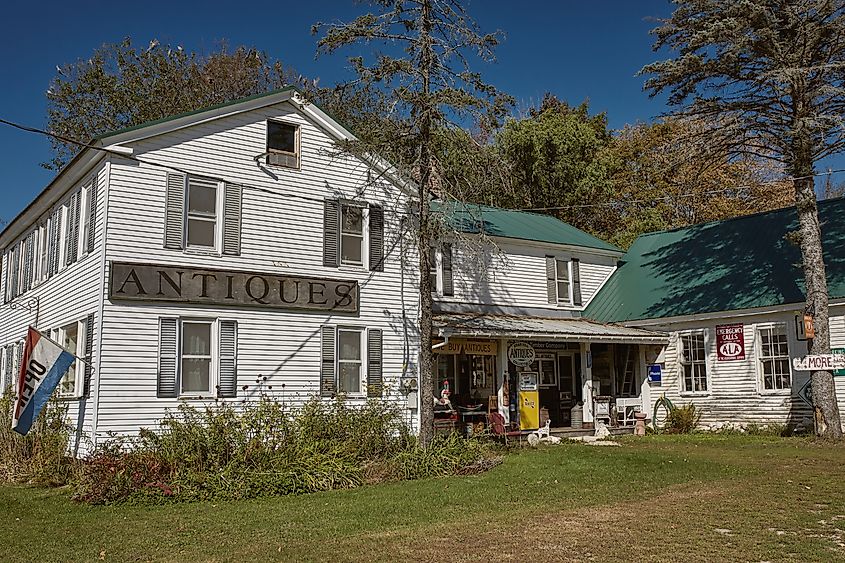 The town of Bethel was incorporated in 1796, and today is the home to a population of just over 2,500 inhabitants. Situated in Western Maine's Oxford County, Bethel is a pleasant community where tranquil nature and fascinating history come together. Visit the Maine Mineral and Gem Museum that highlights the State's geologic history or spend a day at the Arthur Hussey Memorial Rock Garden. Here a number of large rock specimens bring visitors through several eras of Earth's history.
Meanwhile for the history lover stops at sites like the Mason House and the O'Neil Robinson House bring guests back to the mid 19th century. These historic homes have been lovingly preserved and are wonderful time capsules of what daily life in Maine was like in the 1800s.
Farmington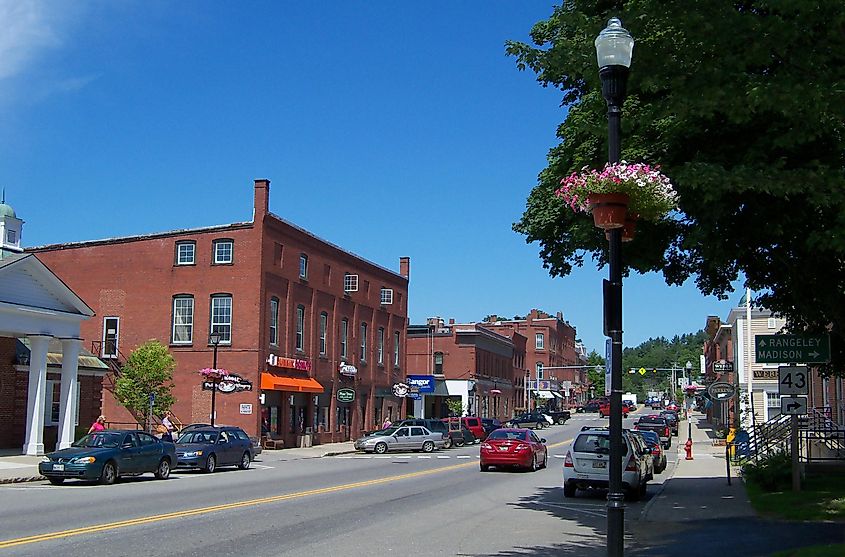 Seat of Franklin County, the town of Farmington traces its colonial history to the 1790s and is now the home of just over 7,500 people. Site of the University of Maine Farmington (1864), this modest town has a delightful array of restaurants, shops, galleries, and lively college ambience for a most charming experience. Indeed for a fun weekend excursion, the welcoming atmosphere of Farmington is a great way to spend a few days.
For the outdoors enthusiast the town also boasts a number of splendid hiking and biking trials including the Flint Woods and Village Woods trails respectively. In the winter the popular Titcomb Mountain ski resort is always a fun way to spend the day, while at the Whistle Stop Trail snowmobiling and ATVing can be enjoyed.
Though Maine is among America's smallest and least populous States, its natural and historic beauty make it one of the most rewarding places to discover. From fascinating local history rooted in the nation's colonial days, to stunning natural surroundings, the charm and beauty of this New England State make it a veritable gem. The small towns on this list are a snapshot of Maine's allure and all are perfect places to spend a weekend or longer in. Indeed whether one is travelling solo or with family and friends, Maine's towns are surely worthy of a first hand exploration.