The Countries With The Most Miss Universe Winners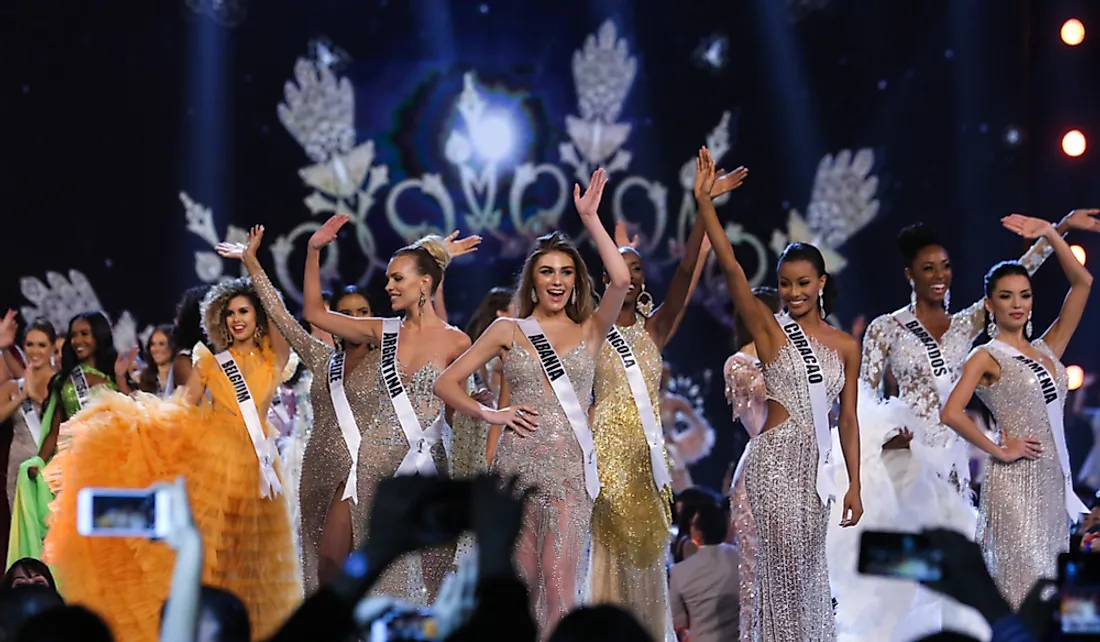 The Miss Universe beauty pageant is an annual event that is managed by the Miss Universe Organization in America. The pageant is among the Big Four international beauty shows alongside Miss International, Miss Earth, and Miss World. More than 190 nations all over the world get to view the pageant which has an annual following of more than half a billion viewers. The International Pageant of Pulchritude first used the title in 1926. However, an organization known as Pacific Knitting Mills founded the present pageant in 1952.
Countries With The Most Miss Universe Winners
The United States is at the top position with a total of eight wins since the pageant began. In the second position is Venezuela with seven titles while Puerto Rico is third with five titles. With a win at Miss Universe 2018, the Philippines took fourth place with four wins over Sweden with three wins.
In the past decade, the most successful countries include the United States, Venezuela, France, Colombia, and the Philippines. This success is largely because the viewership of the pageant has been consistently high. On a broader scale, Asia and the Americas have been the most successful in that period. Despite high success in the pageant, the United States has been in a slump since they last won it in 2012. Prior to that, the US was consistently strong with the titles spaced out every few years. Looking at the past five years, the list is dominated by the Americas with Venezuela, Colombia, and the Philippines winning the title in 2013, 2014, and 2015 respectively.
In the course of the pageant's history, Russia has been the only nation to resign the title in 2002. The Russian winner, Oxana Fedorova, resigned after rumors emerged that she was pregnant. According to the model, she quit for personal reasons and not because she was pregnant. Upon resigning, Panama, as the runner-up, took the title.
Participating Nations
Since the franchise is transferred from one group to another frequently, it is a common thing for the number of contestants to vary in each edition. The calendar of the event is also another factor that contributes to the inconsistency. For example, in 2016, there were 86 entrants while in 2017, the number increased to 92. Several nations have joined in the past decade, including Lithuania and Gabon in 2012, Azerbaijan in 2013, Sierra Leone in 2016, Nepal, Laos, and Cambodia in 2017, and Armenia, Kyrgyzstan, and Mongolia in 2018.
As of 2016, there were only three countries which were present in every pageant since its inception in 1952 namely France, Germany, and Canada.
In cases where the national titleholder of a nation is below 18, then the runner-up usually goes to represent that nation. As of 2012, transgender women are allowed to participate, should they win their respective national titles. In 2018, Spain's Angela Ponce became the first transgender candidate to compete.
The Countries With The Most Miss Universe Winners
| Rank | Country/Territory | Titles | Year(s) |
| --- | --- | --- | --- |
| 1 | United States | 8 | 1954, 1956, 1960, 1967, 1980, 1995, 1997, 2012 |
| 2 | Venezuela | 7 | 1979, 1981, 1986, 1996, 2008, 2009, 2013 |
| 3 | Puerto Rico | 5 | 1970, 1985, 1993, 2001, 2006 |
| 4 | Philippines | 4 | 1969, 1973, 2015, 2018 |
| 5 | Sweden | 3 | 1955, 1966, 1984 |
| 6 | Australia | 2 | 1972, 2004 |
| 6 | Brazil | 2 | 1963, 1968 |
| 6 | Canada | 2 | 1982, 2005 |
| 6 | Colombia | 2 | 1958, 2014 |
| 6 | Finland | 2 | 1952, 1975 |
| 6 | France | 2 | 1953, 2016 |
| 6 | India | 2 | 1994, 2000 |
| 6 | Japan | 2 | 1959, 2007 |
| 6 | Mexico | 2 | 1991, 2010 |
| 6 | South Africa | 2 | 1978, 2017 |
| 6 | Thailand | 2 | 1965, 1988 |
| 6 | Trinidad and Tobago | 2 | 1977, 1998 |
| 7 | Angola | 1 | 2011 |
| 7 | Argentina | 1 | 1962 |
| 7 | Botswana | 1 | 1999 |
| 7 | Chile | 1 | 1987 |
| 7 | Dominican Republic | 1 | 2003 |
| 7 | Germany | 1 | 1961 |
| 7 | Greece | 1 | 1964 |
| 7 | Israel | 1 | 1976 |
| 7 | Lebanon | 1 | 1971 |
| 7 | Namibia | 1 | 1992 |
| 7 | Netherlands | 1 | 1989 |
| 7 | New Zealand | 1 | 1983 |
| 7 | Norway | 1 | 1990 |
| 7 | Panama | 1 | 2002 |
| 7 | Peru | 1 | 1957 |
| 7 | Russia | 1 | 2002 |
| 7 | Spain | 1 | 1974 |