As one of the largest countries in the world, the United States of America is home to a substantial number of natural disasters each year. Over the last 70 years, more than 2,000 natural disasters have been declared across the country. While almost all areas of the United States have seen weather related destruction of one kind or another, some states see far more natural disasters than others. These hotspots are in particularly vulnerable regions, or are within areas that tend to experience certain harsh weather patterns at an increased rate. Because of this, some states like Texas, California, and Oklahoma see far more natural disasters than others.
Some of the major natural disasters which have hit and continue to impact the United States of America are floods, earthquakes, drought and forest fires, hurricanes and winter storms. Whether a state is located along a fault line, increasing its chance of earthquake, is located in a coastal region where hurricanes frequent, or is subject to tornados and wind such as in the mid west, natural disasters can be both deadly and costly to a state. As the frequency of these weather anomalies increases across the Americas, states are having to deal with these disasters more and more frequently. 
In this article, we take a look at some of the US states where such natural disasters are more frequent and we attempt to understand why it is so:
US States With Most Natural Disasters
Texas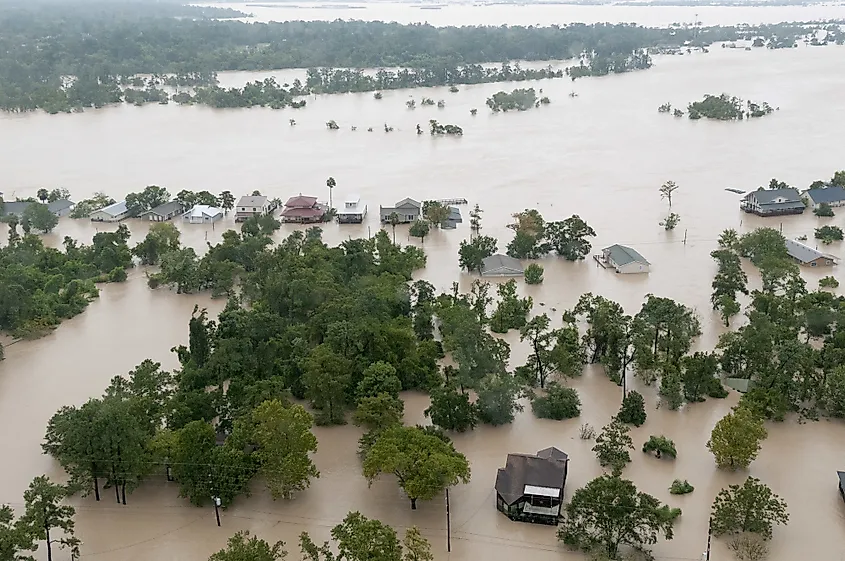 Texas is the second largest state in the country, second only to Alaska. As one of the largest states, Texas covers a much greater land mass than most other states, and this means it has an increased possibility of weather related problems. Texas generally declares at least one natural disaster per year, with some years bringing multiple meteorological problems. 
Due to its size and location, Texas endures a variety of weather dangers. Hurricanes are one of the more notable problems in the area, and have averaged the most damage and most deaths. Hurricane Ike of 2008, and Hurricane Harvey in 2017 have been two of the more notable storms to wreak havoc on the Texas coastline in recent history. Other notable storms that have devastated the state in the past were Hurricane Rita in 2005, Hurricane Carla in1961 and the infamous 1900 Galveston hurricane. Hurricanes form in warm water climates, and when they hit low pressure atmosphere, create a whirling storm of high winds and rain. Texas has the second highest number of hurricanes compared to any other state in the US due in large part to its position along the Gulf of Mexico. The warm coastal waters in the Gulf are much more likely to form hurricanes than waters in other areas, making Texas one of the leaders in hurricane frequency, second only to the state of Florida, which has similar conditions.
Along with hurricanes,Texas also has to contend with flooding, often caused by these tropical storms, as well as tornadoes and wildfires. The dry, flat nature of much of Texas lends itself to both great tornado conditions, and wildfires. This, mixed with the coastal storms, has made Texas the leading state in terms of natural disaster frequency. As ocean waters rise, and climate change effects regional temperatures, the frequency and severity of these natural disasters seems to be increasing, causing concern over costly and dangerous conditions for Texas State residents.
California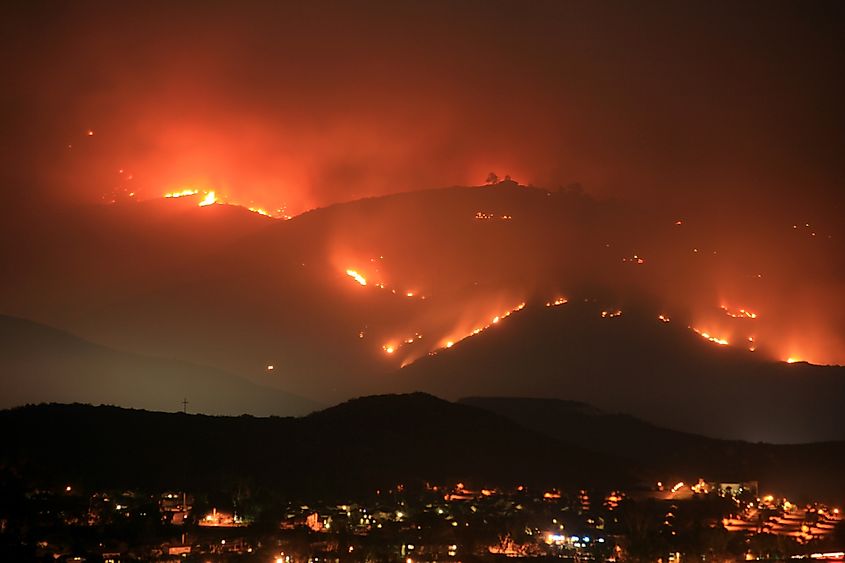 California has the second highest number of recorded natural disasters since 1953. Like Texas, California experiences a number of different natural disasters, though historically, earthquakes have been most closely associated with the state of California. Severe and deadly earthquakes have rocked the state from north to south over the past several decades, including a category 6.9 in San Francisco in 1989, to a 6.7 in southern California in 1994. California's location along the San Andres fault means it is much more prone to earthquakes and other shifts within the Earth's crust than the rest of the United States, however earthquakes are not the only concern for Californians.
Other disasters that are common in California include drought and wildfires, as well as flooding and landslides. In recent years, California has had a massive upsurge in the frequency and severity of wildfires. High temperatures and frequent strong winds have caused increasing numbers of wildfires across the state. Seven of the largest fires of the last century have occurred since 2003, with some of the most notable occurring in 2019 and 2020. These fires have been growing and spreading with increased rapidity, causing massive amounts of damage to forests and populated areas alike. 
Other Natural Disaster Prone States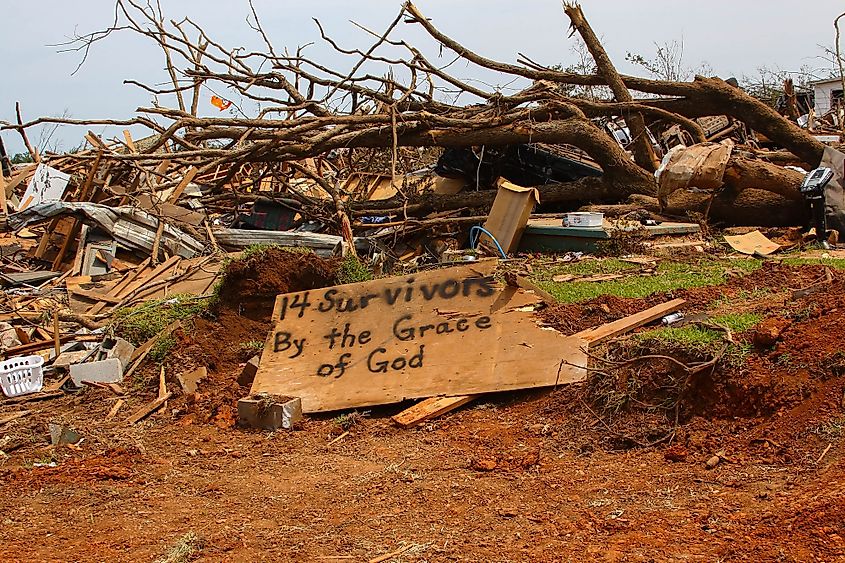 The remaining top states suffer from a wide variety of natural disasters covering every season. For some states, like Missouri, severe weather is year round, from constant flood threats, to winter snow and ice storms, and the possibility for tornadoes the rest of the year.
Arkansas also experiences a wide range of weather which has been known to cause state disasters. Its positioning means that while it does not get directly hit by hurricanes or tropical storms, it often feels the residual impacts of severe weather surges. Snow, Ice and heavy rain, as well as flooding, are often the result of tropical storm systems in the area. The state is also at risk of tornadoes as well.
Similarly, Kentucky residents have to contend with tornados, flooding, and rock and landslides.
Oklahoma, on the other hand, is the leading state in terms of tornado destruction, and it ranks number three on the natural disaster list.
Alternately, Alabama gets both tornadoes and hurricanes, two of the most deadly types of natural disasters.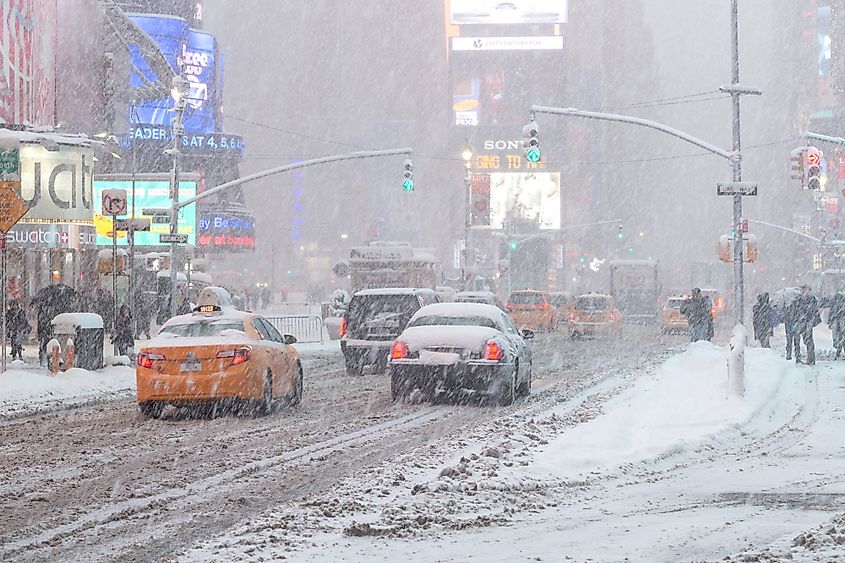 The other top states, Florida, New York and Louisiana, are primarily hit by hurricanes and tropical storms. Due to their coastal positions, they are much more vulnerable to hurricanes and ocean born storms than their inland neighbors. Florida, in particular, is often hit by severe tropical weather systems which bring high winds, rains and flood surges. Similarly, Louisiana has been devastated by hurricanes and resulting floods, which have caused immeasurable damage across the state in the last few decades. New York also feels the blow of nearby tropical storms, which often bring heavy winds and rains in the warmer months. Additionally, because of its northern position, New York also experiences more severe winter weather than many other states on this list, and is often subject to blizzards and snowstorms. Whether it is hurricanes along the coast, wild fires and earthquakes in the west coast, or tornadoes and winter storms across the Midwest and New York, natural disasters have effected all states in the US.
Climate Change To Make Things Worse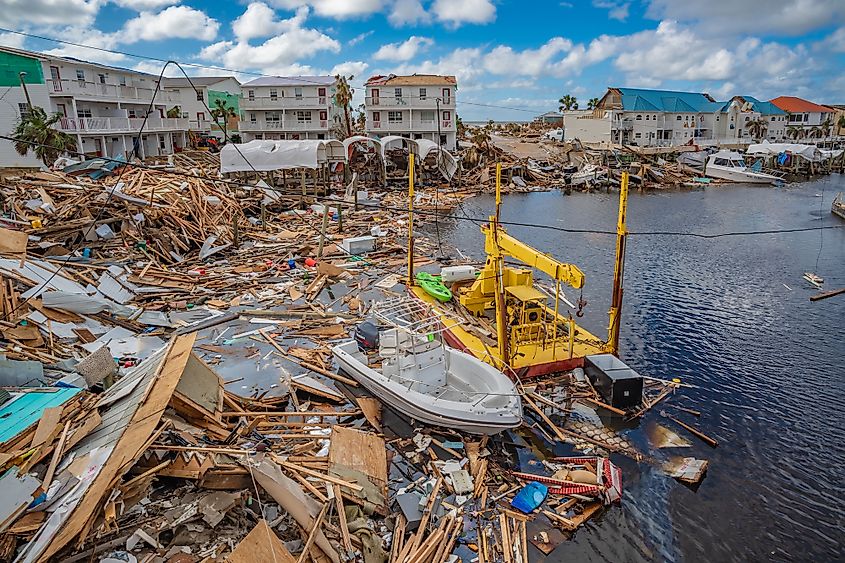 Unfortunately, as climate change becomes more and more apparent, severe weather systems are increasing in both their severity and frequency. As the weather patterns change, so too does their path of destruction, and the damage caused to states across the nation.