Environment
Countries With The Most Natural Disasters
China, India, and other places experienced more than their fair share of death due to natural catastrophes in 2014.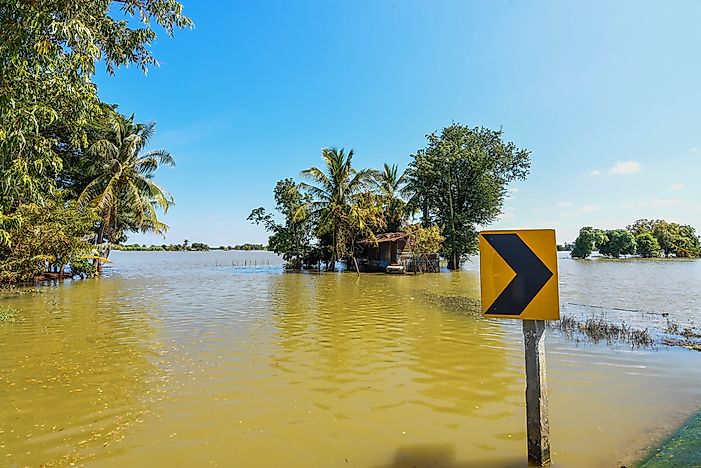 Natural disasters have an awe-inspiring capacity to wreck and even end the lives of those people who stand in their way. The year 2014 was marked by several natural disasters spreading far-flung death but, across the planet, humanity fared much better in 2014 than many other years, considering that the number of fatalities all over the world was far below the average of 10,800 per year over the last decade. While it was certainly a hard year for many places, we've definitely seen worst years on the global scale. To compare which countries were most afflicted by natural catastrophe casualties in 2014, EM-DAT, the International Disaster Database, compiled a list of the ten countries incurring the most fatalities from such events in that year. As per the list, around 5,889 people died from natural disasters in these ten countries alone.
Countries with the Highest Fatality Rates from Natural Disasters
The statistics presented by EM-DAT show that approximately 1,441 people died due to natural disasters in China in 2014. This alarming fatality count makes China the country with the most natural disaster-related deaths in the world for that year. The worst natural disaster to hit China in 2014 was a 6.1 magnitude earthquake that struck Ludian County on the 3rd of August. The catastrophic event is estimated to have killed nearly 600 people and destroy 12,000 houses. Other notable natural disasters that struck the country in 2014 included a number of landslides, rainstorms, and floods as well.
Making it on second place in this list is India, which has apparently been in the top 5 countries with the most fatalities due to natural disasters for a long time running. According to statistics by EM-DAT, approximately 1,037 people died due to natural disasters in India in 2014. The worst of them all was a landslide that killed 151 people in the village of Malin in Pune, which also triggered the largest rescue operation ever in that part of the country, and a severe cyclonic storm called 'Cyclone Hudhud' that hit the states of Odisha and Andhra Pradesh and killed 61 people. There were quite a few floods and earthquakes that struck the country in 2014 as well.
Nepal is next in line on this list as nearly 588 people died there in 2014 due to natural disasters. This total includes a snowstorm that killed 43 hikers along its well-traveled Annapurna hiking circuit.
A Global Reach of Death and Destruction
Rounding out the list of ten countries with the most natural disaster-related deaths in 2014, we see Indonesia, Japan and Sri Lanka. Despite natural disasters in these and other countries taking the lives of fewer people than our global leading countries in that category, any loss of life from any cause is a sad occasion, regardless of the number or the place.
Number Of National Disasters By Type, per Country
View information as a:
List
Chart
| Rank | Country | Deaths |
| --- | --- | --- |
| 1 | China | 1,441 |
| 2 | India | 1,037 |
| 3 | Nepal | 588 |
| 4 | Afghanistan | 575 |
| 5 | Peru | 554 |
| 6 | Pakistan | 522 |
| 7 | Philippines | 331 |
| 8 | Sri Lanka | 309 |
| 9 | Japan | 289 |
| 10 | Indonesia | 243 |